Really Crunchy French Toast - Way back in May when I was in Disney World for Food Blog Forum, my roommate told me about this amazing french toast coated in crushed Captain Crunch cereal. I was instantly intrigued. Then, not 2 hours after having this conversation, I boarded my flight home, pulled out my new Cook's Country magazine and what do I find? A recipe for Really Crunchy French toast made with Captain Crunch! Clearly I was meant to get this in my belly as fast as possible. It was one of those moments where I absolutely knew there was someone watching over my gastronomic well-being.  Whoever you are, thank you.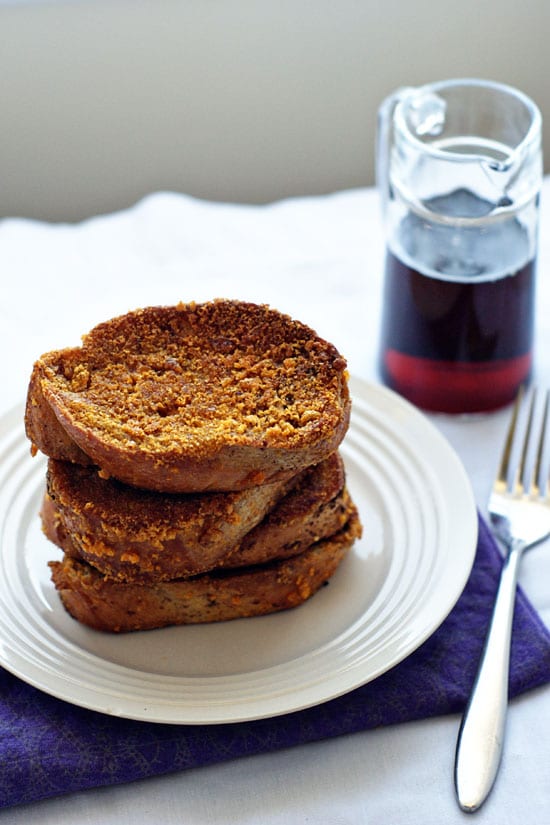 How To Start Your Crunchy French Toast
It all starts with this bad boy, the Captain.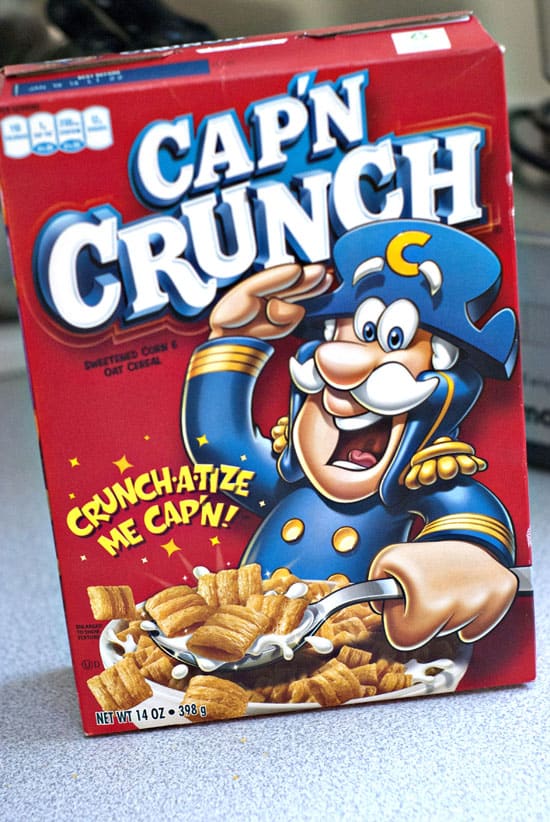 Do what you need to do get some cereal good and crushed. I used a food processor but a ziplock bag and a rolling pin would get the job done as well.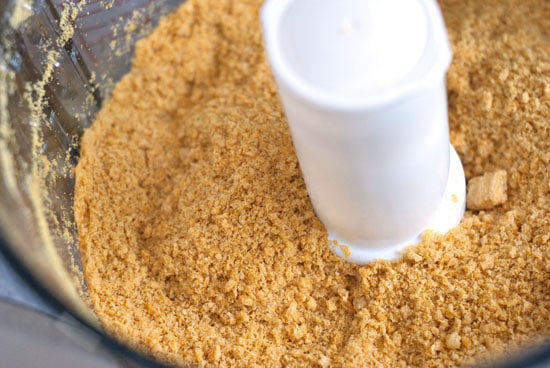 The custard mixture is your basic eggs, half and half, cinnamon and vanilla with a little sugar and salt. Give it a whisk and you're set.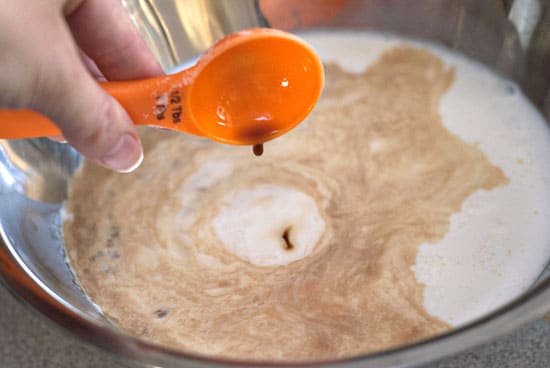 Making French Toast
For the bread, the original recipe calls for challah which I love but neither had the time to make my own or desire to spend $6 for a loaf of bread at Whole Foods. I went with an Italian loaf that I picked up at Winco and had great results. The key is to use a sturdy bread cut into thick slices that can handle a dip in the custard mixture without getting soggy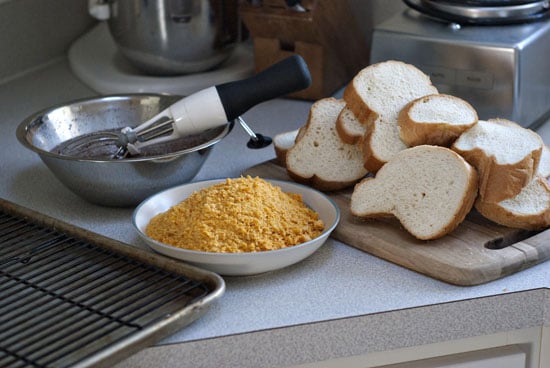 Dip each bread slice into the custard and let soak for no more than 15 seconds per side. Any longer and you'll end up with a soggy mess.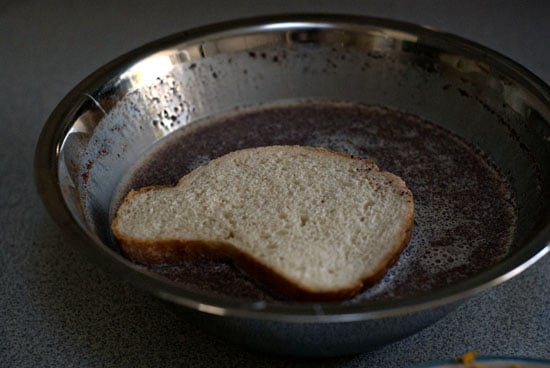 Dredge each piece in the crushed cereal, using your fingers to adhere if necessary.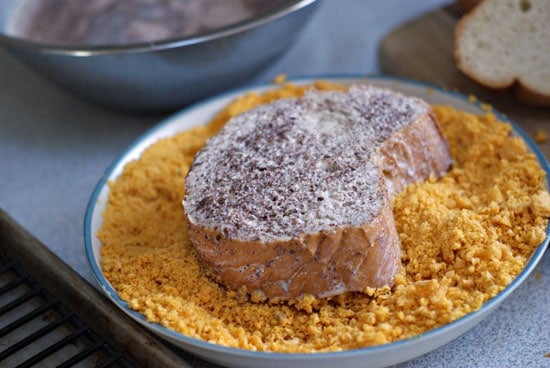 And lay on a baking rack until ready to cook-- this will keep the bottom side from becoming soggy. The shape of my loaf made these look more like pork chops than french toast, don't you think?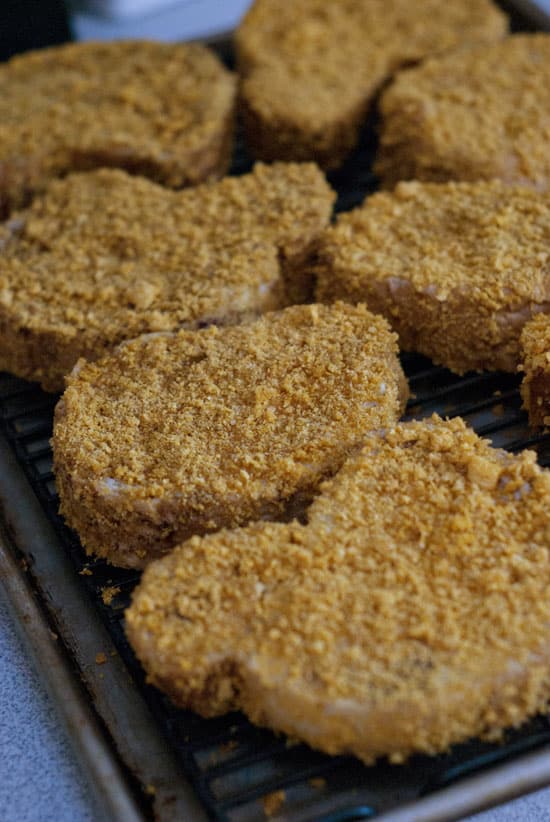 When you first start making the french toast you'll want to pre-heat your oven with a baking sheet inside so it's good and hot when you're ready for it. Once all the bread has been coated pour some vegetable oil directly on the baking sheet, tilt to coat and then put back in the oven for a few minutes to heat up.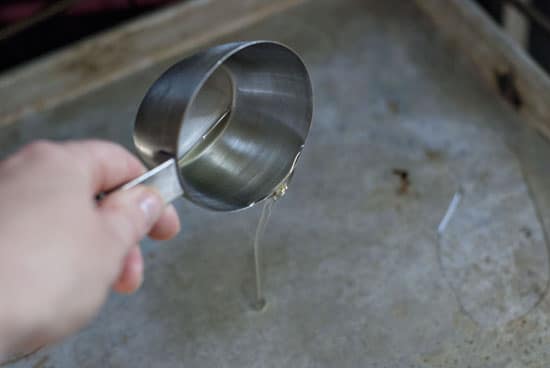 Arrange your pieces of bread in the heated oil, return to the oven and cook for about 20 minutes and golden brown. You'll need to flip them halfway through and rotate the pan to make sure it's cooking evenly.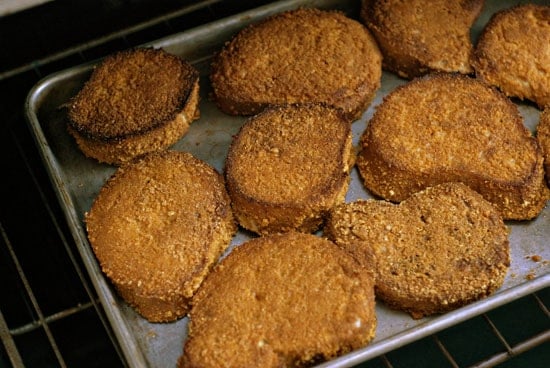 Serve with maple syrup and crunch into a sweet layer of heaven followed by a soft custard-y interior. Yes, pul-eeese!
[pinit]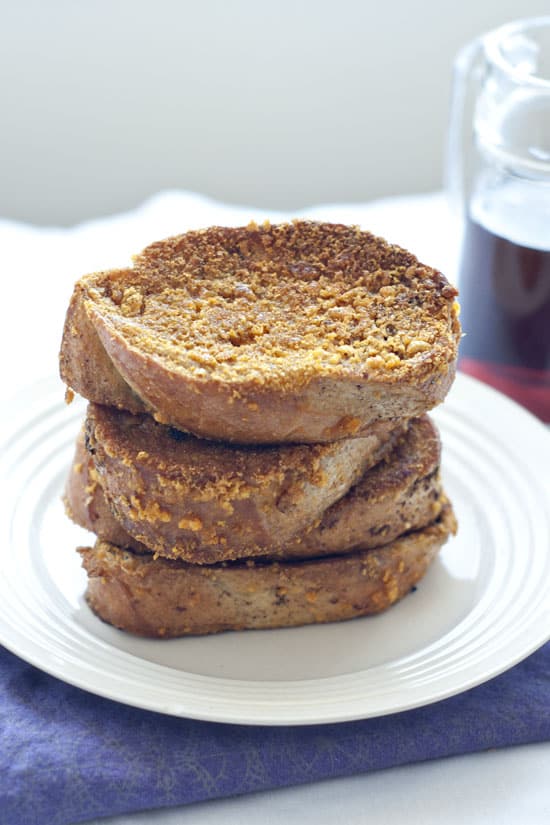 Interested in other french toast recipes?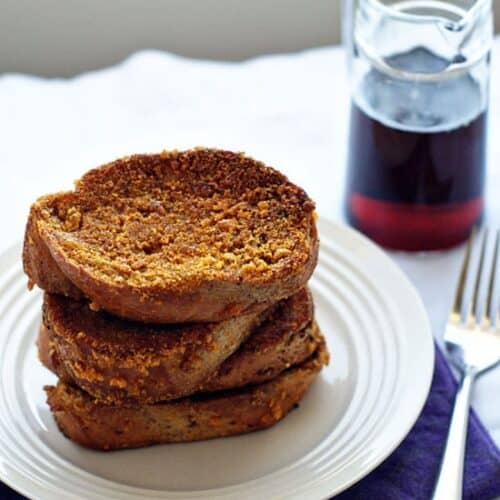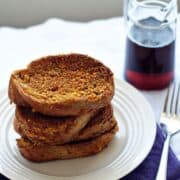 Really Crunchy French Toast
Thick-cut slices of bread dipped in a custard mixture and then rolled in Captain Crunch Cereal! The ultimate sweet and decadent breakfast!
Print
Pin
Rate
Ingredients
6

cups

Cap'n Crunch cereal

crushed coarse

2 ½

cups

half-and-half

3

large eggs

3

tablespoons

sugar

1

tablespoon

vanilla extract

1 ½

teaspoons

ground cinnamon

½

teaspoon

salt

1

12 by 5-inch loaf challah, cut into eight 1-inch-thick slices

½

cup

vegetable oil
Instructions
Adjust oven rack to middle position, place rimmed baking sheet on rack, and heat oven to 450 degrees. Set wire cooling rack inside second rimmed baking sheet. Place cereal in 13 by 9-inch baking dish. Whisk half-and-half, eggs, sugar, vanilla, cinnamon, and salt together in large bowl until combined.

Working with 2 slices of bread at a time, soak in half-and-half mixture until just saturated, about 15 seconds per side. Transfer soaked bread to cereal and press lightly to adhere; transfer to prepared wire rack. Repeat with remaining bread.

Add oil to preheated sheet, tilting to coat evenly. Return sheet to oven and heat until oil is just smoking, about 4 minutes. Carefully remove sheet from oven and arrange bread in even layer on sheet. Bake until exterior is golden brown and crunchy, about 20 minutes, flipping once and rotating sheet halfway through baking. Transfer toast to clean wire cooling rack and let cool for 5 minutes. Serve.
Nutrition Facts
Serving:
1
serving
|
Calories:
1665
kcal
|
Carbohydrates:
213
g
|
Protein:
15
g
|
Fat:
45
g
|
Saturated Fat:
31
g
|
Trans Fat:
1
g
|
Cholesterol:
119
mg
|
Sodium:
2020
mg
|
Potassium:
605
mg
|
Fiber:
9
g
|
Sugar:
112
g
|
Vitamin A:
478
IU
|
Vitamin C:
1
mg
|
Calcium:
124
mg
|
Iron:
1
mg
ARE WE FRIENDS ON INSTAGRAM?
Tag me @heatherlikesfood and use #heatherlikesfood so I can see what you're making and enjoying!