Chicken Fettuccini is a favorite at our house, and I'm so excited that I can now make it super quick! Using the Instant Pot cuts the cooking time by more than half and the best part is I only dirty one stinkin' pot. I'm tellin' you this Instant Pot thing is a game changer, especially for this Instant Pot Chicken Fettuccini Alfredo.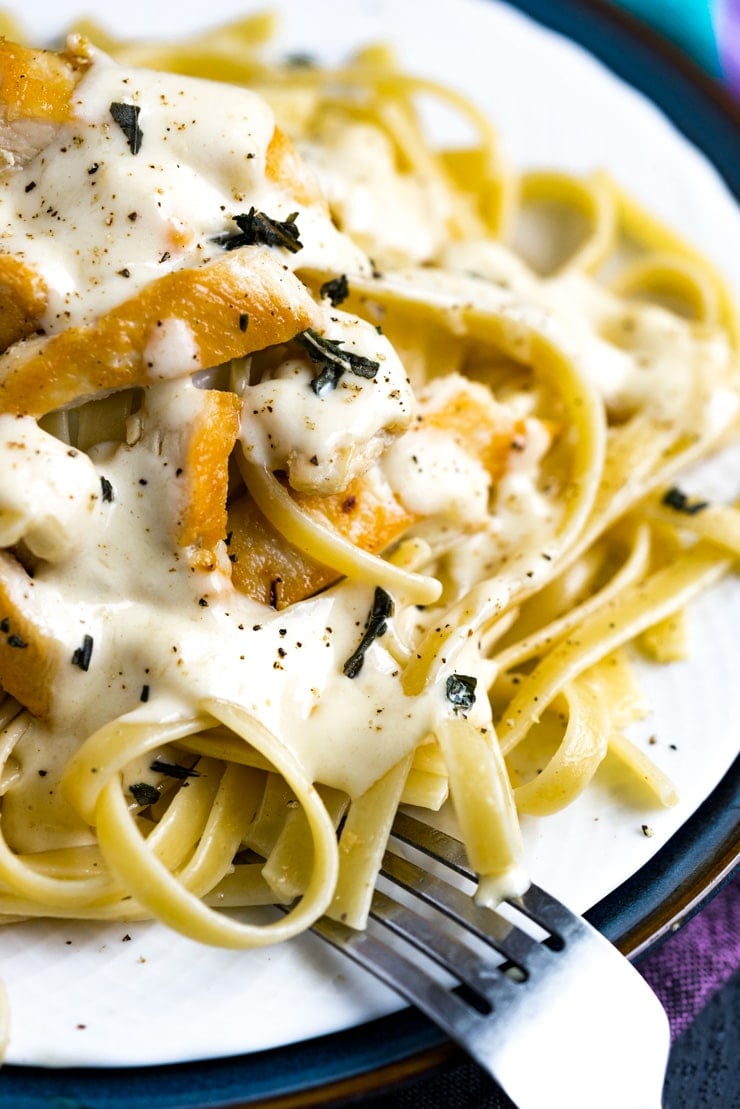 You guys! I'm so excited about this recipe I could hardly wait to get it photographed and written out! I've been cooking A LOT with my Instant Pot (see my latest recipe here), and this one is pretty life-changing.
I'll admit I miiiiight be being a tad bit dramatic about this, but seriously you guys-- Chicken Fettuccini Alfredo DONE in under 20 minutes in one pot! I want to give this recipe all the exclamation points right now.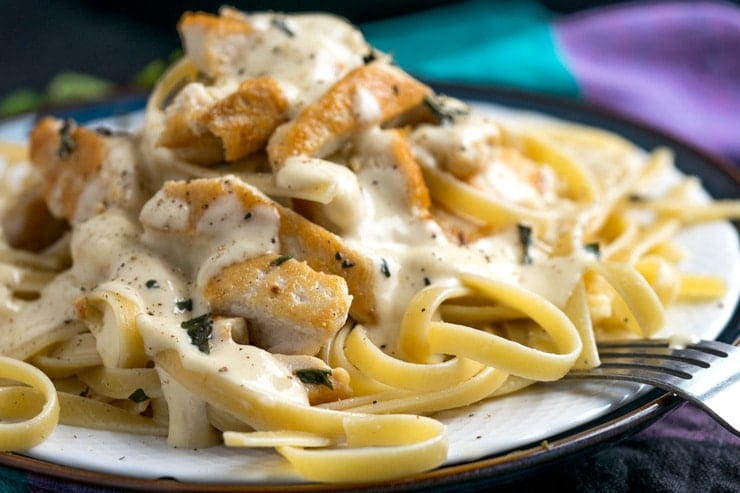 It's made with real ingredients, too. I'm not dumping in a jarred sauce and covering the lid. We're talking real cream, butter, and garlic. If I ever got a private concert from Julie Andrews, I'm pretty sure I'd have her sing "Favorite Things" with those three ingredients added to the song. You think she's too classy to oblige?
Probably.
Be Sure to Sign Up For My Email! New Recipes Delivered Straight to You!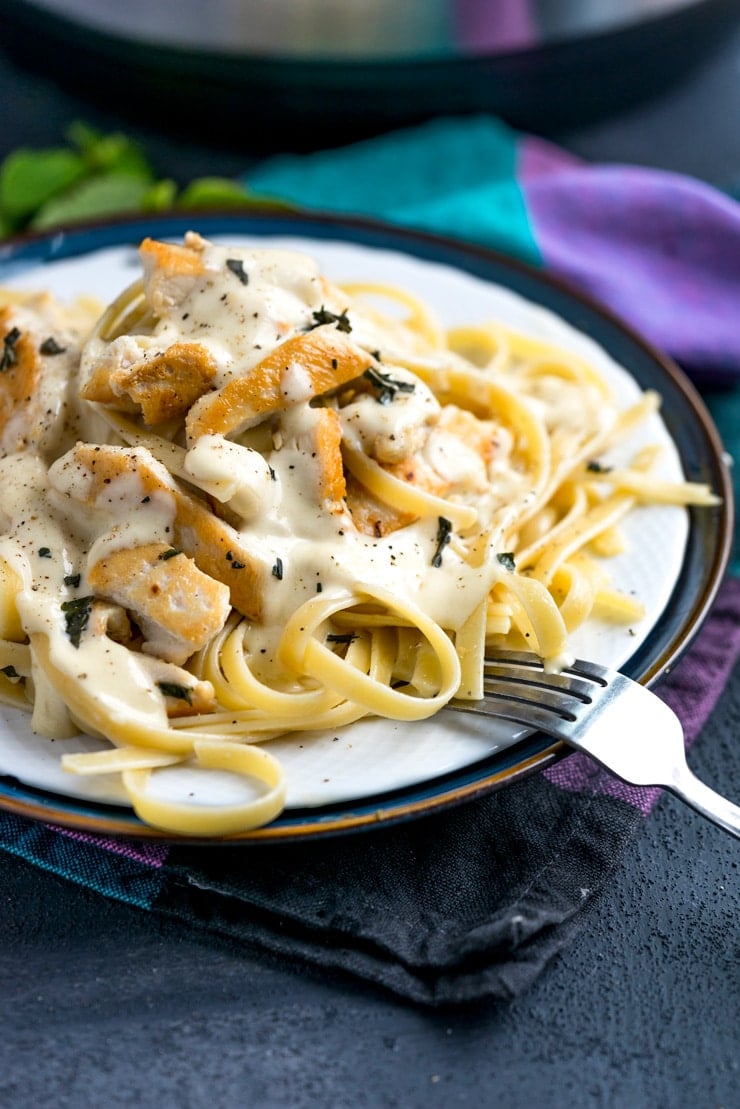 This Instant Pot Chicken Fettuccini Alfredo recipe is pretty self-explanatory, so I'm just going to leave this right here and direct you to the recipe card below and make sure to read the recipe notes if you don't want a mess in your kitchen. 🙂
If you have an Instant Pot make this like, now. If you don't, this is the one I have and love. Much love to you all!
**UPDATE 1/5/2018**
I'm still very much learning about cooking with electric pressure cookers, and one thing has become evident to me as I've read the comments from those that have tried this recipe: All Electric Pressure Cookers are not made equal! It looks like even those that are the same brand and/or model are cooking this recipe differently.
According to the comments, about 75% of you that have made it had it turn out fabulous (yay!) and the other 25% had problems.
After testing the original recipe again and again in my Instant Pot 6 quart DUO60, I've made a few modifications to the recipe card.
The first is that I added an additional ½ cup of chicken broth to the recipe. Doing this will leave more liquid for the sauce and hopefully eliminate the "BURN" or "ovHT" notification that some of you are getting. I did a little bit of digging, and this is what I found:
This mechanism is called "burn-protection". When a high temperature (140C or 284F) is detected at the bottom of the inner pot, the burn-protection mechanism suspends heating to avoid burning food. On Instant Pot IP-DUO series, a warning message "ovHt" is flashed on the display. -- Instantpot.com
Apparently, dense foods with a high starch content, like fettuccini, can block the heat from distributing evenly in the pot, causing the sensors in the Instant Pot to suspend cooking, regardless of how much liquid is in the pot. If you are using a pot that is smaller than 6 quarts or using more chicken than is called for (causing the pasta to be weighted down more to rest on the bottom), you might run into this problem.
The second change I made to the recipe is an increase in cooking time by 2 minutes. The additional liquid and increase in cooking time should take care of any undercooked pasta. This said, due to the nature of cooking pasta in an Instant Pot, where the noodles aren't able to move freely, you will end up with with a few that were not submerged all the way or were stuck together--It's just part of this cooking method. Every time I've made it I've ended up with about 95% of my pasta being perfectly cooked. The other 5% is something I'm willing to sacrifice for the sake of how stinkin' easy this recipe is. 🙂
I appreciate all your comments and am grateful for an opportunity to fine-tune a recipe with your feedback! Please continue to share your experiences with the recipe, and hopefully, we can create the ULTIMATE fettuccini alfredo recipe for the Instant Pot together!
Other Instant Pot Recipes You Might Like
More Popular Recipes People Like From This Site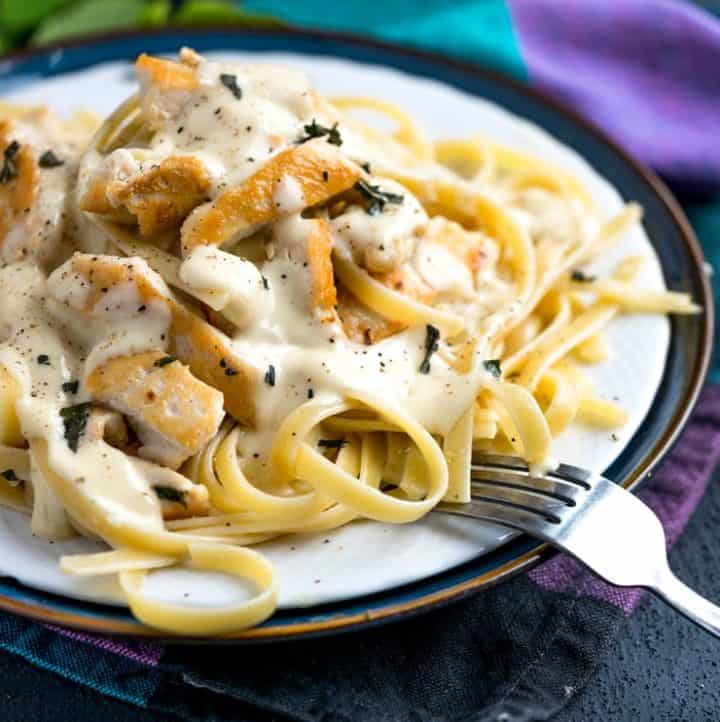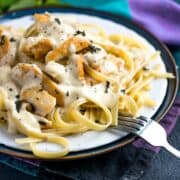 Instant Pot Chicken Fettuccini Alfredo
Chicken Fettuccini is a favorite at our house and I'm so excited that I can now make it super quick! Using the Instant Pot cuts the cooking time by more than half and the best part is I only dirty one stinkin' pot. I'm tellin' you this Instant Pot thing is a game changer, especially for this Instant Pot Chicken Fettuccini Alfredo.
Print
Pin
Rate
Ingredients
1

tablespoon

olive oil

½

teaspoon

kosher salt

¼

teaspoon

black pepper

2

pounds

chicken breasts

boneless and skinless

2

tablespoons

salted butter

5

cloves

garlic

minced

2

cups

heavy cream

2 ½

cups

chicken broth

¼

teaspoon

kosher salt

1

pinch

of ground nutmeg

1

pound

dry fettuccini noodles

¾

cup

parmesan cheese

shredded

fresh basil
Instructions
Press saute button on Instant Pot and heat olive oil until display reads "HOT". Season chicken breasts with salt and pepper and place in the pot to brown. Cook 2 minutes per side just until lightly browned, but not cooked all the way through, remove from pot and place on a plate.

Melt butter in the pot and stir in minced garlic. Cook for less than 1 minute, stirring constantly until fragrant and pour in cream.

Bring cream and garlic to a simmer while scraping the bottom of the pot with a spatula to release the browned bits from cooking the chicken. Simmer sauce for 2 minutes until just slightly thickened and pour in chicken broth, salt and nutmeg.

Break dry noodles in half and place into the pot, making sure all noodles are submerged, followed by the browned chicken breasts.

Cover Instant Pot and set it to cook at High Pressure for 10 minutes.

When time is up, allow Instant Pot to naturally release pressure-- about 8-10minutes (See Notes).

Remove chicken and slice if desired before returning to the pot. Stir in cheese and fresh chopped basil before serving-- sauce will thicken as it cools.
Chef's Notes:
The first time I made this I tried doing a quick release of pressure after the cooking time was up and I ended up with a literal volcano of cream coming from the spout of my Instant Pot! Ha! So, that's why I recommend you wait for a natural release. Cream has a tendency to boil up when being cooked and comes right up to the top of the pot, making for an easy escape when you release the valve. You may be able to get away with letting it cool for 5 minutes and then try a quick release, but do so knowing you might get a cream bath. 😉
Nutrition Facts
Serving:
1
serving
|
Calories:
1272
kcal
|
Carbohydrates:
86
g
|
Protein:
74
g
|
Fat:
69
g
|
Saturated Fat:
37
g
|
Cholesterol:
431
mg
|
Sodium:
1656
mg
|
Potassium:
1354
mg
|
Fiber:
3
g
|
Sugar:
2
g
|
Vitamin A:
2210
IU
|
Vitamin C:
14.9
mg
|
Calcium:
366
mg
|
Iron:
3.5
mg
ARE WE FRIENDS ON INSTAGRAM?
Tag me @heatherlikesfood and use #heatherlikesfood so I can see what you're making and enjoying!
I'm serious; you want to sign up for my Email! You'll never miss a dang recipe!