Creamy and tender, these perfectly baked sweet potatoes are everything you want your potato to be. It's all the in the "secret step"!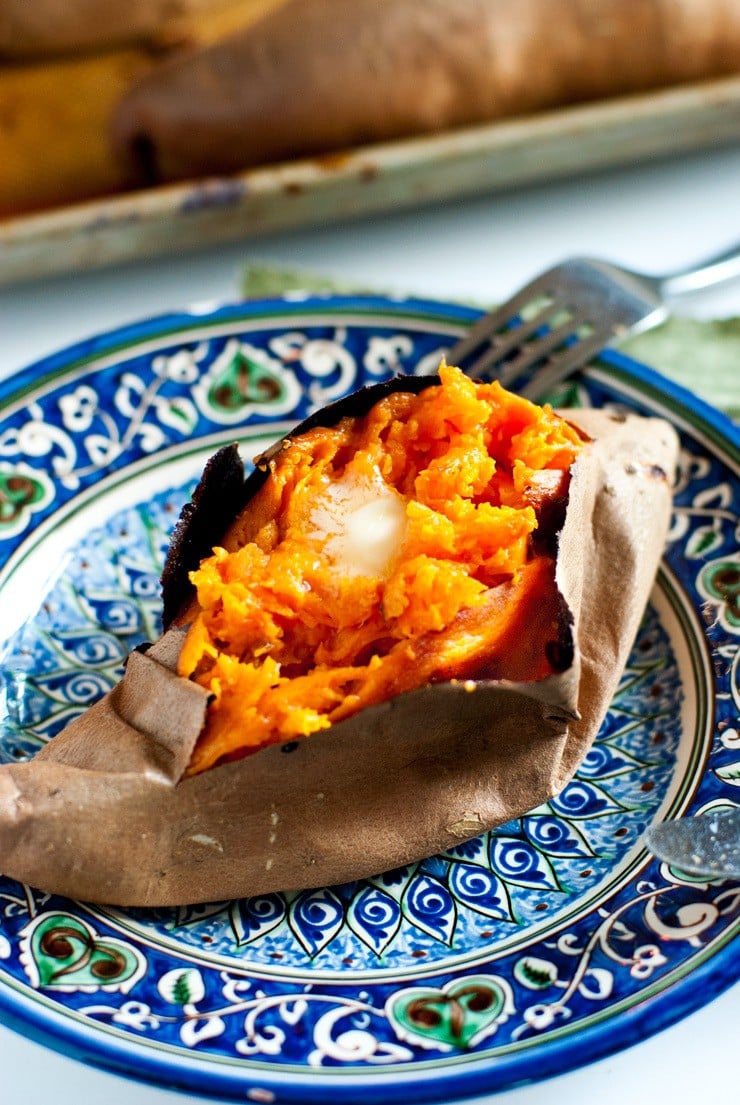 Sweet potatoes, do you love them? I know there are plenty of haters out there but I'm sure that most of you are fans, am I right? If so, you're going to love this method for baking the perfectly baked sweet potatoes.
THE TRICK TO PERFECTLY BAKED SWEET POTATOES
When it comes to sweet potatoes, baking them is definitely the way to go. If you've ever tried to microwave one, you know you're better off taking the extra time to put them in the oven as they just aren't that good. But when they are baked right, they turn into little satchels of creamy, sweet heaven.
There's a lot of debate at which is the RIGHT way to bake them, but, for obvious reasons,  I think my method is the best so that's what I'm going to show you today. It's a little unconventional and takes a bit of planning ahead, but I think it's totally worth it.
My method is two steps: Brine and then roast at HIGH heat.
THE BRINE FOR BAKED SWEET POTATOES
The process of brining is typically used for meats because it makes meat moister by hydrating the cells of its muscle tissue before cooking and consists of soaking your food in a super salt saturated solution. Doing this with the sweet potatoes not only makes the finished potato super creamy, it adds just a bit of flavor to the baked potato that you can't get just from salting it after cooking.
For my potato solution I used 1 C of Kosher salt and 8 C warm water. I let the potatoes soak for 8 hours this time but I've soaked them as little as 2 hours and have still had good results. Since the potatoes float, I just flip them when I walk into the kitchen or think about it so they are soaked evenly. You could also weight them down with a bowl or plate if you wanted.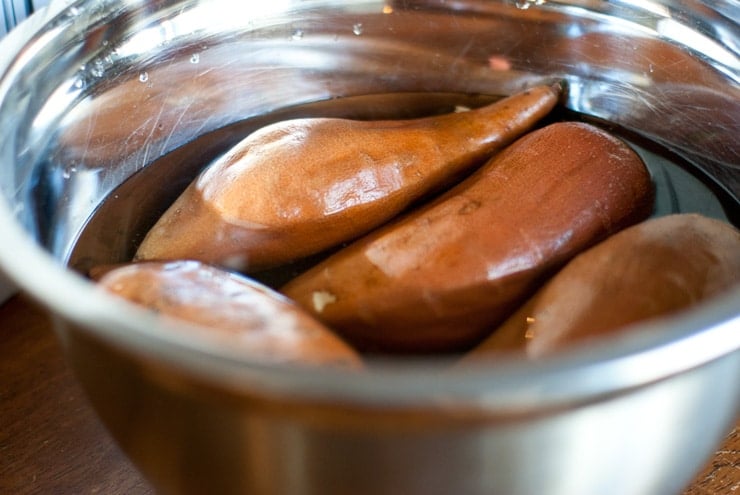 Once they've had a good, long soak you'll want to dry them really well before placing on a baking sheet.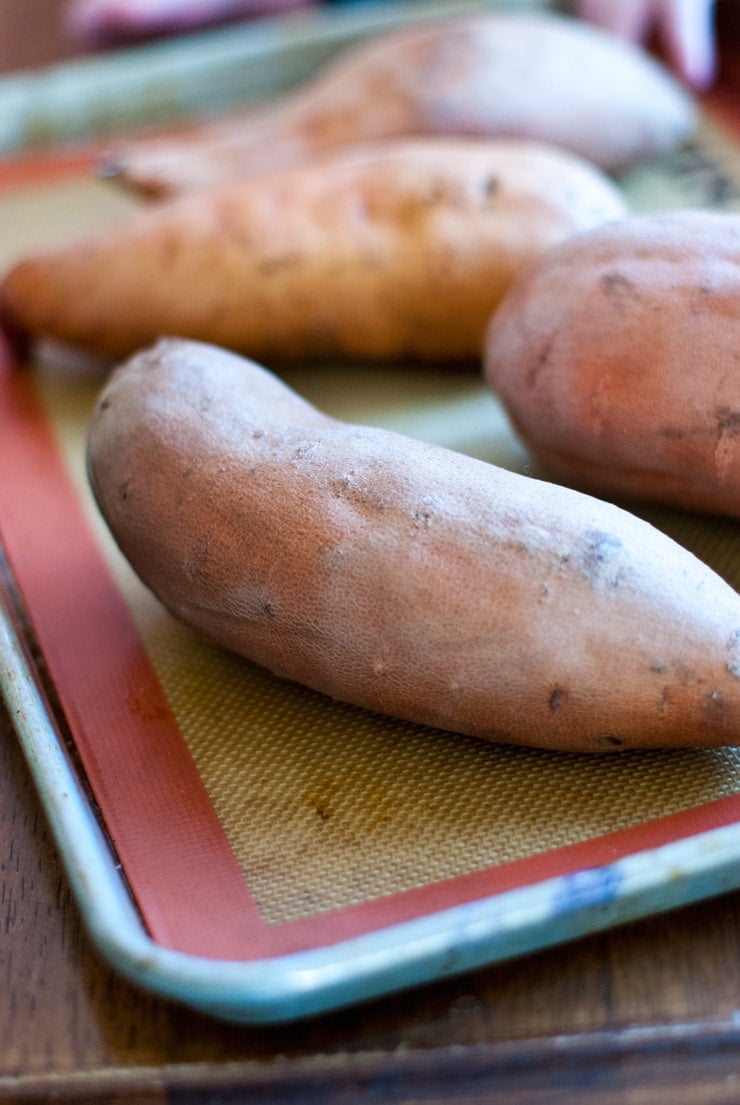 HOW TO COOK PERFECTLY BAKED SWEET POTATOES
I roast my potatoes at 450 degrees for about 45 minutes. Bigger potatoes might take a few minutes more but you'll know it's done if you can pierce a fork through the middle without any resistance. The high heat makes them cook quickly and prevents them from "steaming" themselves with the residual moisture left on the skin from the brine. It also makes the skin slightly crisp which makes separating the skin from the meat super easy as you're eating. I'm not a big fan of eating the skin, but for what it's worth, it's well seasoned from the brine and doesn't taste awful. I just don't like the texture.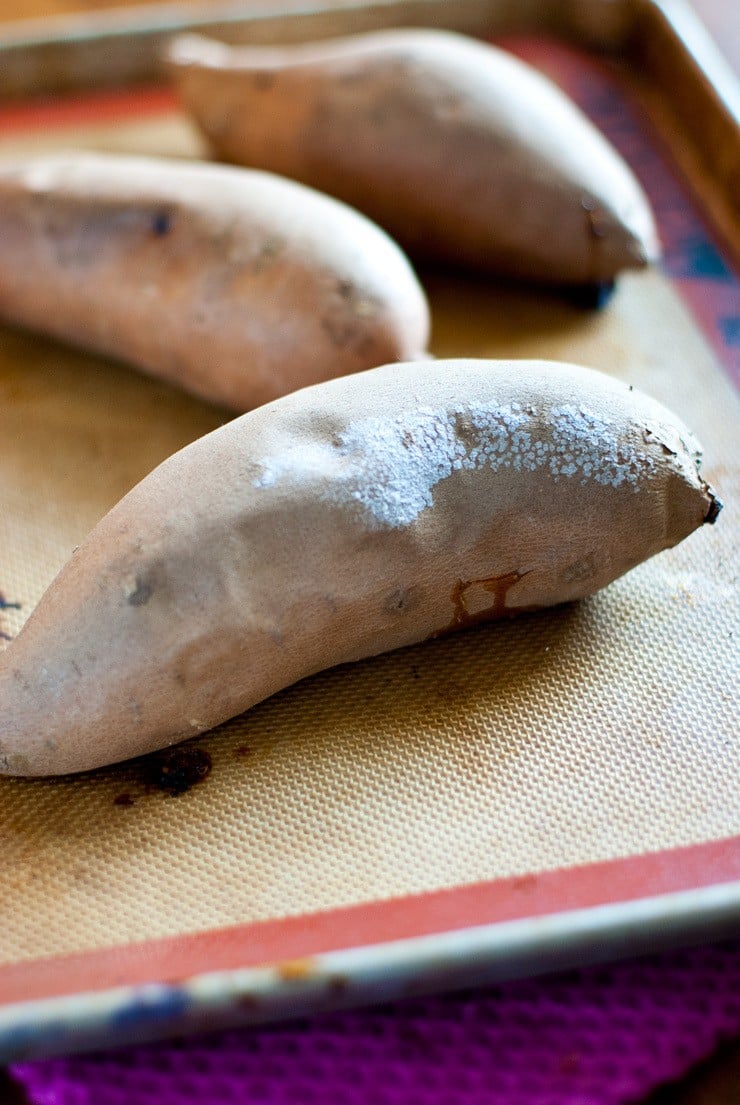 From here, you have a perfectly creamy and tender sweet potato for topping however you wish! Truthfully, my favorite way is straight-up with a little butter and pepper. I'm boring, I know, but I'd love to hear how you like to top yours!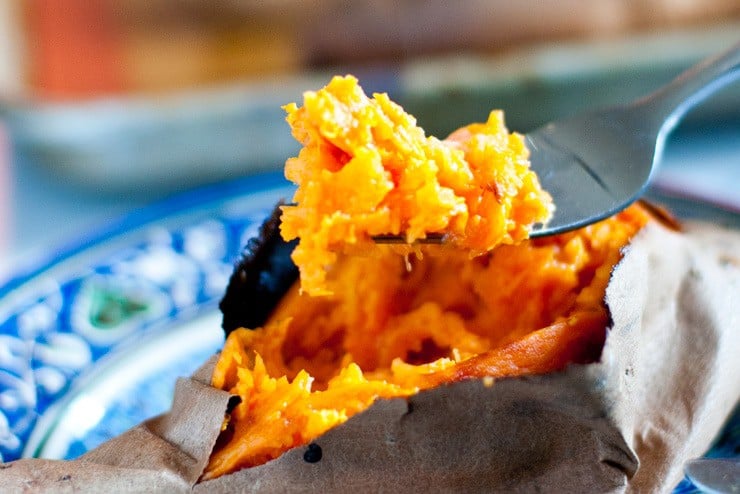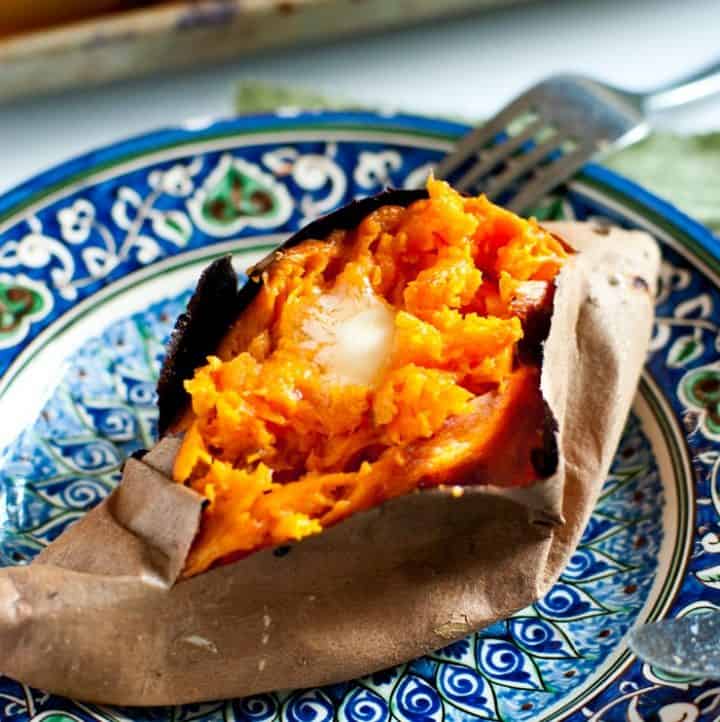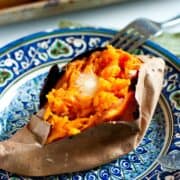 Perfect Baked Sweet Potatoes
Creamy and tender, these perfectly baked sweet potatoes are everything you want your potato to be. It's all the in the "secret step"!
Print
Pin
Rate
Servings:
4
baked sweet potatoes
Ingredients
4

whole

sweet potatoes

washed

1

cup

kosher salt

8

cup

warm water
Instructions
Combine water with salt in a large bowl and stir until most of the salt is dissolved. Place sweet potatoes in water and let soak for 2-8 hours.

Preheat oven to 450 degrees

Remove potatoes from brine and dry well with paper towels. Place on a baking sheet and bake for 45-55 minutes, or until a fork inserted in the middle goes in without resistance.

Remove from oven and serve hot!
Nutrition Facts
Serving:
1
potato
|
Calories:
300
kcal
|
Sodium:
28293
mg
|
Vitamin A:
140
IU
|
Calcium:
18
mg
|
Iron:
0.2
mg
ARE WE FRIENDS ON INSTAGRAM?
Tag me @heatherlikesfood and use #heatherlikesfood so I can see what you're making and enjoying!