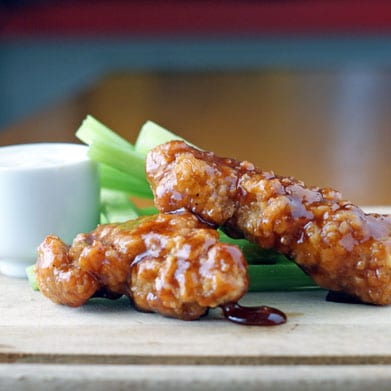 When I was pregnant with my first daughter I was super sick. When the morning sickness (more like morn, noon, and night sickness) set in I was in the middle of  finishing up my last term of cooking school and had to be in a steamy little kitchen just about all day, everyday.  I had the kitchen mapped out- I knew the exact location of every trash can should I need to retreat and I'm pretty sure I scared every single one of my class-mates with my mood swings at some point.  Despite how sick I was I had some weird cravings. Not like fried chicken feet with Nutella weird, but I craved super strong flavors. Things like garlic stuffed green olives, cheesy pizza with sausage, and Winger's Sticky fingers were at the top of my list for consumption. Most of the time eating these things made me more sick after the fact from heartburn, but it was so miraculous that I actually felt like eating something that I welcomed it. Hmmm this is probably the reason I gained  400 lbs during that pregnancy too. Oh well.
I really wish I would have found this recipe, er, six years ago when we were spending way too much on appeasing my cravings. If you've been to Winger's you know how good these are! If you haven't tried them, it doesn't matter because now YOU can make them and they taste just as amazing as getting them from the restaurant (IMHO). The sauce is ridiculously easy to make, just make sure you use Frank's Red hot original sauce, it will make all the difference. I think it's fairly easy to find in most grocery stores. For the chicken I use frozen, breaded chicken fingers straight out of the freezer case at the grocery store (I know, I know) and either bake or fry them depending on how naughty I'm feeling.
With the Super Bowl right around the corner, these would be great- and easy– to serve with some celery sticks and ranch or blue cheese dressing! For the record this sauce is also great on burgers, wings, ribs, or just on your finger.
** UPDATE**
I've re-written the recipe to include a tbsp. of corn syrup. Adding corn syrup will prevent it from crystallizing and getting thick after being made.
Ingredients
1 1/2

C brown sugar

1/3

C Frank's Red Hot Original Sauce

1

tbsp water

1

tbsp corn syrup
Instructions
In a small sauce pan combine all ingredients and heat over medium heat, stirring until the sugar has dissolved. Bake or fry chicken and dip or pour sauce over the chicken strips until they are well coated.

Made this recipe?
I'd love to see how you rocked it! Share your photo on Instagram with the hashtag
#heatherlikesfood  --
It will totally make my day to see it!