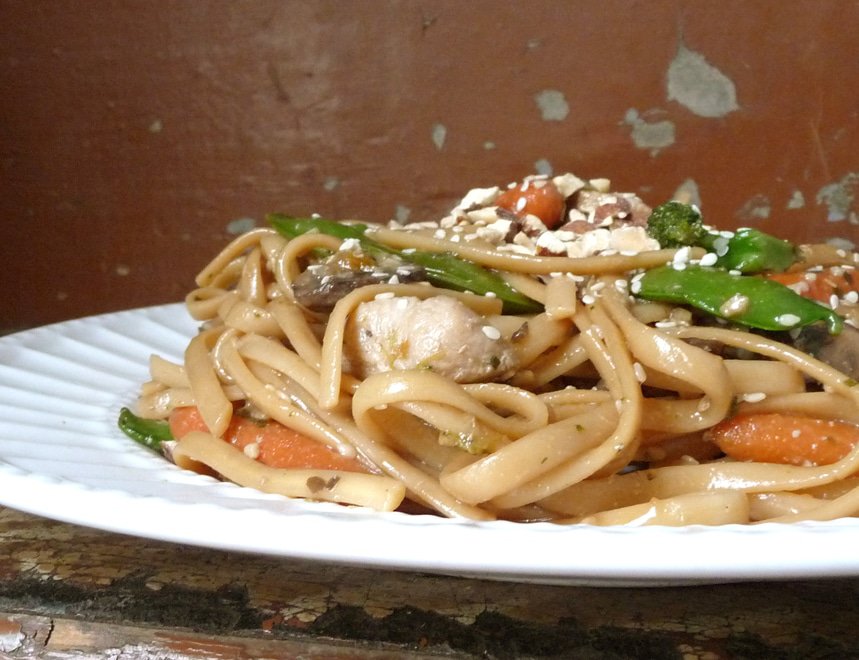 Lo-mein, chow-mein, moo-shu, fat-head, kung-pow… what!?!
Reading chinese food menus kind of makes my head spin.  I know, I know,  I should just embrace the language and learn what it all means, but truthfully I don't really want to.  As long as I can identify sweet and sour somewhere on the menu, I'm good. Seriously.
BUT, when creating this recipe, I wasn't sure what to call it.  I though about just calling it noodle stir-fry, but that felt oober lame. I then realized *somehow* that it's probably one of the "meins" but I wasn't sure which. So I turned to my good friend, the internet, and this is what it said:
"Mein or mian is simply the Chinese word for noodles. Lo Mein means "tossed noodles," while chow mein or chao mian means "fried noodles."
The about.com article went into more detail, but basically what I got from it was that low-meins generally have more sauce so the soft noodles can soak up the goodness, while chow-mein has a lighter sauce and a firmer texture due to frying the noodles.
So there you have it, an education in chinese noodlery (?). Turns out, this recipe is a low-mein, albeit a VERY Americanized version. But really, how much of what we eat in our local chinese food restaurants is authentic anyway?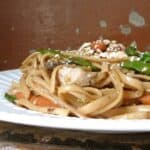 Sweet Chicken Lo-Mein
Ingredients
2

Boneless skinless chicken breasts

8

oz

dry linguine

cooked and drained

5

cups

stir fry veggies- I used a mix of broccoli

mushrooms, baby carrots, and sugar snap peas

1

can water chestnuts

1/4

cup

+ 2 tbsp soy sauce

1/3

cup

apricot pineapple preserves

2

cloves

garlic

minced

2

tbsp

brown sugar

1

tsp

sesame oil

2

tbsp

mirin

sweet cooking rice wine

1

tsp

corn starch

Sesame seeds and cashews/almonds for topping
Instructions
Cut chicken breasts into about 1 inch chunks and toss in 2 tbsp. of soy sauce. Heat a few tbsp. of vegetable oil in a large skillet and add the chicken when oil is hot. Cook the chicken, stirring frequently until it's just cooked through and transfer into a separate bowl.

Heat an additional tbsp of oil in the skillet and add vegetables and water chestnuts. Stir-fry until they are crisp tender. While the veggies are cooking make the sauce by combining remaining soy sauce, preserves, garlic, brown sugar, sesame oil, mirin, and corn starch. Once the veggies are done, add the chicken and noodles to the pan. Pour the sauce mixture over it all, stir to combine, and cook for 1 minute more. Remove from heat and serve with sesame seeds and toasted cashews or almonds.