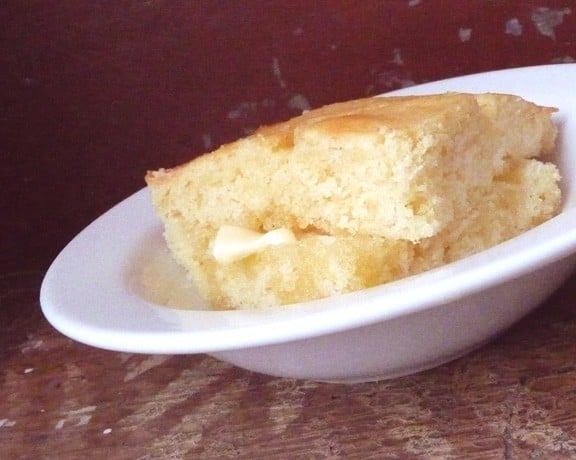 If I were a happily married bowl of chili, I'm pretty sure at some time in my beany little  life, I'd have an affair with corn bread. It wouldn't really matter just how great my block of cheese husband is because corn bread is JUST. THAT. GOOD.
I'm not sure when my love affair with corn bread began. maybe it was around the time that this restaurant moved into to town during my teenage years. My girl friends and I would sit in our cars during lunch time and scarf down massive bowls of cheesy potato soup and their famous corn bread. It was bliss to talk about boys as we simultaneously scared them off with our faces covered in cheese and honey butter. BTW, I blame my carbohydrate addiction on you, girls.
Well, this recipe for corn bread is by far, the best I have tasted. Who knew making it with Bisquick would be so good? I'm not really sure where it came from, but I got it from my mom, who probably got it somewhere from somebody who got it somewhere else.  Regardless of it's origin, make a batch and smother it in honey butter… just be careful though, your significant other might get jealous.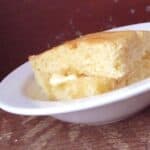 Biscuit Mix Corn Bread
Ingredients
2

cups

Bisquick baking mix

1/2

cup

sugar

1/2

cup

cornmeal

1/2

tsp

baking powder

2

eggs

1

cup

water

1/2

cup

melted butter
Instructions
Preheat oven to 350. In a mixing bowl, sift together dry ingredients. In a separate bowl mix together eggs, water, and butter. Add the egg mixture into the dry ingredients and mix until just combined. There's no need to get the lumps out, over mixing will make your cornbread dry and tough. Pour batter into a greased 8×8 pan and bake for 25-30 minutes until golden brown. A toothpick should come out clean when inserted in the middle. ENJOY!