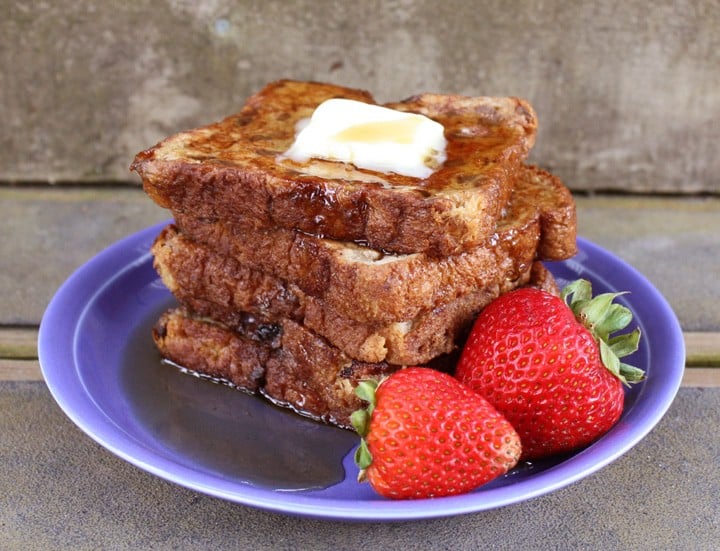 I've NEVER had good luck with french toast.  For some reason, it always seems to come out dry and rubbery on the outside and ooey-gooey in the middle.
Yeah, I know,  I went to cooking school and still can't make decent french toast- it's pretty sad.  But, never fear, if you have the same problems I do (let's hope you don't have all of them), there's hope. I found a way–thanks to good ole Alton Brown— to thwart the snooty french toast gods that don't want you to get it right. I present to you,  the perfected french toast method…
Lay your slices of bread out in a single layer on a baking sheet set with a cooling rack and toast in the oven while it preheats. I'm using cinnamon raisin bread, but any good quality, thicker sliced bread will work. Don't even try to use Wonder bread!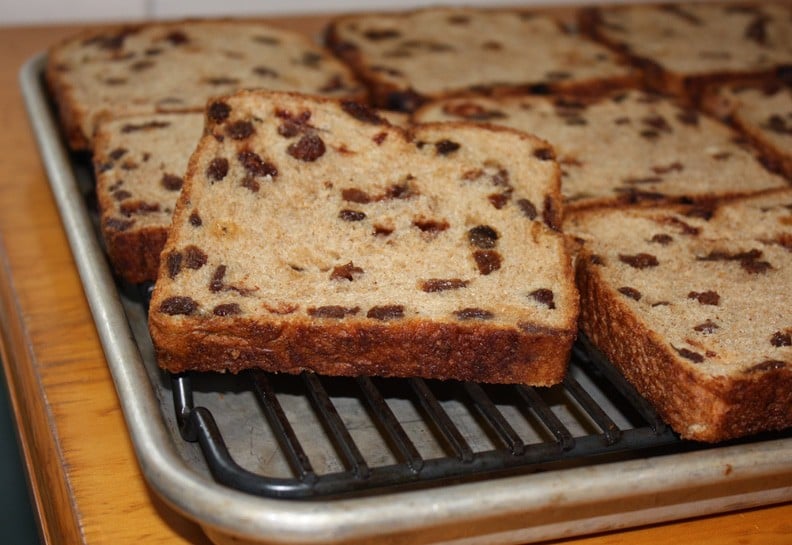 Whisk together the milk, eggs, vanilla and honey in a shallow dish.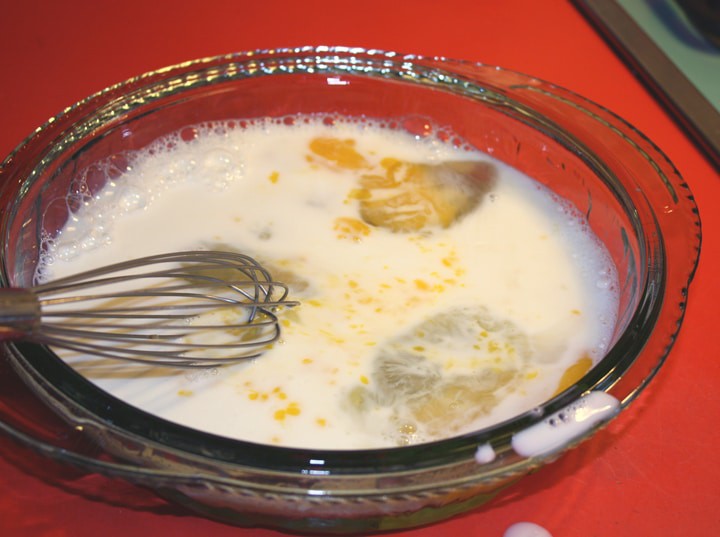 Give your toasted bread a little dip in the egg mixute for 30 seconds on each side- don't skimp on the time here! And put back on the baking sheet lined with the cooling rack and let sit for 2 minutes longer.  This step is the key to getting a nice custardy, moist french toast. Think bread pudding…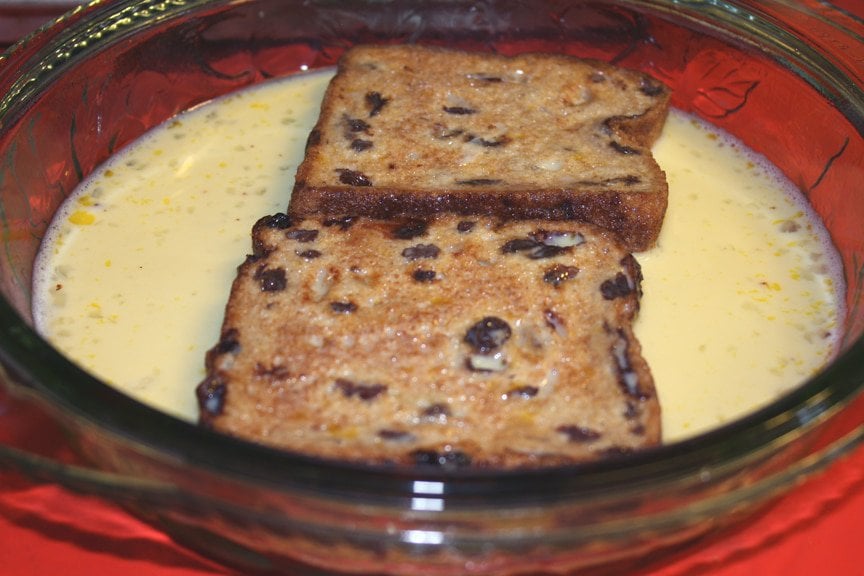 Once your bread is all nice and soaked, fry it up in a little bit of butter until it's nice and golden brown on both sides.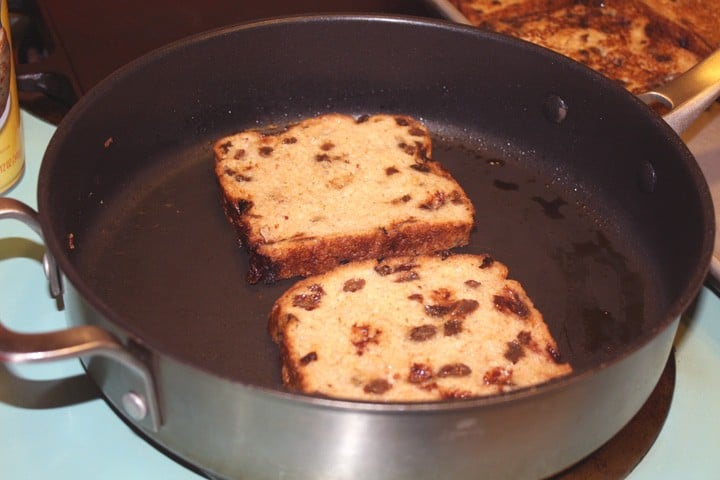 As you cook up your slices of bread, lay out on a separate baking sheet in a single layer. Once all of your slices are browned, put the whole pan of them in the oven and cook for an additional 8 mins. Finishing the french toast in the oven assures that the middles are nicely cooked through and not soggy!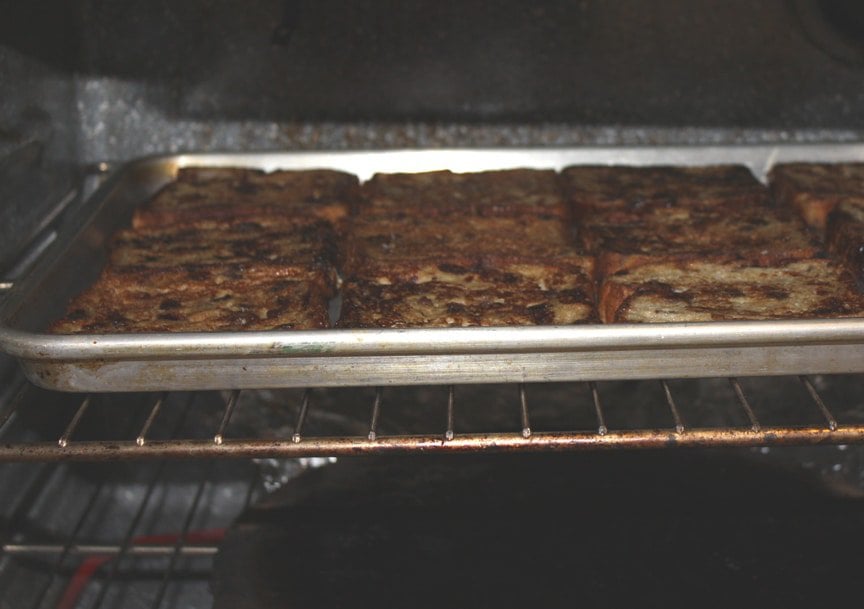 Eat immediately with an ample amount of butter and syrup. Mmmmmmm.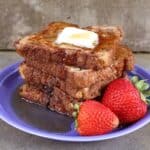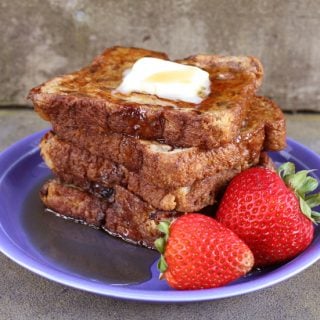 Cinnamon Raisin French Toast
Ingredients
1 1/3

cups

milk

4

large eggs

2 1/2

tbsp

honey or maple syrup

1/3

tsp

salt

12

slices

cinnamon raisin bread

4

tbsp

butter
Instructions
Place slices of bread on a baking sheet lined with a cooling rack. Turn oven to 375 and put bread in to toast as the oven preheats. Toast the bread for about 10 minutes, or until lightly browned and turn over to brown the opposite side. Meanwhile, whisk together milk, eggs, honey, and salt until well combined.

Dip each slice of bread in the egg mixture and let soak for 30 seconds per side. Take out of the egg and place back on the baking sheet lined with a cooling rack. Let bread sit for an additional 2 minutes. Heat a skillet to medium heat with a little bit of butter. Once the bread has been soaked and has rested on the baking sheet, place in skillet and cook until golden brown on each side. Transfer to a separate baking sheet and repeat with remaining bread.

Once all of the bread has been browned, place the entire baking sheet into the oven and bake uncovered for an additional 8 minutes. Serve immediately.