My hubby had knee surgery last week. It's been...um, fun. Yeah, that's it.
Well, not really but it's all good. He's doing well now and I got to make some awesome enchiladas for him when he wasn't doing so hot. Eating Mexican food was his first request after waking up, so like any good wife does after her husband has surgery, I took out my camera and wrote a recipe.
You'll need: Sour cream, Monterrey Jack Cheese, corn tortillas, green chiles, cilantro, cumin, flour, salsa verde, chicken broth, lime juice,  and a tomato. Let's just pretend all those things are in this picture and that my wallpaper isn't hideous. Okay?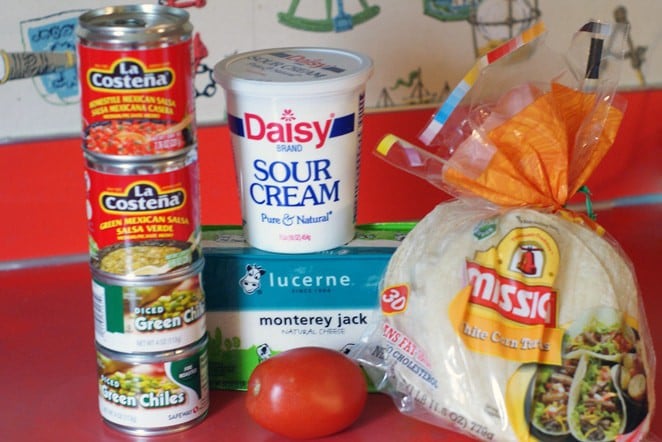 First up is the filling! We're going for rich and creamy here, so combine your cheese with the sour cream, 1 can of green chiles, a little bit of cumin, some chopped cilantro and a tablespoon of flour. Mix it up well and imagine what it would like like because I don't have a picture.
I'm not a huge fan of prepared enchilada sauce. I feel like they taste more like the tin can they've been stored in than anything I want to pour over my food. So we're making our own... sort of.  You'll start with a can of Salsa Verde- I LOVE this stuff. If you've never tried it, don't be afraid of it because it's green. It's your friend. Use it, love it.  I find it in the Hispanic isle at the grocery store usually somewhere close by the green chiles. BUT, dear reader, BEWARE! Not all Salsa Verde is created equal. I've tried lots of different kinds and each one of them, regardless of what the "heat meter" on the side of the can says, are usually too spicy for my girls. Save one- La Costena. If you can't find this particular brand ( I found this at Safeway) I'm sure there are other mild ones out there. Give a shout-out if you have one that you like!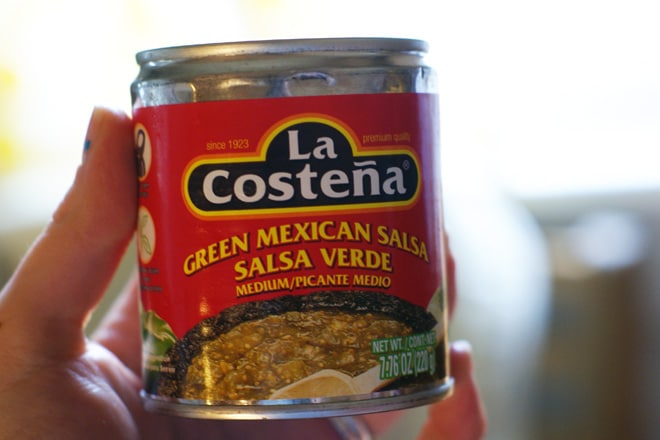 Once you find a Salsa Verde that you like, you'll pour it into the blender with 1 cup of chicken broth, some lime juice and a few teaspoons of corn starch and let it roll. You'll end up with a thin, smooth green sauce. Don't worry, it will thicken up when it bakes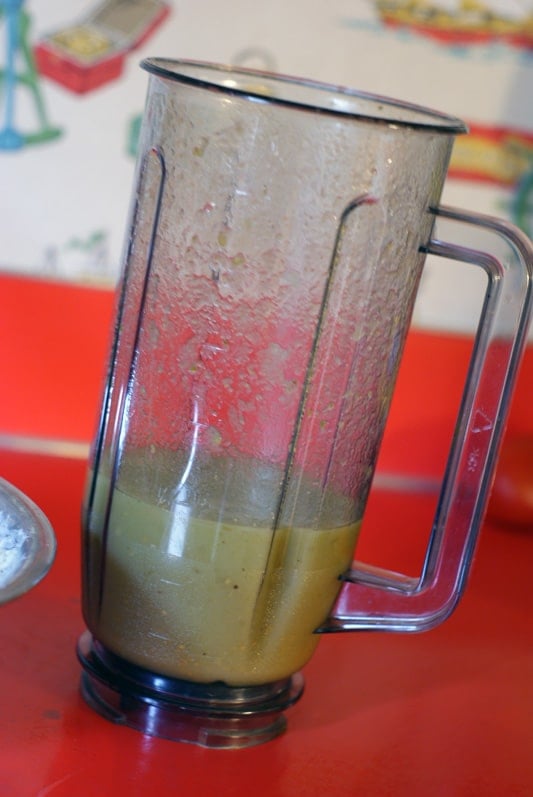 Now that you've got your filling and sauce ready to go, you'll need to warm up your tortillas and get them ready to roll. I usually spread mine out on a plate and microwave them from a minute or two until they are nice and pliable. If you find that the tortillas start to crack when rolling, they aren't warm enough.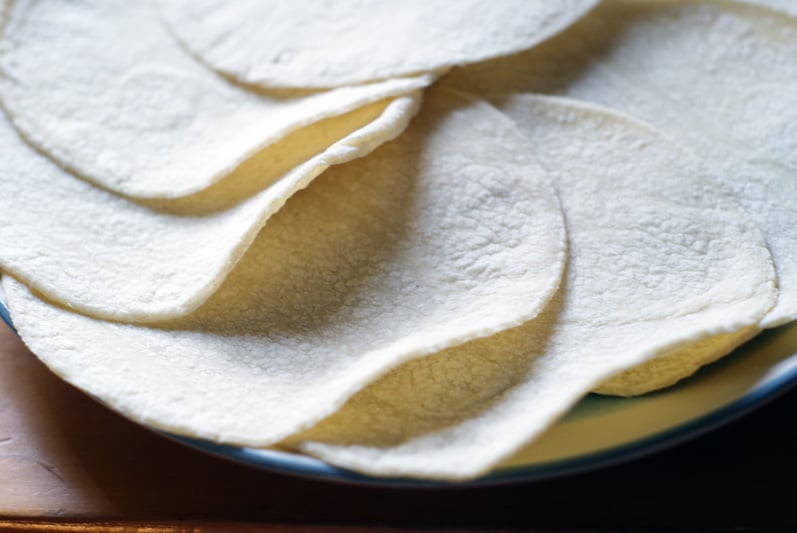 This recipe will make about 14 enchiladas and I like to spread them out between 2 9x13" dishes.  Put ½ cup of green sauce in the bottom of each dish before filling with enchiladas.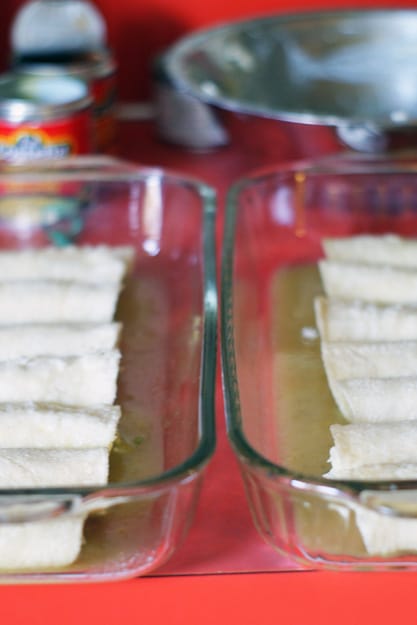 You'll need about ¼ Cup of filling for each tortilla.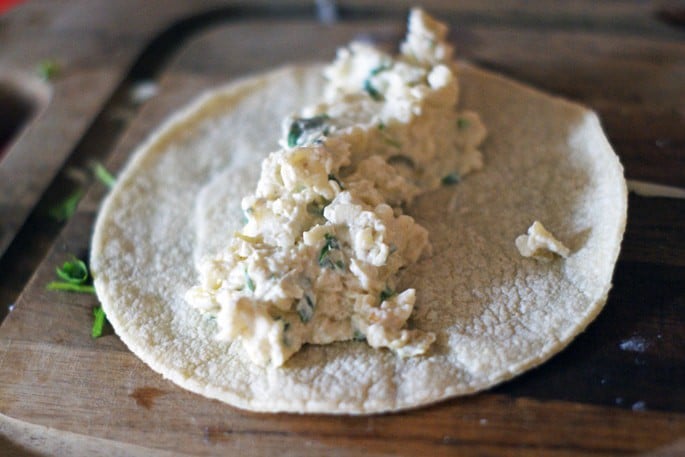 Plop, roll, and repeat.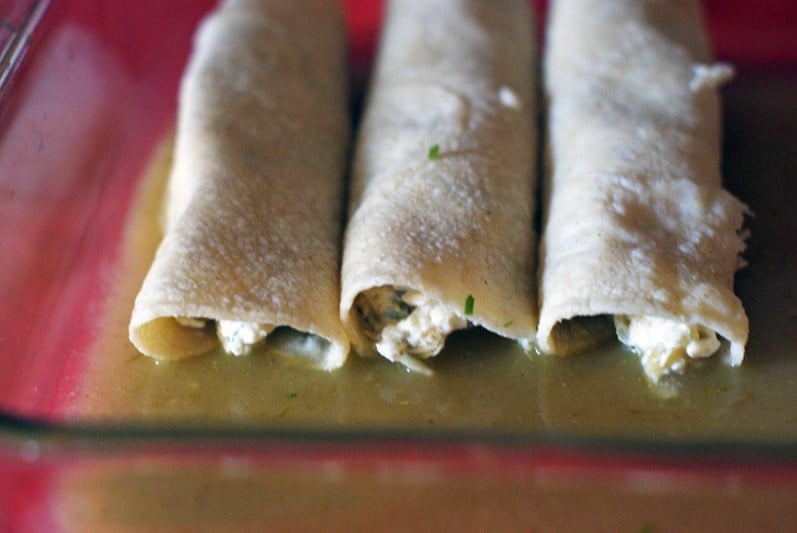 Top each pan with an additional ½ Cup of enchilada sauce, cheese, and diced tomatoes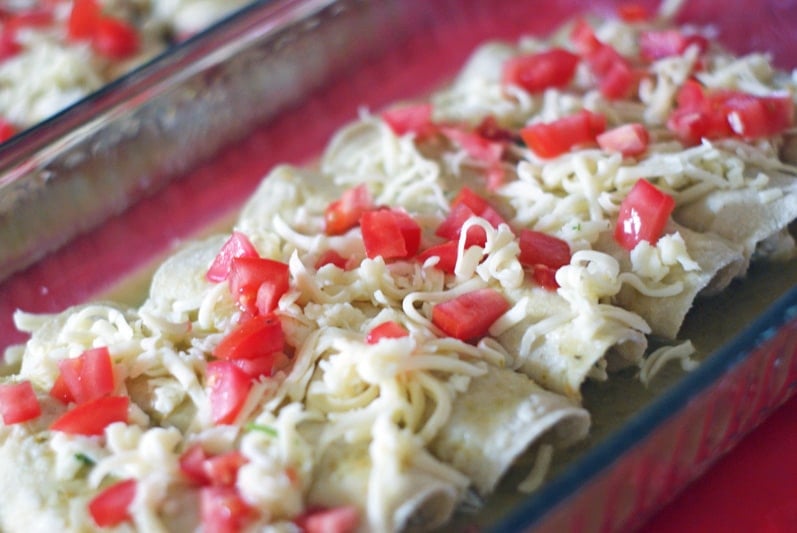 And bake for 15 minutes. The cheese will be melted and the top will start to brown. If you'd like it more browned, turn on the broiler and babysit it until it's where you want it to be.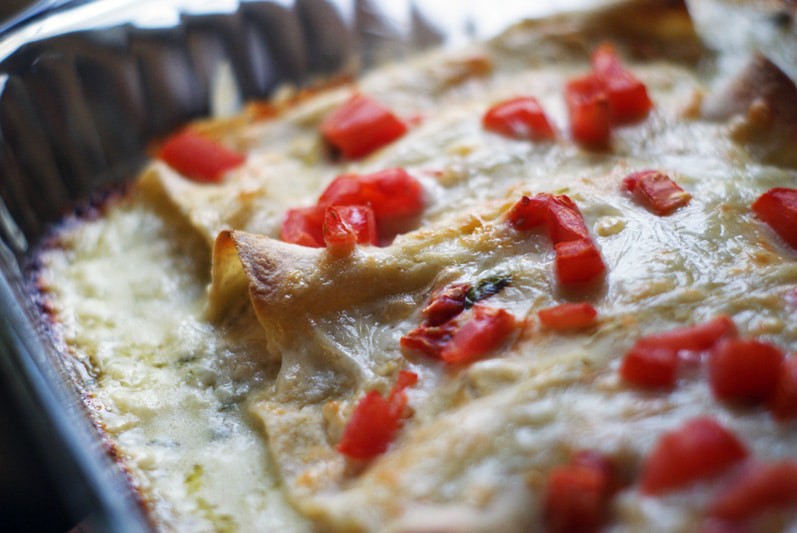 Cheesy, melty, green chile goodness! Enjoy!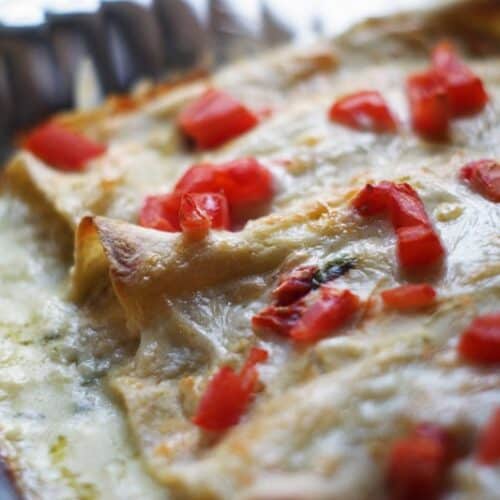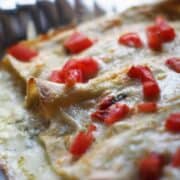 Green Chile and Cheese Enchiladas
Creamy, tangy and delicious!
Print
Pin
Rate
Ingredients
14

corn tortillas

1

cup

sour cream

1

tablespoon

can chopped green chiles

5

cup

Monterrey Jack cheese

1

teaspoon

ground cumin

1

tabelspoon

flour

2

tablespoon

chopped fresh cilantro

8

ounces

Salsa Verde

1

cup

chicken broth

2

teaspoon

corn starch

1

tablespoon

lime juice

1- 2 to

tablespoon

tomatoes

diced
Instructions
In a medium-sized mixing bowl combine sour cream, 4 cups Monterrey Jack cheese, cumin, cilantro, and flour.

In a blender combine green salsa, chicken broth, corn starch, and lime juice. Blend until smooth, mixture will be thin.

Spread ½ C sauce on the bottom of 2 9x13" pans. Warm tortillas until pliable and do not crack while rolling,

Spread about ¼ C of cheese filling down the center of each tortilla and roll. Place rolled tortillas in pans.

Top each pan of rolled tortillas with ½ C of sauce and remaining 1 C of cheese. Sprinkle diced tomatoes over the top.

Bake at 400° for 15 minutes for until the cheese is melted and starting to brown. If additional browning is desired, turn on broiler and continue to cook an additional 1-2 minutes.
Chef's Notes:
Heather @ www.Heatherlikesfood.com
Nutrition Facts
Calories:
253
kcal
|
Carbohydrates:
14
g
|
Protein:
11
g
|
Fat:
16
g
|
Saturated Fat:
9
g
|
Cholesterol:
44
mg
|
Sodium:
456
mg
|
Potassium:
194
mg
|
Fiber:
1
g
|
Sugar:
2
g
|
Vitamin A:
640
IU
|
Vitamin C:
7.2
mg
|
Calcium:
347
mg
|
Iron:
0.9
mg
ARE WE FRIENDS ON INSTAGRAM?
Tag me @heatherlikesfood and use #heatherlikesfood so I can see what you're making and enjoying!