Where has this month gone? Seriously. I know it's a short month, but I can't believe it's almost March. I'm super excited though because I totally dropped the ball on making cute Valentines day food and now I get to make up for it with St. Patrick's day. Get excited people. Get excited.
My poor husband spent his entire day on Saturday at work and school, we're talking 14 hours. Granted this is pretty normal during the school year and we've become quite accustomed, it still stinks. Major brownie points to all the military wives that rarely have their husbands home because I really don't think I/my kids would survive. Anyways in an attempt at actually planning ahead for dinner and not resorting to "noodle soup"- our fancy name for ramen-  I came up with this. After a long, husband-less day this chicken totally made it okay for him to be gone for so long. Well, kind of.  If it would have fished out the hair brush, toilet paper roll, toothbrush, paper valentine, and stick of gum that my 18 month old put in the toilet, I'd marry it. Just sayin'.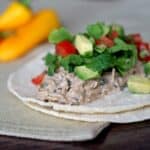 Slow-Cooker Cilantro Ranch Chicken Tacos
Ingredients
4

boneless

skinless chicken breasts

2

envelopes ranch dressing mix

do NOT use the dip mix, must be for salad dressing

1

C

chicken broth

1

tbsp

chili powder

2

tsp

ground cumin

1

small can diced green chiles

1

C

sour cream

1/2

C

chopped fresh cilantro

Juice from 1/2 lime
Instructions
In a slow-cooker, combine chicken breasts ( doesn't have to be thawed, cut-up or anything else that sucks up your time), ranch dressing mix, chicken broth, chili powder, cumin, and green chiles. Stir around until chicken is coated and there aren't any big lumps of dressing mix. Cover and cook on low for 4-6 hours; chicken should be cooked through and easily shred. Remove chicken from pot, shred, return to pot and stir in sour cream and chopped cilantro. Serve in tortillas with lettuce, cheese, avocado, and pico de gallo.