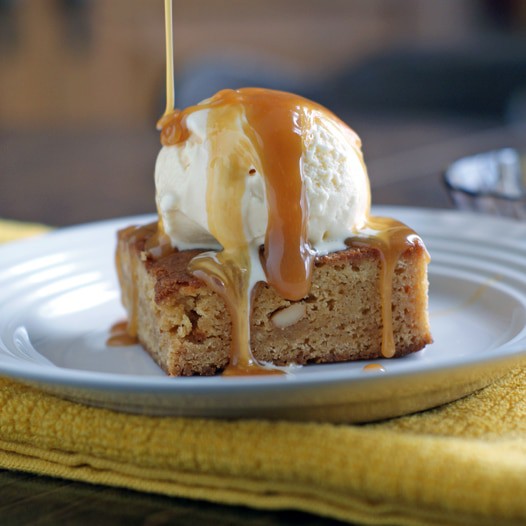 Holy Hannah Montanna, have I got a recipe for you! Seriously people,  you've been to Applebee's, right? Does Maple Butter Blondie ring a bell? Of course it does! Everybody loves a warm caramel-y blondie topped with a luscious maple butter sauce!
If it's done right – and believe me, I've had some that did me wrong- for shame Applebee's. For shame. – it's on my list of all time favorite desserts. I've tried a few copy cat recipes that have floated around the web but none of them really did it for me. Most blondie recipes I've tried taste great but the texture is all wrong — they are either too dense or buttery (did I really just say that?).
Last weekend as I was plowing through some unloved cookbooks trying to find something sweet to make for our Super Bowl feasting, I found this recipe.  I thought it looked good, but it didn't even register that it might be just what I've been looking for- until I tried them.  Am I allowed to say "holy Hannah Montanna" again?
You're probably looking at the picture above and thinking  "that doesn't look anything like Applebee's dessert!" You're right, it doesn't.  Bear with me though. I didn't know it would be so similar to Applebee's so I didn't try to make it taste like it. I used cashews instead of white chocolate and walnuts and a jarred caramel sauce as topping instead of the maple butter sauce. Next time -OH YES there will be a next time- I will makes these changes and I will have what I've been looking for all along! Although I did really like the cashews and caramel sauce too.
The secret to these blondies, I think, is the addition of melted caramels to the batter. Adding sugar that has already been caramelized adds so much flavor and gives them the texture that I love. I hope you'll try these babies out and let me know what you think!
Caramel Cashew Blondies
Ingredients
36

Kraft caramels

unwrapped

2/3

C

butter

1/4

C

milk

1 1/2

C

sguar

4

eggs

2

tsp

vanilla extract

2

C

All-purpose flour

1

tsp

baking powder

1/2

tsp

kosher salt

2

C

chopped salted cashews

or 1 C chopped white chocolate and 1 C chopped walnuts
Instructions
Preheat oven to 350°

In a saucepan, cook and stir the caramels, butter, and milk over low heat until the caramels are melted and mixture is smooth. Remove from the heat; stir in sugar. Combine eggs and vanilla; stir into caramel mixture.

Combine flour, baking powder and salt and stir into caramel mixture until blended. Fold in cashews. Transfer to a greased 9×13? baking pan.

Bake at 350° for 20-25 minutes or until a toothpick inserted near the center comes out clean. Don't overbake, keep a close eye on it! You want them to be just barely done Cool on a wire rack, cut and serve with vanilla ice cream and maple butter sauce.
Recipe Notes
Adapted from The Taste of Home Cookbook
Maple Butter Sauce
Ingredients
1/2

C

butter

softened

1/2

C

powdered sugar

1/4

C

cream cheese

softened

2

tbsp

maple syrup

1/4

tsp

salt
Instructions
Combine all ingredients in a medium sized bowl with an electric mixer until smooth. When ready to serve warm up in microwave, stirring often until hot.