You'll be hard-pressed to find a brownie I like better than these Mississippi Mud Brownies! They are so fudgy, gooey, and absolutely delish.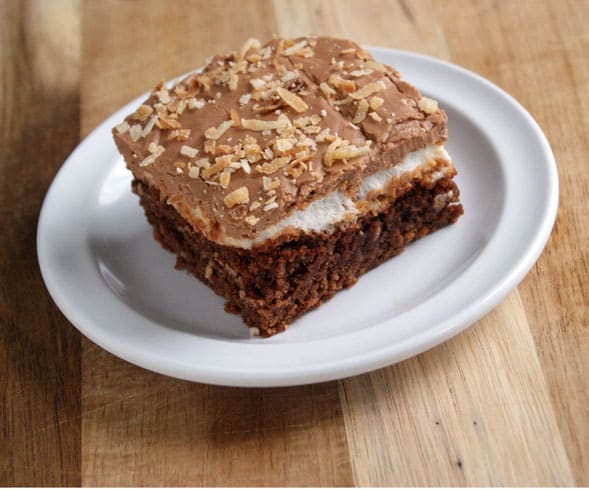 Mississippi Mud Brownies– How's Summer treatin' ya? Heck! How have the past 6 months been? Seriously, people, I need a blogging intervention. I'm not going to make excuses or tell you why my life has been crazy because we all have crazy lives. BUT I am going to bribe you into being my friend again. You think it won't work, but you are so so SO wrong. It'll work- promise. These Mississippi Mud Brownies will have you knocking down my door for more recipes once you try them. If not, well, you've got seriously deranged tastes.
How to Make My Mississippi Mud Brownies
It all starts off with an ah-mazing basic brownie recipe. It's moist, fudgy, and best of all- EASY! In goes the flour, cocoa, sugar, baking powder, and salt.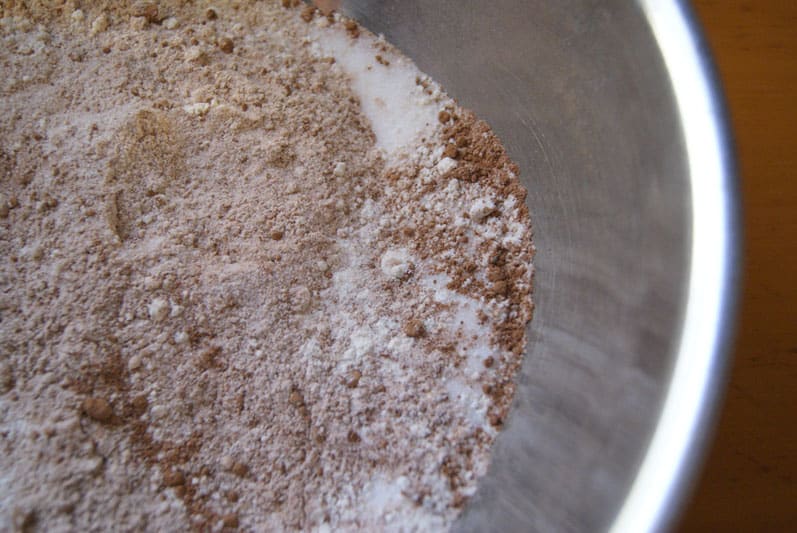 Two sticks of melted butter can't hurt anything (in my humble opinion) and a few eggs. Make sure your eggs are room temperature before adding them in. Because what happens when cold eggs hit melted butter? Yup, your butter isn't melted anymore and it will change the texture of the brownies, yay for science! I usually just plop my eggs in bowl of warm water (with shells still on!) a few minutes before using them and it does the trick.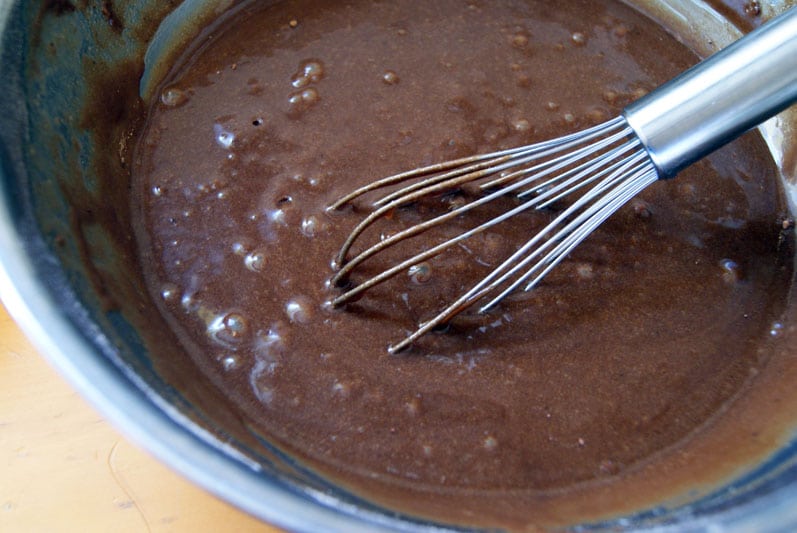 The original recipe suggests using an electric mixer and beating the batter for 3 minutes, but I skipped the mixer, used a whisk, and only stirred until everything was just incorporated. Mixing for a longer period of time only creates gluten and incorporates air in the batter which can make the Mississippi mud brownies turn out tough and dry.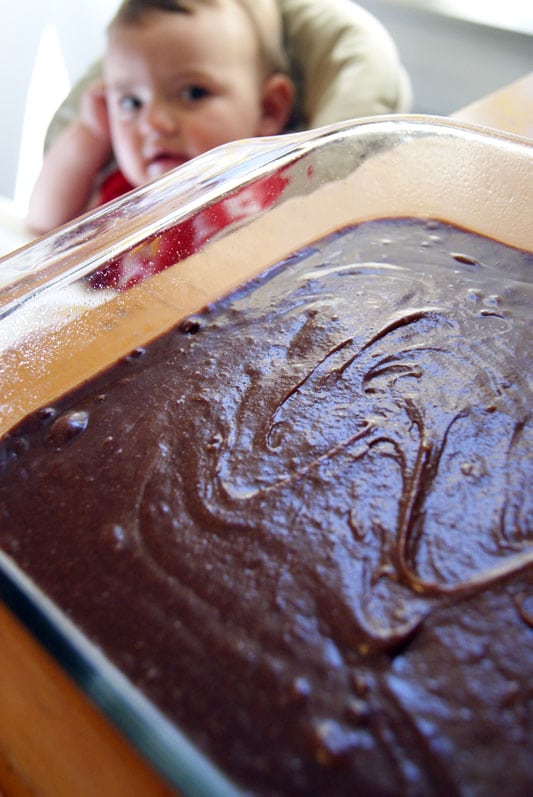 See my little cutie-pie giving me the "what-the-heck-are-you-doing-mom?" stink eye? I love her. Spread your batter into a greased 9×13 pan and pop into a 350-degree oven. My brownies were done in about 35 minutes. The original recipe suggests 25-30, and the ladies of Our Best Bites say 40-50 minutes. It looks like this recipe really reacts to elevation so I'd say start checking at 25 and go from there. Stick a toothpick in the middle and when it comes out just barely clean, you're good to go! See all the holes in the middle? It took me a few tries too.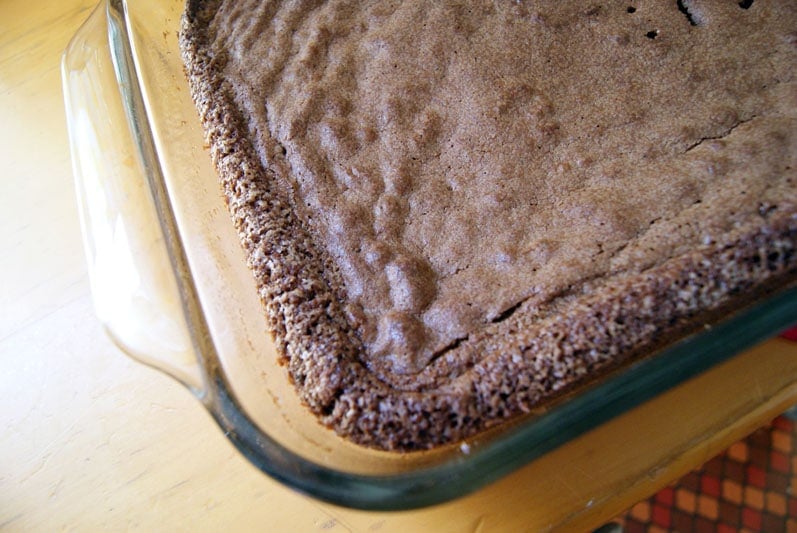 What Kind of Marshmallows Should I Use for Mississippi Mud Brownies?
As soon as it comes out of the oven, you're going to want to top it with marshmallows. Big ones. There will be none of this mini marshmallow crap. You want them big, ok? Well, you're not going to want to use those giant ones that all the rage though, just the ol' big marshmallows.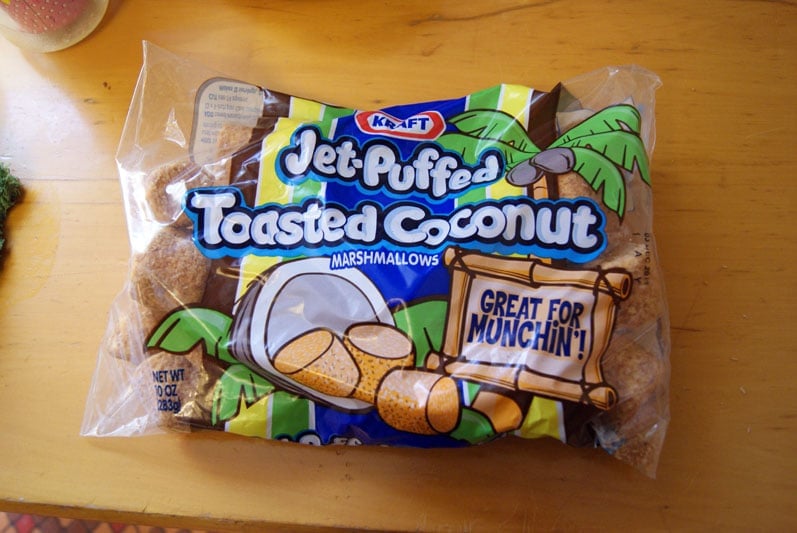 BUT, if you really want to go crazy, which I totally encourage, try it with these toasted coconut marshmallows from Kraft. They. Are. Amazing. and totally make these Mississippi mud brownies do the jig on your tongue. No worries though, regular marshmallows will be just as good. Kinda. 😉 I found the coconut marshmallows here.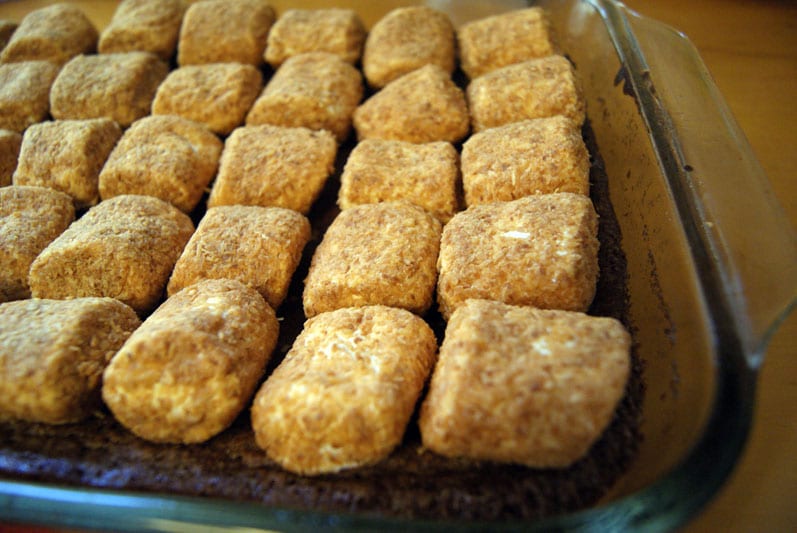 All in a row… and back into the oven they go! Bake for another 3-4 minutes or until they are all puffed up and starting to brown.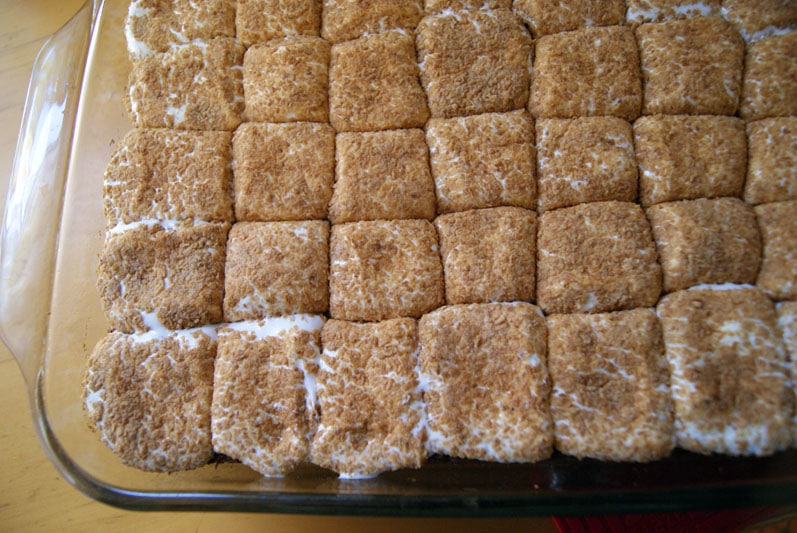 See? It was really hard resisting the urge to pull one of the perfectly melted marshmallows off the top but I succeeded. Yep, go me! At this point, you'll want to let the brownies cool completely and remain unscathed by curious fingers. It will be hard, but you can do it. Just make the frosting and snitch from it while you're waiting.
Once cooled, spread on the frosting, sprinkle on a little toasted coconut if you're feeling crazy and let the good times roll.
Need More Chocolatey Dessert Recipes?
Try this Milk Chocolate Coconut Cream Pie or this Hot Fudge Cake in A Cup! The cream pie is ridiculously delicious and the hot fudge cake is made in just a few minutes in your microwave!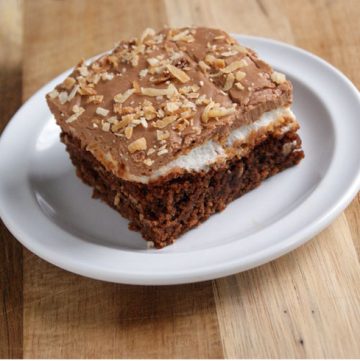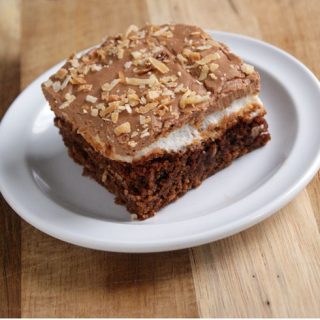 Mississippi Mud Brownies
You'll be hard-pressed to find a brownie I like better than these Mississippi Mud Brownies! They are so fudgy, gooey, and absolutely delish.
Print
Pin
Rate
Ingredients
For the Brownies
1 1/2

cups

all-purpose flour

2

cups

Sugar

1/2

cup

unsweetened cocoa powder

2

teaspoon

baking powder

1/2

teaspoon

kosher salt

1

cup

melted butter

2 sticks

4

eggs

lightly beaten and room temperature

1

tablespoon

vanilla extract

1

bag large marshmallows

toasted coconut covered highly recommended
For the Frosting
1/2

cup

melted butter

1/3

cup

unsweetened cocoa powder

1/3

cup

evaporated milk

1

pound

powdered sugar

1

teaspoon

vanilla

1/2

teaspoon

coconut extract

only add if you're using the coconut mallows or want it coco-nutty
Instructions
Pre-heat oven to 350 and lightly grease a 9×13" pan.

Combine flour, sugar, cocoa powder, baking powder, and salt in a medium bowl. Add the melted butter, whisked eggs, and vanilla. Using a whisk, stir until mixture is combined and no dry lumps remain.

Spread batter in 9×13" pan and bake for 30-40 minutes. Cooking time will vary based on altitude so start checking at 25 minutes. Brownies are done when a toothpick inserted into the center of the pan comes out clean and moist.

When brownies are done, remove from oven and place the marshmallows in a single layer on top. Return to the oven for 3-4 minutes or until the marshmallows are puffed and starting to turn light golden. Remove from oven and cool completely.

While brownies are cooling, beat together the frosting ingredients on high until light and fluffy. Spread over the cooled brownies and cut into squares. Makes about 24 brownies.
Serving:
1
brownie
|
Calories:
296
kcal
|
Carbohydrates:
44
g
|
Protein:
2
g
|
Fat:
12
g
|
Saturated Fat:
7
g
|
Cholesterol:
58
mg
|
Sodium:
166
mg
|
Potassium:
110
mg
|
Fiber:
1
g
|
Sugar:
36
g
|
Vitamin A:
405
IU
|
Vitamin C:
0.1
mg
|
Calcium:
36
mg
|
Iron:
1
mg
Are We Friends On Pinterest?
Follow Me For More Great Recipes @hlikesfood