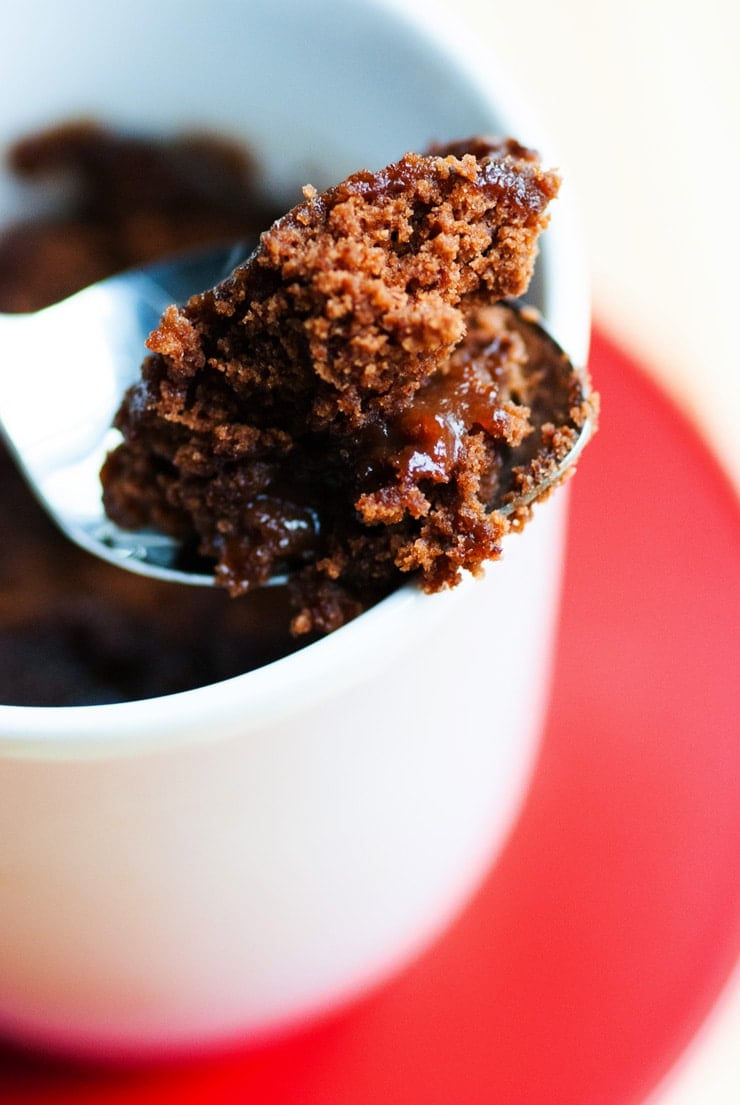 So,  I've got a little bit of a crush on hot fudge and subsequently, this hot fudge mug cake. And it's kind of weird because I'm not really that much of a chocolate person. I mean, I like chocolate cake and pie and ice cream, but those death-by-quadruple-chocolate-bypass-desserts are bit too much for me. Even chocolate bars are too much sometime. But oooh baby, give me some hot fudge on a bowl of vanilla ice cream with roasted almonds and I'll be your BFF for eternity.
The other night we made a few of these Coffee Cakes in a Mug for dessert and it reminded me how much fun it is to just make small little portions of desserts.  I love that it's just enough to eat at once and I'm not being tempted by it 2 or 3 days later when it's still sitting on my counter. So, later that night I was scrolling through Pinterest and saw a post for Hot Fudge Cake baked in an 8×8 pan and I knew that I needed to figure out a way to make it a mug cake.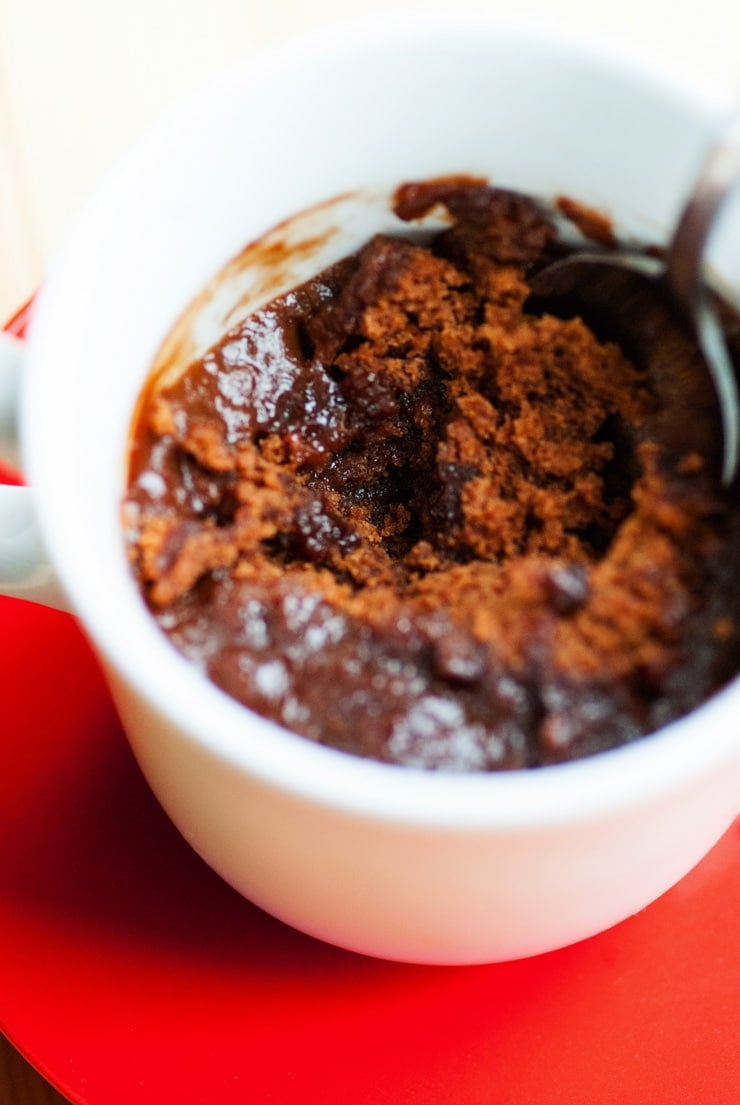 ENTER– HOT FUDGE MUG CAKE
The result is a tender cake that is swirled with gooey "hot fudge". In truth, it's actually more the consistency of pudding but I'll just call it hot fudge. You'll notice that the recipe calls for self-rising flour and if you don't have that on hand, you're not out of luck. Just add an 1/8 of a tsp of baking powder and a pinch of salt to the batter. I do like to use the self-rising though because it makes it just that much easier. Hope you enjoy!
Hot Fudge Mug Cake
It takes just a few minutes to have this hot, gooey hot fudge mug cake in your hands and ready to scarf down. With a scoop of ice cream on top, you've got a pretty killer dessert that took no time at all!
Print
shopping list
Ingredients
3/4 tbsp butter
2 tbsp sugar, divided
few drops of vanilla
2 1/2 tbsp self-rising flour
2 tsp cocoa powder, divided
1 tbsp milk
1 tbsp brown sugar
3 tbsp hot water
Directions
Place butter in mug and melt in the microwave-- about 15 seconds
Stir 1 tbsp sugar into the butter followed by the vanilla, flour, 1½ tsp of the cocoa powder and milk. Stir until no dry spots remain and smooth into the bottom of the mug.
Sprinkle remaining 1 tbsp of sugar, ½ tsp cocoa powder, and brown sugar over the batter. Pour hot water (hot tap water is fine) over the top of the contents in the mug.
Set microwave to cook at 50% power and cook for 1½ minutes, checking every 30 seconds to see how it's cooking. All microwaves cook differently so keep a close eye on it. It's done when the middle looks cakey. The "hot fudge' portion of the cake will be both on the top and bottom of the mug and will have the consistency of pudding when done. Serve hot!

Made this recipe?
I'd love to see how you rocked it! Share your photo on Instagram with the hashtag
#heatherlikesfood  --
It will totally make my day to see it!