Somen Noodle Salad with grilled chicken is a light and crisp meal that is perfect for potlucks or a casual one-bowl weeknight dinner.
Somen Noodle Salad is a simple pasta salad dressed up with marinated grilled chicken and crunchy veggies. It's light and fresh and is one pasta salad that all my kids actually like (woot!). They happily slurp the noodles and pick all the bell peppers out of the big bowl and onto their plates. My pickiest eater may be picky but she sure loves her bell peppers! 🙂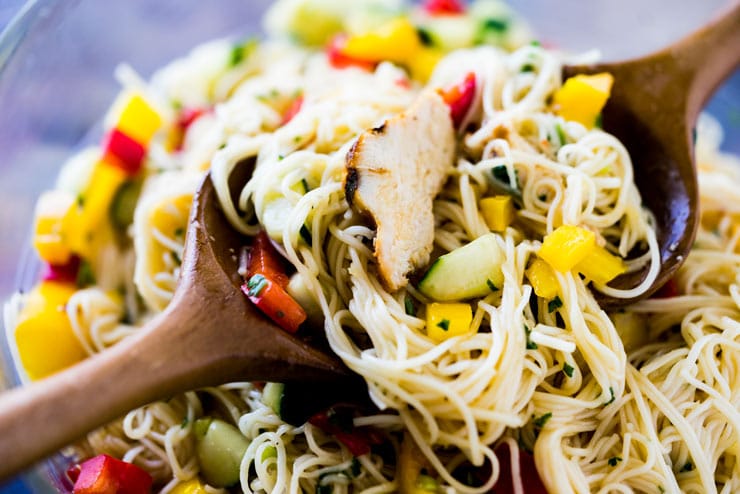 *This is a sponsored post for HemisFares™ brand that is available exclusively at the Kroger family of stores.  All opinions are honest and 100% my own.*
Over the last few months, I've made a couple of recipes using the Hemis Fares line of foods from Kroger. My last two posts (Five Cheese Stuffed Lumaconi & Bacon Wrapped Pesto Chicken) were focused on their Italian selections and now I'm venturing into their Japanese offerings by using Hemis Fares Soy Sauce and Somen Noodles for this Somen Noodle Salad.
Pin This Recipe To Your Salad Board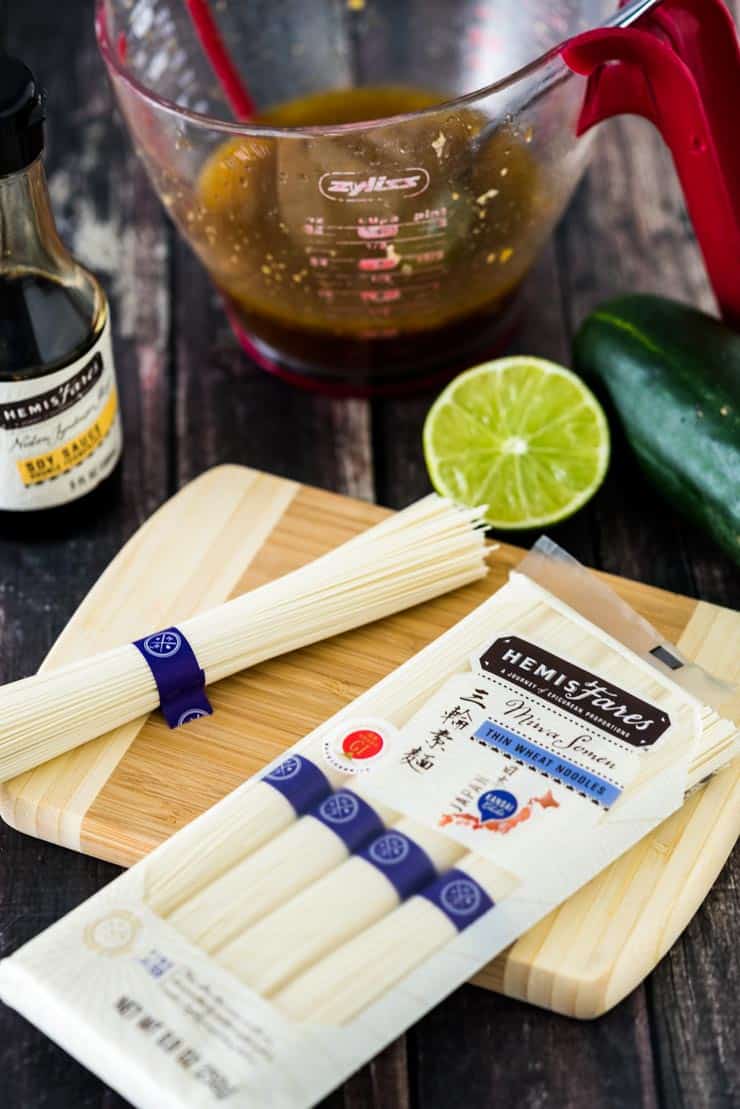 If you're not familiar with Hemis Fares and haven't read my previous posts, it's a high-end imported food line owned by Kroger carried in the Kroger family stores. I've loved exploring ingredients from Italy, Japan, Spain and Jamaica as I've learned about and grown to love their products.
Pin This Recipe To Your Salad Board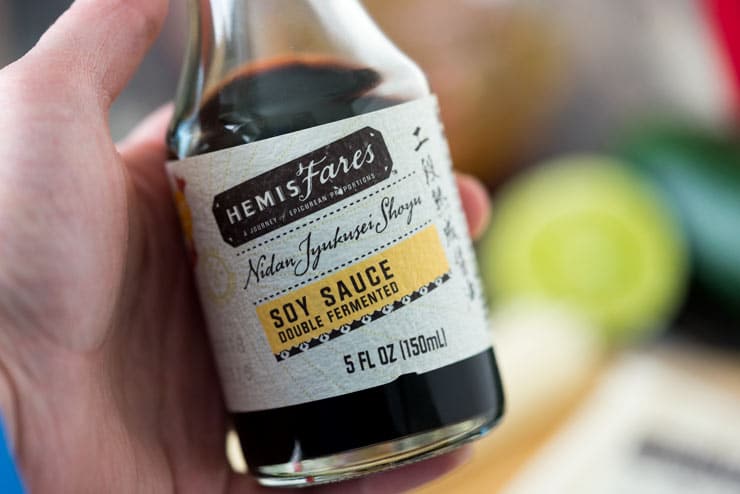 Tips for Somen Noodle Salad:
Marinade chicken for at least 30 minutes before grilling for best flavor. Chicken can be marinated in this dressing for up to 3 hours prior to cooking but any longer and it might affect the texture of the chicken due to the amount of lime juice in the dressing.
Don't have a grill? No problem! You can broil the chicken on high, 4 inches from the heat for 5-7 minutes per side until a thermometer reads 165 degrees.
Sesame oil– there are two kinds available at most stores in the Asian foods aisle. Light colored sesame oil is great for stir-frys while the darker toasted sesame oil adds a nuttier flavor and is better suited for this salad. Both will work but you'll get more flavor from the toasted sesame oil. To use up your bottle you can use it in marinades, salad dressings and even drizzle it over cooked meats for a little extra flavor.
Somen Noodles are a thin Japanese noodle made with wheat flour. They are typically served cold which makes them perfect for salads! You can find these in most stores in the Asian foods aisle. If you can't find somen, angel hair pasta is a good alternative.
Somen noodles can get mushy when dressed for too long, so pour the dressing over the salad just before serving for best results.
Pin This Recipe To Your Salad Board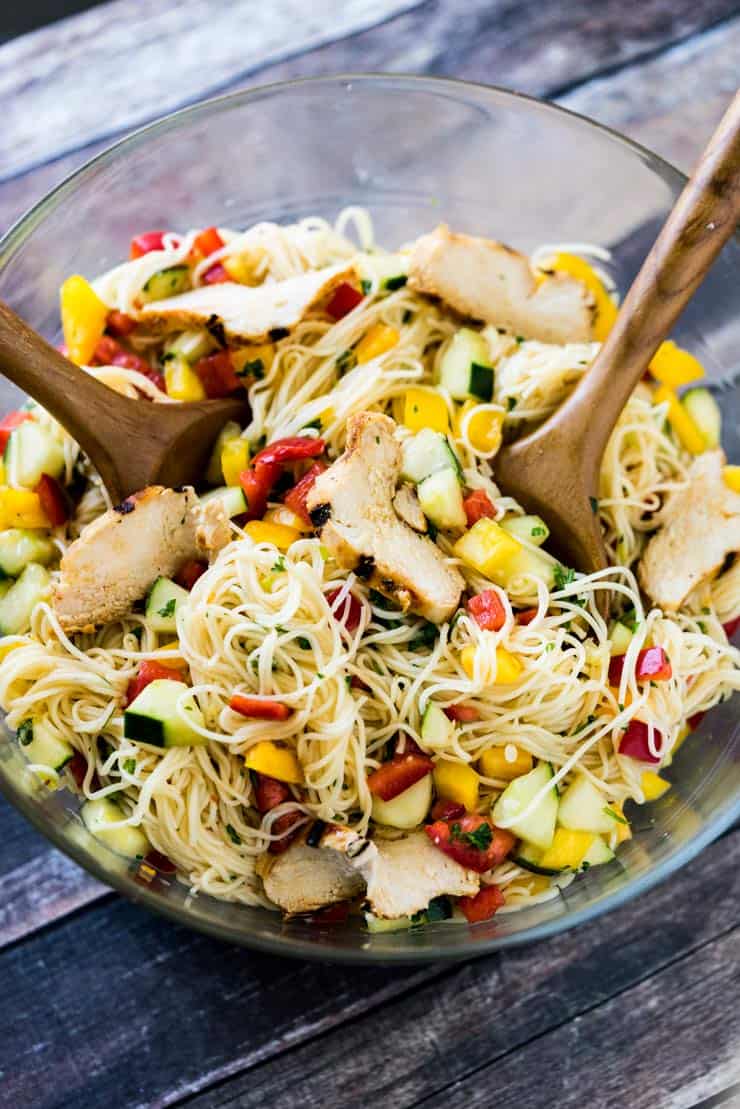 Want More Easy Salad Recipes?
Tools Used For Somen Noodle Salad:
Lodge Reversible Cast Iron Grill Pan: When we moved a few months ago we didn't bring our grill with us so I had to find an alternative until we get a new one. This pan heats up evenly and gives me the grilled taste I love. Admittedly it makes my house a little smoky, but it's worth it.
OXO Stainless Steel Tongs: These tongs take a beating in my kitchen. They go from the grill for flipping meats to the salad bowl for tossing with very little complaint. They are built like a tank and have silicone grips that make them super easy to use, even with my very small hands.
Pin This Recipe To Your Salad Board
Somen Noodle Salad with Grilled Chicken
Somen Noodle Salad with grilled chicken is a light and crisp meal that is perfect for potlucks or a casual one-bowl weeknight dinner.
print
shopping list
Ingredients
3/4

cups FRESH lime juice

3

tablespoons olive oil

3

tablespoons sesame oil

2

tablespoons Hemis Fares Soy Sauce

1

tablespoon minced fresh gingerroot

3

cloves garlic, minced

2

tablespoon sugar

1/4

teaspoon crushed red pepper flakes

1 1/2

pounds boneless skinless chicken breasts

9

oz Hemis Fares Somen Noodles (1 package)

1

large yellow bell pepper, chopped

1

large red bell pepper, chopped

1

medium cucumber, peeled and chopped

1/4

cup fresh parsley, minced

2

green onions, sliced
Instructions
Combine lime juice, olive oil, sesame oil, soy sauce, gingerroot, garlic, sugar and red pepper flakes in a bowl and whisk to combine.
Place chicken in a ziplock bag and pour 1/4 cup of the dressing over the chicken, close bag and marinate in the refrigerator for at least 3o minutes before cooking, up to 3 hours. Reserve remaining dressing.
Drain chicken, discard marinade, season with salt and pepper and grill chicken for 5-7 minutes on each side over medium heat, until a thermometer reads 165 degrees.
Meanwhile, cook somen noodles according to package directions, drain and rinse in cold water.
Combine bell peppers, cucumber, parsley and onions in a large bowl. Cut chicken into strips and add pasta and chicken to the vegetable mixture. Toss salad with the dressing just before serving.

Made this recipe?
I'd love to see how you rocked it! Share your photo on Instagram with the hashtag
#heatherlikesfood  --
It will totally make my day to see it!