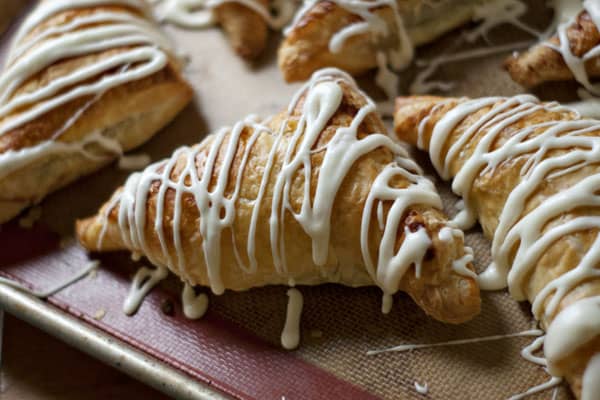 I kind of feel like I'm betraying the Thanksgiving gods by not posting a recipe for pie in my recipe blitz. I love pie, like a lot. Like enough to move across the country to Michigan just so I can be close to my favorite pie ever. But, when it comes to Thanksgiving it rarely makes it into my dessert list and when it does I usually make a cream pie that doesn't involve the oven. I know it's basically Thanksgiving blasphemy but that's just how the cookie crumbles in my little world.
Oh, but these little gems of pumpkin-y goodness! These turnovers are simple and quick enough for even the most novice of bakers and leave you with a super impressive pastry that looks you've studied pastry-making in France. Just make sure you bury the evidence deep in the trash can before your company arrives. Things could get awkward when you start in on your story about that one time when you broke the dough sheeter at that bakery in France you used to work at… you get the idea.
You'll start with a package of puff pastry sheets from the freezer section at the grocery store.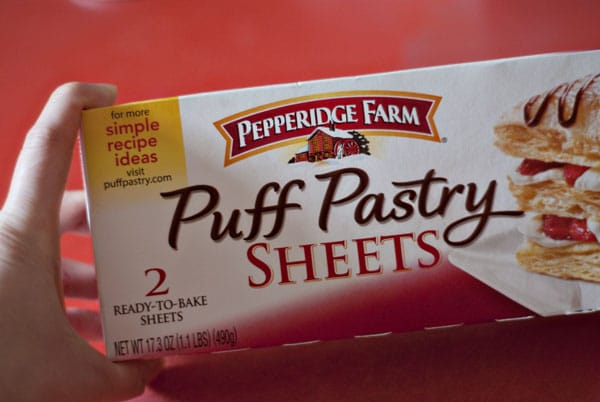 Each box comes with 2 sheets. Unwrap and set them on the counter to thaw.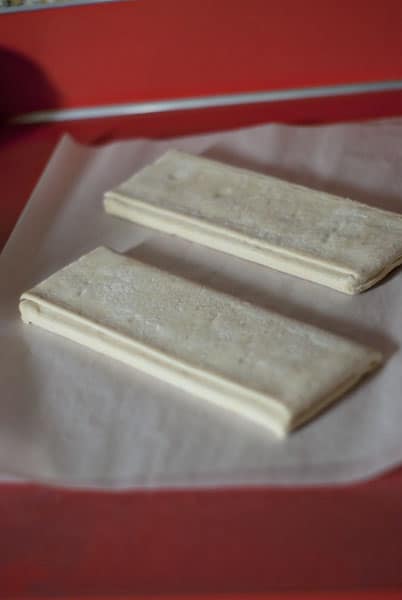 While they are thawing make the pumpkin filling by combining your pumpkin, egg, sugar, salt, spices, and milk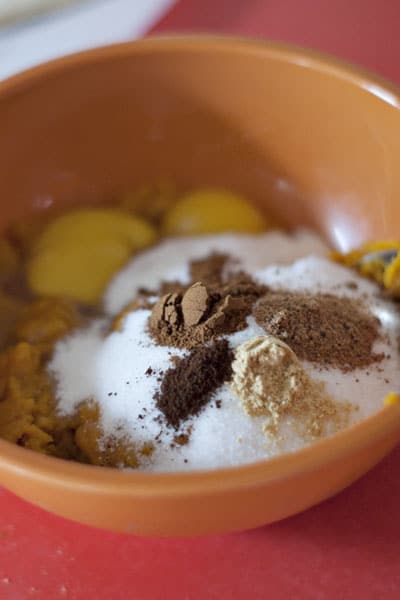 Whisk until smooth and set aside.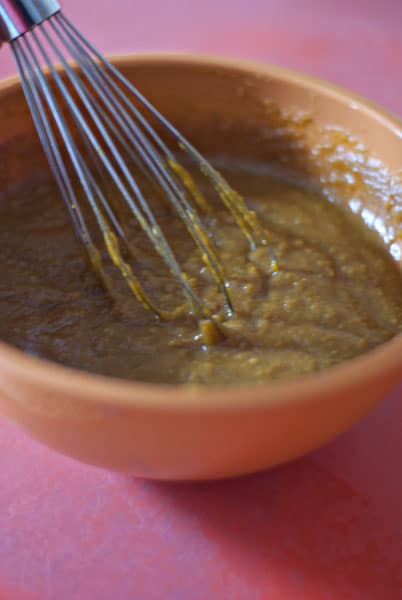 The puff pastry is ready when it unfolds easily without cracking. Cut each sheet into 4 sections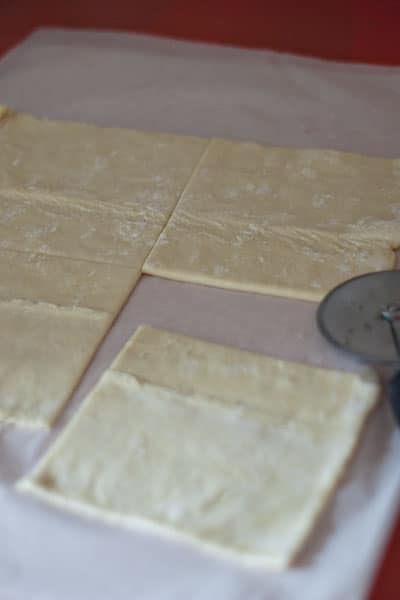 Place the squares of dough on a lined baking sheet and brush the edges of each square with a beaten egg mixed with 1 tbsp of water.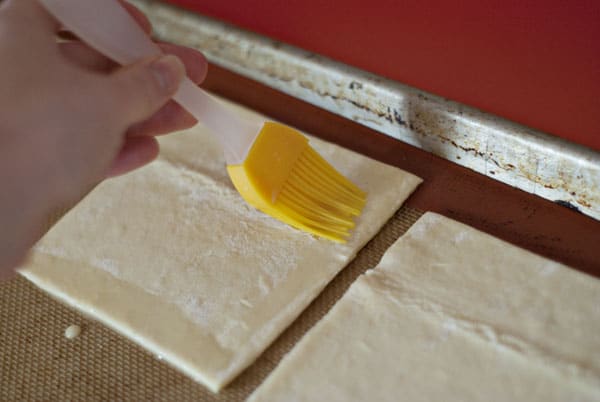 Spoon 2-3 tablespoons of the pumpkin filling into the center of each dough square and carefully fold over.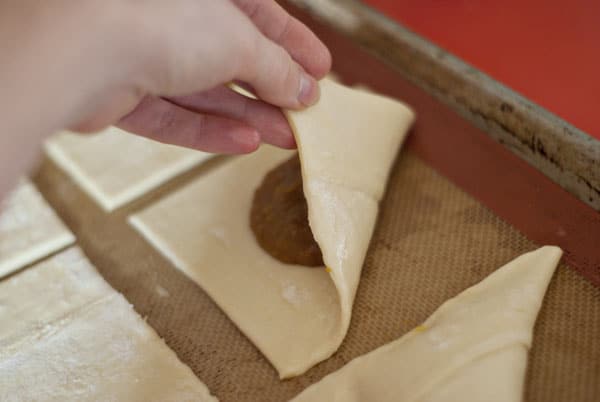 Crimp the edges of each pocket with the tines of a fork…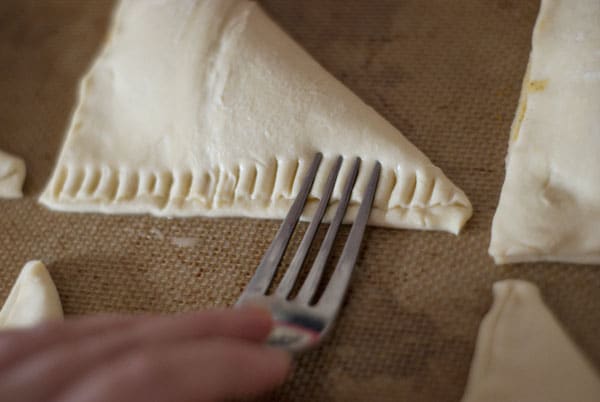 …and brush the tops of each one with the same egg wash used before.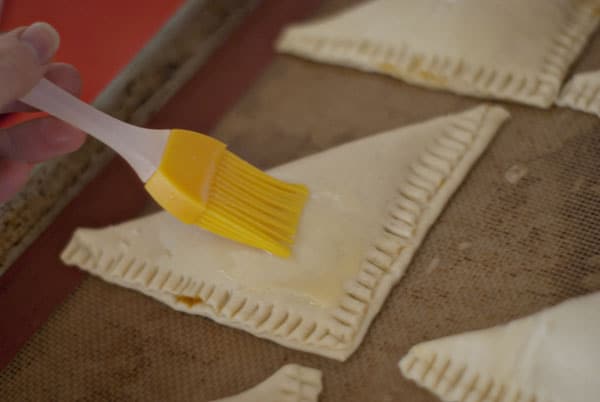 Bake for 20 minutes at 400 degrees or until they are golden brown and very puffed up.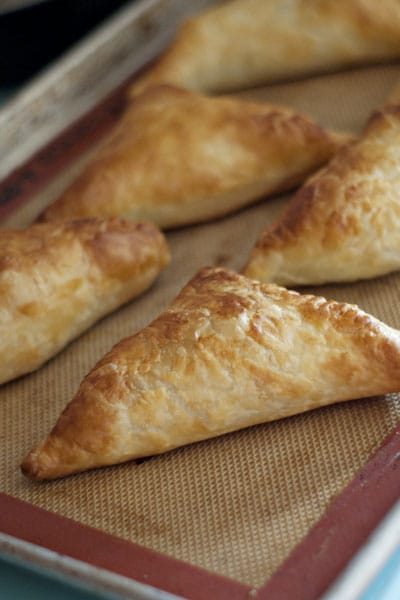 Are you ready for the hardest part?  Let them cool COMPLETELY and then drizzle with cream cheese icing (recipe below).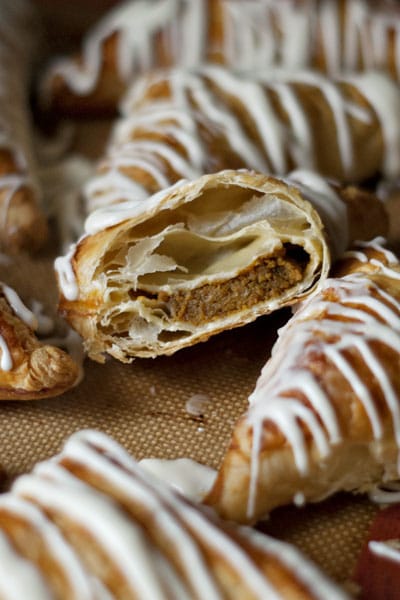 Ingredients
1

pkg (2 sheets) puff pastry dough

1

C pumpkin puree

1/4

C + 1 tbsp sugar

1/8

tsp kosher salt

1/2

tsp each cinnamon, nutmeg

1/4

tsp ground cloves

1/8

tsp ground ginger

1

egg

2

tbsp milk

1

tbsp butter, softened

1

oz cream cheese,

1

tbsp milk

1/2

C powdered sugar

1

egg

1

tbsp water
Instructions
Unwrap and place frozen pastry sheets on the counter to thaw.
Combine all of the filling ingredients in a bowl and whisk until smooth, set aside.
Unfold thawed pastry dough and cut into fourths. Transfer squares to a lined baking sheet.
Beat egg and water together to make an egg wash and brush the outside edges of each pastry square with egg.
Place 2-3 tbsp of filling in the middle of each square and carefully fold over.
Using the tines of a fork, crimp the edges closed. Brush the remaining egg wash over the tops of each pastry pocket.
Bake at 400 degree for about 20 minutes. The tops should be golden and the pastry well puffed.
Remove from oven and cool completely.
Combine all of the ingredients for the icing and stir until smooth. Drizzle over the cooled turnovers.

Made this recipe?
I'd love to see how you rocked it! Share your photo on Instagram with the hashtag
#heatherlikesfood  --
It will totally make my day to see it!