Secret Ingredient No-Fail Pie Crust - Confession: I don't like to think of myself as a snob about a lot of things but when it comes to pie crust my nose is flying high. No shame.
Is it such a sin to want a flaky, tender, buttery crust on the pies I stuff my face with? I don't think so. I mean, if I'm going to eat a piece of pie that will surely take it's aggression out on my thighs, gosh darn-nit, it's going to be worth it!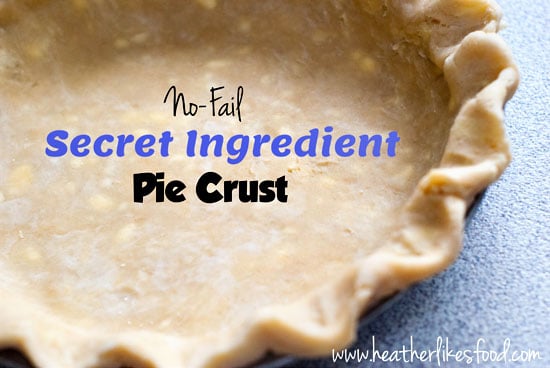 How to Make My Secret Ingredient No-Fail Pie Crust
So just in case you ever have to make me a pie, today I'm sharing my favorite secret ingredient no-fail pie crust recipe. It's REALLY hard to mess up with the addition of a little secret ingredient and it produces some of the flakiest most tender pie crusts there is! **Okay, if you ever really do make me a pie, please use whatever pie crust you'd  like so I don't feel like a big, fat jerk. I'll gladly eat it and be ever-so-grateful you made me pie. Really.**
It starts off like any ol' pie crust-- a little flour, butter, and shortening. The original recipe uses a food processor and if you have one please use it because the results will likely be a little superior. But if you don't, you can certainly make this by hand and still come out with great results.
The first trick to making a good pie crust is to use COLD butter and shortening- like out of the freezer cold. This keeps it from becoming too incorporated into the flour creating a tough dough. So once your butter and shortening is cold, cut it up and place it into the food processor with all but 1 C of the flour called for.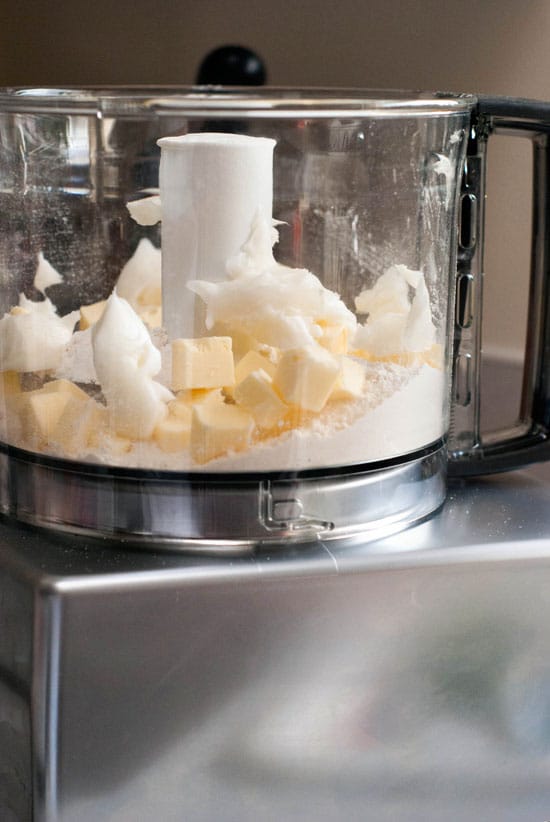 Give it just about 2, 1 second pulses and it will come together pretty quickly-- you want there to be uneven clumps and no dry flour remaining.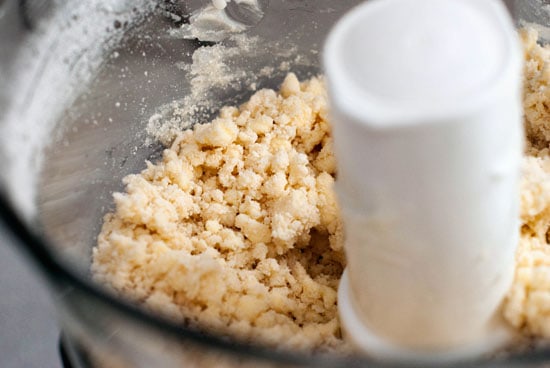 Now that the fat is cut up nicely you can add in the reserved cup of flour and pulse just until the flour is evenly distributed and the large clumps have been broken up a bit-- about 4 quick pulses.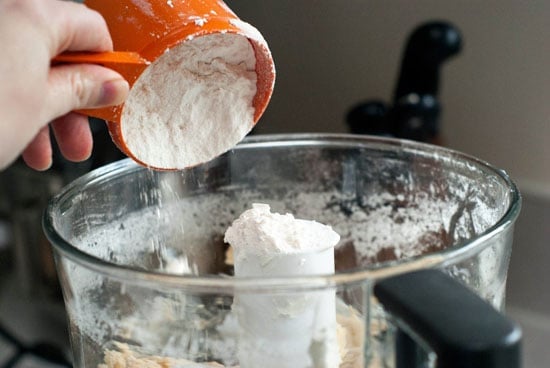 Your mixture should look like this. Pour it into a mixing bowl and set aside.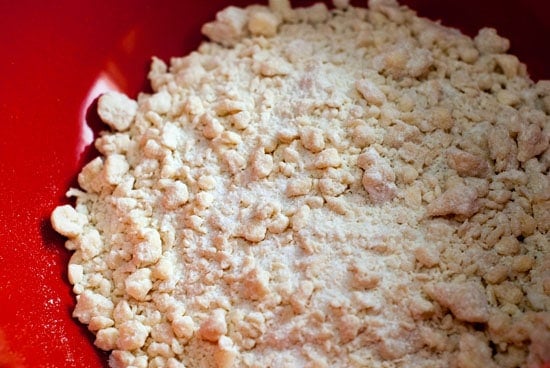 The Secret Ingredient
Time for the secret ingredient!  This recipe comes from Cook's Illustrated and is genius! Instead of using just plain water to bring the crust together we're using equal parts water and vodka. Why Vodka? Because it has a high alcohol content and doesn't promote gluten development which helps the dough to stay tender and flaky even if we overwork it. The vodka also evaporates much faster than water so when it enters the oven it leaves the crust much quicker than the water which results in little steam "pockets" that then translates into a flaky crust.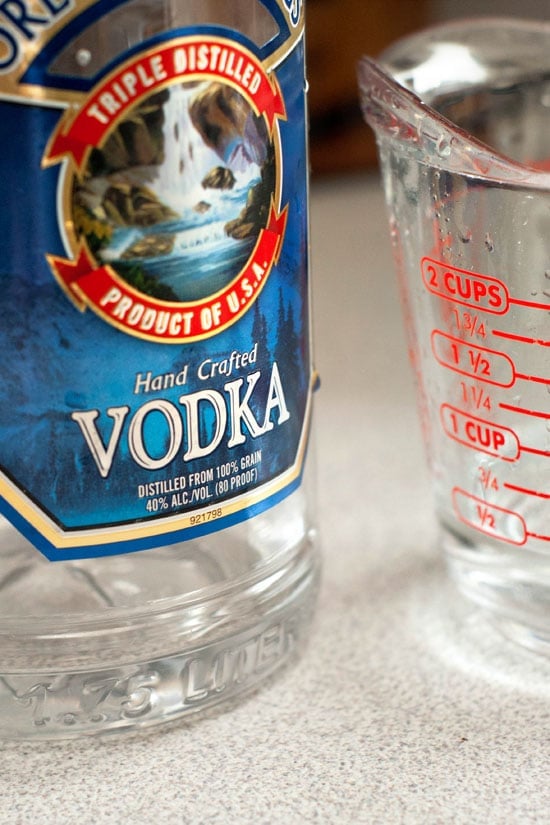 This Secret Ingredient No-Fail Pie Crust recipe calls for ¼ c each of  cold water and vodka. Mix it together but don't pour it all into your flour mixture at once. I like to sprinkle about half of it over the dough and then add more if needed. You want the dough to just barely hold together and not be wet or sticky. If you can form it into a ball in the bottom of your bowl without it falling apart, you're there.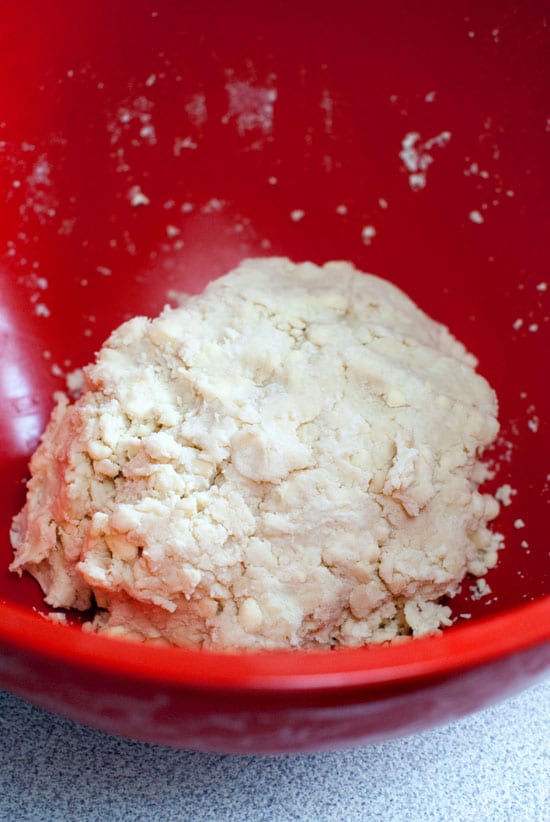 This Pie Crust  recipe makes enough dough for 1 double or 2 single pie crust. Divide the dough into half and place on two separate pieces of plastic wrap.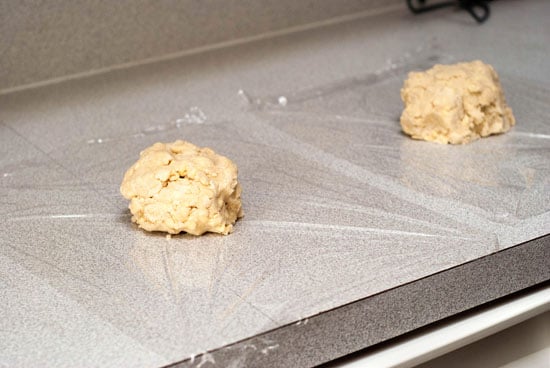 Wrap up each dough ball tightly in the plastic so no air can get in.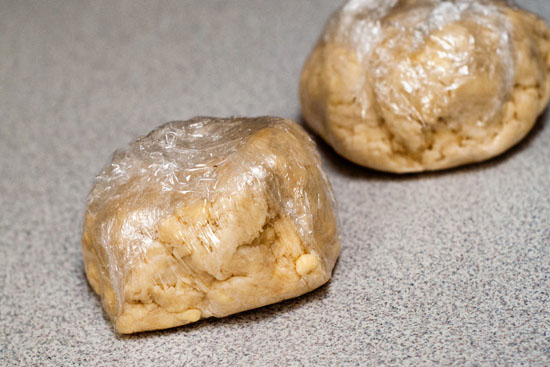 Flip each ball so that seam side of the plastic faces down and press each one into a disk.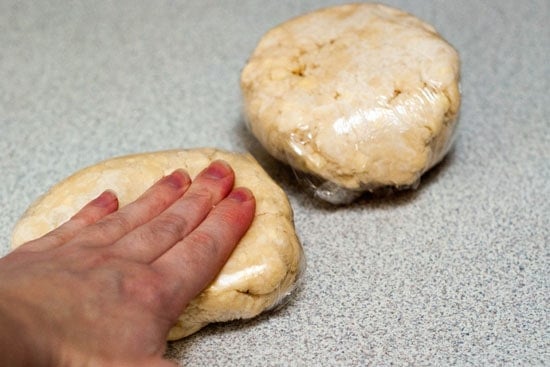 You now have two pie dough disks that will be easy to roll out into a circle when the time comes!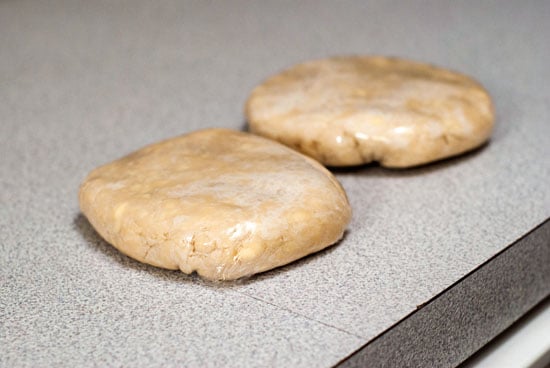 Don't Skip This Step!
Before rolling out the dough it needs to be refrigerated for at least 45 minutes. Skipping this step will only leave you with a sticky mess so don't do it! When I roll out my pie dough, I like to do it between 2 sheets of parchment paper.  You still have to flour the parchment but it makes handling the dough so much easier, especially when it comes time to put it in the pan. Parchment can be found at most grocery stores now, and sometimes the bakery will even sell you a few sheets if you ask the right person. I like to get mine at a restaurant supply store like Cash N' Carry. And while you do have to buy it in bulk ( like $30.00 for 1,000 full sheets), it lasts FOREVER. And when I say forever, I mean it. I bought my last box 6 years ago, have used it for catering many an event, and still have a good stack to last me a while longer. Totally worth it.
Flour the bottom piece of parchment paper, place your chilled pie dough on top and then flour the top of the pie dough.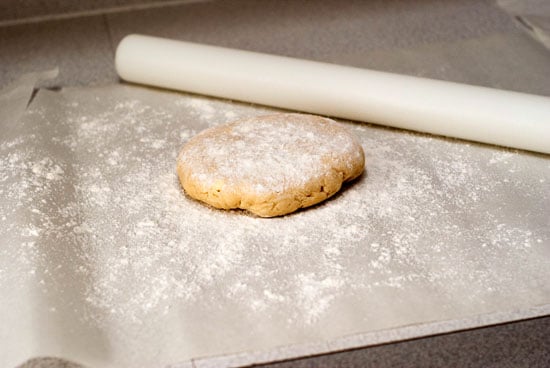 Place another piece of parchment on top and use a rolling pin to roll the pie dough out. You can turn the parchment and dough as needed on your counter top to help make rolling easier. Just check to make sure that there is enough flour between the paper and dough every once in a while so you can get the dough off of the paper when the time comes.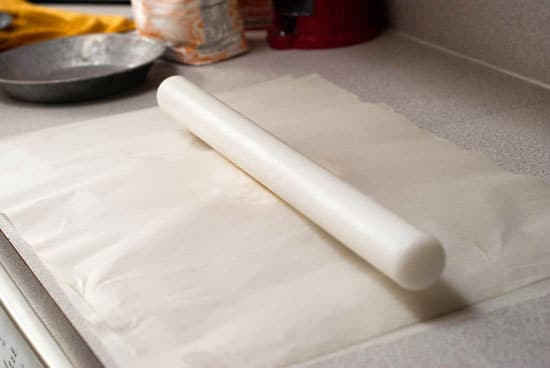 Once you dough is rolled to the thickness you'd like, peel off the top layer of paper...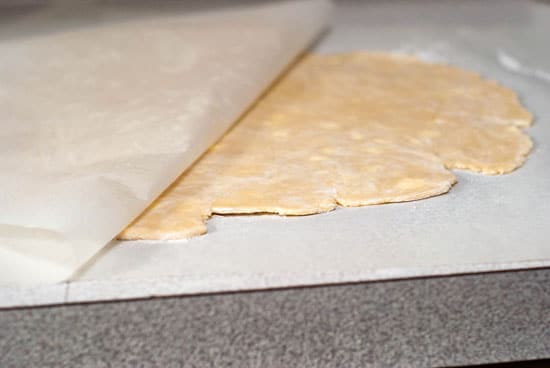 Place you pie pan on top...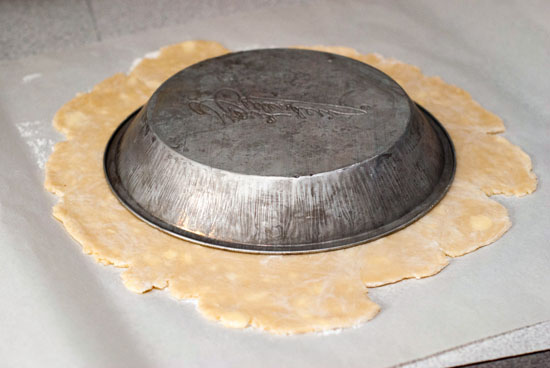 Slide your hand under the bottom piece of parchment and quickly flip it over.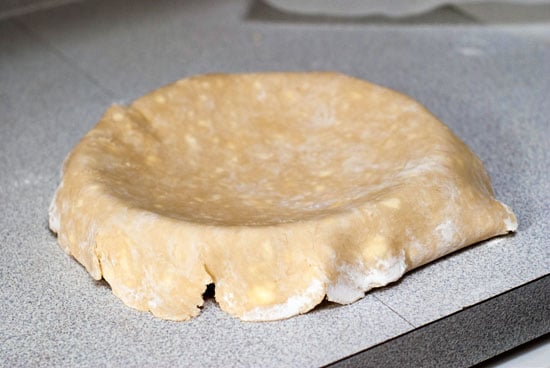 From here you can gently ease the dough into the pan. I like a thick crust and like to tuck the extra edges of the pie dough up and under the edge as opposed to trimming them off.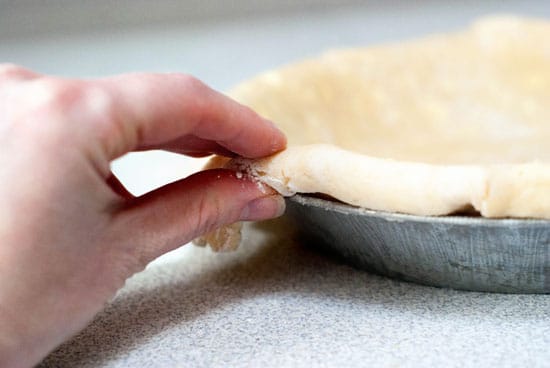 Crimp the edges however your little heart desires and you're done! Do you see all of those little flecks of butter in the finished dough? That butter is going to melt when it goes into the oven and along with the vodka in the dough is going to create one flaky, out-of-this-world crust!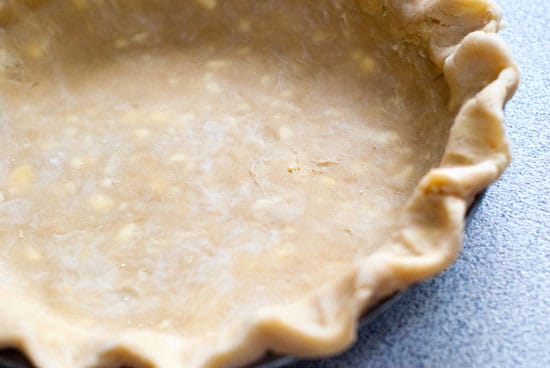 Come back on Wednesday and we'll put this pie crust to use with an awesome recipe for Caramel Apple Pie! Enjoy your Monday!
Other Recipes For Your Thanksgiving Dinner Menu
Sweet Potato Casserole With Coconut
Best Dinner Roll Recipe
Fresh Green Bean Casserole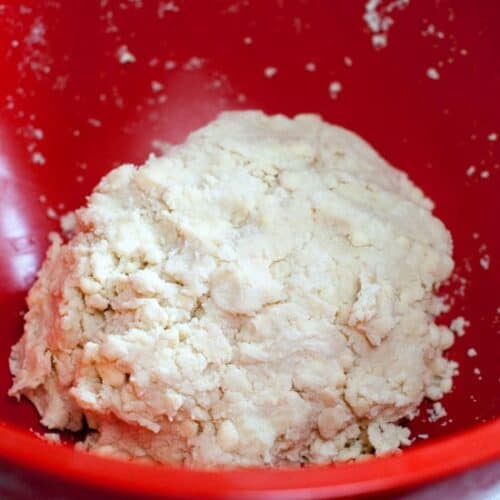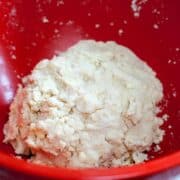 Secret Ingredient No-Fail Pie Crust
A super easy pie crust that uses vodka instead of water to keep the dough light and flaky!
Print
Pin
Rate
Servings:
2
single pie crusts
Ingredients
2 ½

cups

all-purpose flour

1

teaspoon

table salt

2

tablespoons

sugar

12

tablespoons

1 ½ sticks cold unsalted butter, cut into ¼-inch slices

½

cup

cold vegetable shortening

cut into 4 pieces

¼

cup

cold vodka

¼

cup

cold water
Instructions
Process 1½ cups flour, salt, and sugar in food processor until combined, about 2 one-second pulses. Add butter and shortening and process until homogeneous dough just starts to collect in uneven clumps, about 15 seconds (dough will resemble cottage cheese curds and there should be no uncoated flour). Scrape bowl with rubber spatula and redistribute dough evenly around processor blade. Add remaining cup flour and pulse until mixture is evenly distributed around bowl and mass of dough has been broken up, 4 to 6 quick pulses. Empty mixture into medium bowl.

Sprinkle ½ of the vodka and water over mixture. Using your fingertips, bring the dough together into a ball, adding more of the vodka and water if needed to form a ball until it just barely stays together. Divide dough into two even balls and flatten each into 4-inch disk. Wrap each in plastic wrap and refrigerate at least 45 minutes or up to 2 days. Disk can be frozen for up to 2 months.
Nutrition Facts
Serving:
1
pie crust
|
Calories:
1740
kcal
|
Carbohydrates:
131
g
|
Protein:
17
g
|
Fat:
121
g
|
Saturated Fat:
56
g
|
Trans Fat:
10
g
|
Cholesterol:
181
mg
|
Sodium:
1770
mg
|
Potassium:
188
mg
|
Fiber:
4
g
|
Sugar:
12
g
|
Vitamin A:
2099
IU
|
Calcium:
46
mg
|
Iron:
7
mg
ARE WE FRIENDS ON INSTAGRAM?
Tag me @heatherlikesfood and use #heatherlikesfood so I can see what you're making and enjoying!