You'll want to keep these Skillet Steak Fajita Salads on your radar for a quick, easy and healthy meal to whip up in no time!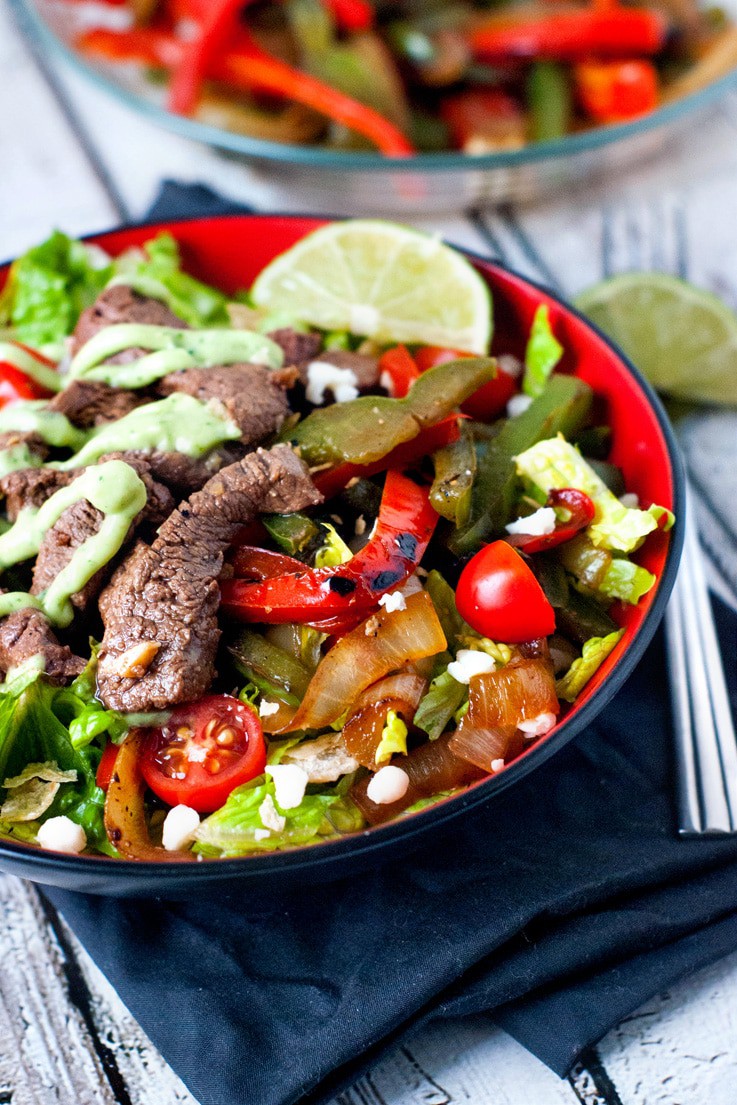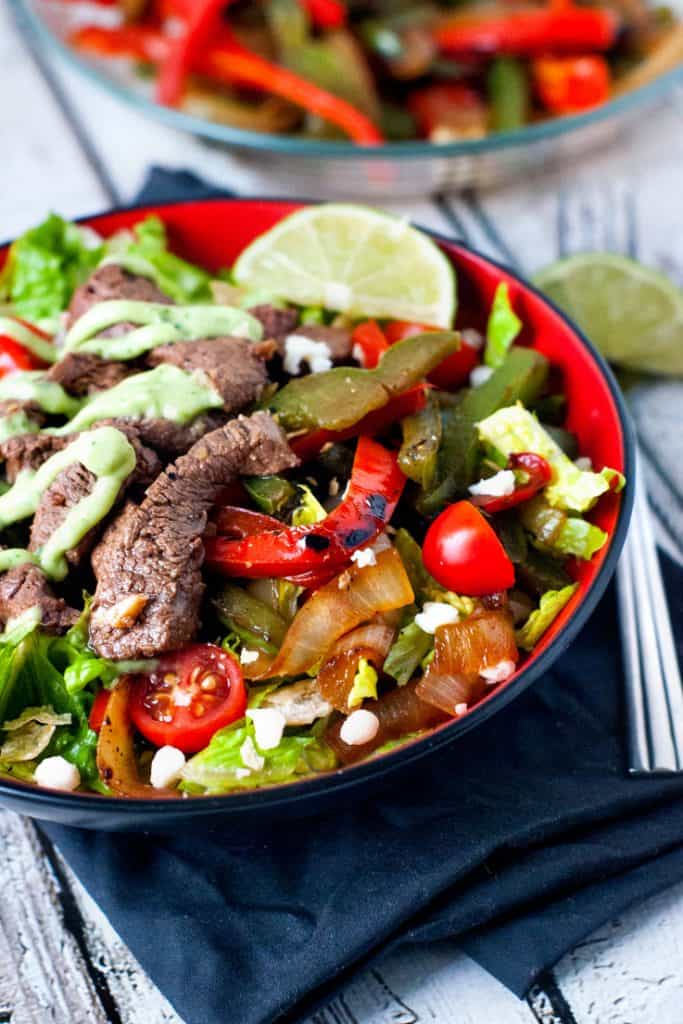 It's spring, the sun is shining (most of the time) and I'm so ready for warmer weather, so I'm making salad. Skillet Steak Fajita Salads, to be exact. I'm not going to count my eggs and get excited too quickly about the warm weather because, let's be honest, I live in Portland. But I'm getting restless. Do you watch Portlandia? This clip kind of sums it up in the most exaggerated way.
Annnnywayy.
**I was compensated by the BEEF COUNCIL for creating this recipe and sharing this post with you today. All thoughts and opinions are my own. **
The sun means summer, and summer means salads and I have these Skillet Steak Fajita Salads on my radar to make all summer long. Last week I worked with the Beef Council to create a healthy entertaining recipe using beef and then competed with 3 other bloggers in a recipe challenge. This salad was my creation and takes all the flavors of fajitas and turns them into a healthy, and filling salad.
In addition to creating a recipe, I was able to sit in on a Webinar put on by the Beef Council and learned some pretty awesome things for when you're trying to figure out what meat to buy. So before I jump into the recipes, let's talk about what to look for when shopping for beef.
Color of the Beef
Did you know that the cherry red color of beef is caused by its exposure to oxygen? Most frequently, meat is sold in Styrofoam trays wrapped with plastic wrap and that packaging allows oxygen in and out and keeps the meat red. But as the meat has prolonged exposure to oxygen it actually loses that cherry red color and turns brown. So if you see a cut that is on a styrofoam tray that isn't bright red, it's likely not as fresh as those that are. It doesn't mean it's bad, just that you will need to make sure you get it cooked soon after purchasing so it doesn't spoil. Also, have you ever noticed that meat sold in vacuum packed packaging always looks a darker red/purple color? The darker color does NOT mean that the meat isn't fresh, just that it doesn't have oxygen getting to it causing it to turn red. Kind of crazy.
Grade of the Beef
Have you ever seen little stickers on packages of meat that say Prime, Choice, Or Select? These stickers indicate what grade the beef is. These grades basically indicate, to the best of their knowledge, how pleasant your eating experience will be. Prime is the highest grade followed by Choice and then Select. Choice and Select are probably what you'll see most of at your typical grocery stores as Prime is pretty hard to find outside of restaurants and specialty stores.
But how are these grades determined?
One word-- Marbling! You know those small veins of fat that you see in cuts of meat? That's marbling or intramuscular fat. This marbling keeps the meat moist while cooking and provides excellent flavor.
Lots of marbling = delicious so the grades are determined on how much or little that particular beef has throughout its cuts. Make sense?
Cut of The Beef
As you probably know, each cut of beef has its preparation that makes it shine! Some cuts are tough right off the bat and turn to butter after cooking for a long period of time and others are tender and juicy after just a quick turn on the grill. It's important to get the right cut of beef for the right recipe and the beef council has made it super easy to figure out what you need with their Interactive Butcher Counter. It's super easy to use and will lead you to just what you're looking for!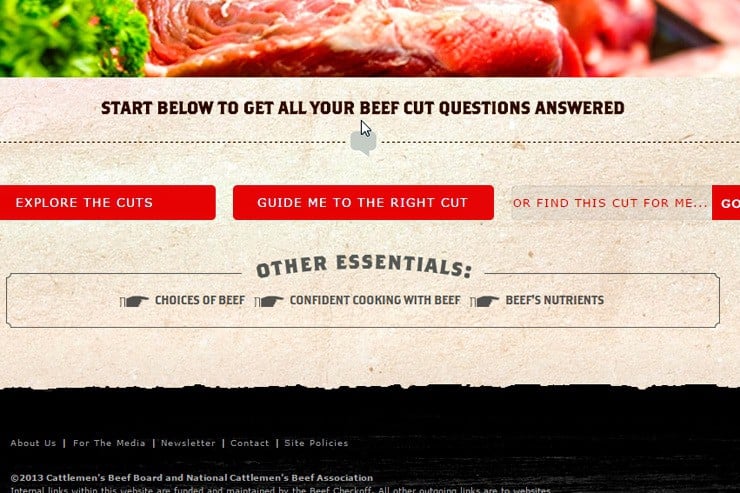 Okay! Let's make this salad! I used Tri Tip steak with a quick marinade for the meat and quickly cooked it stir-fry style in a skillet along with some peppers and onions.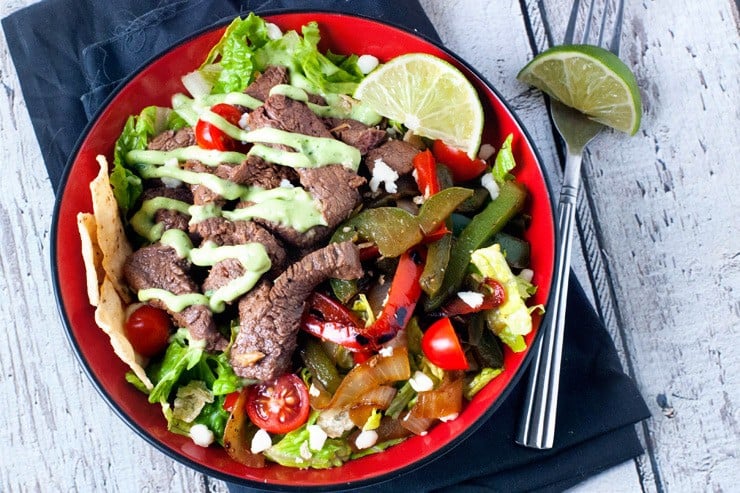 I then layered the cooked veggies and meat on top of crisp lettuce, grape tomatoes and a sprinkling of feta cheese for some zing. The dressing is an avocado-based dressing so it's creamy without being loaded with calories. All the ingredients for the dressing are just thrown into the blender until smooth and then drizzled over the salad.
Yay for Skillet Steak Fajita Salads!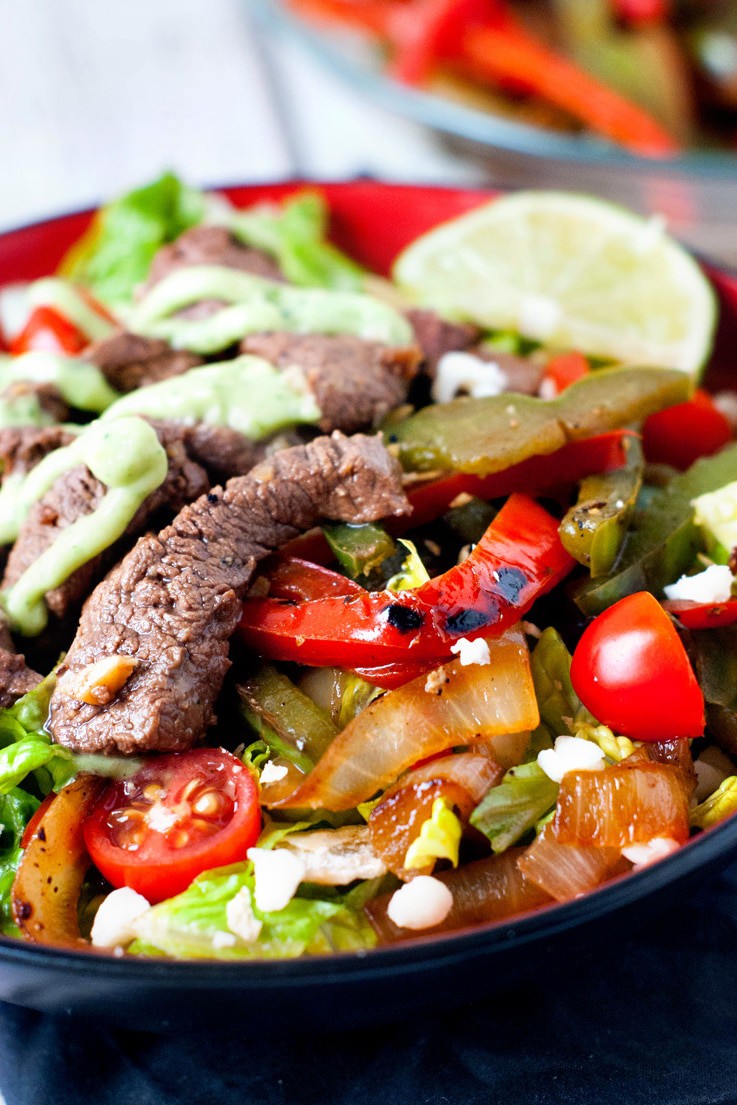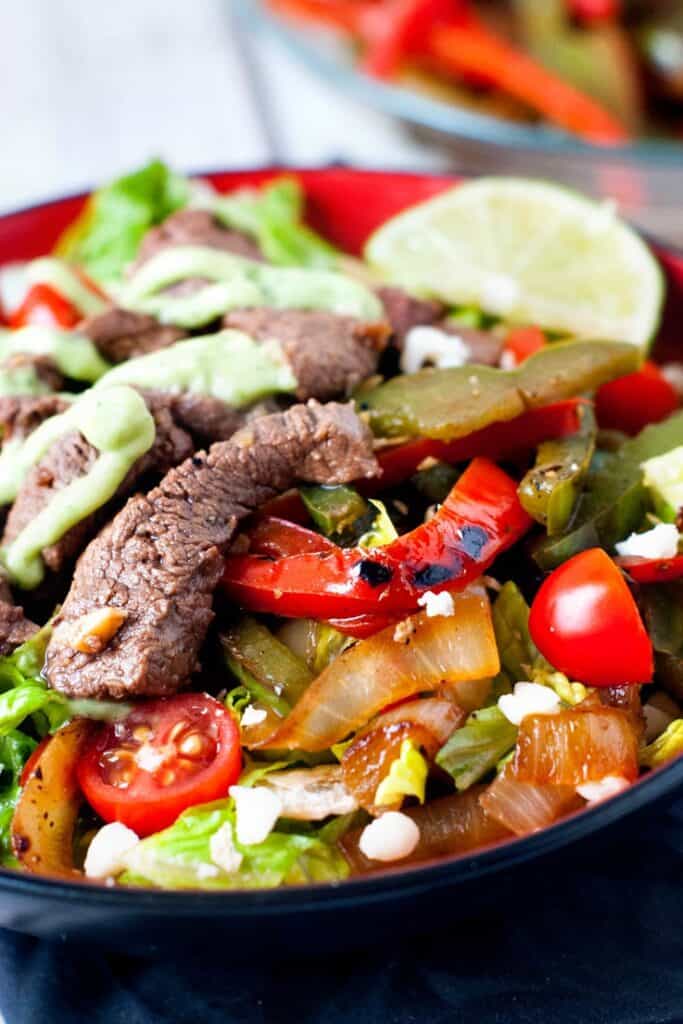 There's some serious yum that radiates from this salad.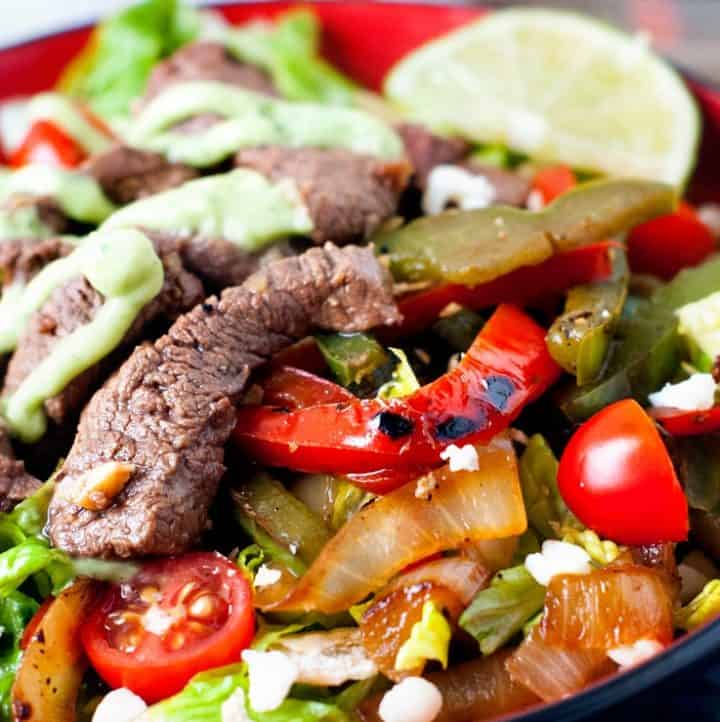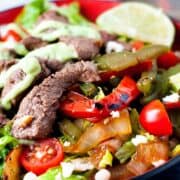 Skillet Steak Fajita Salads with Avocado Cream Dressing
Skillet Steak Fajita Salads -- veggies, steak and a whole lot of salad. YUM! You can have dinner on the table in about half an hour with this recipe.
Print
Pin
Rate
Ingredients
2

pounds

tri tip

cut into bite-sized strips

¼

cup

fresh lime juice

2

tablespoons

soy sauce

2

cloves

garlic

minced

¾

teaspoons

kosher salt

¼

teaspoons

black pepper

1

whole

green bell pepper

cut into strips

1

wholw

red bell pepper

cut into strips

½

whole

large sweet white onion

cut into strips

2

tablespoons

extra virgin olive oil

1

whole

large head Romaine lettuce

washed and roughly chopped

½

cup

grape tomatoes

cut in half

¼

cup

feta cheese

Tortilla chips for garnish

1

whole

medium ripe avocado

¼

cup

fresh cilantro

1

tablespoon

fresh lime juice

1

tablespoon

white wine vinegar

¼

cup

milk

¼

cup

extra virgin olive oil

¼

teaspoon

kosher salt

Hot Sauce to taste
Instructions
Place steak in a medium-sized bowl and toss with lime juice, soy sauce, garlic, ½ teaspoon kosher salt, and black pepper. Set aside and let marinade for 15 minutes.

Combine all dressing ingredients in a blender and blend until smooth. Season to taste.

Heat 1 tablespoon of olive oil in a skillet over medium-high heat and stir fry peppers and onions, seasoning with the remaining ¼ teaspoon of salt. Cook until just tender and the onions start to caramelize- about 4 minutes. Transfer to a bowl and set aside.

Heat remaining 1 tablespoon of oil in the same skillet, add steak and stir fry for 2 minutes for medium or until it reaches your desired done-ness. Remove from heat.

Assemble salads with a base of romaine lettuce and top with the steak, vegetables, halved grape tomatoes, feta cheese, and drizzle with the dressing. Garnish with tortilla chips and additional lime wedges if desired.
Nutrition Facts
Serving:
1
salad
|
Calories:
588
kcal
|
Carbohydrates:
4
g
|
Protein:
49
g
|
Fat:
40
g
|
Saturated Fat:
10
g
|
Cholesterol:
157
mg
|
Sodium:
1318
mg
|
Potassium:
829
mg
|
Sugar:
2
g
|
Vitamin A:
310
IU
|
Vitamin C:
9.2
mg
|
Calcium:
121
mg
|
Iron:
3.8
mg
ARE WE FRIENDS ON INSTAGRAM?
Tag me @heatherlikesfood and use #heatherlikesfood so I can see what you're making and enjoying!