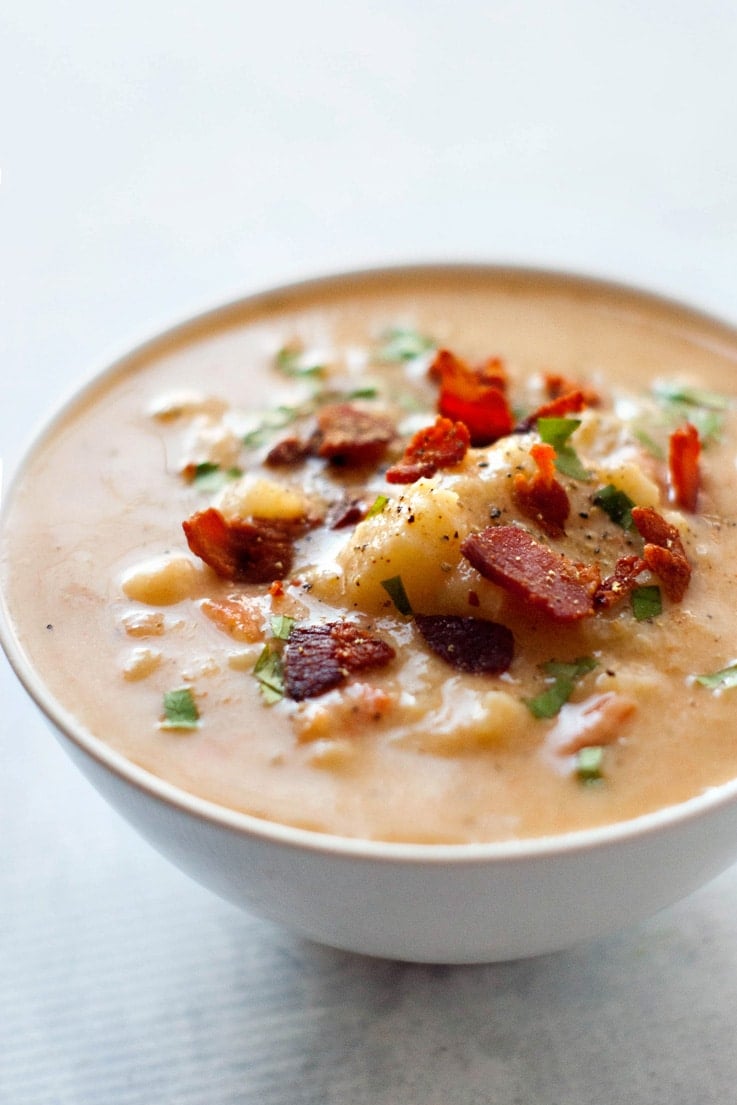 Not to toot my own horn or anything, but doesn't this cauliflower chowder picture make you want to jump into the bowl and wallow in its goodness? I mean, I think I'm a pretty decent photographer of my food, but come on! That crispy bacon is calling to me.
Heaaaatttthhhher. EAT ME.
Eat. MEEEEEEEEE.
I'll stop. But really, I love this soup. Er.. chowder. Maybe it's souper chowder? <— see what i did there?  Hardy har.
Have I mentioned my baby doesn't let me sleep at night?
So I'm a big fan of cheesy potato soup and my recipe is one of my favorite, warming comfort foods. It has cream, and cheese, and potatoes and everything rich lovely in this world, but it's not so friendly on the derriere. So, I decided to take that recipe and try to make a lighter and possibly just as tasty version of that soup as I could. I needed it to be filling. I needed it to be rich and creamy. And I needed to taste much more naughty than it was.
It turns out that it was all of those things and it rocked!
So if you're in need of all those things I mentioned above and you can't afford the calories of my original recipe, try this. I don't think you'll be disappointed!  Plus you can totally justify topping it with bacon because the soup is packed with veggies and basically cancels it out. Basically.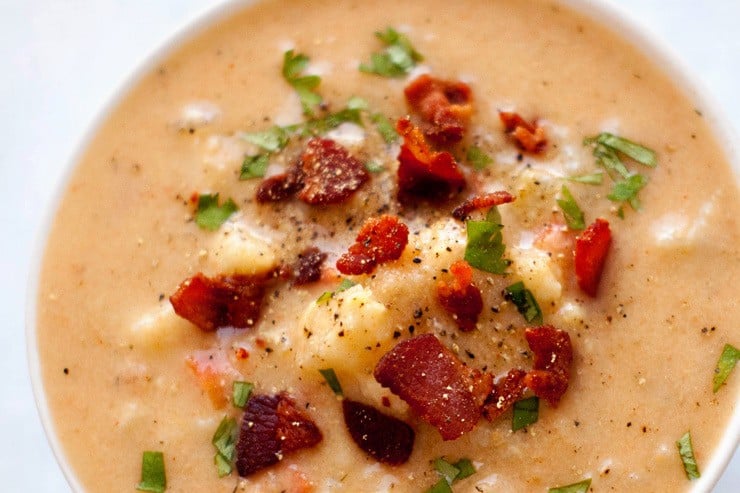 Ingredients
2

tbsp salted butter

2

cloves garlic, minced

1

medium onion, chopped

1

C celery, chopped

1

C carrots, chopped

1

medium head cauliflower, roughly chopped

1/2

tsp smoked paprika

1/4

tsp dried dill weed

1/4

tsp black pepper

1/2

tsp kosher salt

1/4

C all purpose flour

4

C chicken broth

1

C 2% or greater milk

cooked bacon and fresh chopped parsley for garnish
Instructions
In a large soup pot, melt butter and saute the garlic, onion, celery, and carrots until just tender and onions are translucent and starting to caramelize.
Add cauliflower to the pan and cook stirring, until heated- about 2-3 minutes. Add paprika, dill, salt, pepper and flour to the veggies and cook while stirring for an additional 1 minute.
Slowly whisk in chicken and broth and milk and bring to a simmer. Continue stirring until slightly thickened and then cook at a gentle simmer for 15 minutes or until the cauliflower to very tender.
Transfer half of the soup into the blender, blend until smooth, and stir into the remaining soup-- this will thicken the soup and make it creamy. Serve immediately garnished with cooked bacon and fresh parsley.

Made this recipe?
I'd love to see how you rocked it! Share your photo on Instagram with the hashtag
#heatherlikesfood  --
It will totally make my day to see it!