These big, fat, chewy chocolate chip cookies are my absolute favorite recipe for chocolate chip cookies. They take a little patience but are definitely worth it!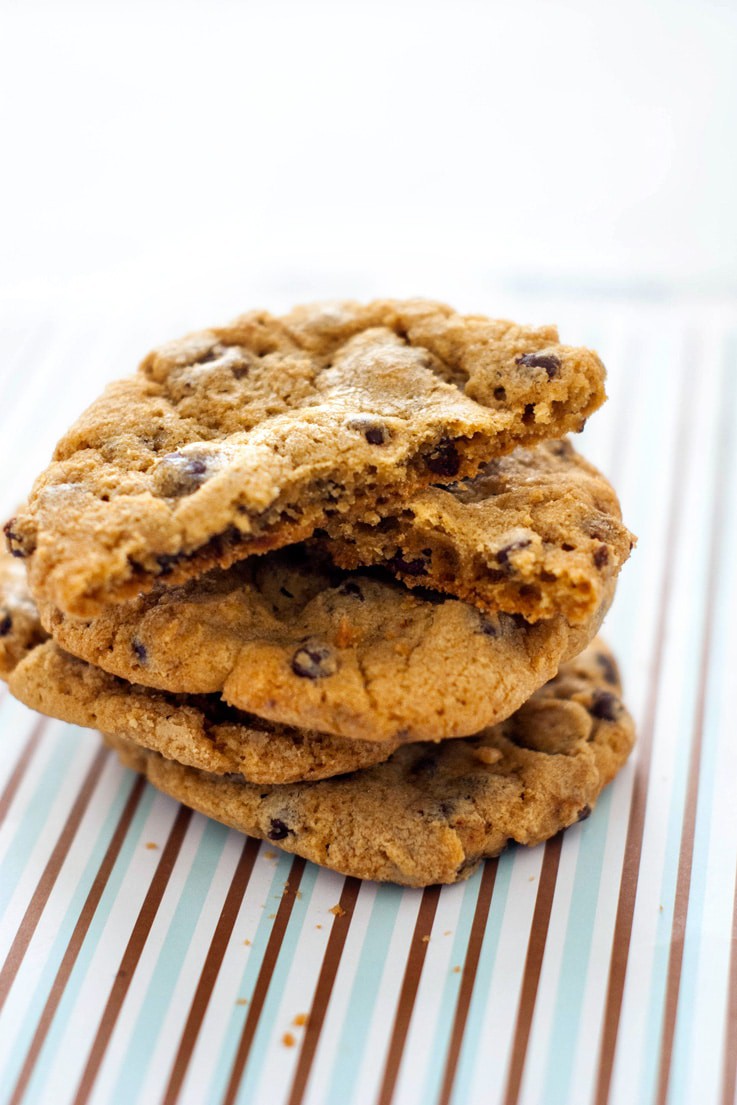 The one thing I was craving during these last 8 weeks of doing my weight-loss challenge was chewy chocolate chip cookies. I don't know why I've been so fixated on them, but I haven't been able to get them out of my head. So when my 8 weeks ended last Saturday, I quickly took up residence in my kitchen and whipped out a batch of these big, fat, chewy chocolate chip cookies.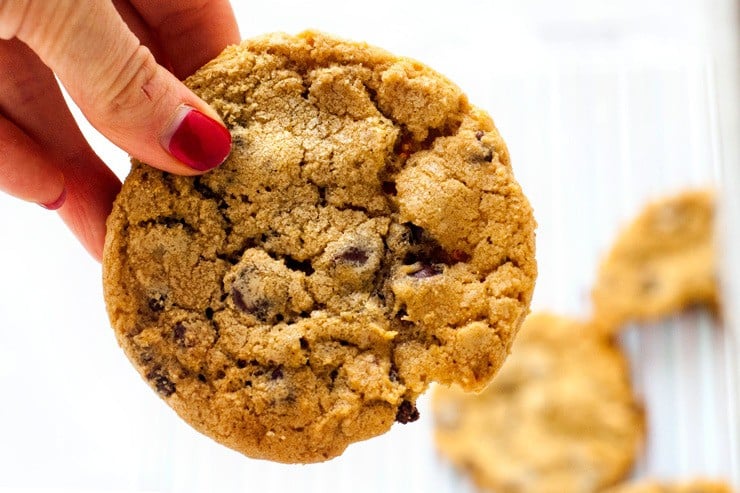 This recipe is kind of a cocktail of a few recipes and I love the way the cookies turn out every time. I think they are most like the big cookies you find in bakery cases. They are chewy/soft in the middle and have a nice crisp outside that is rich and buttery.
The secret to the richness lies in letting the dough sit overnight in the fridge to develop flavor. You can definitely bake them off right away but they will be thinner and not as deeply flavored. I know it's hard to wait, but it's so worth it!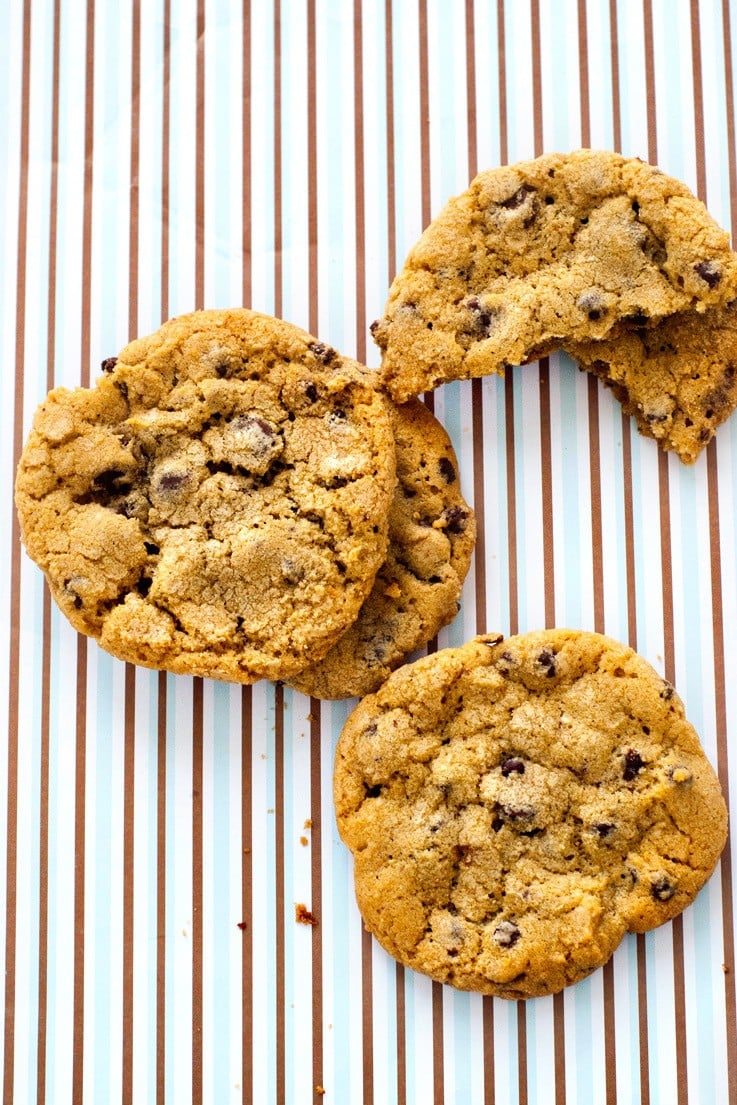 Another thing that sets these chewy chocolate chip cookies apart is that I use two different kinds of chocolate chips to give it a little extra flavor boost. One half milk chocolate chips and one half mini semi-sweet chips are the perfect combination. I love having the big chunks of milk chocolate mixed with the tiny little semi-sweet bits throughout the whole cookie.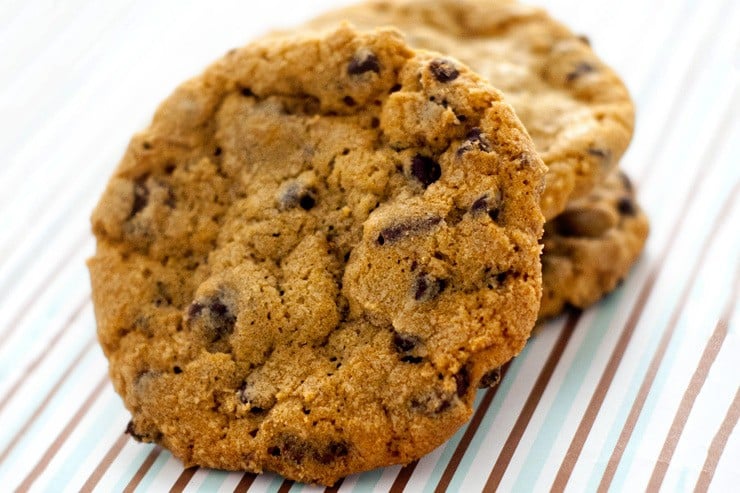 I Hope you'll try them!
Big Chewy Chocolate Chip Cookies
These big, fat chewy chocolate chip cookies are my absolute favorite recipe for chocolate chip cookies. They take a little bit of patience but are definitely worth it!
Print
shopping list
Ingredients
3 1/2 C all-purpose flour
1 tsp baking powder
1 tsp baking soda
1 tsp kosher salt
1 C salted butter, softened
2 C brown sugar
6 Tbsp white sugar
2 eggs
4 tsp vanilla extract
1 C milk chocolate chips
1 C mini semi sweet chocolate chips
Directions
Whisk together flour, baking powder, baking soda, and salt in a medium sized bowl. Set aside.
In a separate bowl, cream butter with the sugars until smooth. Add each egg individually, beating between each addition, then add vanilla.
Gradually add in flour mixture, mixing until just combined and no dry spots remain-- the dough will be stiff. Stir in chocolate chips.
Using a cookie scoop, portion dough into 2 tbsp balls on a lined baking sheet and gently flatten. Cover with plastic wrap and refrigerate portioned dough overnight or for at least 8 hours.
Remove dough from fridge and bake in batches of 8 cookies on lined baking sheets at 300 degrees for 17-20 minutes or until the cookies are just golden around the edges.
Let cookies cool on baking sheet for at least 10 minutes before transferring as they continue to cook outside of the oven.
Store in an airtight container to keep soft and fresh.
Recipe Notes

Made this recipe?
I'd love to see how you rocked it! Share your photo on Instagram with the hashtag
#heatherlikesfood  --
It will totally make my day to see it!