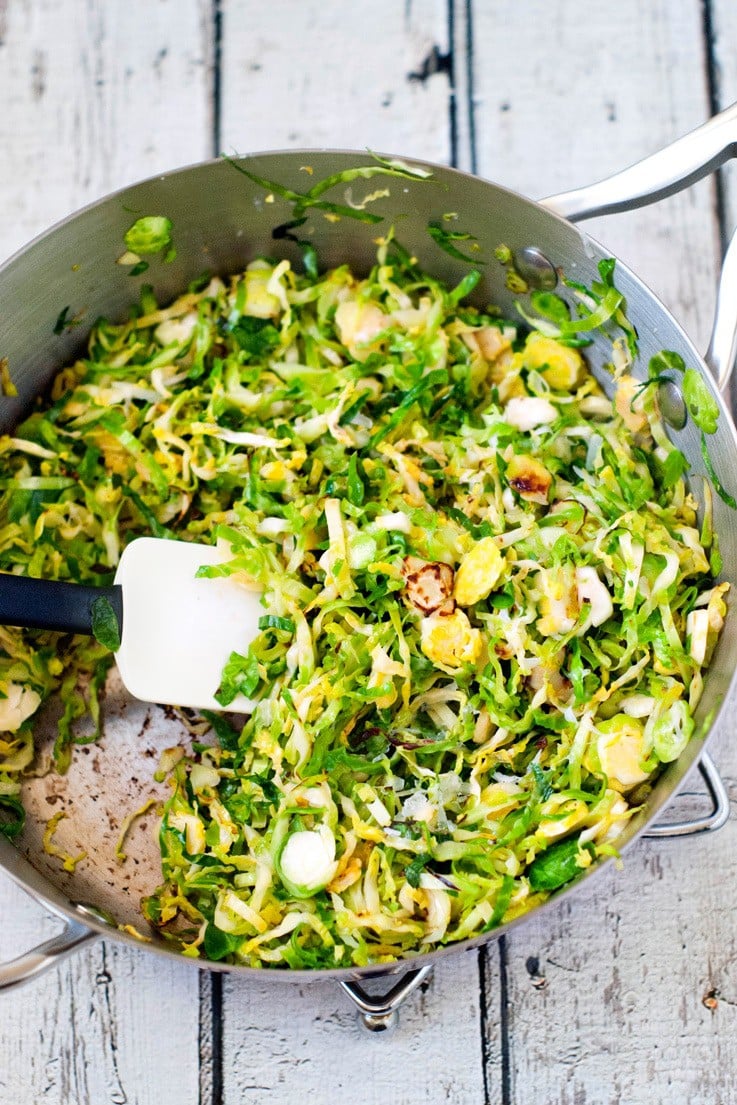 Happy St. Patrick's day! I figured I needed to do my blogging due diligence and at least post something green today. These might not be green velvet cupcakes topped with rainbows and gold coins that I hand sculpted out of white chocolate and hand-painted with leprechaun tears, but they're good. Plus, if you're looking for something like that you're at the wrong blog.
Raise your hand if you've, at least once in your life, sworn to never eat brussel sprouts. I figure there will be a few sprout haters here and that's okay. Because if you're willing to give these shaved brussel sprouts a try, I bet you'll change your mind. No promises, but it's worth a shot, right?
The difference comes from cutting the brussel sprouts into super thin strips so you're not biting into a big hunk of bitter vegetable. We're then going to  saute them in a little olive oil and salt and pepper until they are just slightly charred which adds a boat load of flavor. To get the sprouts cut thinly, I use this OXO Good Grips Hand-Held Mandoline Slicer that's inexpensive and works great. Any type of mandolin slicer will work as will an old fashioned knife, it will just take a bit of time.
But we're not done yet! After they are cooked we'll squeeze some fresh lemon juice over the top to brighten them up a tad and stir in a handful of fresh parmesan cheese. They are tender and crisp and full of flavor! The natural bitterness of the sprouts is subdued by keeping the pieces small and caramelizing them just a bit and the lemon and cheese just bring it all home. So good!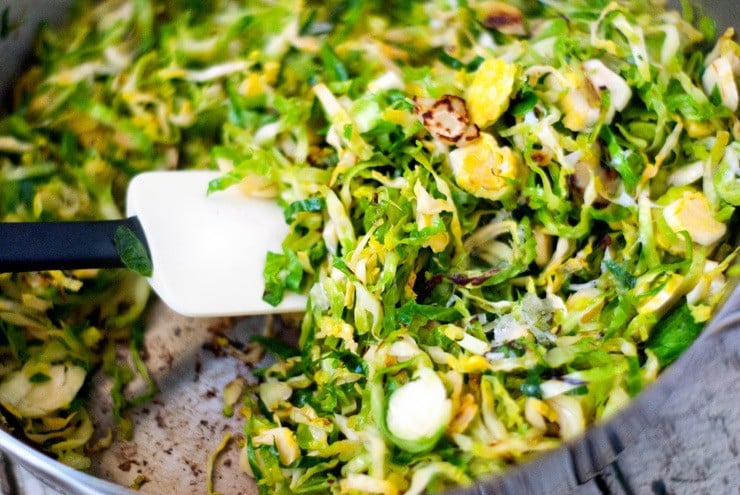 Have I convinced you to try these yet?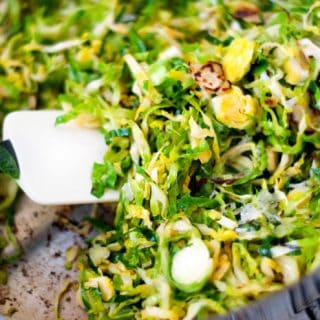 Shaved Brussel Sprout Saute
Don't like brussel sprouts? Think again! This saute will make a brussel believer out of you! Thinly slice the sprouts, saute in a little olive oil and finish with some lemon juice and parmesan cheese! They are so good you won't ever say you don't like brussel sprouts again!
Print
Pin
Rate
Ingredients
1

pound

brussel sprouts

washed and thinly sliced

2

tablespoon

olive oil

1/4

teaspoon

kosher salt

1/8

teaspoon

black pepper

1- 2

tablespoon

fresh lemon juice

1/4

cup

fresh grated parmesan cheese.
Instructions
Heat olive oil in a large skillet until screaming hot, but not yet smoking.

Add brussel sprouts to the pan, stirring every so often to cook evenly. Add salt and pepper and continue to cook until tender and some of the sprouts are slightly charred or darkly caramelized around the edges. Remove from heat.

Stir in lemon juice to taste and parmesan cheese. Serve immediately.
Nutrition
Serving:
1
serving
|
Calories:
137
kcal
|
Carbohydrates:
11
g
|
Protein:
6
g
|
Fat:
8
g
|
Saturated Fat:
2
g
|
Cholesterol:
4
mg
|
Sodium:
274
mg
|
Potassium:
452
mg
|
Fiber:
4
g
|
Sugar:
2
g
|
Vitamin A:
18.1
%
|
Vitamin C:
122.1
%
|
Calcium:
12.2
%
|
Iron:
9.1
%