Warning: this Homemade Mac and Cheese is not a health food. Eat at your own, cheesy, creamy, delicious risk. You won't be sorry.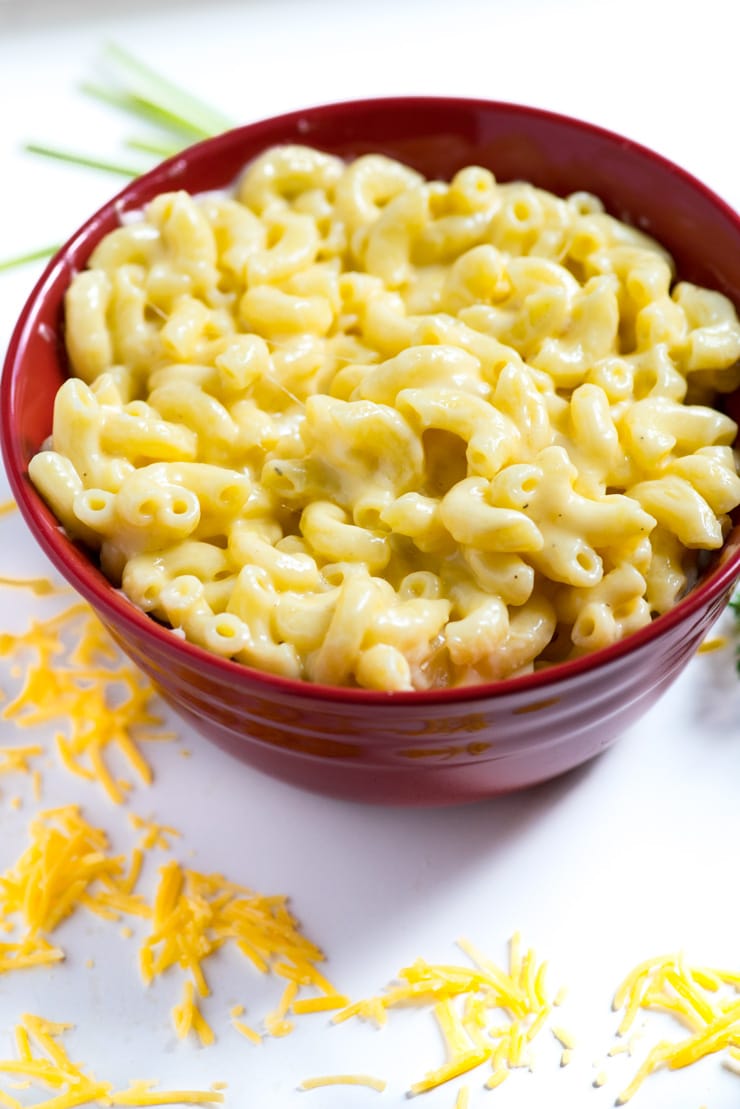 I'm just gonna be frank here. This Mac and cheese is definitely not for the faint of heart. Is it impossibly cheesy, creamy, dreamy, and everything else you want a mac and cheese to be? YES. Definitely YES! Will it help you fit into your teeny tiny bikini this summer? NO. You're getting a big fat cheesy thumbs down on that one.
Some things in life are just meant to be enjoyed as they were created. Sure, I could have some version of homemade mac and cheese with low fat milk, thickened with flour and added a little bit of cheese in, but is that REALLY mac and cheese? Immagonna say no.
So before I start getting hate comments on how I'm slowly killing my family by letting them eat this, just look at this picture...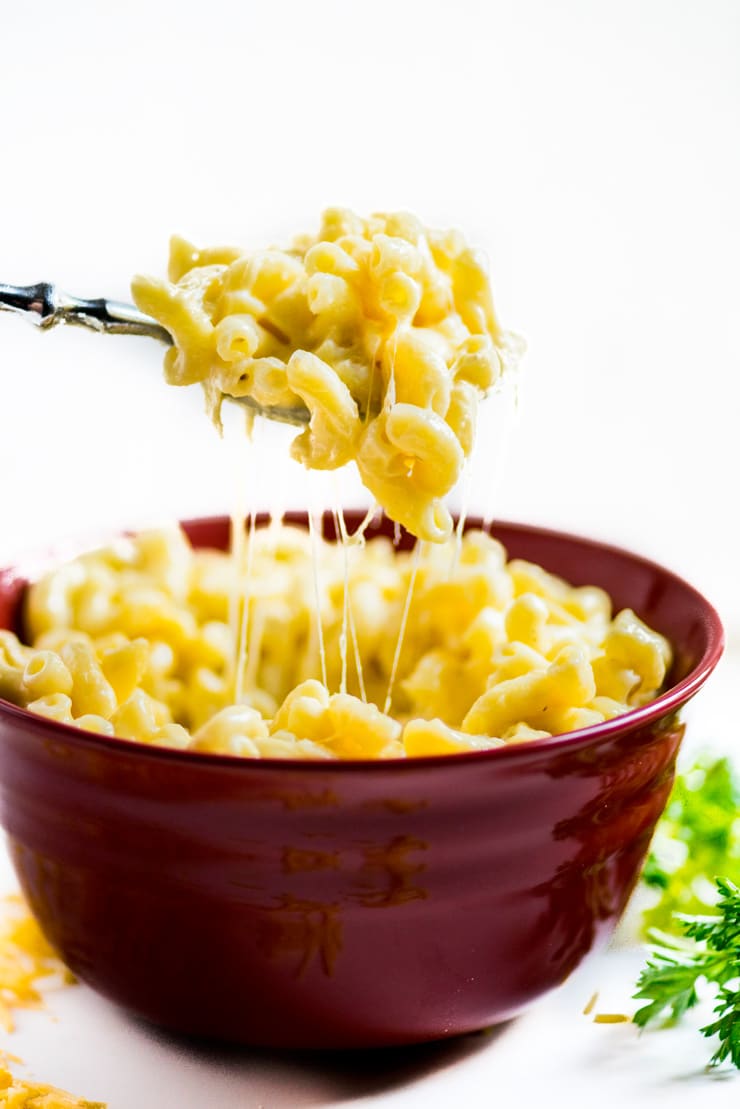 You want to eat it, don't you?
How about this one...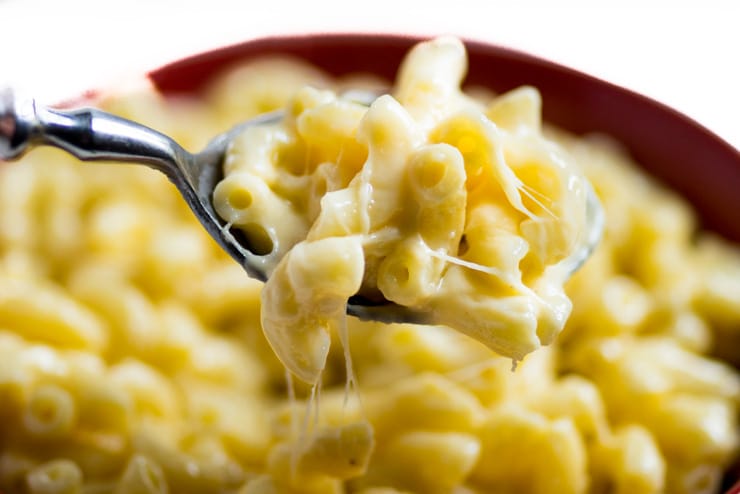 Do you really want to live a life where you don't get to eat something this cheesy and incredible at least once? Twice? Three times?
Here's the scoop on this mac. It's dang good. Like really good. Like you're going to want to lick your bowl clean when it's gone good. It's really easy too and is all made on the stovetop in just a few minutes! Just follow the directions below and you'll be slurpin' done some noodles before you know it!
Enjoy, friends!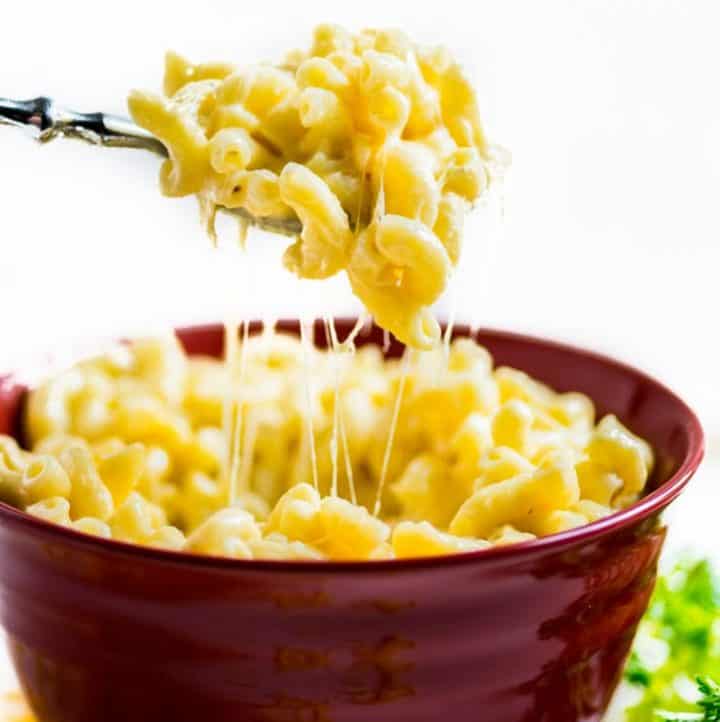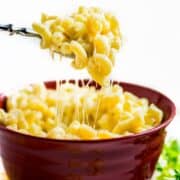 Impossibly Cheesy Homemade Mac and Cheese
Warning: this Homemade Mac and Cheese is not a health food. Eat at your own, cheesey, creamy, delicious risk. You won't be sorry.
Print
Pin
Rate
Ingredients
1

cup

whipping cream

1

cup

+ ¼ C sharp cheddar

grated

1

cup

+ ¼ C mozzarella cheese

grated

¼

teaspoon

salt

¼

teaspoon

yellow mustard

pepper to taste

8

ounces

elbow macaroni
Instructions
Cook macaroni according to package directions, drain and set aside.

In a medium-sized sauce pan, heat cream to a simmer and reduce heat to low. Stir 1 C of each cheese into the cream followed by the mustard and salt, stirring until cheese is fully melted. Remove from the heat and let rest for 2-3 minutes. You'll notice that the sauce will be thick and almost rubbery. This is the proteins in the cheese tightening up so just give it a rest for a few minutes to loosen things up and it will become creamy again.

After resting, season to taste with pepper and stir in cooked macaroni and remaining ¼ C of each cheese. Adding the cheese at the end will give it that little extra "cheese pull" with each bite and makes it so much fun to eat!
Nutrition Facts
Serving:
1
serving
|
Calories:
613
kcal
|
Carbohydrates:
44
g
|
Protein:
21
g
|
Fat:
38
g
|
Saturated Fat:
23
g
|
Cholesterol:
133
mg
|
Sodium:
525
mg
|
Potassium:
220
mg
|
Fiber:
1
g
|
Sugar:
2
g
|
Vitamin A:
1345
IU
|
Vitamin C:
0.3
mg
|
Calcium:
396
mg
|
Iron:
1
mg
ARE WE FRIENDS ON INSTAGRAM?
Tag me @heatherlikesfood and use #heatherlikesfood so I can see what you're making and enjoying!