I love meals like these! Everything gets cooked in one pot and eaten out of bowls. Quick clean-up, huge flavor, and totally delicious!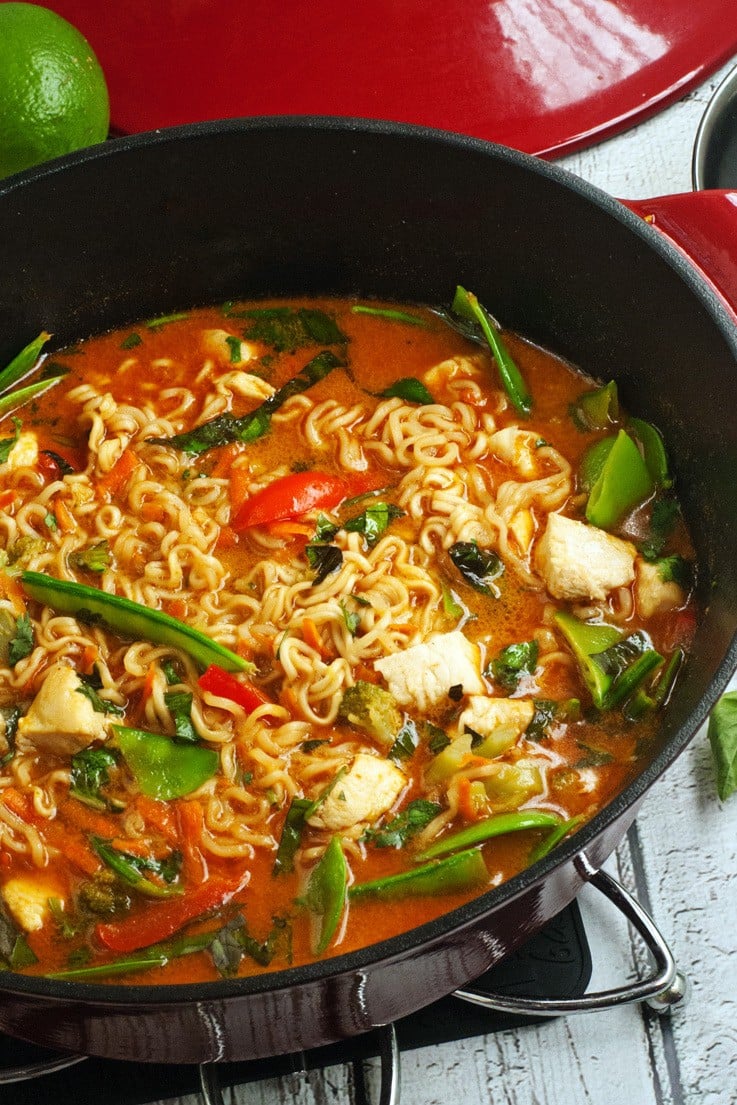 When I saw this recipe on the Better Homes and Gardens website, I knew I needed to make it. I love finding recipes that take cheap ramen noodles and turn them into something incredible and this recipe is just that. It's loaded with veggies, chicken and while it uses a bit of red curry paste is mild enough for my kiddos. I love the addition of fresh cilantro AND basil at the end of cooking. It just brightens the whole dish up and even my picky 4 year old slurped her bowl clean.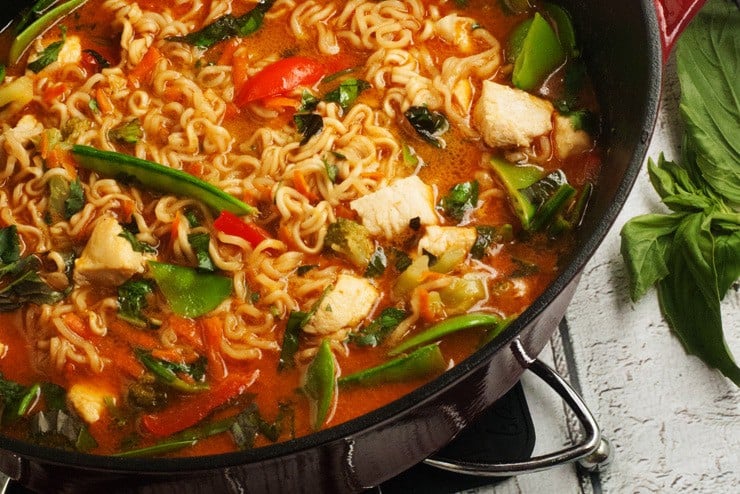 Just a quick note on cooking with ramen noodles– these noodles soak up liquid freakishly fast and become soggy and icky after sitting for more than 20 minutes in hot broth. So when making this, make sure you're ready to eat when it's ready! If you end of having leftovers you can lift them out of the soup and store separately until ready to reheat.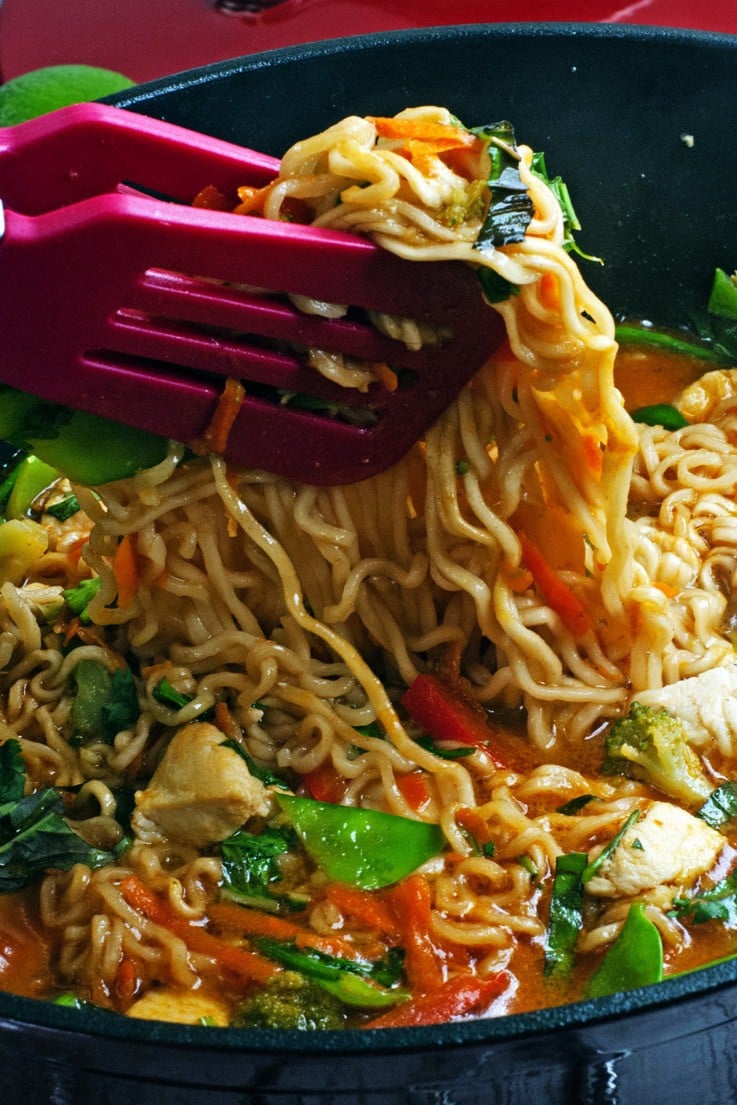 Ingredients
1 lb boneless skinless chicken breasts, cut into 1-inch pieces
2 tbsp vegetable oil
8 cloves garlic, minced
4 tsp fresh ginger, minced
1 tbsp red curry paste
1 tsp ground cumin
4 C water
1(14 oz) can unsweetened coconut milk
2 C shredded carrots (4 medium)
2 C small broccoli florets
1 C red sweet pepper strips (1 medium)
2 (3 oz) packages chicken-flavor ramen noodles, broken
2 C snow pea pods
2 tbsp soy sauce
4 tsp lime juice
1 C fresh basil, finely cut
1/3 C fresh cilantro, chopped
Directions
In a large soup pot, cook chicken in 1 tbsp oil 3-4 minutes over medium-high heat until no longer pink. Remove from pot and set aside.
Add the remaining 1 tbsp of oil to pot. Add garlic, ginger, curry paste and cumin. Cook and stir for 30 seconds. Stir in the water, coconut milk, carrots, broccoli, pepper, and noodles (without seasoning packet) and bring to a boil, reduce heat to a simmer and cook for 3 minutes.
Stir in cooked chicken, pea pods, 1 of the seasoning packets (discard the other), soy sauce, and lime juice. Stir in basil and cilantro. Serve in soup bowls.

Made this recipe?
I'd love to see how you rocked it! Share your photo on Instagram with the hashtag
#heatherlikesfood  --
It will totally make my day to see it!