Happy Monday! Hope you all survived the weekend well and are ready for another week of doing whatever it is you do! We're down to only kid in the house right now because Grandma is doing her annual summer spoiling session with our other. I'm positive she (my almost 6 yr. old) is going to come home thinking that the world revolves around her—won't that be fun? Really, she's thought that her whole life so not a whole lot will change besides having me around to try to bring her back down to earth. Maybe I need to stop trying… her confidence will make her uber successful someday and then she can thank me for being such a great mom by giving me an early retirement and an island vacation home with a cabana boy that looks like Robert Downey Jr..
Suddenly I'm rethinking everything I thought I knew about parenting.
(Now, watch how I seamlessly segue into what this post is really about)
You like pizza right? Everybody likes pizza. Even celebrity-look-alike cabana boys like pizza. (Which is why he and I will get along so well!) When it comes to pizza everyone has their idea of what the crust should be like—how thick, how dense, crispy, etc. For me, I love a good deep dish crust that is thick, but still light and airy. This pizza fits the bill perfectly.
The dough starts out simply- water, yeast, sugar, non-fat dry milk, flour, salt and olive oil. Combine the first 4 ingredients, wait until its bubbly and add the remaining flour, oil and salt. Knead the dough for about 5 minutes until it's smooth, cover with plastic wrap and let rise for about an hour or until it's doubled in size. While it's raising make the sauce by combining a can of tomato sauce with a little bit of oregano, basil, garlic salt, and sugar. Stir until combined and you're done!
You'll need 3, 8-10″ pans for this recipe. I've used both cake pans and cast iron skillets in the past and have good results with both, but I prefer the cast iron because it produces a bit of a crisper crust. Of course, you can use whatever size pans you have, just divide your dough up accordingly. You want the dough to be about ¼" thick and to cover the bottom of the pan completely. Now, here's the secret to getting a really nice, crisp bottom crust: oil. Calm down, the dough doesn't have to bathe in it, but you'll need at least 2 tbsp per 8 inch pan, a bit more for larger pans. Oil is an excellent conductor of heat and will give you that nice crisp bottom that great deep dish pizza is known for. I use equal amounts of canola oil and olive oil.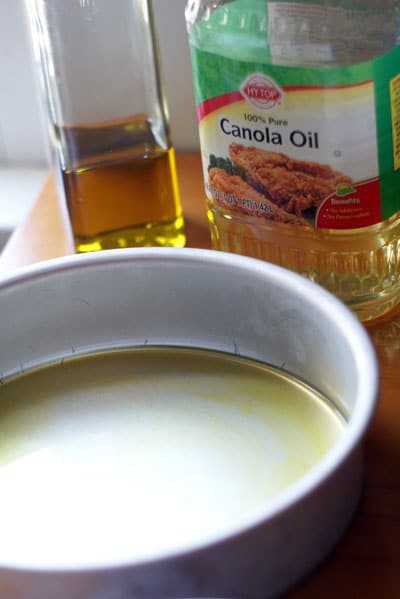 Once the dough has doubled in size, turn it out onto a floured surface.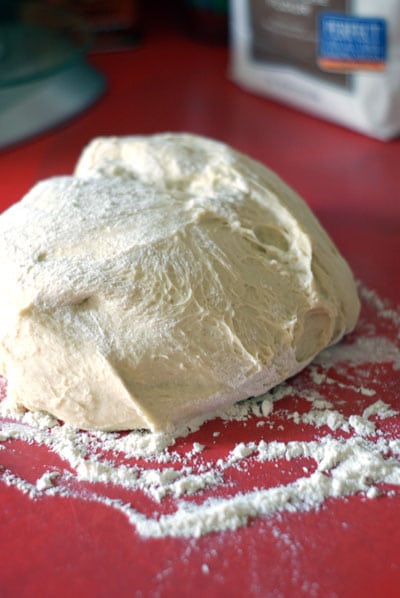 Divide your dough into 3 even rounds (I made a double batch for the pictures). Using a rolling pin, roll each round to about a ¼" thick to the diameter of the pan and place on top of oil.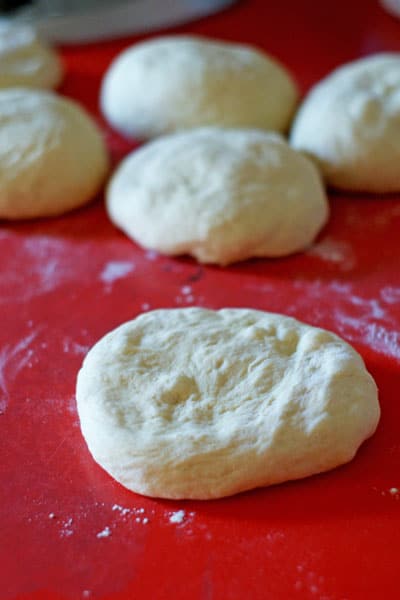 Spread a couple of spoonfuls of sauce over each pizza—just a couple!  You will have sauce left over so pop it in the freezer for the next time you make pizza or add it to spaghetti sauce later in the week. Too much sauce will cause it to be soggy and  will make it hard to taste anything but the sauce. Leave about a 1″ edge around the pizza unscathed by sauce.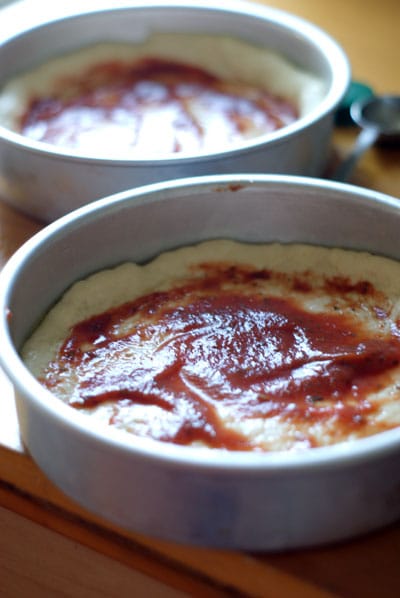 Top with about 2 oz of mozzarella cheese and any other toppings you'd like. With deep dish I try to stay away from toppings that give off a lot of water while being cooked like thick-cut mushrooms or peppers (thin sliced is okay), tomatoes and zucchini. These tend to make the pizza soggy and heavy. Once the pizza is all topped and ready to go, brush the exposed edges of the dough with olive oil and sprinkle with a mixture of parmesan cheese (from the shaker), dried oregano, and basil. Doing this gives it another dimension of flavor and makes it look pretty J.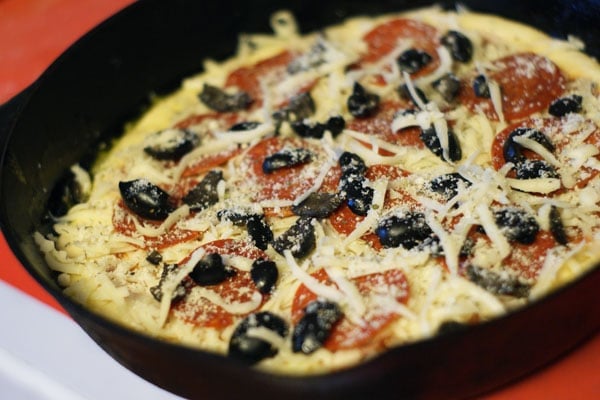 Crank up your oven as hot as it will go (usually 475- 500°) and bake until the cheese is bubbling and outer crust is browned.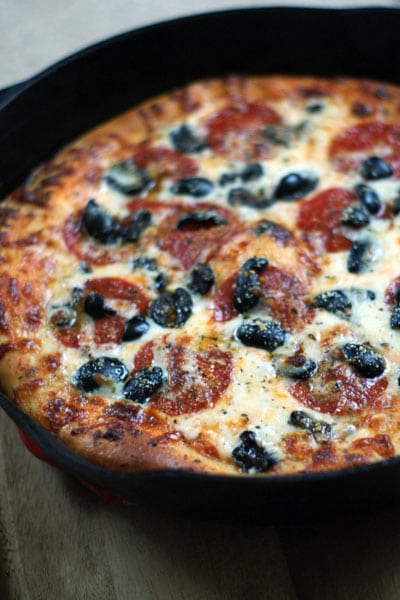 Sound good? I thought so.
Ingredients
Crust

1 1/3

C warm water

1/4

C non-fat dry milk

1

tbsp sugar

2 1/4

tsp (1 packet) instant yeast

2

tbsp olive oil

1/2

tsp salt

3

C all-purpose flour

1/4

C olive oil (for the pans)

1/4

C canola oil (for the pans)

Sauce

1

(8 oz) can tomato sauce

1

tsp dry oregano

1/2

tsp dry basil

1/2

tsp garlic salt

1

tsp sugar

Herb topping

1/3

C parmesan cheese (from the shaker)

1

tsp dry basil

1

tsp dry oregano
Instructions
Mix yeast, sugar, dry milk, and water in a large bowl or mixer. Allow to sit for 5 minutes or until mixture starts to get bubbly.
Add 2 tbsp olive oil, salt, and flour and mix until combined. Continue to knead for about 5 minutes or until dough is smooth.
Cover bowl with plastic wrap and allow dough to rise until doubled in size, about 1 hour.
Combine tomato sauce with herbs and garlic salt and set aside.
In a separate bowl, combine Parmesan cheese with herbs for topping and set aside.
Once the dough has risen, remove from bowl and divide into 3 equal portions.
Prepare pans by adding about a tablespoon of both olive oil and canola oil to the bottom of each pan, making sure the bottom is covered. Add more oil if necessary.
Using a rolling pin, roll each round of dough until it's about ¼? thick and will cover the bottom of the pan completely.
Place the dough on top of the oil and spread a couple of spoonfuls of sauce over each one to within 1? of the edge.
Top each pizza with about 2 oz of mozzarella cheese and any other desired toppings.
Brush the outer edges of the crust with olive oil and sprinkle with the herb and cheese mixture.
Bake at 475-500° until the cheese is bubbling and outer crust is browned, about 12-15 minutes.

Made this recipe?
I'd love to see how you rocked it! Share your photo on Instagram with the hashtag
#heatherlikesfood  --
It will totally make my day to see it!