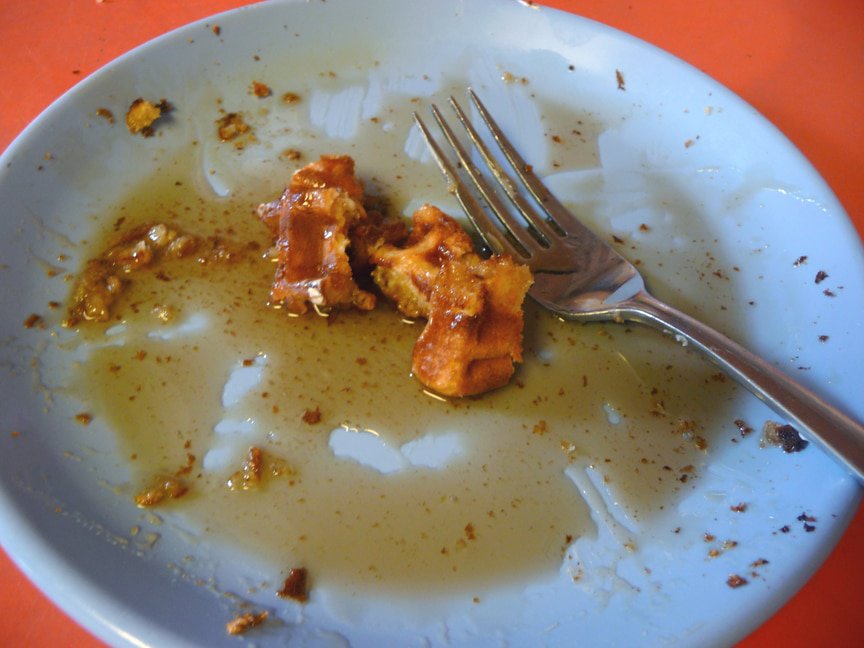 Being the food geek that I am, I often set some of the food that I make aside to take a picture of after we've eaten as a family. I'm usually pretty good about getting the picture taken right after a meal, but sometimes it just doesn't happen and I'll  give my husband the "don't eat this, or die" warning hoping to get around to it soon.
Well, my hubby dear is lucky he's not dead. In this case, I did give him the warning, but he forgot until he was just about finished and snapped this picture.  In his defense, I'm pretty sure these waffles have magical powers. I think they beacon you to their tastiness with syrupy tentacles and then pull you in…maybe.
OK, so they might not have syrupy tentacles, they are amazingly good.  Most of this magic comes from the addition yeast in the batter to leaven it in place of baking soda or powder. The yeast gives it a depth of flavor and also keeps the outsides crispy and the inside moist and tender- kind of like a good loaf of bread.
Ingredients
1

1/2 cups milk

6

tbsp butter

2-3

tbsp maple syrup

3/4

tsp kosher salt

1

tsp vanilla extract

2

eggs

2

cups flour

1

1/2 tsp instant yeast
Instructions
Heat milk until hot, but not boiling. Add in the butter, syrup, salt, and vanilla and stir until they are incorporated and the mixture is lukewarm. In a large mixing bowl (big enough for the batter to double in size) add in the eggs, flour, and yeast and stir until combined (you'll have lumps, but that's OK).
At this point you have to make a choice, a hard choice. You want the yeast to have time to activate and do what it's supposed to do. At the very minimum you want to let the batter sit at room temperature for 1 hour, up to 3 hours. OR you can put your bowl of batter in the fridge and let it sit overnight for use in the morning—this is what I do.
Bake waffles in your iron as you would any other. Smother in butter and syrup …devour.

Made this recipe?
I'd love to see how you rocked it! Share your photo on Instagram with the hashtag
#heatherlikesfood  --
It will totally make my day to see it!
Recipe Source: Adapted from King Arthur Flour