Homemade Dole Whip: I'm not going to say it's an exact replica of Disney's treat, but it's pretty darn close and curbed my cravings quite nicely. 🙂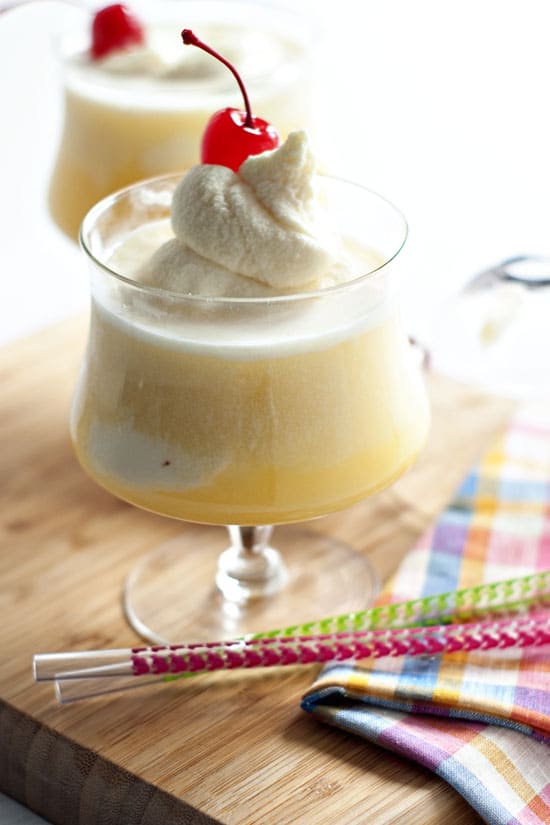 I didn't even know these little delights existed until a few months ago. I had just bought my ticket for Food Blog Forum and joined a Facebook group for the attendees. As I was going down the feed I started to see a common thread- everybody was talking about how excited they were to have a Dole Whip (or seven). The thread soon progressed into a discussion and confessional for those that were then deemed "Dole Whip Virgins" and we playfully planned an initiation ceremony for all of us underprivileged bloggers.
After the main conference on Saturday, I set off with a group of bloggers to the Magic Kingdom in search of the beloved Dole Whip. It was probably close to midnight so our pictures didn't turn out ideally, but I finally got to taste what everyone had been raving about and didn't have to introduce myself as Heather "the Dole Whip virgin", any longer.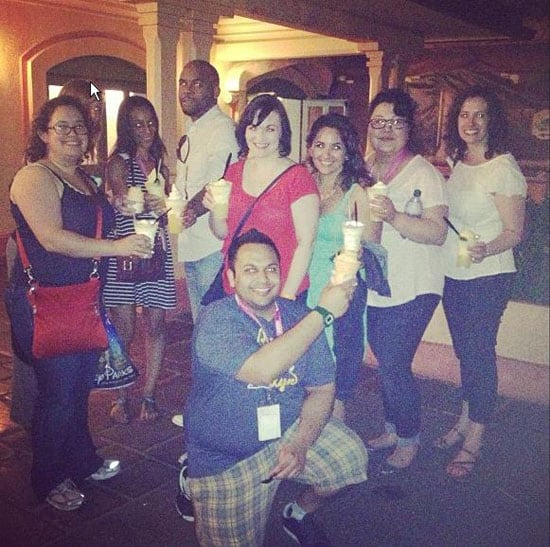 Picture by Vijay @ noshonit
So now, unless you are completely well-versed in Disney cuisine, you're probably wondering what this is, aren't you? Well, it's basically pineapple flavored soft-serve. You can order it a few different ways: swirled with vanilla or orange and served in a cup, or in a pineapple juice float. My favorite way to eat it is as a vanilla-swirled float.  At Disney World it's found at either Aloha Isle in the Magic Kingdom, or at Captain Cook's at the Polynesian Resort; it is well worth tracking down if you're visiting.  BUT, if you're not en queue for a trip to Disney World I've got your back because the Dole Whips are coming to you!
The cravings set once I arrived home and I knew that I needed to figure out how to make these. After a few quick searches I found a few recipes that didn't need  an ice cream maker but rather called for some freezer time in a ziplock bag. I really wanted to find a way to make it taste authentic without an ice cream maker, but ultimately came to terms with the fact that it just wasn't going to happen.  So  yes, you need an ice cream maker for this recipe but it doesn't have to be a fancy one. Mine is an older-model Cuisinart and I love it. You know what else I love? I got it for $8 at a thrift store.
HOMEMADE DOLE WHIP
We're using 5 ingredients here: crushed pineapple, Cool Whip, lemon and lime juice, and just a touch of sugar.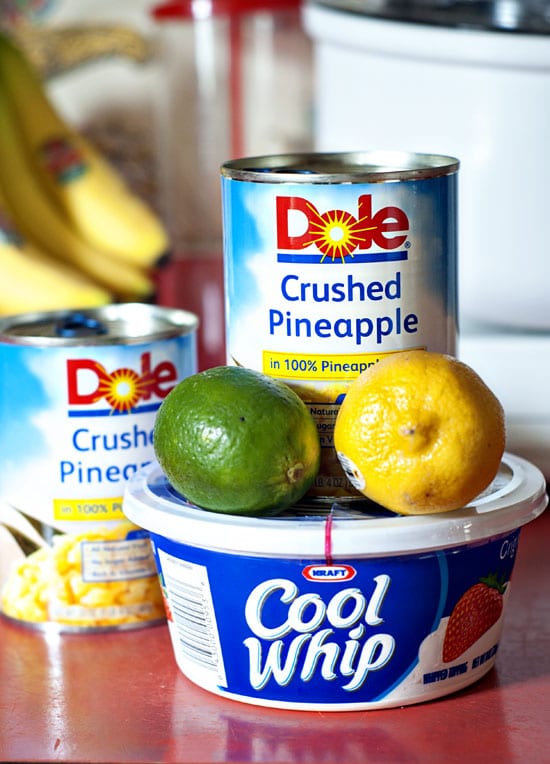 In a blender puree 2 cans of crushed pineapple with the juice, 2 tablespoon of sugar, and 2 tablespoon of both fresh lemon and lime juice. Let it roll for as long as you'd like because you want it smooooth.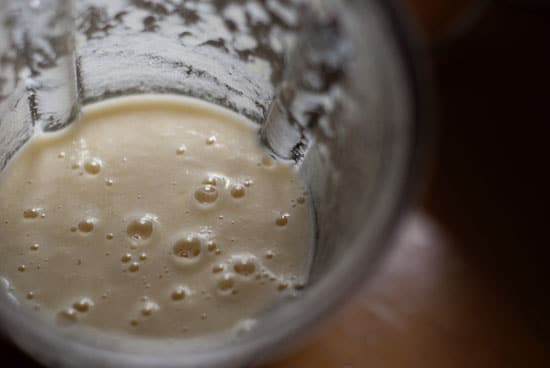 To the blender jar add in 1, 8 oz container of Cool Whip or whatever whipped topping you like. I'm typically not a whipped topping kind-of-gal and prefer whipped cream but I wanted to stay true to the original--and the original Dole Whip is dairy-free. So, Cool Whip it is!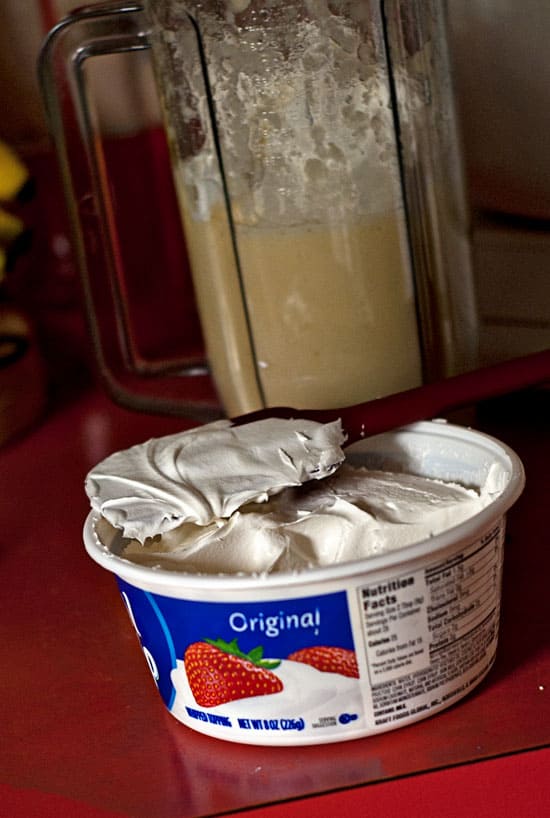 Give it another go-around in the blender until it's well-mixed. I'm not gonna lie, it's pretty darn good even before it's frozen.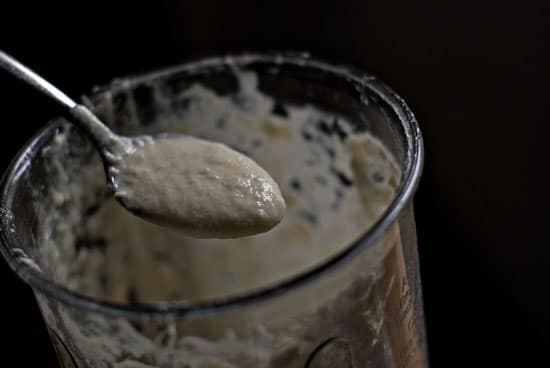 Pour the mixture into your ice cream maker and process for 10-20 minutes. Mine was ready at about the 15 minute mark.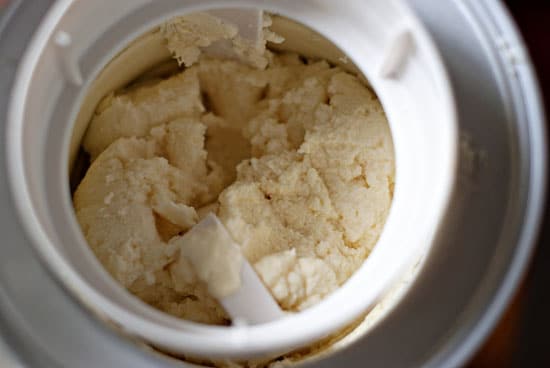 If you're in a float kind of mood (like I was and probably always will be), fill a glass half-way with pineapple juice and top with the soft-serve. I filled up a piping bag and squeezed it into my glasses to make it look a little more authentic.
Sip, savor, and enjoy! I'm not going to say it's an exact replica of Disney's treat, but this homemade dole whip comes pretty darn close and curbed my cravings quite nicely. 🙂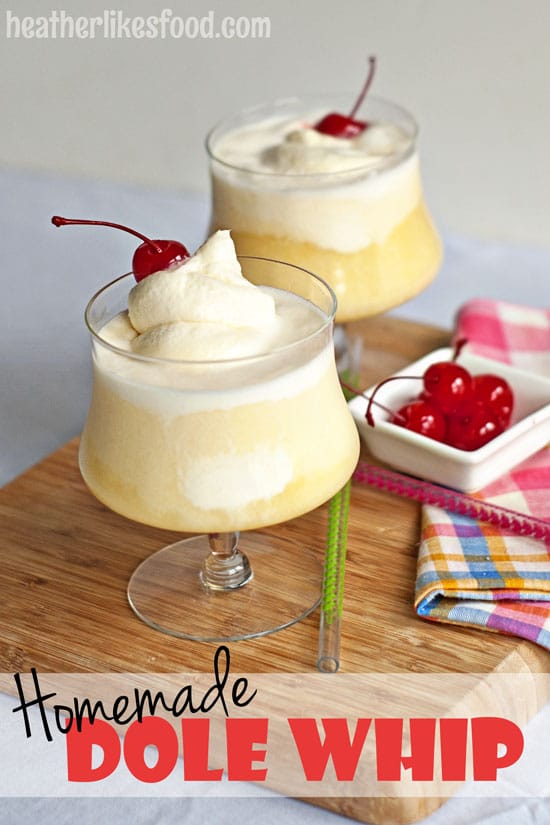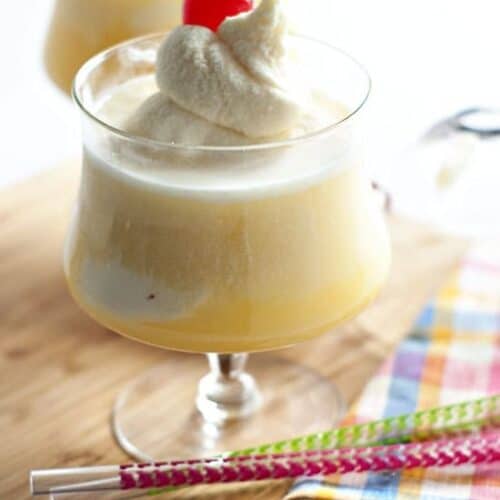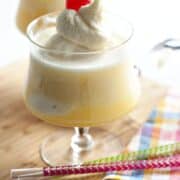 Homemade Dole Whip
Bring a taste of Disneyland home and make these homemade dole whips!
Print
Pin
Rate
Ingredients
2, 20

oz

cans crushed pineapple

2

tablespoon

fresh lime juice

2

tablespoon

fresh lemon juice

2

tablespoon

sugar

1, 8

oz

container non-dairy whipped topping

thawed.
Instructions
Puree crushed pineapple and accompanying juice with lemon and lime juices and sugar until very smooth in a blender. Spoon in whipped topping and blend until smooth again.

Pour mixture into a prepared ice cream maker. Process for 10-20 minutes or until soft-serve consistency.

Spoon into glasses filled with pineapple juice for Dole Whip floats or enjoy on it's own.
Nutrition Facts
Serving:
1
servings
|
Calories:
108
kcal
|
Carbohydrates:
24
g
|
Protein:
1
g
|
Fat:
2
g
|
Saturated Fat:
1
g
|
Cholesterol:
5
mg
|
Sodium:
24
mg
|
Potassium:
139
mg
|
Fiber:
1
g
|
Sugar:
19
g
|
Vitamin A:
97
IU
|
Vitamin C:
10
mg
|
Calcium:
48
mg
|
Iron:
1
mg
ARE WE FRIENDS ON INSTAGRAM?
Tag me @heatherlikesfood and use #heatherlikesfood so I can see what you're making and enjoying!