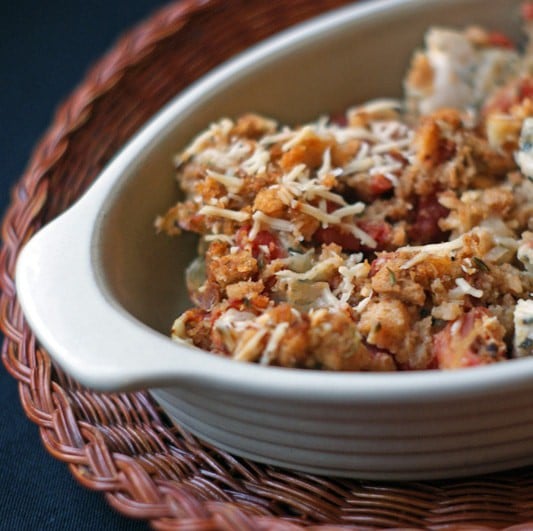 This is one of those meals that's easily put together even when you're in an all- I-want- to-do is-sit- on-my-rear-and-stuff-my-face-with-popcorn- and-watch-"Parenthood"  sort of mood.   I have proof! See that picture up there? Yes,  I cooked even though that was the exact description of my feelings last night.  A saint? Maybe. The best mom/wife in the world? Of course. Motivated by the fact that the chicken in the fridge was going to go bad if I didn't use it? Definitely.
Like I said, this is super easy to assemble and it's likely that you already have most of the ingredients on-hand.  Cut up some chicken, grate some cheese, stir some stuffing mix, bake and you're done. A salad pairs with it nicely and it definitely got the approval of the kiddos. Enjoy!
Ingredients
1 14.5 oz can petite diced tomatoes
1 pkg Stove-Top stuffing mix ( I used savory herb, but I imagine chicken would taste good too)
1/2 C water
2 cloves garlic, minced
2 lg. chicken breasts
1 tsp dried basil
1 C mozzarella cheese, shredded
2 oz. provolone, shredded or cut into little rectangles if you have slices
1/2 C Parmesan Cheese, shredded
Directions
Preheat oven to 400°
Cut the chicken breast into bite-sized pieces and place in a greased 9×13 pan. Sprinkle with salt, pepper and basil, and top with the mozzarella and provolone cheeses. In a separate bowl combine the dry stuffing mix with the water, UN-DRAINED can of tomatoes, and garlic. Mix well and pour on top of the chicken. Sprinkle the parmesan cheese on top of the stuffing mix and bake for 30 minutes or until the top is browned and chicken is cooked through.

Made this recipe?
I'd love to see how you rocked it! Share your photo on Instagram with the hashtag
#heatherlikesfood  --
It will totally make my day to see it!
Recipe Source: Lightly Adapted from Kraft Foods