These Sour Cream Chicken Enchiladas are saucy, creamy, and the perfect way to use up that left-over shredded chicken! My recipe uses no cream soups and is just about as easy to make!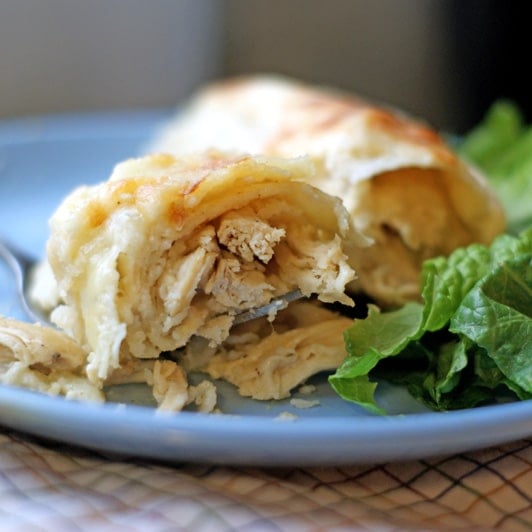 Sour Cream Chicken Enchiladas
I'm sure most everybody has tried some variation of this recipe at least once, but I'm not sure that the ones you tried were as good as these! I grew up eating my Mom's version which I LOVE, but her recipe, like many, uses cream of chicken soup as a base for the sauce.
Now I'm not proclaiming to be the picture-child of healthy eating, but sometimes I prefer to not have all my food come out of a can, just sayin'. Soo this is a revved-up version of a classic recipe that probably was found on the back of a Campbell's can at some point in history.
Want to make green chile sour cream chicken enchiladas but don't want to go through the work of rolling up tortillas? I've got you. Try this Sour Cream Chicken Enchilada Skillet-- all the flavor without all the work! Or try this Easy Beef Enchilada Skillet or this Chicken Black Bean Enchilada Skillet-- same concept, different flavors.
How to Make Sour Cream Chicken Enchiladas with Corn Tortillas
Don't let the fact that the sauce is made from real ingredients scare you! Real food=Scary? Hmmm. Shouldn't it be the other way around?
Anyway, it's simple and you can do it!  You're basically making your own cream of chicken soup.
You'll start with a basic roux (Roux is fancy speak for equal parts fat and flour) and let it cook for a minute and then stir in some chicken broth.
That's it, well kind of. You'll have to read the recipe to find out the rest!
How to Cook Shredded Chicken for the Enchiladas
The recipe calls for  2 cups cooked, shredded chicken breast. I always roast my chicken breasts in the oven when I need cooked chicken for a recipe as opposed to boiling, microwaving (don't eveeeeeeer do this-please?), or pan frying.
Why? Because it's easy, almost mess-free ( I loathe cleaning boiled chicken pans) and makes the chicken moist and flavorful. Always season your chicken with salt and pepper before you put it into a recipe, it makes all the difference!
Just preheat your oven to 375 degrees Fahrenheit and place boneless, skinless chicken breasts on a rimmed baking sheet. Season with salt and pepper, drizzle with olive oil and bake for 25-30 minutes or until cooked through. Chicken breast is done when an instant-read thermometer reads 165 degrees.
Tips for Making the BEST Sour Cream Chicken Enchiladas
Season your chicken! There's nothing worse than biting into a saucy bite of enchilada to have the fillig be totally tasteless! Avert this possibility by seasoning your chicken well with salt and pepper before shredding and rolling into enchiladas.
Add more spice (if you like it spicy)-- as written, the recipe makes a very mild, creamy sauce. If you like your sour cream chicken enchiladas to have a little more pizzazz season accordingly with more chipotle chile powder, the addition of spicier green chiles or even the use of canned diced jalapenos.
Warm those tortillas! Corn tortillas don't like to bend without breaking unless they are very warm. I like to warm my tortillas in the microwave, wrapped in a dish towel. It usually takes about 60 seconds for a stack of 12 tortillas to get warm. I then leave them in the towel, taking one tortilla out at a time to keep them warm.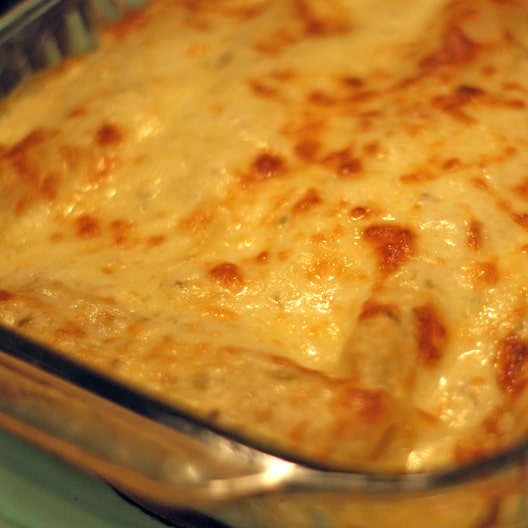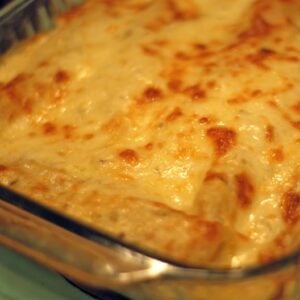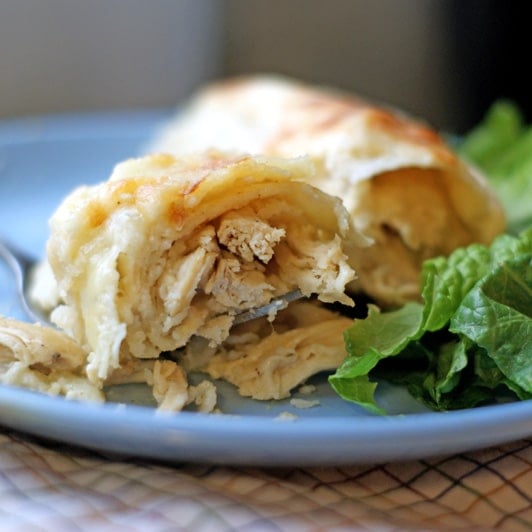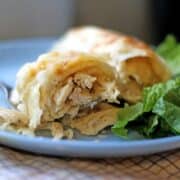 Sour Cream Chicken Enchiladas
These Sour Cream Chicken Enchiladas are saucy, creamy, and the perfect way to use up that left-over shredded chicken! My recipe uses no cream soups and is just about as easy to make!
Print
Pin
Rate
Ingredients
12

corn tortillas

2

cups

chicken breast

cooked and shredded

2

cups

Monterrey jack cheese

grated

3

tablespoons

flour

3

tablespoons

butter

2

cups

chicken broth

1

cup

sour cream

4

ounces

canned diced green chiles

⅛

teaspoon

Chipotle Chili Powder -optional

NOT the same as regular chili powder Adding this gives the sauce a little kick and a bit of smoky flavor

½

teaspoon

dried oregano
Instructions
Preheat oven to 350° Fahrenheit

Combine the shredded chicken and 1 cup of Monterrey jack cheese in a small mixing bowl.

In a medium saucepan melt butter over medium heat and add flour. Stir to combine and let cook, stirring for 1 minute. Add in broth and whisk until it comes to a boil, is smooth and thickened. Remove from heat. Stir in sour cream, green chiles, chipotle chili powder and oregano.

In a 9×13" pan, spread about ½-¾ of a cup of the sauce across the bottom of the pan.

Warm the corn tortillas in the microwave until they are pliable and don't crack when rolled.

Working one at a time, put a portion of the chicken and cheese mixture into the center of the tortilla and roll. Place in the pan and repeat until all the chicken and tortillas are gone.

Pour the remainder of the sauce over the top of the enchiladas making sure that all edges are covered.


Top with the remaining 1 cup of cheese and bake for 25 minutes or until the sauce is bubbly and then under the broiler for 1-3 minutes to brown the cheese and make it look delicious!
Nutrition Facts
Serving:
1
enchilada
|
Calories:
228
kcal
|
Carbohydrates:
14
g
|
Protein:
12
g
|
Fat:
13
g
|
Saturated Fat:
7
g
|
Cholesterol:
50
mg
|
Sodium:
362
mg
|
Potassium:
225
mg
|
Fiber:
1
g
|
Vitamin A:
370
IU
|
Vitamin C:
6.4
mg
|
Calcium:
192
mg
|
Iron:
0.9
mg
ARE WE FRIENDS ON INSTAGRAM?
Tag me @heatherlikesfood and use #heatherlikesfood so I can see what you're making and enjoying!