Looking for a new way to serve up lasagna? These Lasagna bombs have all that you love about lasagna wrapped up in a crispy-fried pasta-y shell. It's lasagna taken to a whole new level!
I really don't know how this happened. The hubs and I have the bad habit of coming up with ridiculous ideas for food where we're eating dinner and most of the time they get forgotten– this time was different.
Before I knew it I was at the store getting everything I needed to make these "Lasagna Bombs" a reality and golly-gee they worked! Like, really, really worked.
I should have known we couldn't go wrong with fried pasta and cheese.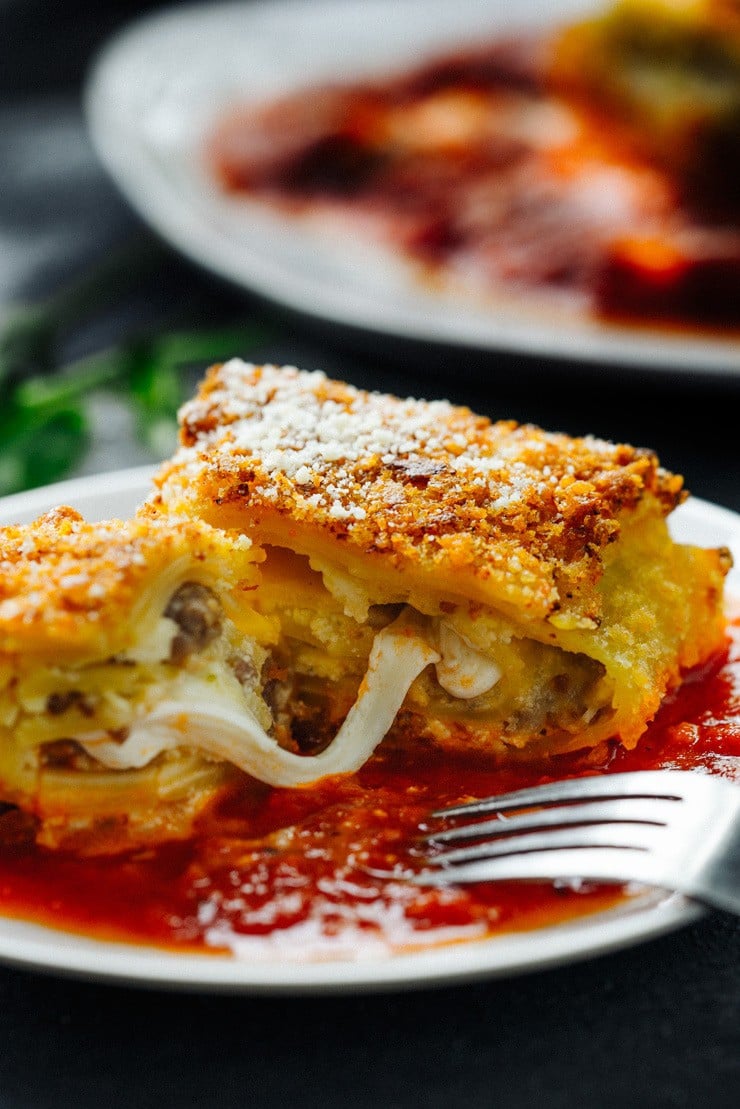 Take a look!
Easy right? The hardest part (that isn't really that hard) is getting them to stay put with the skewer. They may take a little trial and error for you, but they will be well worth it!
Another option is to skip wrapping the pinwheel with the 2nd noodle and throwing them into the freezer to solidify before coating in the breading, frying, and baking. Either way you do it, I don't think you'll be disappointed.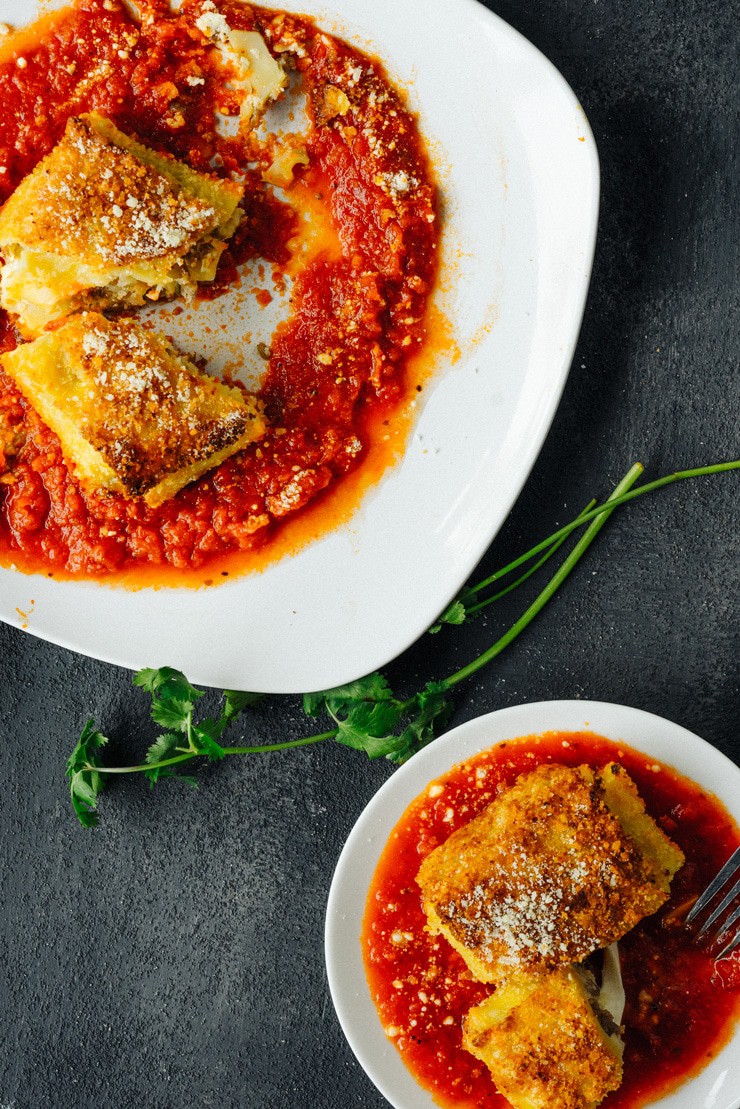 I paired ours with my favorite pasta sauce (just don't buy it on Amazon, it's WAY too expensive) and sprinkled them with a good helping of parmesan cheese. So, so good and a totally different and fun way to enjoy lasagna! Hope you enjoy!
Ingredients
16 Lasagna noodles, cooked per package instructions
2 cups ricotta cheese
3 eggs, divided
2 cups mozzarella cheese, shredded
1/2-1 pound Italian Sausage, browned and crumbled.
1 1/2 cups panko bread crumbs
3/4 tsp salt, divided
1/4 tsp black pepper, divided
Olive oil for frying
1 jar favorite pasta sauce
1/2 C parmesan cheese, finely grated
Directions
Preheat oven to 400 degrees.
Combine ricotta cheese with 1 egg, 1/2 tsp salt, and 1/8 tsp black pepper. Mix well and set aside.
Working with one lasagna noodle at a time, layer a spoonful of ricotta cheese followed by Italian sausage and mozzarella cheese. Roll noodle into a pinwheel and place on another noodle, wrapping it around the sides of the pinwheel making sure the pinwheel side is covered. Use a toothpick or skewer to secure. Repeat with remaining noodles and ingredients.
Whisk together eggs in a bowl. In a separate bowl combine panko crumbs with parmesan cheese, 1/4 tsp salt and 1/8 tsp pepper.
Dip each "bomb" into the egg mixture and then into the panko bread crumbs, making sure all sides are covered.
Heat olive oil until it shimmers in a heavy bottomed pan over medium-high heat-- use enough oil that it comes about 1/8" off the bottom of the pan.
Working in batches, cook the bombs in the oil, flipping as needed until all sides are golden brown and transfer to a baking sheet. Bake the fried bombs for 15 minutes, remove and serve hot with a sprinkling of parmesan cheese and warmed pasta sauce to dip.

Made this recipe?
I'd love to see how you rocked it! Share your photo on Instagram with the hashtag
#heatherlikesfood  --
It will totally make my day to see it!