Black Bottom Banana Cream Pie - Over the weekend I did a little teasing on Instagram and Facebook by posting a picture of this pie and you guys went kind of crazy. I wasn't actually planning on posting this for another couple of weeks but I thew caution to the wind and here I am. Because really, what's going to happen? I have to post pulled pork tacos in a few weeks instead of this pie? I think I can live with that.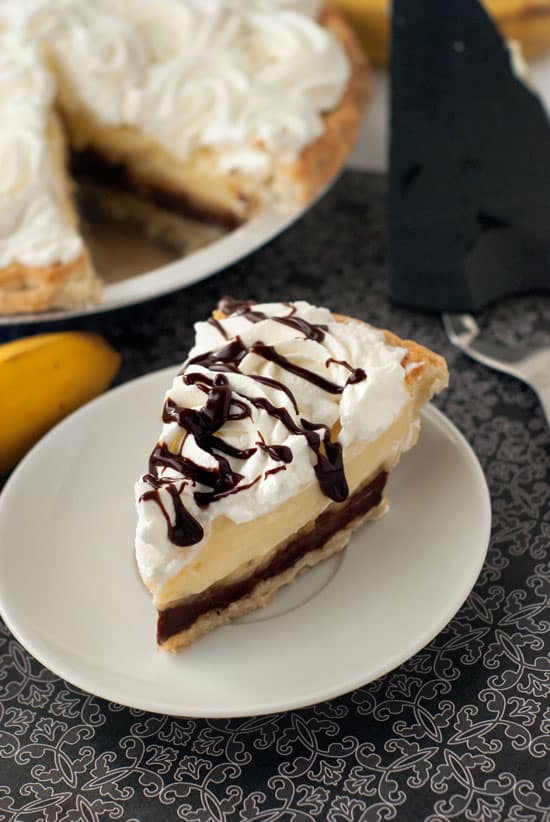 My hubby and I have a birthday agreement that on my birthday we go out somewhere I want to go and on his birthday I cook him whatever his little heart desires. Sometimes he goes a little over-board but its fun and gives me a chance to make something I wouldn't ordinarily make. This year he chose a big pot of crab and shrimp gumbo, dirty rice (minus the chicken livers), french bread, and this banana cream pie. It was his idea to include a layer of chocolate ganache beneath the custard and at first I thought it was a totally original idea. But it only took Google a total of 8.7 seconds to burst that little bubble. Turns out it's been done but let me tell you, it's for good reason! This pie is so darn good! Let's make it!
How to Make This Black Bottom Banana Cream Pie
You'll start out with a pre-baked pie crust. I decided to use a frozen shell (Marie Calendar's frozen crusts are my favorite) to save on time but making your crust is pretty easy peasy if you follow my no-fail recipe. No matter what crust you use, before baking use a fork and give the crust a good poking. This will keep the crust from puffing up and shrinking during baking.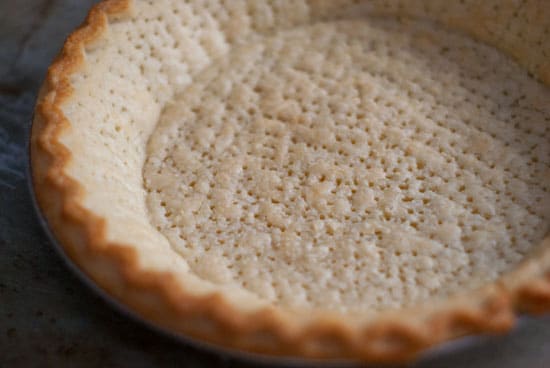 While you're letting the crust cool, start working on the chocolate ganache. Ganache sounds super fancy but it's really just a mixture of cream, chocolate, and sometimes butter. Heat the cream and butter on the stovetop until the butter is melted and the cream has just come to a simmer.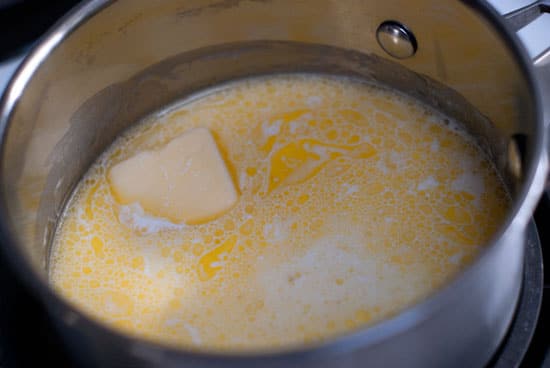 Pour the cream and butter over some good-quality semi-sweet chocolate chips and stir, stir, stir. It will look gloppy and gross at first but once all the chocolate melts it's shiny, smooth, and gorgeous.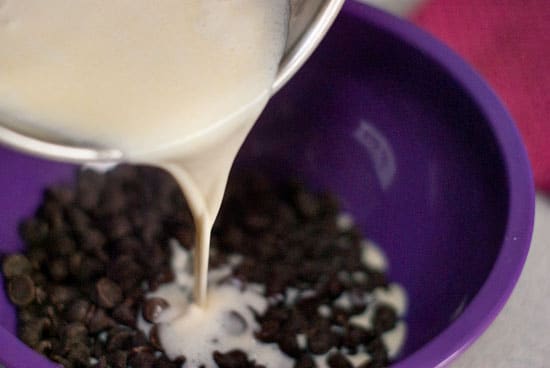 See what I mean? It's purrrrdy.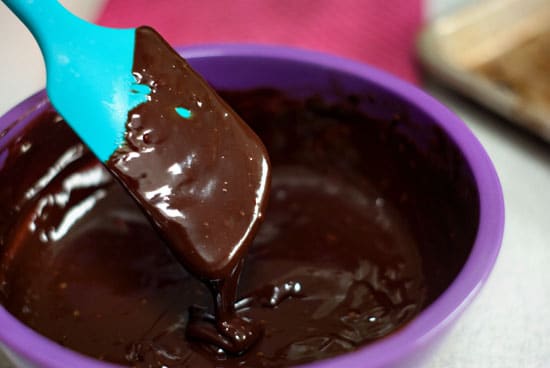 Pour about half of the mixture into the bottom of your cooled pie crust. You want enough to create about a ¼" layer (or more if you want it REALLY chocolately). Set aside the remaining ganache to drizzle over the top of the pie when complete.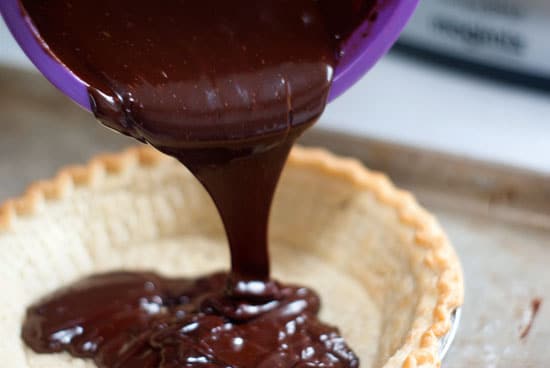 My Tip For Homemade Custard
Next up: Custard!  When I make homemade puddings or custards I always use whole milk. Yes, it add more calories. Yes, I know it's January and you're trying to eat better. But just do it. If you REALLY want to you can use 2%, but under no circumstances should you attempt to use anything under that. The extra fat keeps the custard smooth and creamy and I take no responsibility for an icky custard.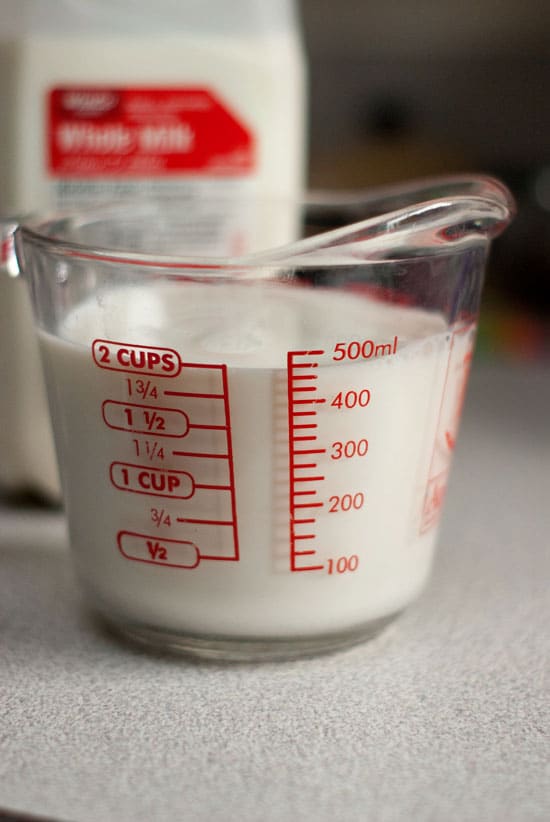 You'll heat the milk and half of the sugar on the stovetop until it is at almost a boil. While it's heating combine the other half of the sugar, 2 egg yolks, 1 whole egg, and some cornstarch in a separate bowl, whisking until smooth.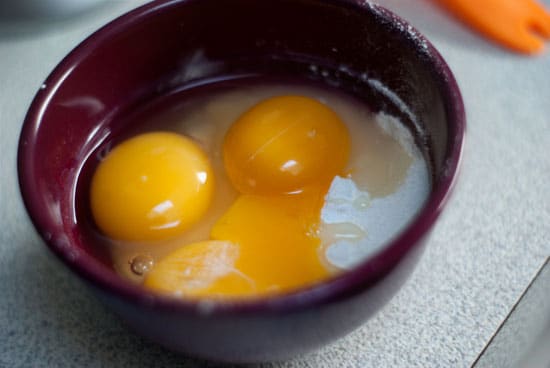 Once your milk is just about boiling, use a ladle or small cup to take some of that hot milk and whisk it into the egg mixture. This process is called "Tempering" and brings the eggs slowly up to temperature so they don't curdle when they are added to the pot. Continue adding hot milk  and whisking until the egg mixture is warm to the touch.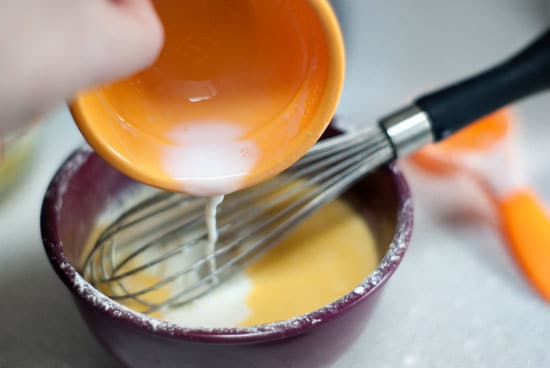 Whisk the warmed-up egg mixture into the pot and DON"T STOP WHISKING! It might take just a few minutes, it might take up to 10, but whatever you do, don't stop stirring until the custard is thickened, glossy, has come to a boil for 1 minute, and is off the heat. If you follow this you will have a super smooth, lump-free filling!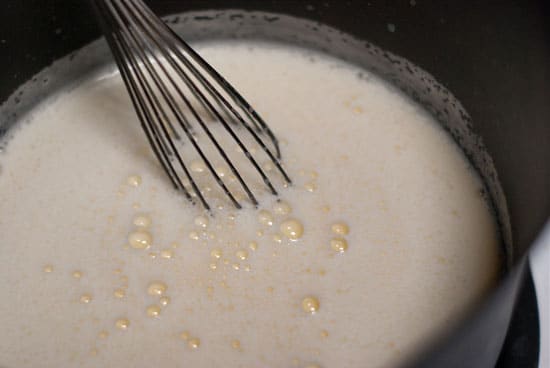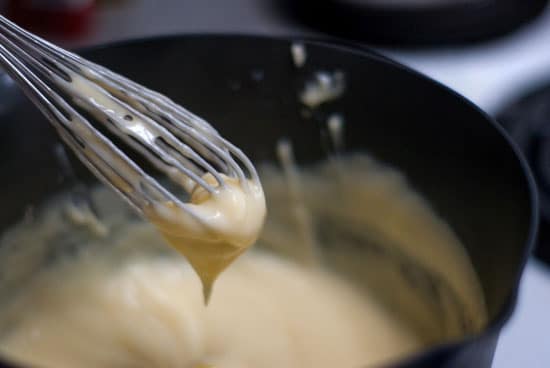 Stir a little butter and vanilla into the finished custard and top the chocolate ganache with sliced bananas. Pour the warm custard over the bananas, smooth the top, and place in the fridge to chill completely.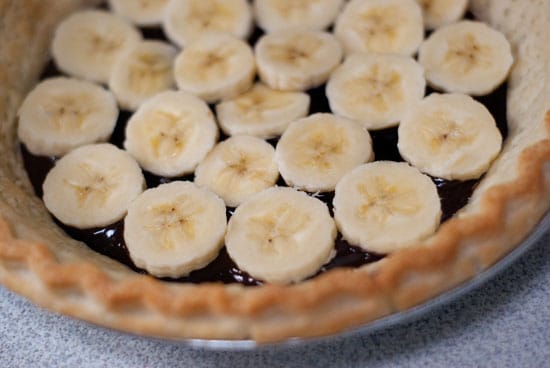 Once chilled it can be topped with fresh whipped cream and a drizzle of the reserved chocolate ganache.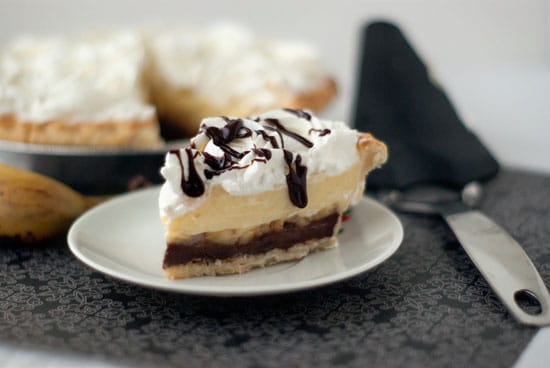 The hubs snuck in a Banana Cream Pie slice I photographed the morning before his party and wholeheartedly approved. I think we're going to try it with coconut next time. Because there WILL be a next time.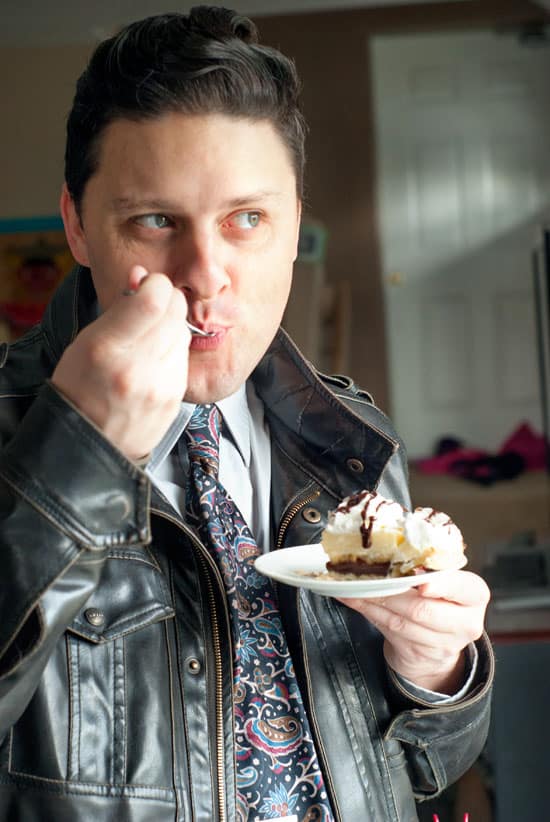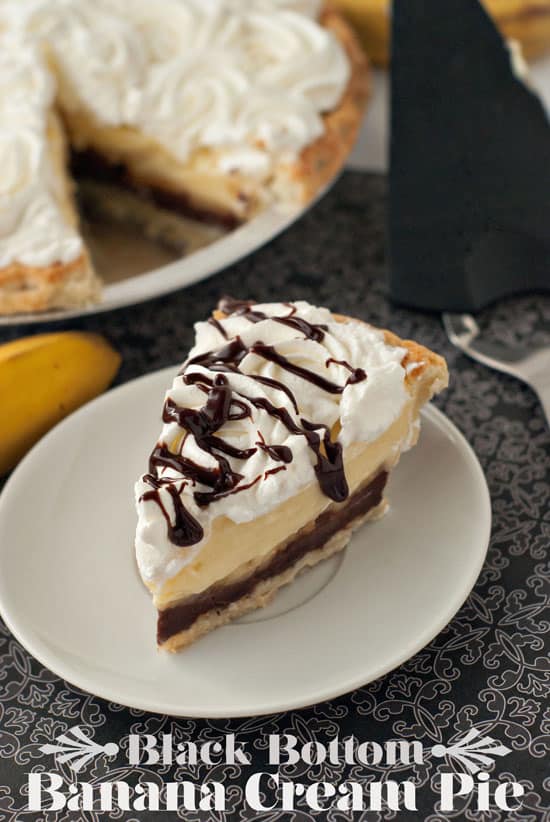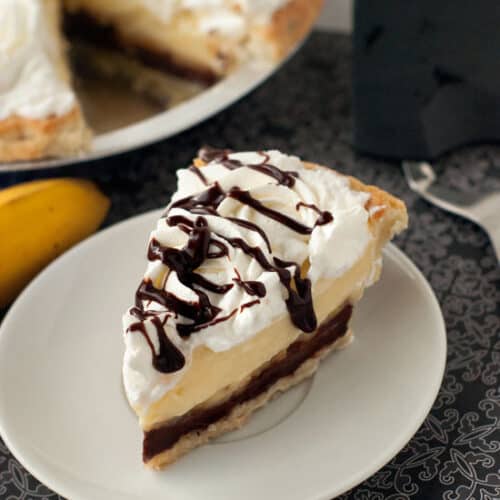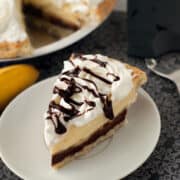 Black Bottom Banana Cream Pie
The best banana cream pie with a chocolate ganache base. The perfect banana chocolate dessert!
Print
Pin
Rate
Ingredients
1

baked pie crust

¼

C

butter

½

C

heavy cream

8

oz

semi sweet chocolate chips

2

C

whole milk

½

C

sugar

¼

teaspoon

kosher salt

2

egg yolks

1

egg

¼

C

corn starch

1

oz

butter

1 ½

teaspoon

vanilla extract

1

banana

sliced

sweetened whipped cream
Instructions
In a sauce pan, combine butter and cream and bring to a simmer. Pour over chocolate chips in a separate bowl and stir until the chocolate is melted and the mixture is smooth and glossy. Pour ½ of the mixture into the pie shell, spread to make even and set aside. Reserve remaining gananche.

In a heavy-bottomed sauce pan combine the milk with ¼ cup of the sugar and salt. Dissolve the sugar and bring just to a boil.

In a separate bowl whisk together the egg yolks, egg, remaining ¼ cup of sugar, and cornstarch and beat until smooth.

Temper the egg mixture by slowly streaming the hot milk into the egg, stirring constantly until the egg is warm.

Add the egg mixture to the rest of the milk on the heat and continue to cook, stirring constantly until it comes to a boil and thickens. Remove from heat.Stir in vanilla and butter.

Arrange sliced bananas over the cooled ganache and spoon the warm custard over the bananas. Smooth the top of the custard and place in fridge to cool completely.

Top with sweetened whipped cream and a drizzle of the reserved ganache.
Nutrition Facts
Serving:
1
serving
|
Calories:
527
kcal
|
Carbohydrates:
48
g
|
Protein:
7
g
|
Fat:
34
g
|
Saturated Fat:
19
g
|
Trans Fat:
1
g
|
Cholesterol:
120
mg
|
Sodium:
281
mg
|
Potassium:
342
mg
|
Fiber:
3
g
|
Sugar:
28
g
|
Vitamin A:
702
IU
|
Vitamin C:
1
mg
|
Calcium:
113
mg
|
Iron:
3
mg
ARE WE FRIENDS ON INSTAGRAM?
Tag me @heatherlikesfood and use #heatherlikesfood so I can see what you're making and enjoying!