What's better than a bowl of creamy tomato soup on a cool fall day? Um... how about a bowl of tomato soup topped with cheesy garlic dumplings?! It's the ultimate comfort food and a cinch to throw together to boot!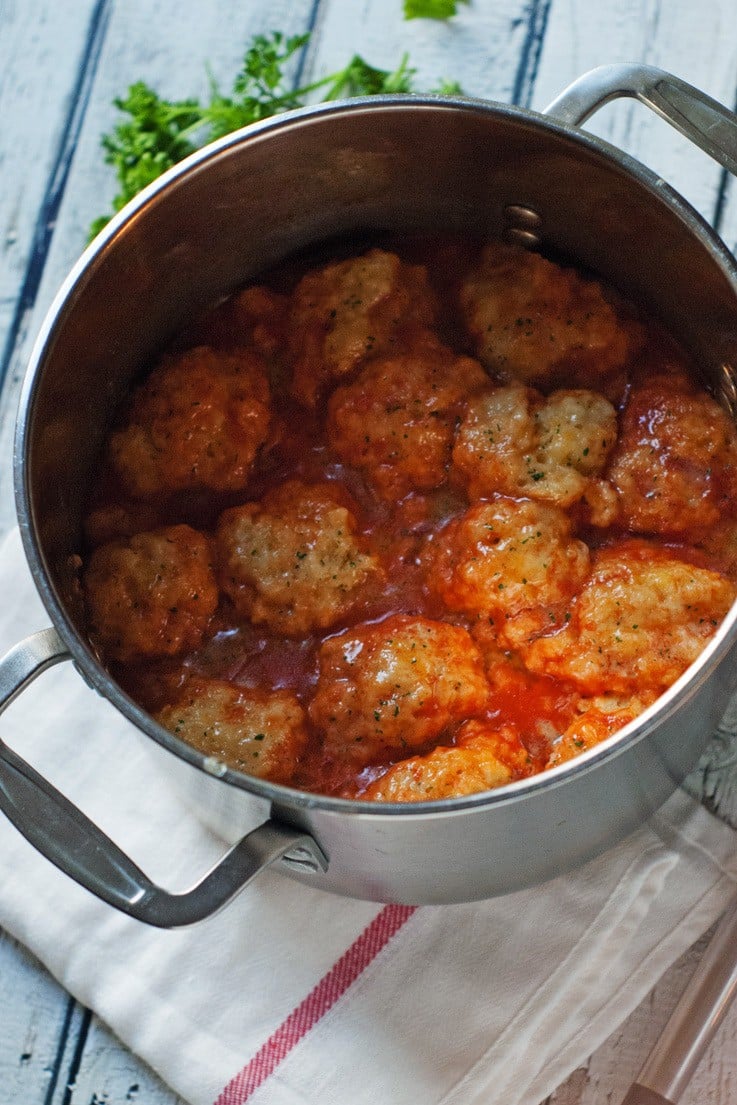 Well I think I can finally say we're moved into our new house. Sure, there are a few stray boxes here and there, but I'm feeling pretty settled. Most of the remaining boxes are things like decorations and my hubby's 2,783 books.
He likes books.
Me, I'm more concerned with curtains at the present. Have you ever had to buy curtains? Most. painful. experience. ever. I've spent WAAAAY too many late-night internet shopping sessions killing myself over which ones to get. Are they the right length? Width? Color? Pattern? Will my book-loving hubs hate them? Not to mention I'm cheap. Like ridiculously cheap. And the curtains are spendy. How can a single piece of fabric be so expensive?
I'm obviously having some very real first-world problems and I'm kind of grossing myself out so I'll stop. How about some soup? Are you guys ready for this recipe? I'm kind of in love with this whole idea. I grew up with my mom making dumplings out of Bisquick so I've got a special place in my heart for this kind of soup to begin with. But putting cheesy garlic dumplings on top of tomato soup wasn't something I had ever thought of until a few weeks ago.
There I was, making tomato soup and about to scoop the biscuits onto the baking tray to make actual biscuits and in an instant of sheer genius, I plopped that dough into the soup instead of the oven. Boom.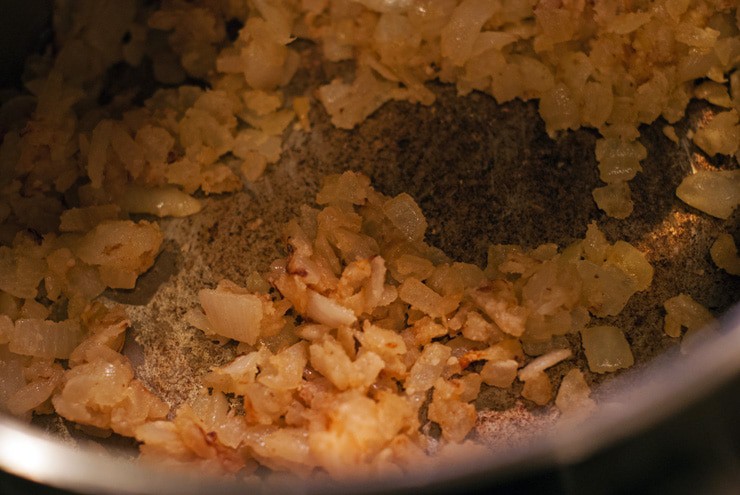 To start the soup you'll saute some onion in a little bit of butter until they are soft and then stir in some flour.

Some chicken broth and canned tomatoes get stirred into the mix, thickened and then seasoned.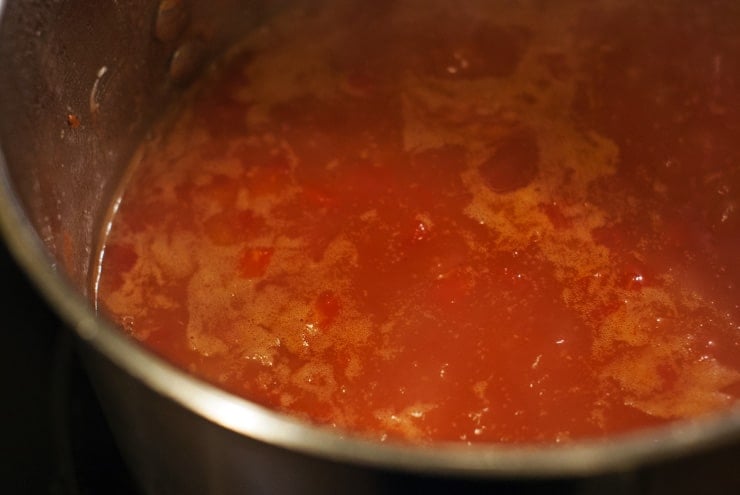 This step is optional but I like a smooth tomato soup so I puree it. Just make sure you don't overfill the blender or you'll end up with a big mess on your hands. And face... and ceiling. Better yet, just use an immersion blender if you have one. Blending hot liquids can be tricky business.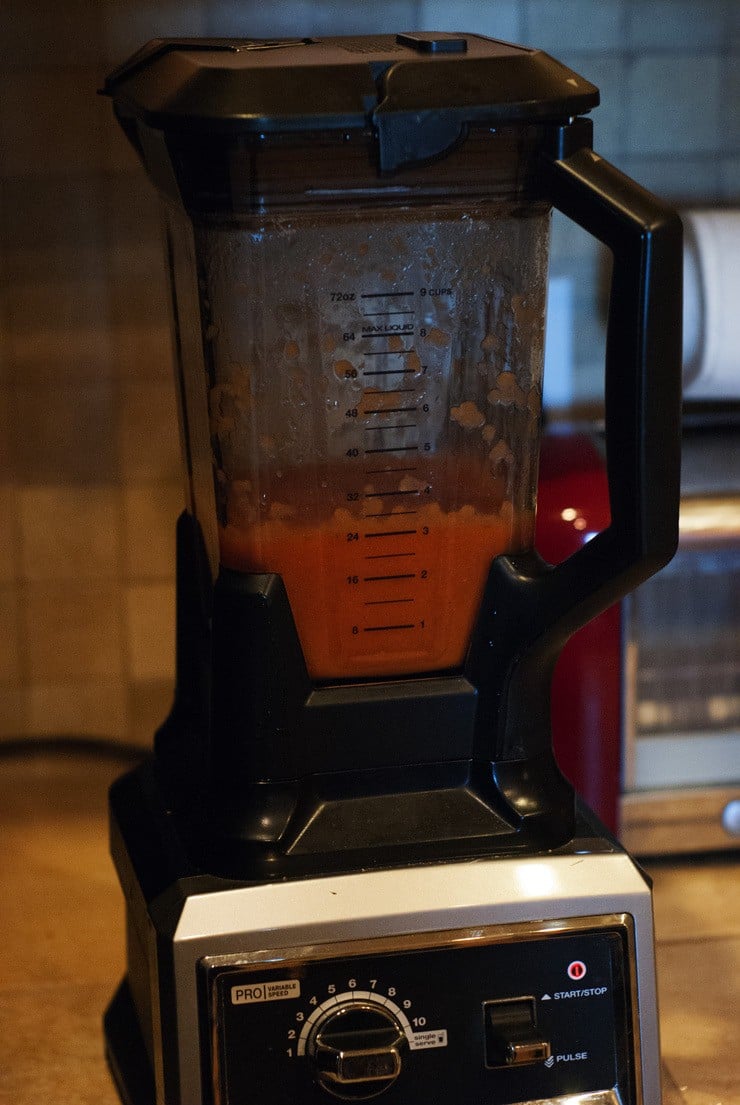 For the dumplings, I'm using a package of Red Lobster's Cheddar Bay Biscuit Mix. I buy mine in a big box at Costco but I've seen it in smaller portions at most grocery stores. Just one 11-12 oz box will be enough for one pot of soup.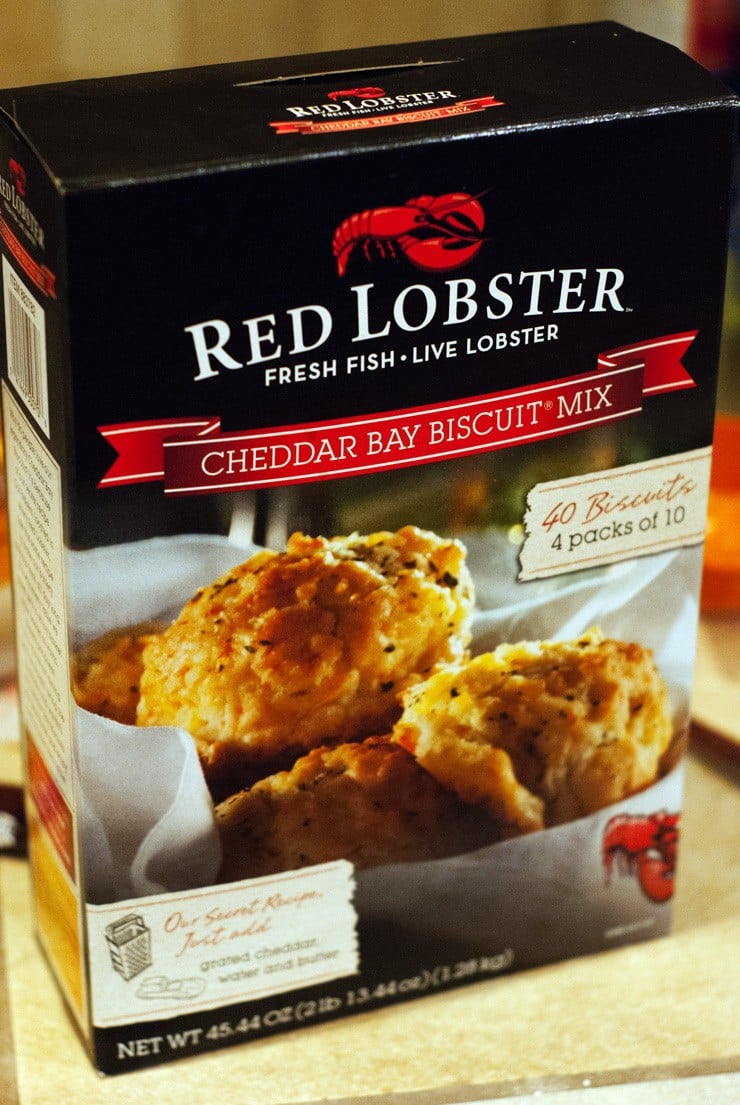 Mix the dough just like it says on the box.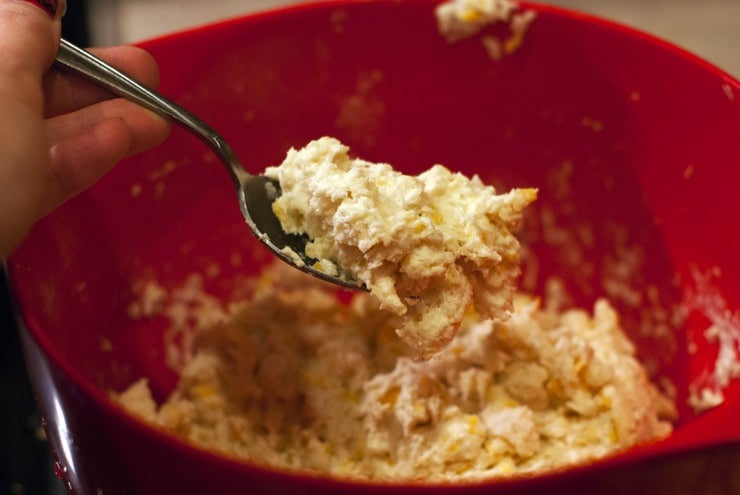 And drop spoonfuls of the dough into your simmering pureed (or not) soup until all the dough has been used.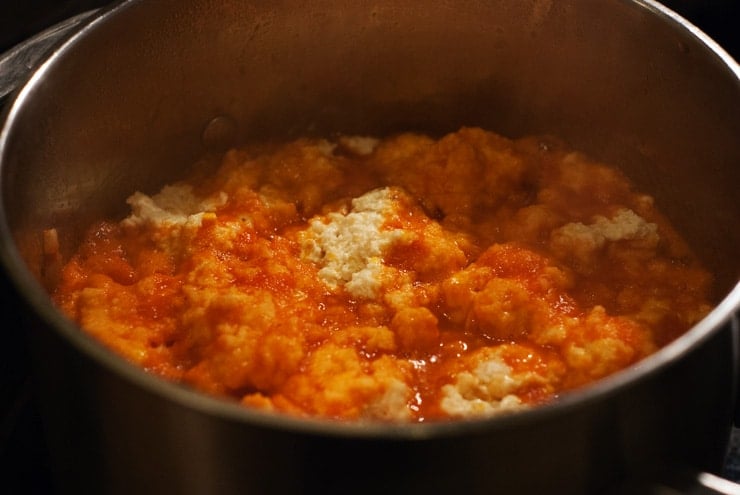 Cover the pot and let simmer until the dumplings are fluffy and set.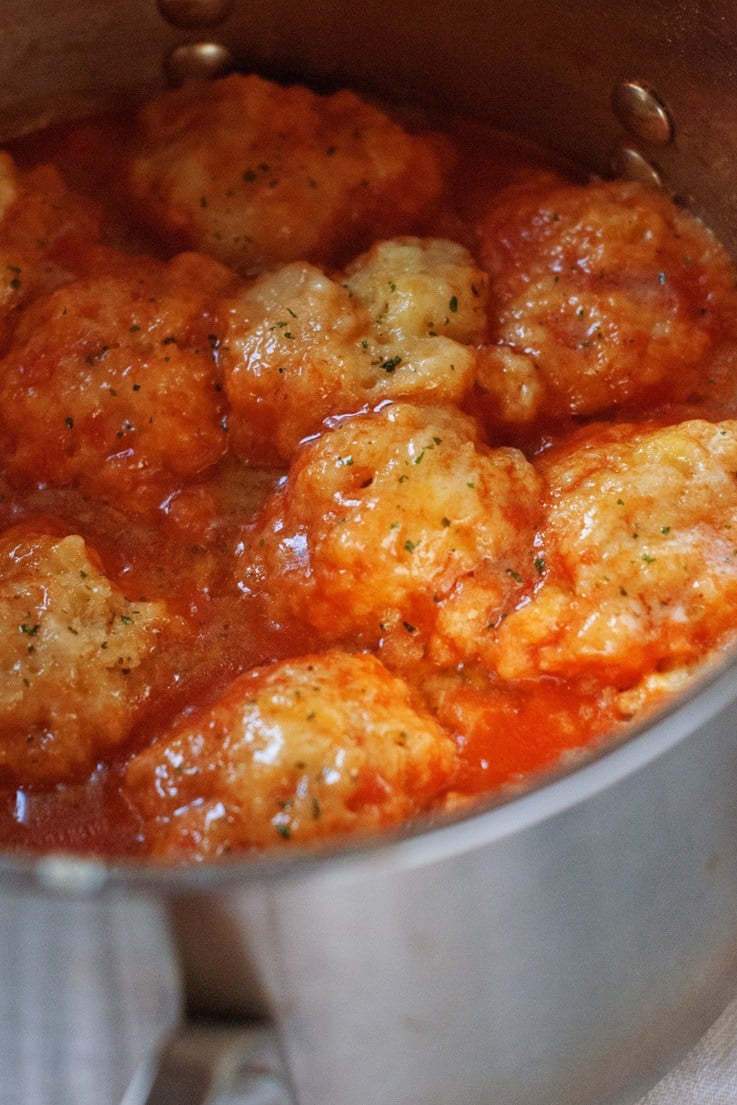 And for the best part.... mix together a little butter with the garlic seasoning packet included in the mix and brush over the tops of the dumplings. The seasoned butter will soak into the dumplings and also drip down into the soup giving it awesome flavor.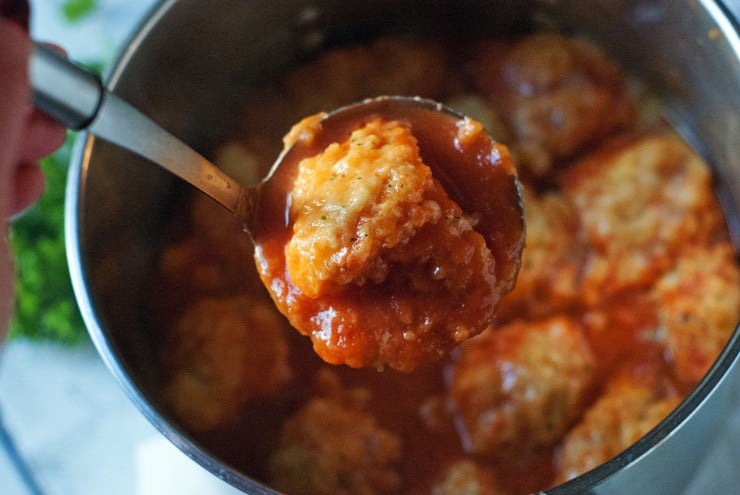 The finished soup is creamy and perfect with a piece of dumpling in each bite. Enjoy!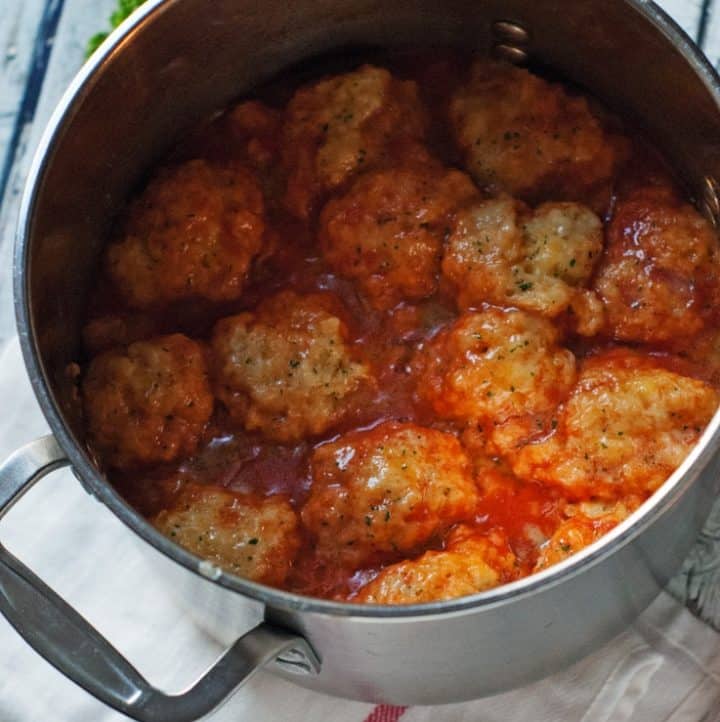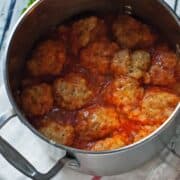 Creamy Tomato Soup with Cheddar Bay Dumplings
What's better than a bowl of creamy tomato soup on a cool fall day? Um... how about a bowl of tomato soup topped with cheesy garlic dumplings?! It's the ultimate comfort food and a cinch to throw together to boot!
Print
Pin
Rate
Ingredients
2

tablespoons

butter

1

sweet white onion

chopped

3

tablespoons

flour

3

cups

chicken broth

43.5

ounces

diced tomatoes

undrained

1

teaspoons

sugar

¾

teaspoons

kosher salt

¼

teaspoons

black pepper

11

ounce

package cheddar bay biscuit mix

2

tablespoons

butter
Instructions
In a large pot, melt butter over medium heat. Stir in onion and cook until translucent. Add in flour and cook, stirring constantly for 1 minute.

While stirring, slowly pour in chicken broth and canned tomatoes. Stir until smooth, bring to a boil and reduce heat to a simmer. Season with sugar, salt and black pepper.

If a smooth soup is desired, divide the soup into two portions and puree until smooth in a blender. Return soup to pot and bring back up to a simmer.

Prepare biscuit mix as directed on package and drop spoonfuls of the biscuit batter into the simmering soup until all the batter is used. Cover pot and cook for 15-20 minute or until the dumplings are no longer doughy. Remove from heat.

Prepare the butter sauce using only 2 tablespoon of butter and the seasoning packet and brush over the tops of the dumplings in the pot and serve.
Nutrition Facts
Serving:
6
servings
|
Calories:
353
kcal
|
Carbohydrates:
46
g
|
Protein:
6
g
|
Fat:
16
g
|
Saturated Fat:
6
g
|
Cholesterol:
21
mg
|
Sodium:
1471
mg
|
Potassium:
591
mg
|
Fiber:
3
g
|
Sugar:
12
g
|
Vitamin A:
475
IU
|
Vitamin C:
28.9
mg
|
Calcium:
168
mg
|
Iron:
3.9
mg
ARE WE FRIENDS ON INSTAGRAM?
Tag me @heatherlikesfood and use #heatherlikesfood so I can see what you're making and enjoying!