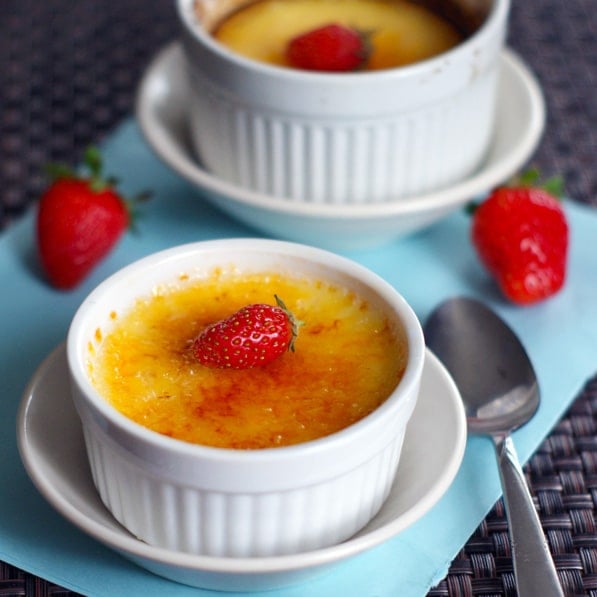 If you're all impressed by the fact that I knew how to type all the accent marks on the recipe title, don't be. I totally just wiki'ed it and used my good friend copy and paste. I'm pretty cool, but not that cool. Sorry if I'm ruining the illusion for you.
You know what though? Eating crème brûlée makes me feel special, like I am cool enough to know how to type in French. It's something about the velvety texture of the custard against the crunchy sugar crust. It's the way that the top half of the ramekin is warm from cooking the sugar and the bottom half is still cold from the refrigerator. It's because when I take a bite, I know that there are very few, if any, people in my neighborhood eating something as insanely delicious as I am. Vive la France!
My baking teacher at culinary school described crème brûlée as the easiest-to-make-most-over-priced-delicious-dessert-ever. She wasn't exaggerating. Once you see how easy these are to make, you'll cringe at spending $8 ($10! $13!) for a single serving. Don't let the accent marks scare you. With 5 ingredients, a whisk, a few ramekins, and a couple tips from me you'll be tap, tap, tappin' away on the top of your perfectly cooked crème brûlée- not to mention how special you'll feel eating it!
Here's the breakdown; You'll need heavy cream, whole milk, eggs, sugar and vanilla. I spaced taking pictures of making the custard base so this is how it goes- Over medium heat pour the milk and cream into a sauce pan. Take half of a vanilla bean, and split it down the middle so you have two long halves. With the backside of a knife scrape the tiny seeds of the bean out and stir both the seeds and seed pod into the cream (you'll strain it out later). You want to bring the cream mixture to just before a boil; once steam is rising rapidly you know it's ready. Whisk the eggs and sugar in a separate bowl and slowly temper the egg mixture into the cream. Meaning, you'll stir ladle-fulls of the hot cream into the eggs one at a time until the egg mixture is warm to the touch. Once it's warm you can add the rest of the cream. Tempering prevents the egg from cooking when it meets the hot cream. Pour your egg mixture through a strainer and let cool- it should be smooth and velvety.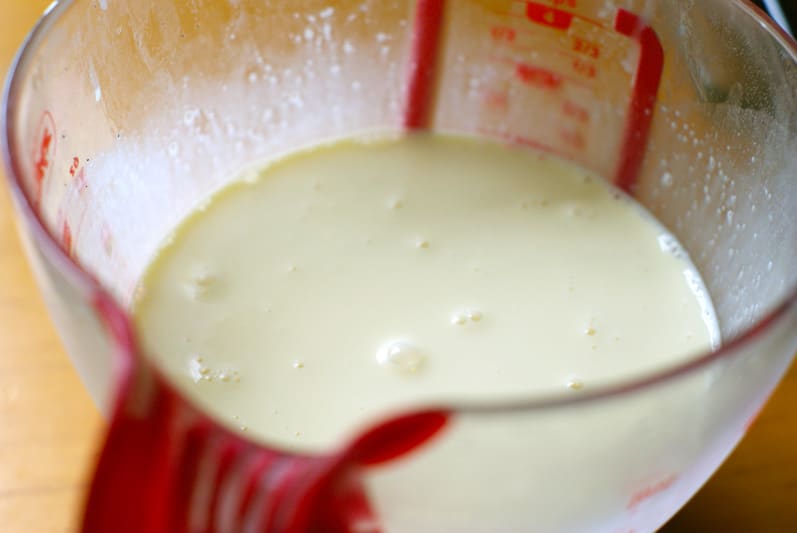 For baking you'll need some ceramic ramekins placed in a larger baking dish. Like my mismatched set? Goodwill, baby!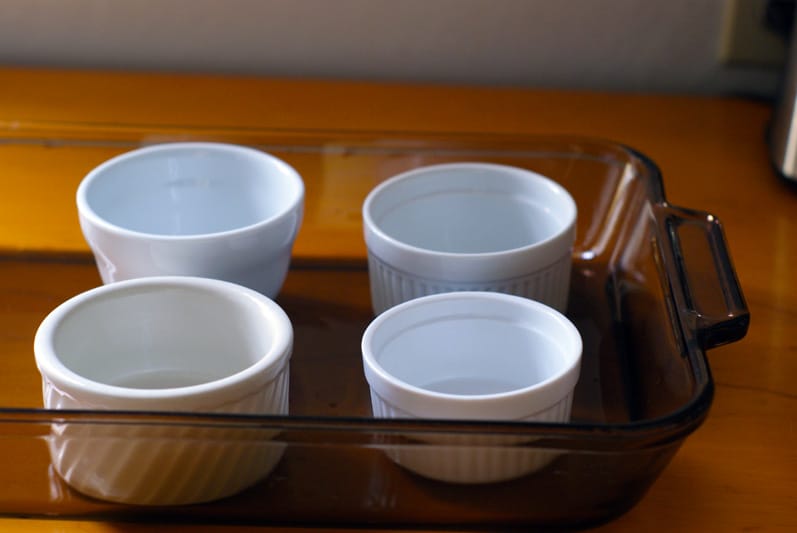 Pour equal amounts of the custard mixture into each ramekin.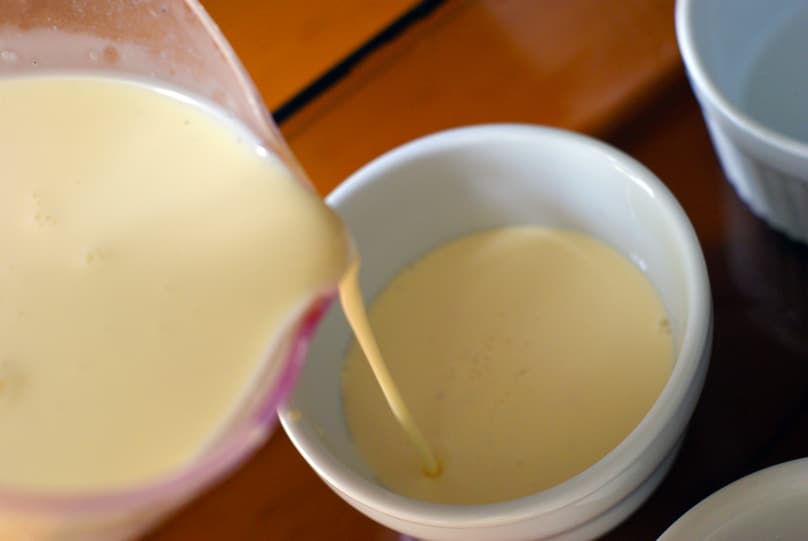 Cover the entire baking dish with foil keeping one side folded up.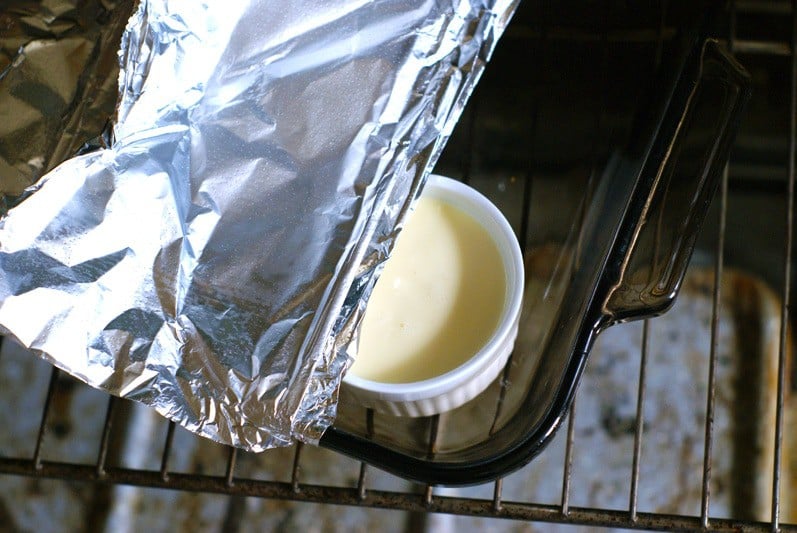 Creme Brulee is cooked in a water bath to keep it creamy and smooth just like you do cheesecake. Place the foil covered dish with the filled ramekins inside on the oven rack. Carefully fill the baking dish with boiling water until the water comes halfway up the sides of the ramekins, making sure water doesn't splash up into the custard. Soggy custard = no bueno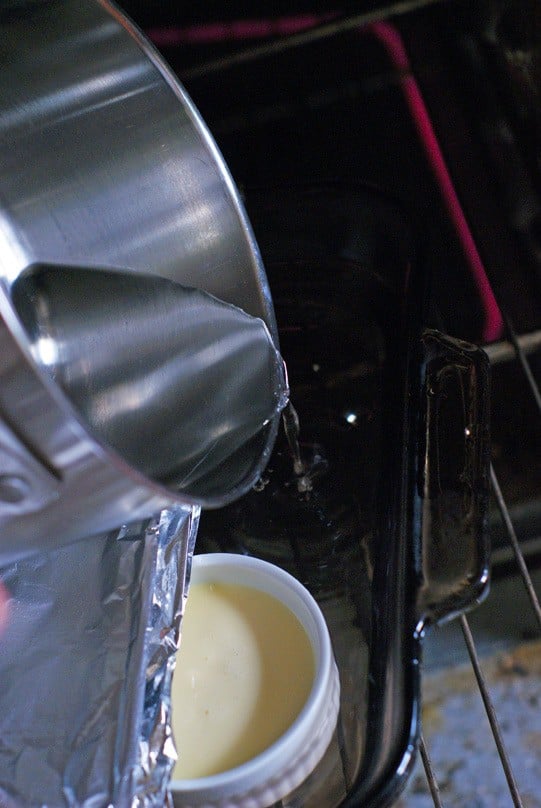 Cover the open portion of the now water-filled dish and bake at 300 for about 45 minutes. You want the custard to be set around the edges and to be slightly underdone in the center- it will shake like jello when gently shaken. Remove the ramekins from the water bath and refrigerate until they are well chilled.
Here comes the fun part! The brulee-ing of the cremes! Notice how I've given up on the accents? Gig's up, I guess.
You have two options when it comes to creating that crunchy sugar crust: the torch and the broiler. Each method has it's positives and negatives so I'll go over the technique for each one and you can take your pick.
The Torch:
This is my favorite way to make them. Using the torch gives you more control over how brown the sugar gets and let's you concentrate on spots that need some extra heat- not to mention how fun it is! If you don't already own a torch, promise me you won't run to Williams-Sonoma and drop $40 on an itty-bitty baby torch- ok? All you need to do is head over to The Home Depot and get one of these bad boys! They're cheap and the propane tank lasts forever.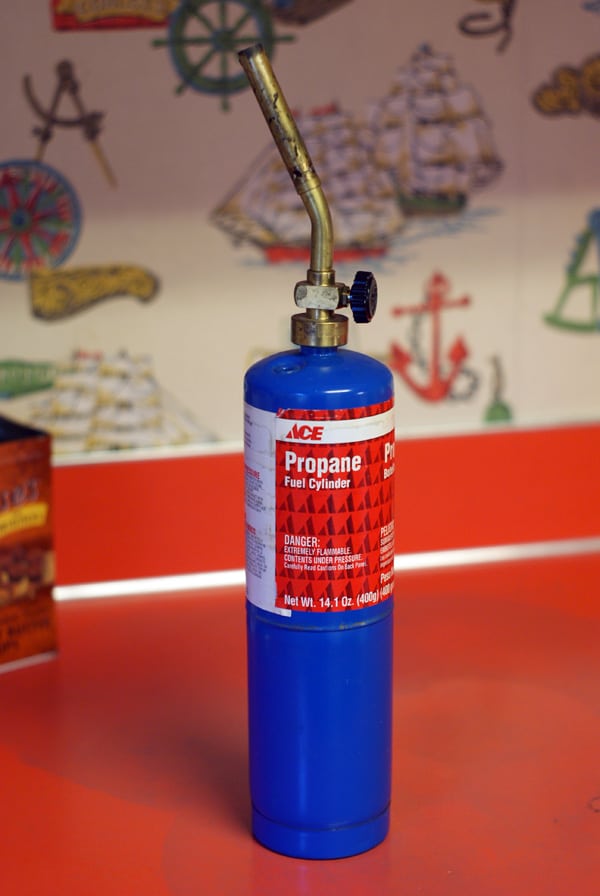 Sprinkle about 2 teaspoons of sugar over the top of each custard and start to cook the sugar with the torch until it starts to melt.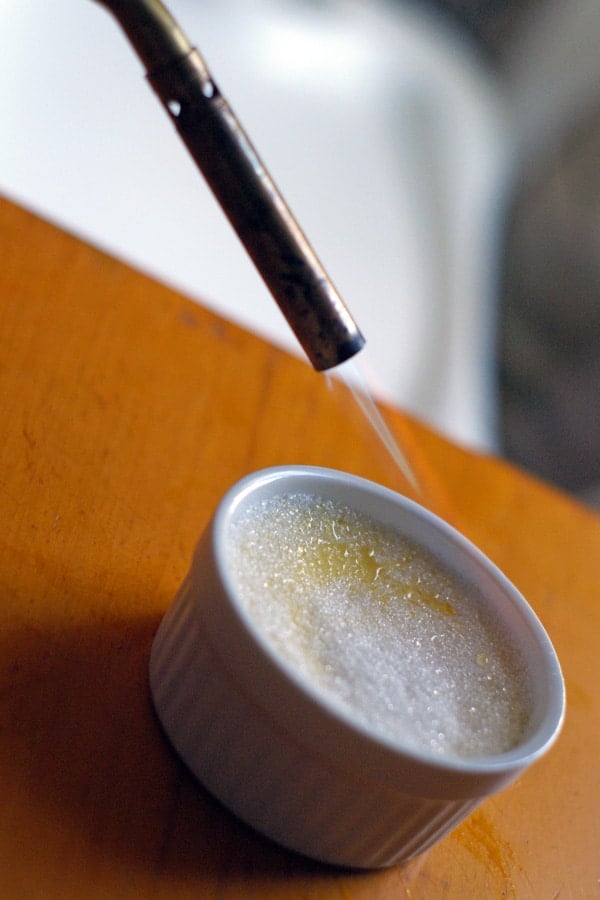 The sugar will start to melt and caramelize, it happens fast so watch out! Keep your torch moving around to keep it even.
Almost there...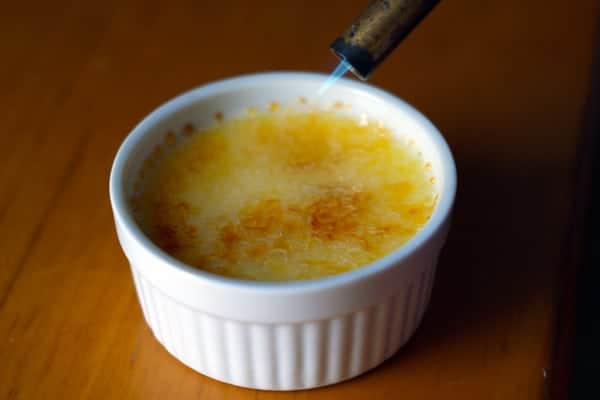 And it's done!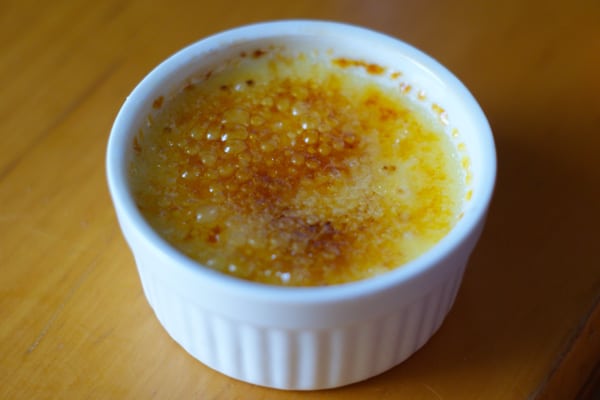 The Broiler:
If you don't want to commit to buying a torch that's okay. Your other option is to put it under your oven's broiler to melt the sugar. You'll cover the tops of each custard with about 2 teaspoons of sugar and place them in an COOL oven with the rack situated as closely as possible to the broiling element. Putting the custard in a cool oven keeps it from getting too warm. Turn on the broiler and let it roll until the sugar has melted and caramelized to your liking. All ovens run their broilers at different temperatures so your cooking time will vary. It takes mine about 6 minutes.
The only real difference between using the broiler and a torch is aesthetics. Sometimes the sugar doesn't form a complete shell across the top and browns unevenly.  Broiling gives your creme brulee a more "rustic" appearance. It's kind of the Robert Downey Jr. of french desserts; a little rough around the edges, but still delightfully yummy.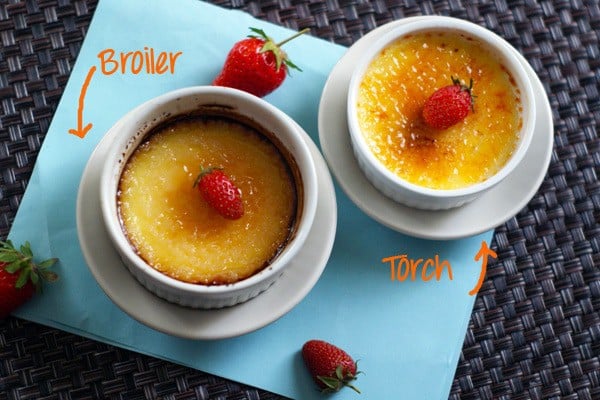 So that's it, now you have all the tools to make yourself a little piece of French heaven. Now, if you'll excuse me, I'm on my way to cuddle up on the couch with Ally Mcbeal in her Larry era.
Au revoir!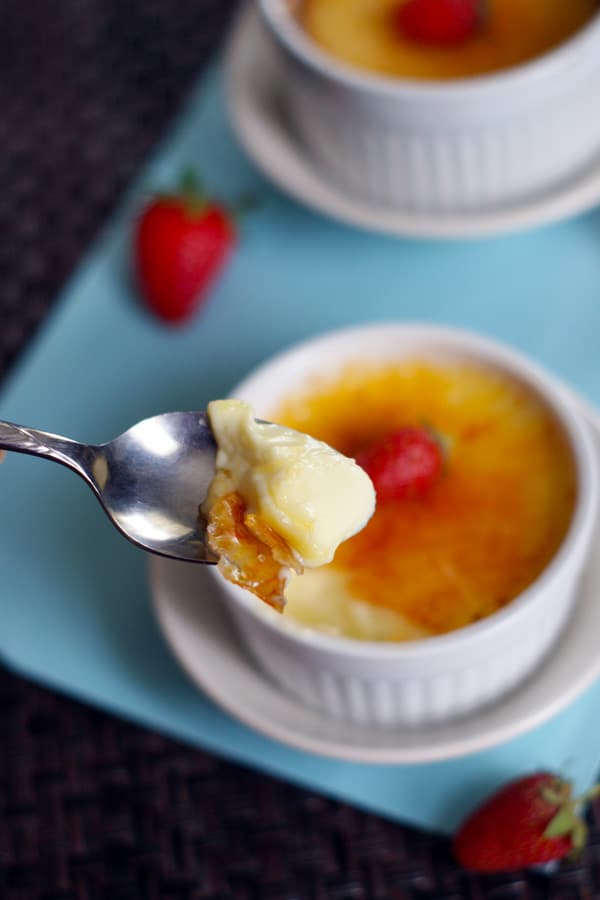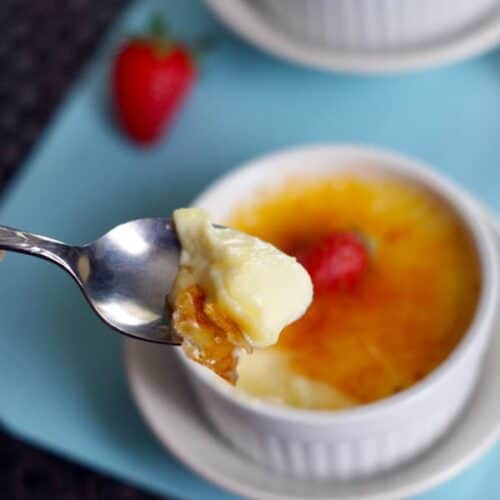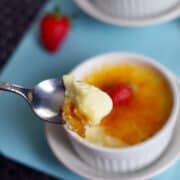 Crème brûlée
If I could only eat one dessert for the rest of my life, these Crème brûlée would be it!
Print
Pin
Rate
Ingredients
6

large egg yolks

2

large eggs

¾

C

sugar

pinch salt

1

C

whole milk

3 ½

C

heavy cream

½

vanilla bean
Instructions
Preheat oven to 300

Split vanilla bean and scrape seeds into the milk and cream.

Scald mixture over medium heat.

Whisk remaining ingredients together. Slowly temper in the egg mixture and strain through a fine strainer.

Cool and pour into ramekins. Place ramekins in a baking dish, cover part way with foil and place into oven.

Pour boiling water into dish until water comes half-way up the sides of the ramekins. Cover open portion with foil and bake for about 45 minutes.

When custards are gently shaken they will be set around the edges but remain slightly underdone in the center (will move like jello).

Cool completely in fridge.

Sprinkle about 2 teaspoons of sugar over tops of each custard. Using a torch or broiler caramelize the sugar until it forms a shell over the custard.
Nutrition Facts
Serving:
1
serving
|
Calories:
1020
kcal
|
Carbohydrates:
47
g
|
Protein:
13
g
|
Fat:
88
g
|
Saturated Fat:
52
g
|
Cholesterol:
666
mg
|
Sodium:
149
mg
|
Potassium:
296
mg
|
Sugar:
40
g
|
Vitamin A:
3670
IU
|
Vitamin C:
1.2
mg
|
Calcium:
251
mg
|
Iron:
1.2
mg
ARE WE FRIENDS ON INSTAGRAM?
Tag me @heatherlikesfood and use #heatherlikesfood so I can see what you're making and enjoying!