German Crumb Cake - Most of you here probably don't know that I used to have a cake decorating business. Wedding and sculpted cakes were kind of my niche but I even loved doing the simple sheet cakes. The hubs and I would stay up late into the night sculpting cakes that looked like the Island of Neverland and shoes (not the same cake thank goodness). It was fun and exciting but somehow nerve-wrecking and exhausting all at the same time.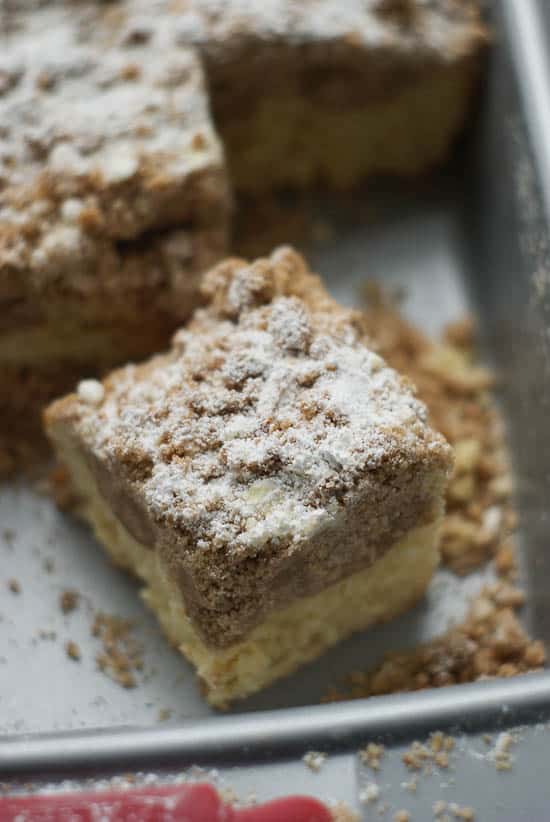 I kind of loved it and really, I feel like I still thrive in high-stress situations. But doing it full-time with two kids in tow was a little bit more than I could handle.
So, even though my big cake decorating days are over (for now), I still love learning the tricks and techniques of the trade. A few months ago my daughter and I started watching Cake Boss together on Netflix and it's been really fun. I'm pretty sure she watches it solely to see them make panda bears out of modeling chocolate, but I love watching how cakes are assembled and the creative process behind it. 

We were watching Cake Boss a few days ago and Buddy, the main decorator on the show, was making their "famous" crumb cake on this episode and I started drooling. IT. LOOKED. SO. STINKIN'. GOOD. And I knew I must figure out a way to make it, ASAP!
Coincidentally, (and I promise I'm not making this up, it's so serendipitous its kind of stupid) I needed to bake something in my new Cake Boss cake pan that I was just shipped to try out.  This German Crumb Cake seemed like the perfect, albeit cliche, thing I could make in it.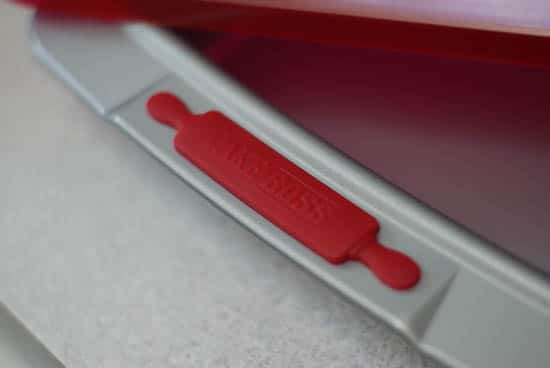 How To Make German Crumb Cake
Now of course Buddy didn't give out his recipe for their German crumb cake on this episode but he did say that the base was a traditional German bun dough so that's what we're using here today. It's actually a soft yeasted dough so it's a little different from the sponge cake version you might be familiar with and is super tender and just lightly sweet-- the perfect backdrop to a whole lotta crumbs! It starts out by cutting together some flour, sugar and cold butter that's been cut into small pieces. I'm using my Kitchenaid,  but this dough can definitely be made by hand. If you're using a mixer use the paddle attachment for mixing in the butter and then switch over to the dough hook for the rest of the recipe.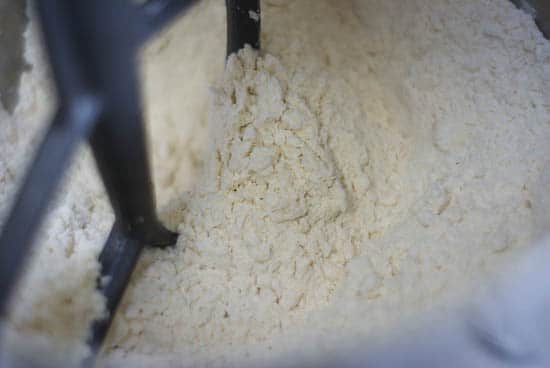 Combine warm whole milk with a few room temperature eggs and instant yeast. Give it a stir and let it sit for a few minutes for the yeast to activate.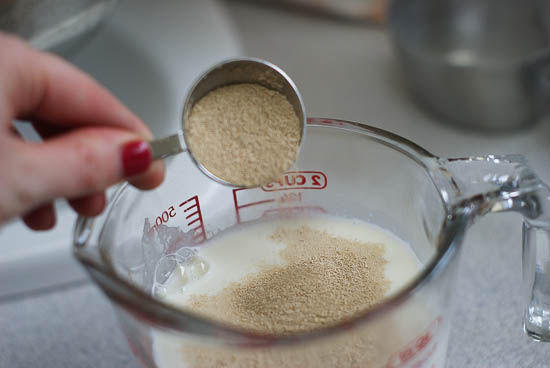 Meanwhile, remove the zest from a whole lemon and add it into the flour mixture along with the milk, eggs and yeast.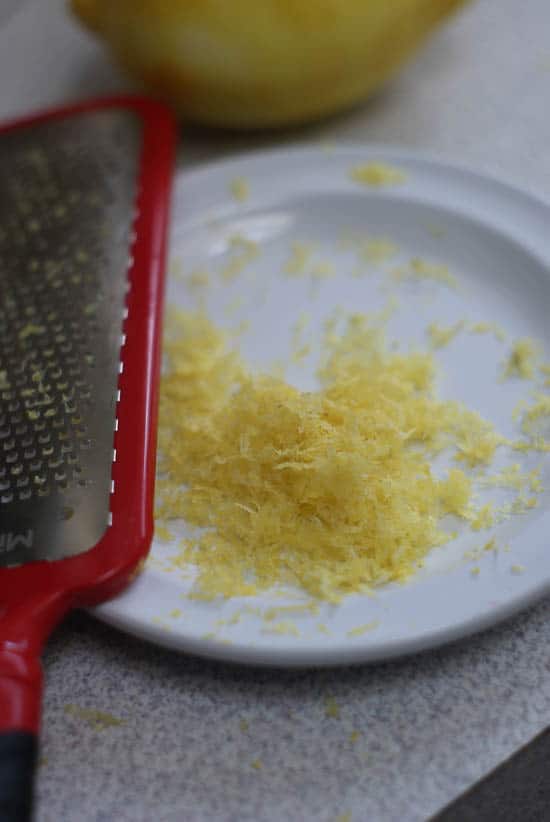 Mix until it comes together fully and no dry spots remain and continue to mix for an addition 3-5 minutes or until its smooth, glossy and stretchy. The dough is very sticky but also very stretchy when it's done.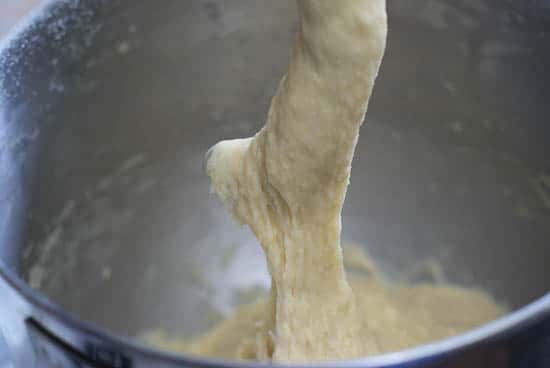 Transfer the dough into a greased bowl and cover with plastic wrap to rise-- about an hour or until it about doubles in size.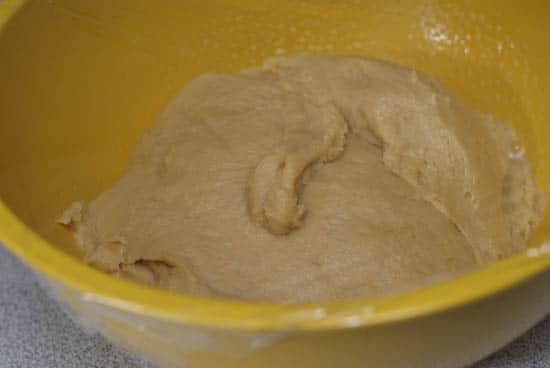 Get Your Crumb On!
While the dough is rising you can get your crumb on with this German crumb cake! I adapted this recipe from a segment Buddy did on the Rachael Ray show a few years back where he made New York style crumb cake. It looked similar to the ingredients that he used while making crumb cake at his bakery with the exception of one thing-- cake scraps. I don't know about you, but I just don't feel right about making a cake in order to make a cake so I opted to just stick with a classic streusel (still his recipe) and call it good.  Throw some flour, brown sugar, cinnamon, salt, shortening and corn starch into your mixer bowl and let her rip until the shortening is incorporated and there are coarse lumps.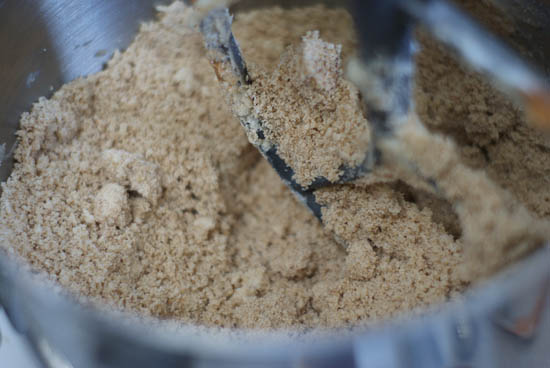 Cake Boss has come out with a new line of bakeware being sold at Michael's stores and just from this one pan that I got to try out and I can tell that they are quality, heavy duty pieces. I really, really like this 9x13 pan. AND it comes with a lid! Keep reading to learn out how you could win one for yourself! 😉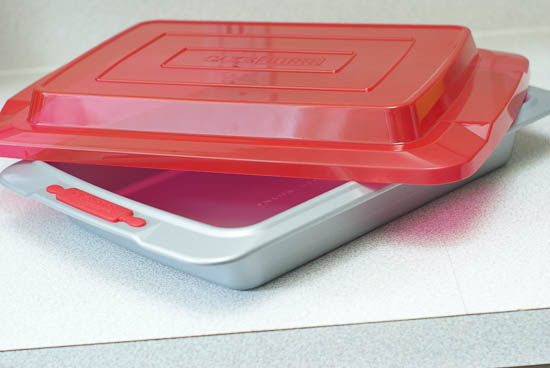 Turn your risen dough out into a 9x13" pan and press the dough down and into the corners.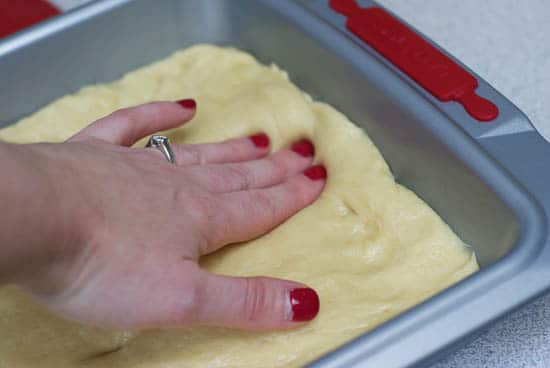 After watching Buddy put his crumbs on the cake at the bakery I noticed that he takes big handfuls of the crumb and pushes it down in one big clump into the dough.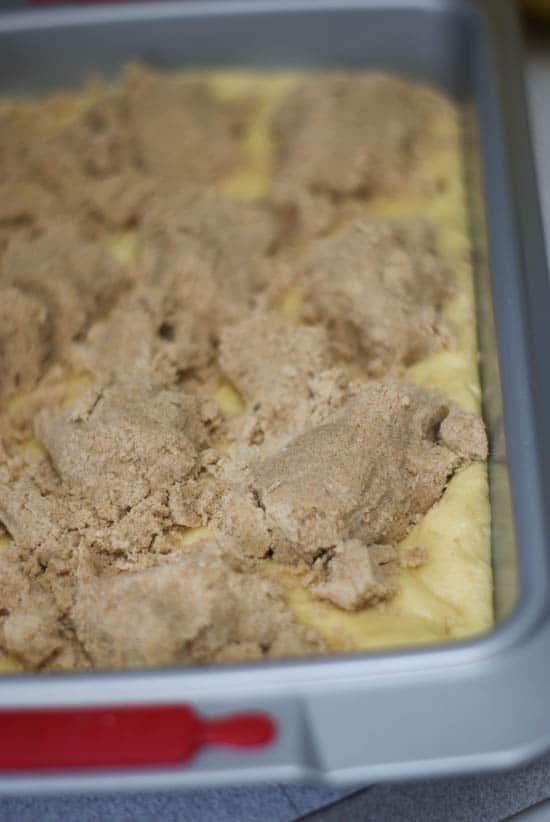 He then fills in all the gaps with loose crumbs too.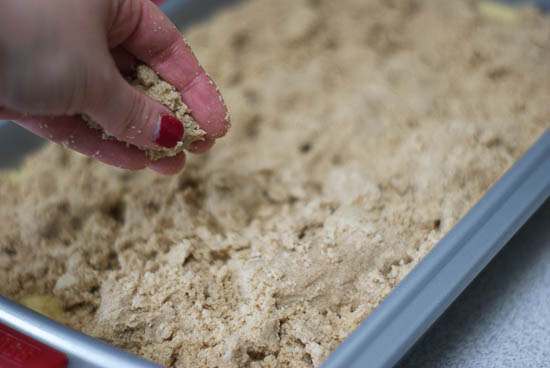 Let the German crumb cake sit on the counter for about 20 minutes after putting the crumb on and bake @ 350 for just about 30 minutes. The cake is done when a toothpick inserted into the middle of the cake comes out clean.
Sprinkle the German Crumb Cake with LOTS of powdered sugar as soon as it comes out of the oven and for the love, please have a slice while it's still warm. Please?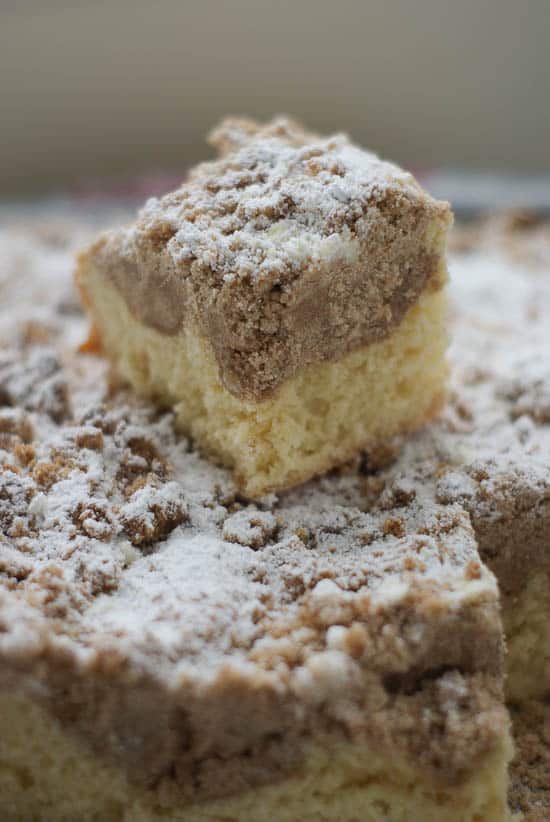 Interested in other delicious cake recipes?
Sticky Raspberry Bun Cake
Strawberries and Cream Pound Cake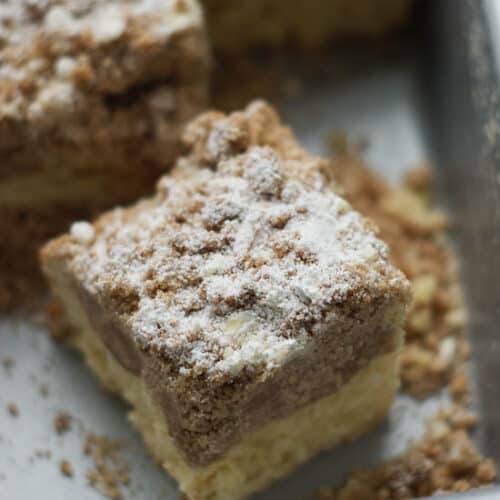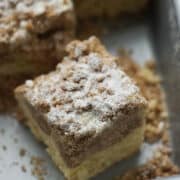 German Crumb Cake, Cake Boss Style
Part cake, part crumbs, this German crumb cake is a bit of a departure from your traditional coffee cake and will keep you coming back for seconds!
Print
Pin
Rate
Ingredients
3 ⅓

cups

All-purpose flour

¼

cup

+ 2 tablespoon sugar

6

tablespoon

cold butter

cut into small pieces

½

teaspoon

kosher salt

¾

cup

whole milk

warm

3

large

eggs

room temperature

3 ½

teaspoons

instant or active dry yeast

zest of 1 lemon

1

cup

packed brown sugar

¼

cup

granulated sugar

2

tablespoons

ground cinnamon

1

teaspoon

kosher salt

½

cup

butter

softened

¾

cup

vegetable shortening

3 ⅔

cups

All-purpose flour

1 ½

tablespoons

corn starch

Powdered sugar for topping
Instructions
Combine flour sugar, butter, in the bowl of a mixer and beat with the paddle until the butter is distributed well and the mixture looks mealy.

In a separate bowl combine warm (bath water temp.) milk with the eggs (room temperature so that they don't cool down the milk), and yeast. Whisk to combine and let rest for about 10 minutes to let the yeast activate and then add in the lemon zest and salt.

Remove the bowl from the mixer stand, add the yeast mixture and stir with a rubber spatula to make a moist, thick dough. Switch to the dough hook and beat on low speed for 1 minute. Increase the speed to medium and beat for 5 minutes, or until the dough becomes sticky and elastic and begins to pull away from the sides of the bowl. Scrape the bowl and the dough hook. The dough is very sticky, so don't let that fool you into adding more flour-- don't do it!

To mix crumb cake dough by hand: cut the butter into the flour and sugar using two forks or a pastry cutter. Continue to follow directions above, mixing by hand until it's sticky, smooth, and stretchy.

Coat a mixing bowl with non-stick cooking spray and transfer the dough into it. Cover with plastic wrap and allow to rise for about an hour or until it's doubled in size.

Combine all of the crumb ingredients in the bowl of a mixer or large mixing bowl. Beat with a paddle attachment or use a pastry cutter to incorporate the butter and shortening into the dry ingredients. The mixture should be crumbly, yet pliable when it's held.

Turn the risen dough into an un-greased 9x13" pan and press into an even layer. Top with handfuls of the crumb mixture, pressing them into the dough and sprinkle the loose crumbs around the larger clumps. Let rest for 20 mins.

Bake @350 degrees for about 30 minutes. The dough will rise to the top of the pan and a toothpick inserted into the center of the cake will come out clean when done.

Dust generously with powdered sugar and serve.
Nutrition Facts
Serving:
1
slice
|
Calories:
483
kcal
|
Carbohydrates:
64
g
|
Protein:
8
g
|
Fat:
21
g
|
Saturated Fat:
9
g
|
Cholesterol:
62
mg
|
Sodium:
331
mg
|
Potassium:
134
mg
|
Fiber:
2
g
|
Sugar:
20
g
|
Vitamin A:
380
IU
|
Calcium:
52
mg
|
Iron:
2.9
mg
ARE WE FRIENDS ON INSTAGRAM?
Tag me @heatherlikesfood and use #heatherlikesfood so I can see what you're making and enjoying!