Super Simple and Creamy Hummus - How do ya'll feel about seeing Christmas decorations in the stores in October? I kind of hate it. First off all, seeing as I have yet to dig out the Halloween decorations on October 13th, I'm clearly not going to be exploring my options in twinkle lights and yard ornaments yet. Plus I don't enjoy that in the space of 2 store aisles I can find both fake murder weapons figurines of baby Jesus. Please tell me I'm not the only one.
What I am okay with is starting the holiday meal planning early. Food is such a big party of the holidays that I've found the sooner I plan out what I want to make the better, especially if I'm feeding a large crowd all by my lonesome. It just takes some of the stress off of an already crazy time that's full of activities and responsibilities.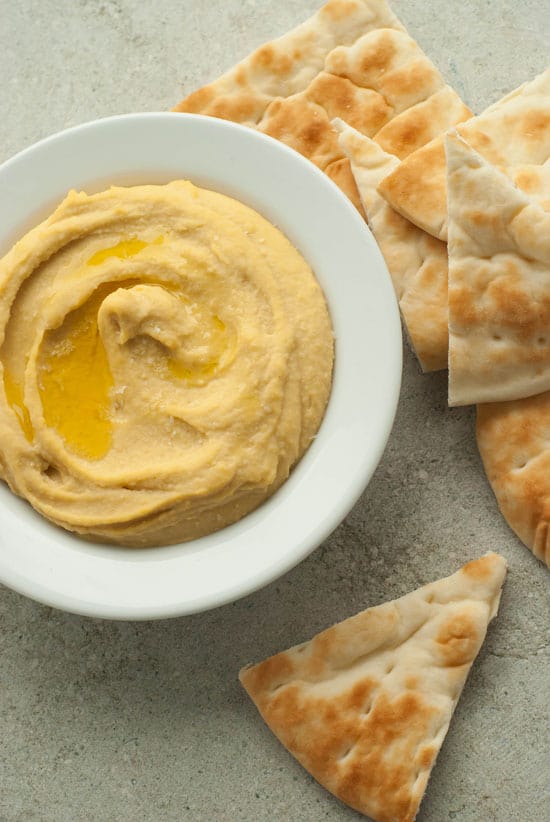 In my family we are a bit unorthodox in that we hardly ever have a full on "traditional" Christmas meal. Over the years it's varied between everything from soup and sandwiches to international themes, but we always have finger foods and dips. I love it, but my hips have their own thoughts on the holidays in general and I'm guessing yours do too. Recipes like this hummus are the perfect complement to the holiday line-up because it's filling, creamy-dreamy-delicious, and not laden with butter like so many classic holiday dishes are.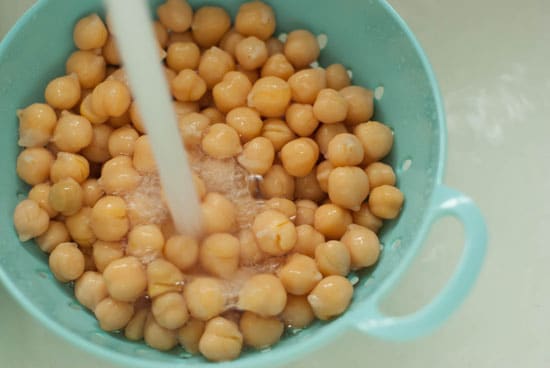 How to Make This Super Simple and Creamy Hummus
There are a few tricks to making a perfectly creamy hummus and the first is peeling the chickpeas. I know this seems like a completely tedious task and it totally is if you go through and peel them one by one-- but you don't have to!  Drain and rinse a can of chickpeas and pour into a large mixing bowl.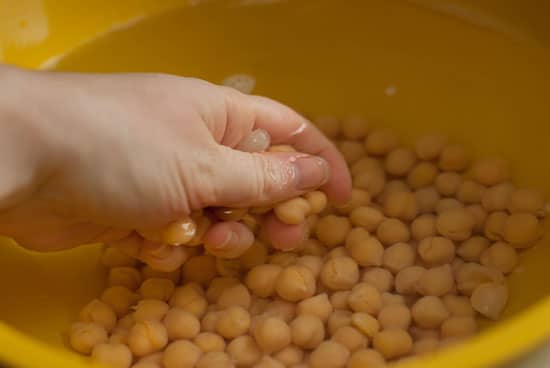 Fill the bowl with water (I've found cold water works better at loosening the skins for some reason) , scoop up small handfuls of beans with your hands still in the water and gently agitate them between your palms to loosen up the skins. Continue until you've given all the beans a good rub down and it's okay if some of the beans get broken up because we are just going to be pureeing them in a minute anyway.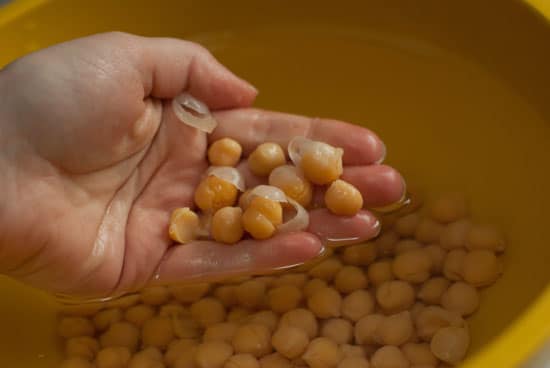 5 Minute Process
You'll see that once you're done the skins will float right on top of the beans and if you tilt the bowl and start to drain out the water, you'll able to skim them off pretty easily. This process usually only takes about 5 minutes and is totally worth how smooth your hummus turns out in the end.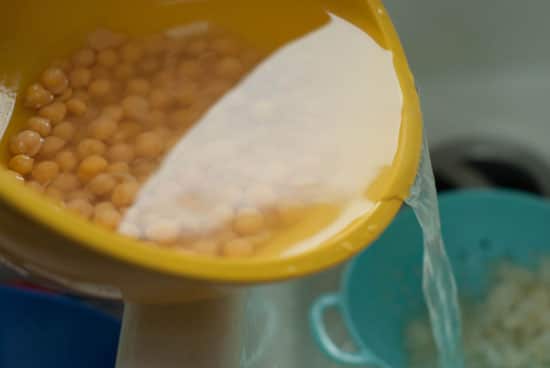 Garlic: Every time I make creamy hummus and just throw the cloves of garlic into food processor with the beans the garlic never gets chopped up as well as it should and I inevitably end up biting into a practically whole clove of garlic (how the lumps get past me spooning it into a bowl is still beyond me). So I started grating my garlic with a fine tooth grater into the food processor and have said goodbye to such a problem! You could also use roasted garlic to take away some of the bite of the raw garlic, but I actually really like it in creamy hummus.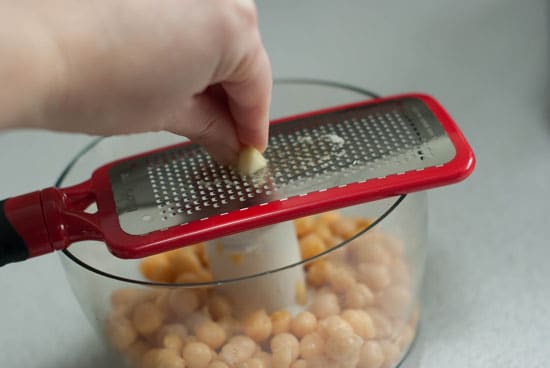 Once you've got your chickpeas, grated garlic, lemon juice and a little tahini in the food processor your ready to let it roll until it's broken down the beans and is a thick paste. Just in case you're not familiar, tahini is just a fancy word for sesame seed butter. I've seen it labeled both ways in the grocery store and is one in the same.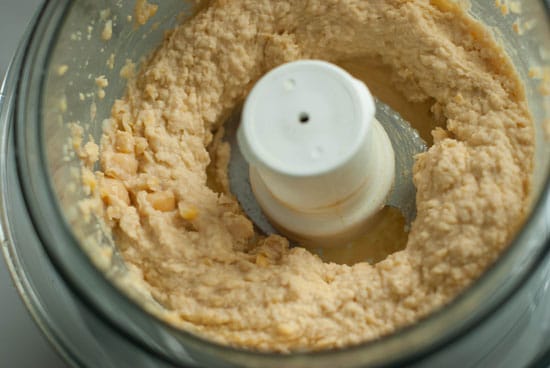 At this point turn on the food processor and stream in some good quality olive oil. This is one of those recipes that you'll be able to taste the olive oil in so make sure it's one you like. I'm using an extra virign from California Olive Ranch and really love it.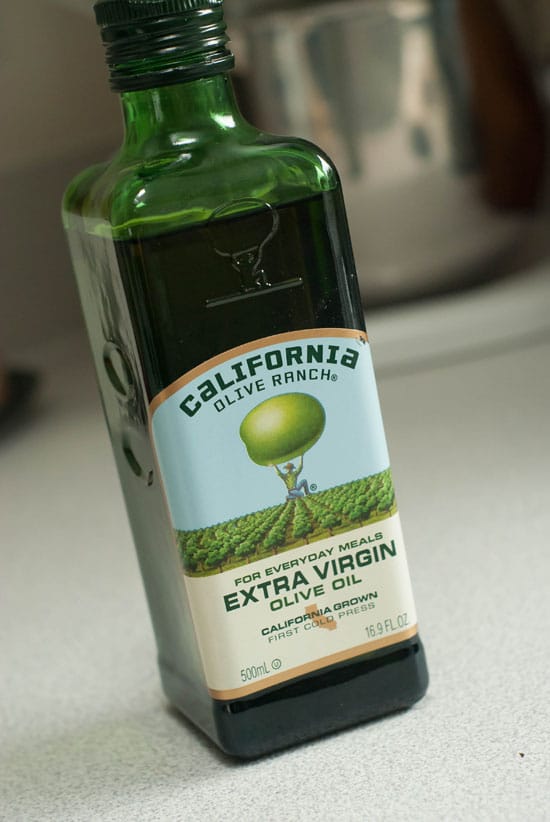 We stream it in while the processor is going so that we actually form an emulsion with the oil and the other ingredients making it smoother than if we had just added it into the bowl during the first step.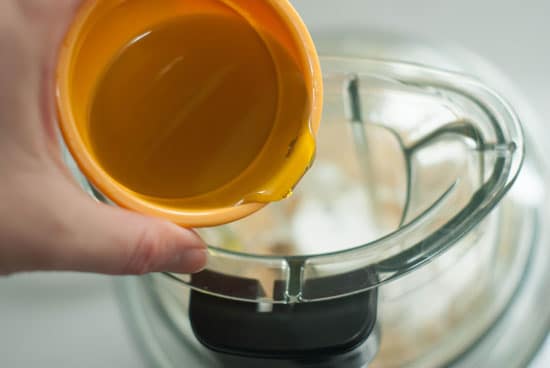 Once all the oil is in add some salt to taste and you're done! See how smooth this creamy hummus is?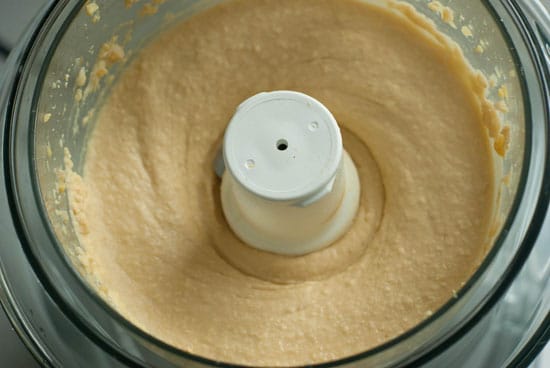 Serve with veggies, pita bread, crackers, or eat straight up with a spoon. I'm not judging.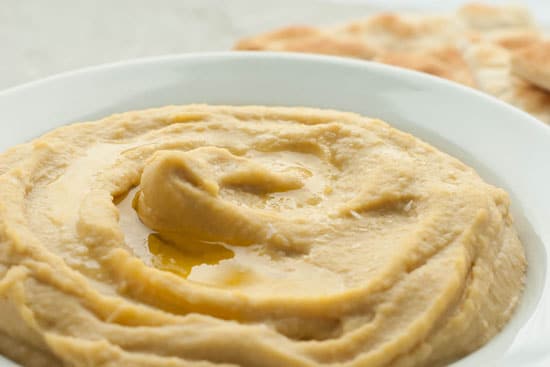 So tell me, what's one of your family's favorite holiday recipes?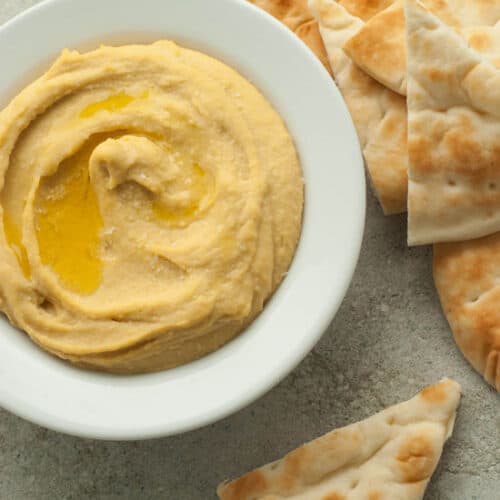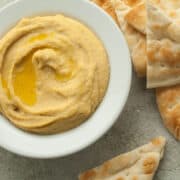 Super Simple and Creamy Hummus
If you've ever wanted to make your own hummus, now is the time! Use this recipe for the creamiest, smoothest hummus!
Print
Pin
Rate
Ingredients
1, 14.5

oz

can chickpeas

2

tablespoon

fresh lemon juice

1

tablespoon

tahini

sesame seed butter

1

clove

garlic

finely grated.

½

teaspoon

kosher salt

¼

olive oil + more for serving.
Instructions
Drain and rinse chickpeas with water and place in a large bowl. Fill bowl with water and rub the chickpeas between your fingers to loosen the skins.

Tilt the bowl to the side to allow the skins be skimmed off the top. Drain beans and place in a food processor with lemon juice, grated garlic, and tahini. Process until a thick, lumpy paste is formed.

Using the spout on the top of the food processor, stream ¼ C olive oil into the beans with the motor running. Process until creamy and smooth.

Add salt, process once more, and serve.
Nutrition Facts
Serving:
1
serving
|
Calories:
61
kcal
|
Carbohydrates:
8
g
|
Protein:
3
g
|
Fat:
2
g
|
Saturated Fat:
1
g
|
Sodium:
299
mg
|
Potassium:
93
mg
|
Fiber:
3
g
|
Sugar:
1
g
|
Vitamin A:
10
IU
|
Vitamin C:
2
mg
|
Calcium:
23
mg
|
Iron:
1
mg
ARE WE FRIENDS ON INSTAGRAM?
Tag me @heatherlikesfood and use #heatherlikesfood so I can see what you're making and enjoying!
This is a sponsored conversation written by me on behalf of California Olive Ranch. The opinions and text are all mine.