All the things you love about creamy macaroni and cheese made a little bit sassier with the addition of zesty green chiles and smoky candied bacon. This kicked-up version will definitely have you coming back for seconds!
This is a sponsored conversation on behalf of Reser's Fine Foods, all thoughts and opinions are my own! 😉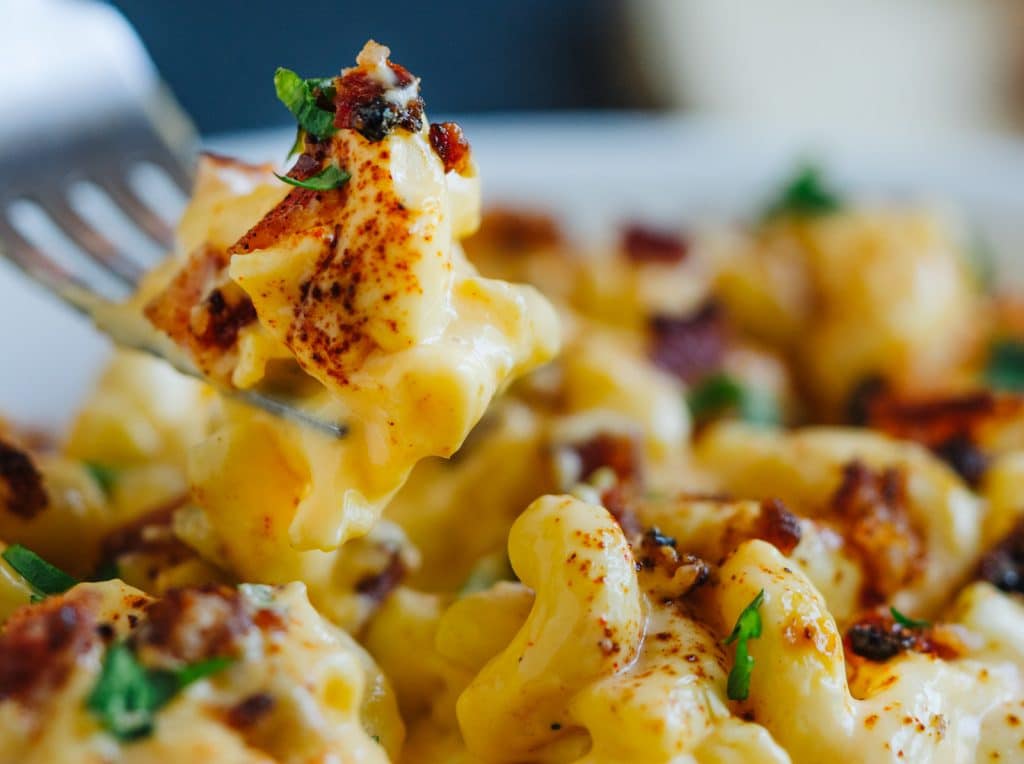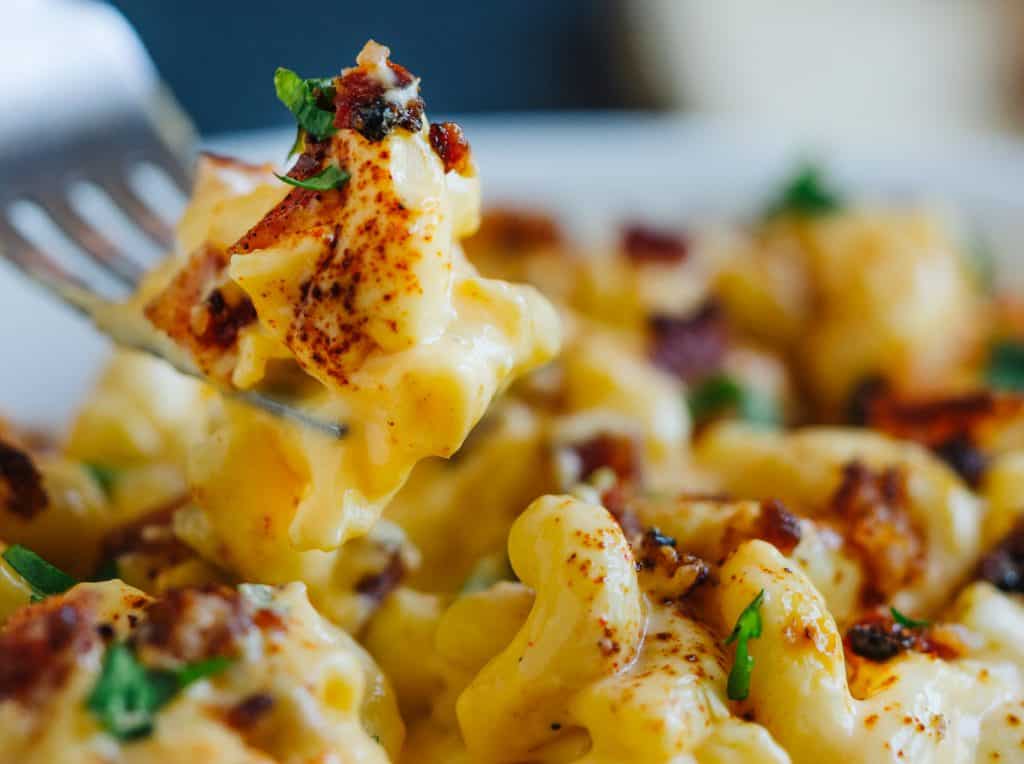 Well, howdy.
June has been a whirlwind of a month and I have another crazy one ahead! Time just doesn't stop, does it? We're in the thick of packing up our house and are headed to the great state of Utah for a stint while the hubs finishes up his doctoral internship there. We've moved a lot in the almost 13 years we've been married but this is our first big move with 3 kids. THREE KIDS. We're like a legit family now with legit amounts of family stuff. Rabbit stuff. Stuffy stuff. And moving sucks ya'll.
But, there's a silver lining here. Amid all the moving-ness of my life right now I've been able to drown all my stuffy stuff stress in copious amounts of macaroni and cheese these last few weeks as I've prepared for National Macaroni and Cheese Day, July 14th.
About now you're probably like, "Preparing? You've been PREPARING for a food holiday?" And to that, I'll answer a confident YES.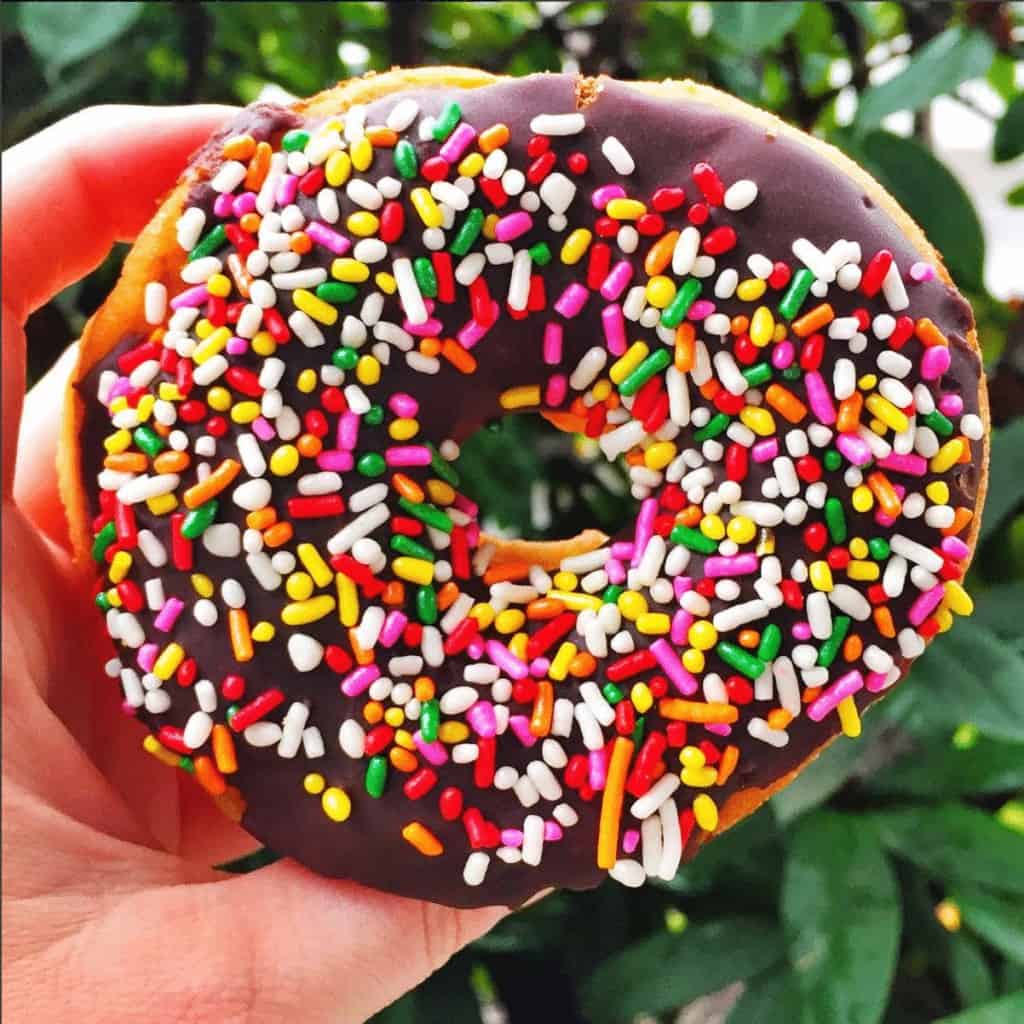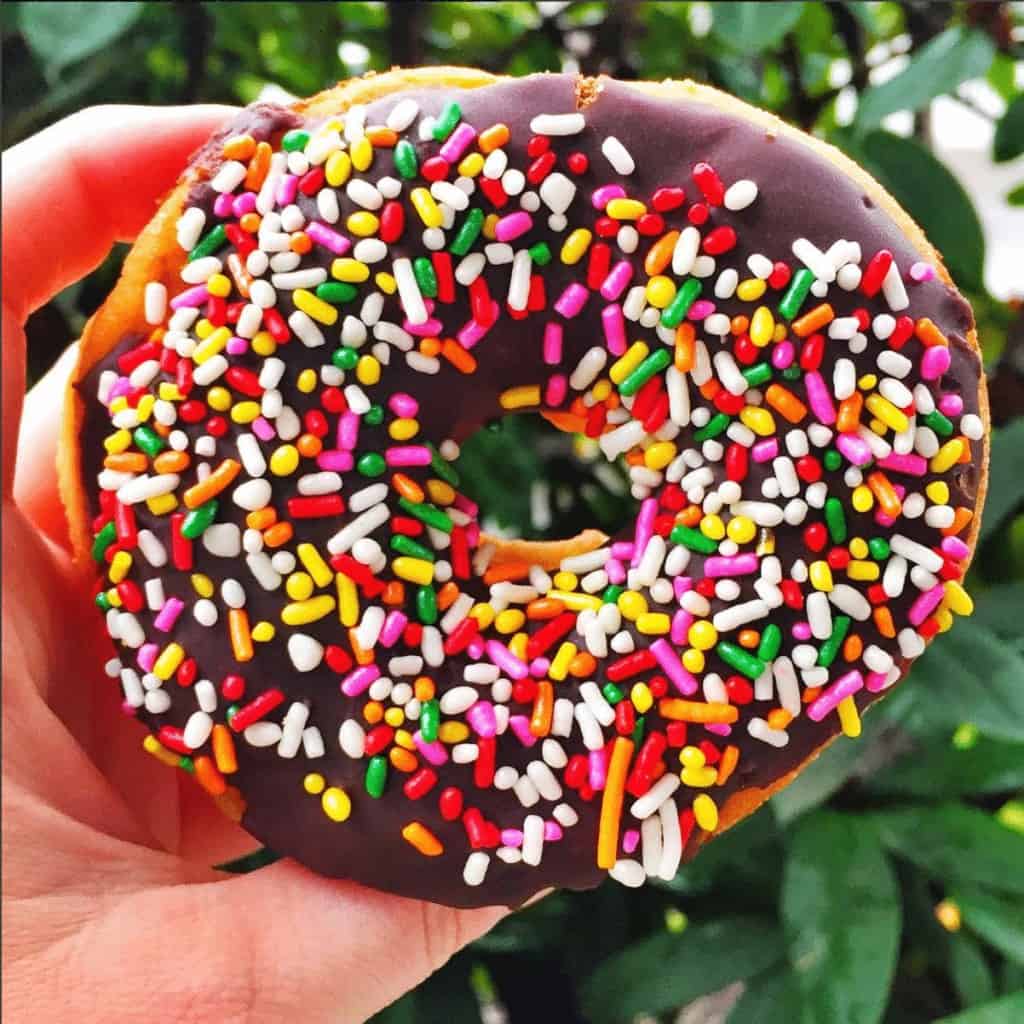 Food Holidays
You see, there are certain... we'll just call them perks... in having your job revolve around food. One of them is that you get to shamelessly celebrate ALL the food holidays. Instagram just wouldn't be the same if on National Donut Day 2000 food bloggers didn't post all the pretty donuts, would it? It's the same for National Mac and Cheese day!
So, in earnest preparation, I teamed up with Reser's Fine Foods to bring you some pretty fine Macaroni and Cheese. Myself along with two other Portland bloggers were tasked with crafting a macaroni and cheese recipe using their Main St Bistro® Signature Macaroni and Cheese PLUS 3 ingredients of our choosing to make something fabulous and then pit those recipes against each other to compete to the DEATH.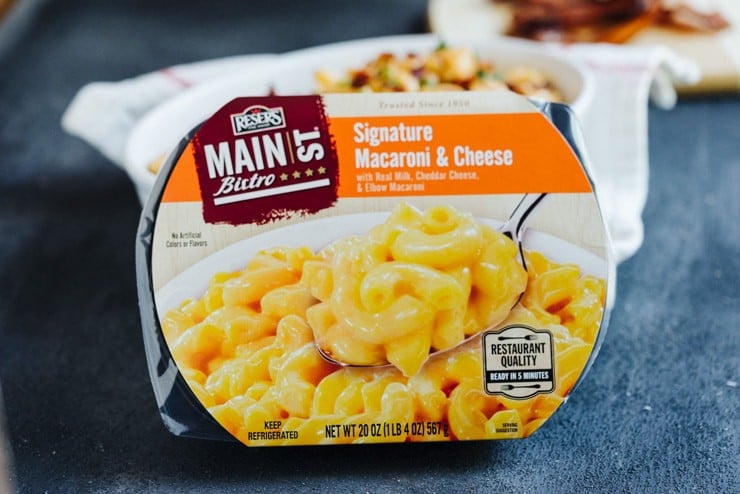 Okay, death might be a little extreme. But, there would be a winner and all those that didn't win would probably feel empty inside, so it was basically a death match.
Basically.
Marlynn from Urban Bliss Life and Melissa from Melissa Kaylene were my fearless competitors and we met up at Reser's headquarters to taste ALLLL the mac and cheese and gear up for the competition.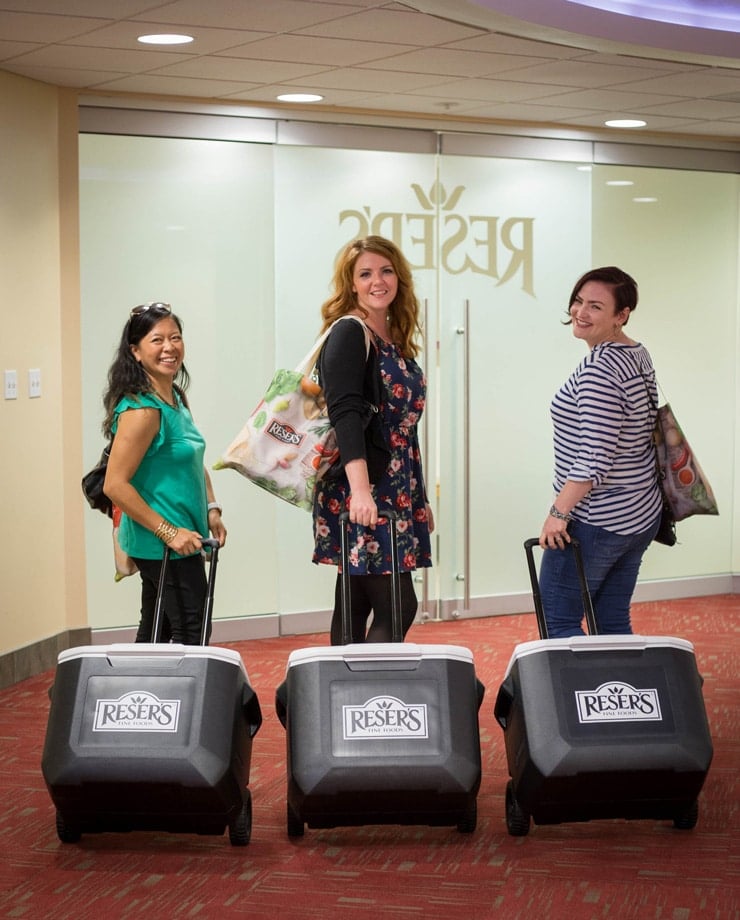 While there, we met the team at Reser's behind their ever-so-delicious Main St Bistro® Signature Macaroni and Cheese and were sent off only to come back a week later for the competition taping.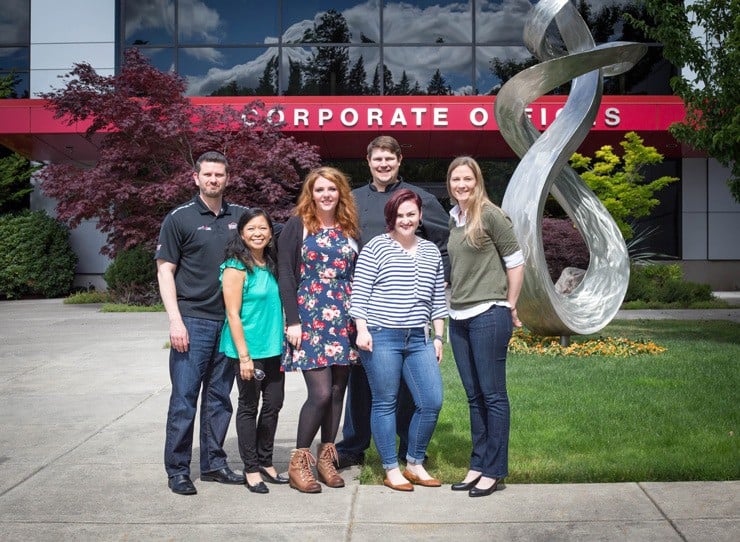 The Competition
I had never been taped for TV before so it was a little bit nerve-wracking but was mostly just FUN! We had 30 minutes to complete our dish and Marlynn, Melissa, and I had a blast. Aside from some occasional light-hearted smack talk, we were all just really supportive of each other and had a good time.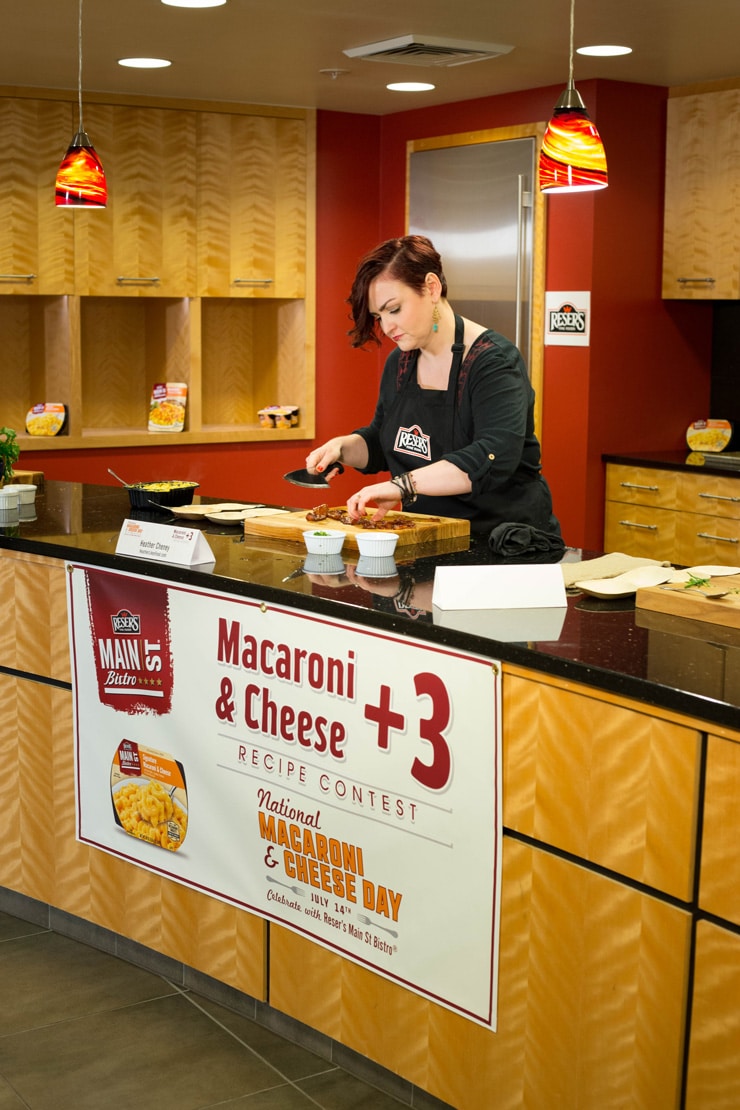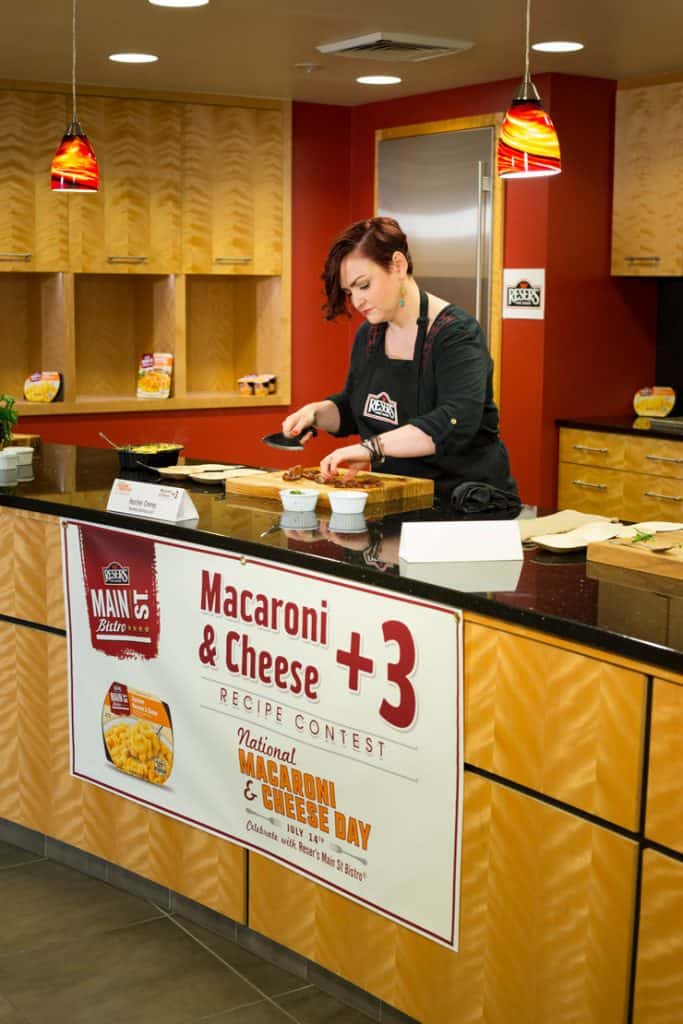 The judge, Molly Reihl from Fox 12 KPTV, came around and asked us questions just like in other Food Competition shows and we just had such a great time!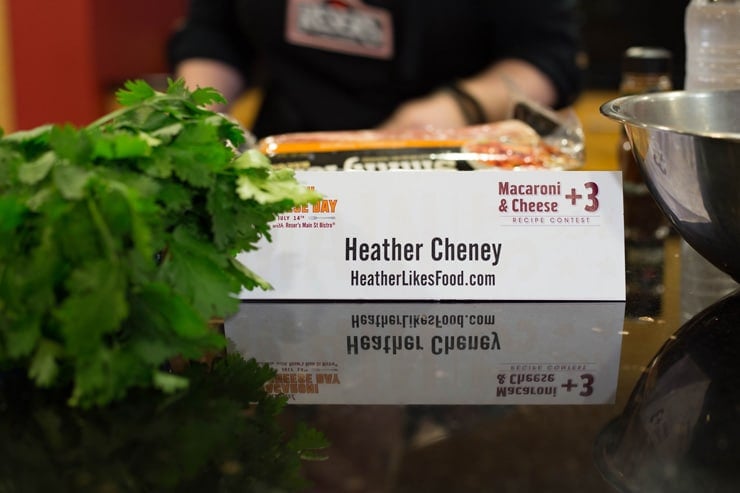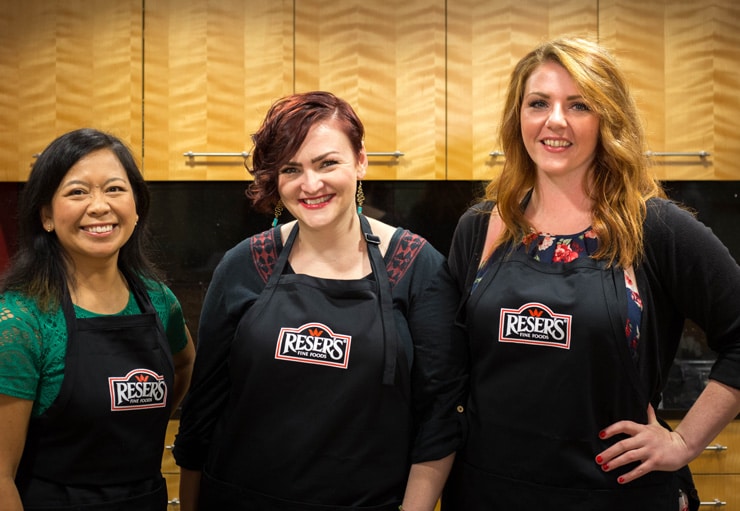 The Winner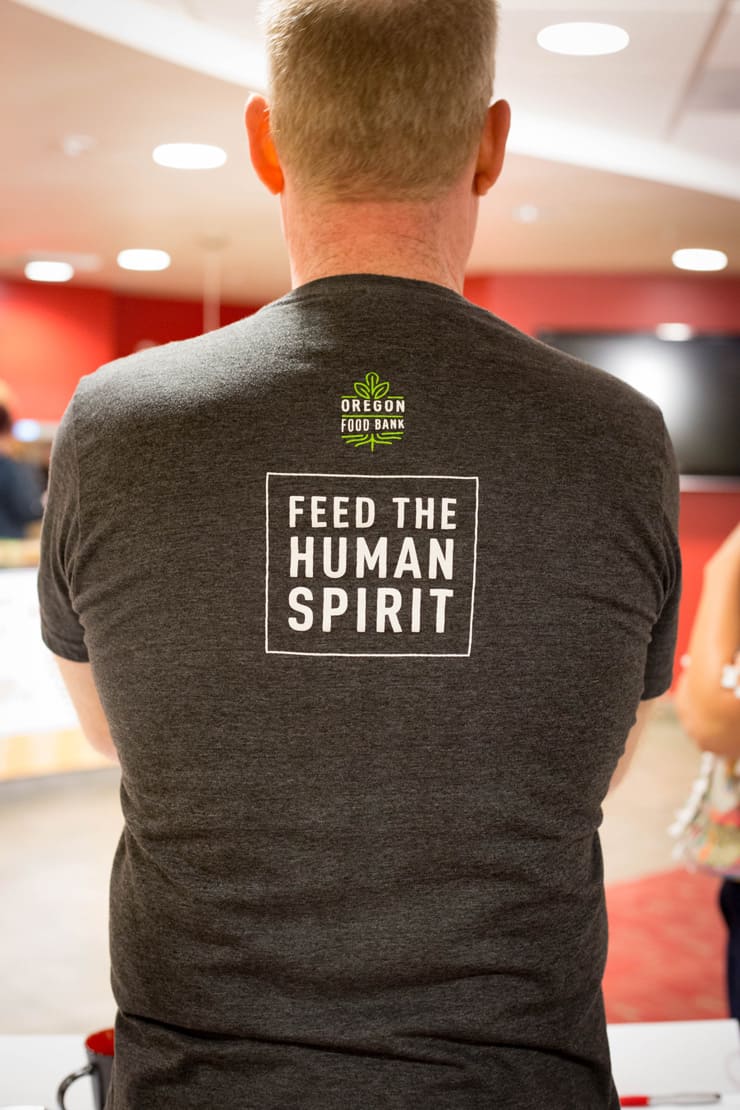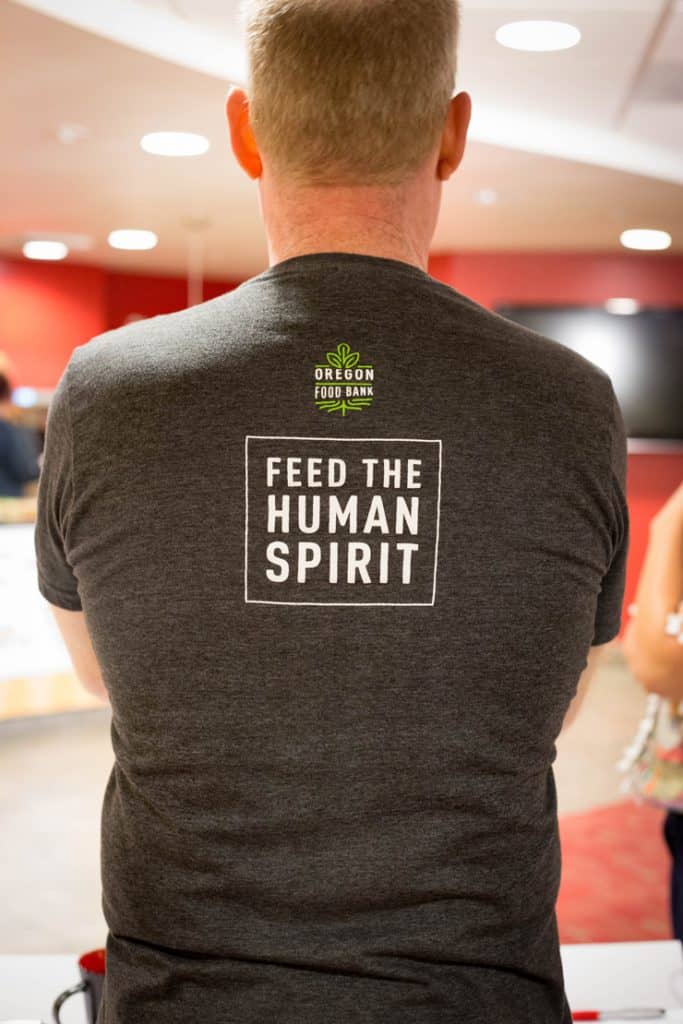 The winner of the competition got to present a check for $1000 to the Oregon Food Bank in their name! We were all so excited to be competing for such a good cause.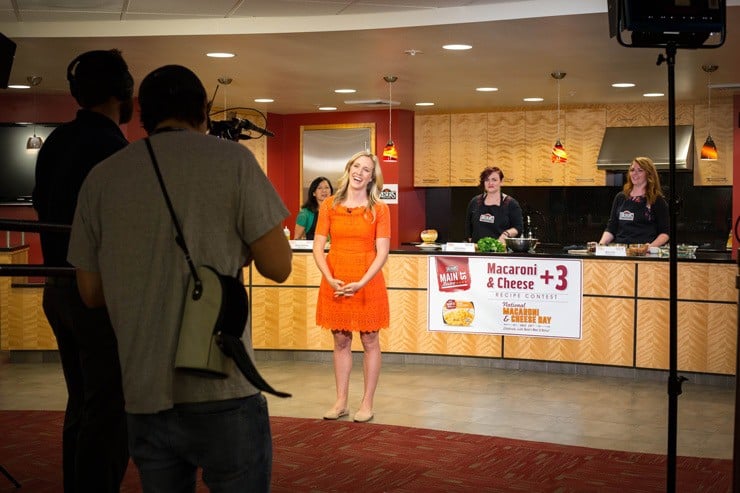 As the judges deliberated we snuck in a few bites of each other's recipes behind the camera but we were still caught stress eating. Ha!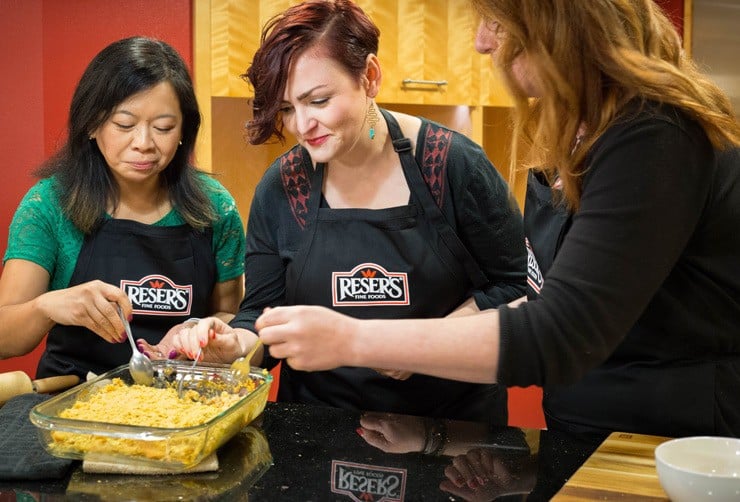 The judges told us the final tally was SUUUUUPPPER close but that the winner was.....
Um, yeah, I can't tell you! ...yet.
You'll have to wait until the actual National Macaroni and Cheese day, July 14th and watch the competition! If you're local you'll be able to see it on FOX 12 KPTV, aired sometime in the morning. If you're not local I'll be posting a link to the segment after it's aired. 🙂
My (Potentially Award Winning) Recipe-- Sassy Pants Creamy Macaroni and Cheese
All three recipes presented to the judges were phenomenal! Melissa and Marlynn did such a great job creating their recipes and things could get real if I sat down with a pan of either one of theirs' and turned on some Netflix.
In developing my recipe I went for the classic companion of Mac and Cheese-- bacon. But instead of using just regular bacon, I opted to kick it up by adding some brown sugar and turning it into CANDIED BACON! So there went 2 of my 3 ingredients.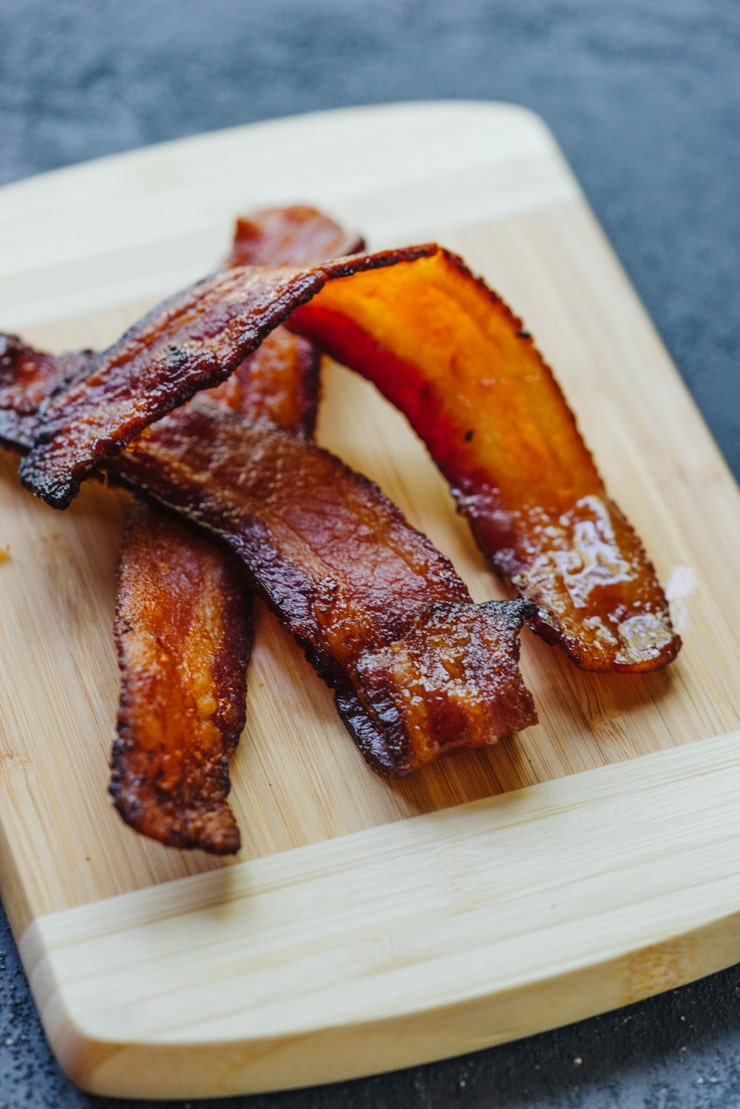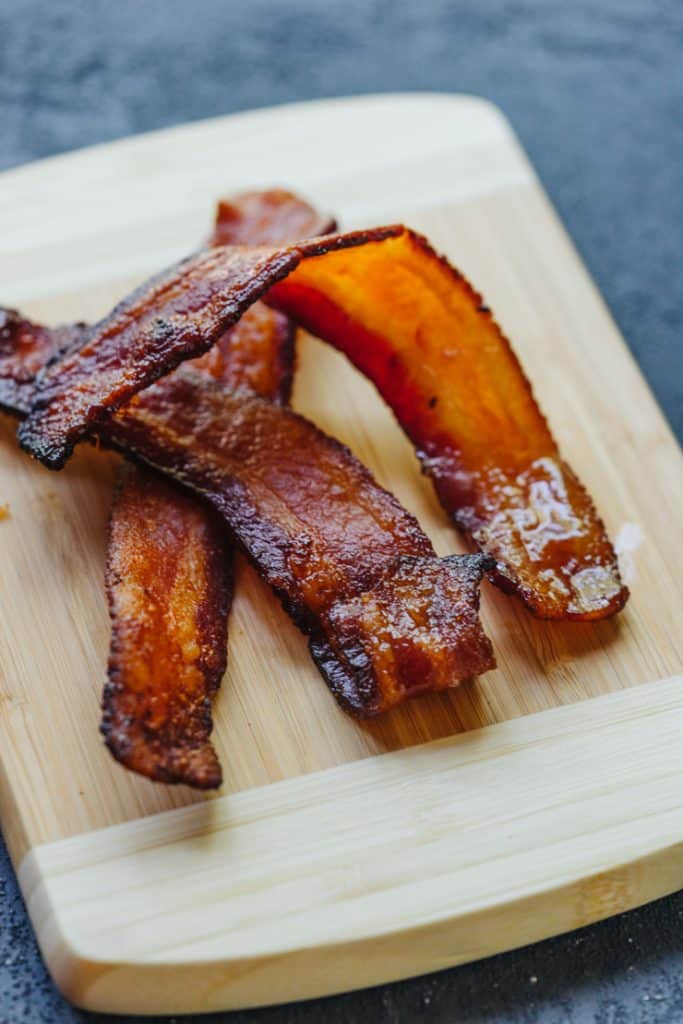 For my third ingredient, I stirred in some canned, diced green chiles for a little tang and heat to balance out the sweetness and it turned into the most deliciously sweet and spicy, creamy, cheesy mac and cheese ever!
Using Reser's Main St Bistro® Signature Macaroni and Cheese as a base made throwing this delicious side together so easy. It's made with real butter, real cheese, and has no artificial flavors or colors and is honestly so creamy and cheesy.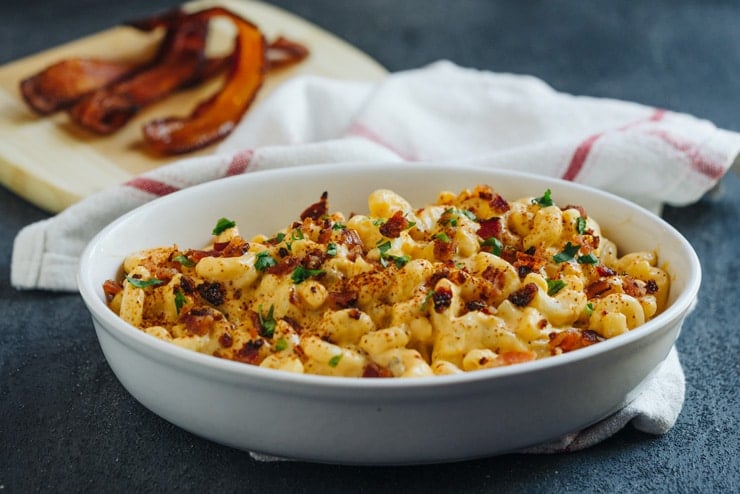 We were also allowed two garnishes so I sprinkled my Mac with a little bit of chipotle chili powder for some added smokiness and chopped fresh cilantro.
I can't wait for you to see the results of the competition, so make sure to tune into the competition on FOX 12 KPTV on the morning of July 14th or come back here for the replay!
In the meantime, here's a coupon for any Main St Bistro® item, including their Signature Macaroni and Cheese so you can make this Sassy Pants Macaroni and Cheese recipe-- because candied bacon ya'll. And it's easier to make than you think!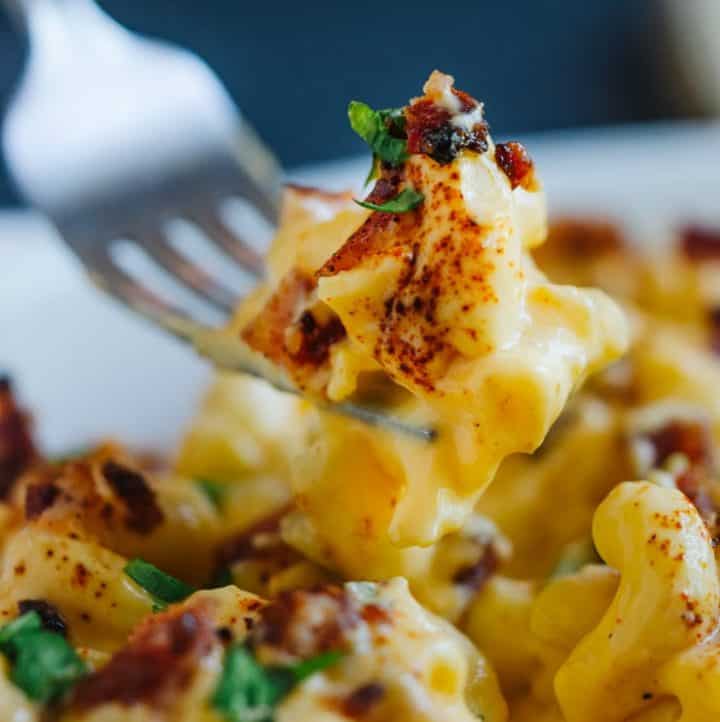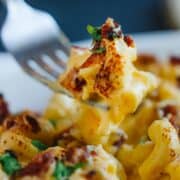 Sassy Pants Macaroni and Cheese
All the things you love about creamy mac and cheese made a little bit sassier with the addition of zesty green chiles and smoky candied bacon. This kicked-up version will definitely have you coming back for seconds!
Print
Pin
Rate
Ingredients
6

strips of bacon

¼

cup

dark brown sugar

⅛

teaspoon

salt

dash of pepper

20

ounce

tray Reser's Main St Bistro® Signature Macaroni & Cheese

3

tablespoons

canned fire roasted diced green chiles

Finely chopped fresh cilantro and chipotle chili powder as garnish
Instructions
Preheat oven to 425 degrees.

Line a baking sheet with aluminum foil.

Place bacon slices in a bowl and toss with the brown sugar, salt and pepper. Lay each slice on the lined baking sheet and sprinkle any remaining sugar over the bacon.

Bake bacon for about 15 minutes or until golden brown-- bacon will "crisp-up" after cooling off a bit so don't worry if it looks limp. Transfer bacon from baking sheet onto a cutting board and set aside.

Partially remove the film from the top of the mac and cheese and stir in green chiles. Replace film and microwave for 3 minutes.

Carefully remove the film and stir. Microwave an additional minute or until hot.

Chop candied bacon into bite-sized pieces and sprinkle over the top of the heated mac and cheese.

Serve garnished with fresh cilantro and chipotle chili powder if desired.
Nutrition Facts
Serving:
1
serving
|
Calories:
665
kcal
|
Carbohydrates:
80
g
|
Protein:
22
g
|
Fat:
28
g
|
Saturated Fat:
4
g
|
Cholesterol:
21
mg
|
Sodium:
1425
mg
|
Potassium:
375
mg
|
Sugar:
13
g
|
Vitamin A:
15
IU
|
Vitamin C:
3.9
mg
|
Calcium:
221
mg
|
Iron:
3.3
mg
ARE WE FRIENDS ON INSTAGRAM?
Tag me @heatherlikesfood and use #heatherlikesfood so I can see what you're making and enjoying!