Ayres Inn, Orange California - The end of July I decided it would be a good idea to drag a 6 week old baby to southern California so that we could take the older girls to Disneyland and spend some time on sunny San Diego Beaches.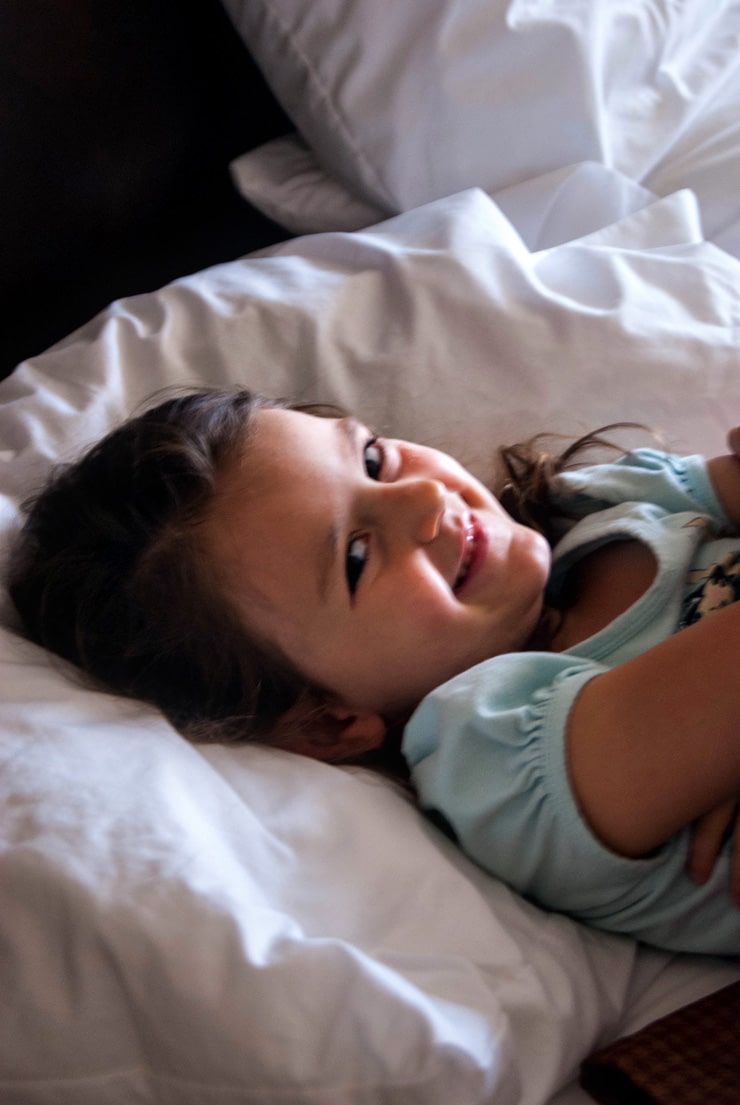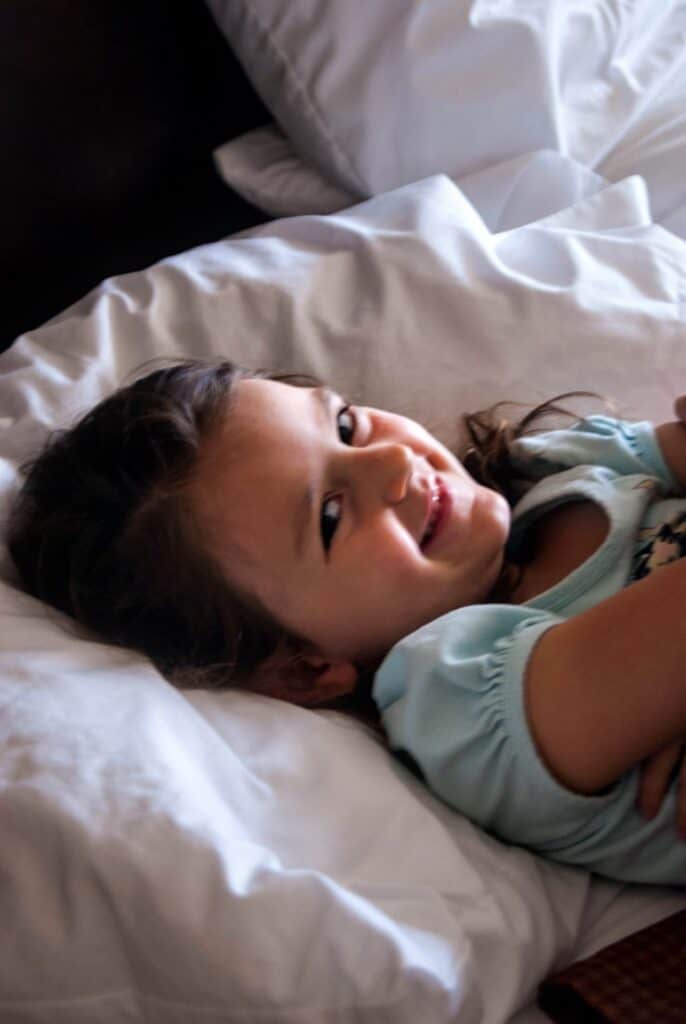 We knew the excitement would be a little too overbearing if we let them know about it before hand (is it time yet? How much longer? When are we going?), so we kept it under wraps until it was time to head to the airport. There were a few times that it either me or the hubs let something slip about it, but we're so glad that they didn't catch on because their reaction to our announcement was absolutely priceless!
We took off a few hours later on their very first plane ride and made our way to Orange, CA where we would be spending the next 5 nights. The main objective of this leg of our trip was Disneyland and I went back and forth as to how close we really needed to be to the parks. There are several hotels within walking distance to the main gates but their prices were high and we finally decided on the Ayres Inn in Orange.
While it's not within walking distance —unless you get a severely skewed sense of entertainment by dragging exhausted, whiney kids 4+ miles at 10pm by foot—it's a short 10-15 minute shuttle ride to the main entrance of the parks and back to the hotel lobby. No big deal.
The Ayres Inn has a homey, European feel to its décor. It's a smaller inn but had everything we needed for an extremely comfortable stay. The picture below is kind of an awkward shot of a staff member, but I wanted to include it because the staff was amazing. We had a bit of a mix up with our reservation when we first arrived mid-evening but they quickly corrected it and went out of their way to make sure we had what we needed even if we were tired and cranky (and maybe not the nicest) after traveling all day with small kiddos.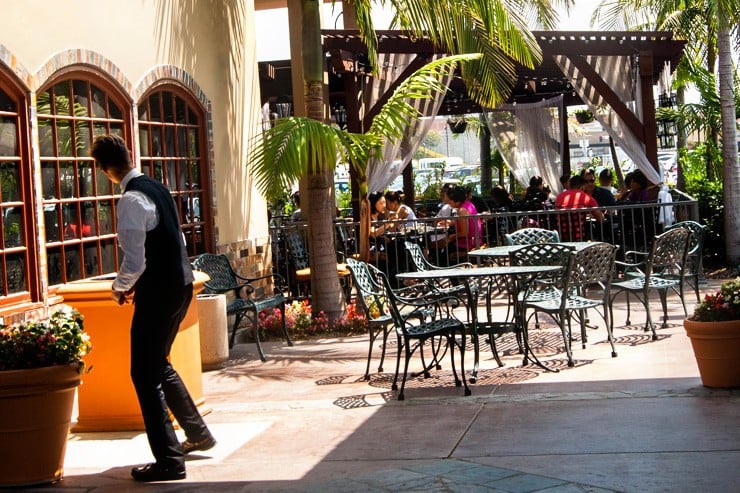 Stupid me forgot to take a picture of our room before the chaos and filth that 4 days in Disneyland and a family of 5 can conjure, but you get the idea. It's a basic hotel room, but we found it to be exceptionally clean and the beds, THE BEDS, were uber comfortable. Maybe that's just my aching theme park body talking, but for reals.
Oh The Breakfast!
A big deciding factor in choosing the Ayres Inn for us was that included with your stay is a hot breakfast every morning! The breakfast is good, filling and there's a pretty good variety of offerings. There were always eggs, potatoes, a breakfast meat (sausage or bacon) and pancakes or french toast that were hot as well as cold cereal, breads, coffee cake, fruit, tea, juice and coffee. I'm not going to say it's the best breakfast I've ever had, but it filled out bellies and saved us a good chunk of change. I loved the funky colors and style of the breakfast room. Depending on when we went down for breakfast, the line was sometimes long but it moved pretty quickly.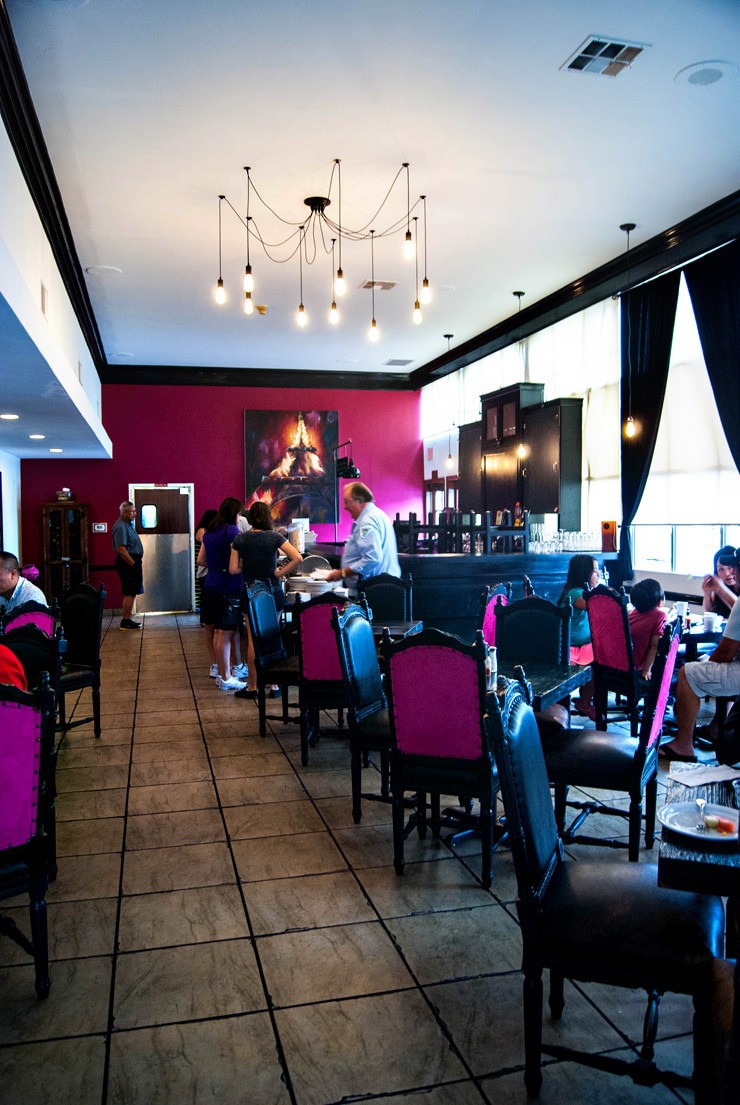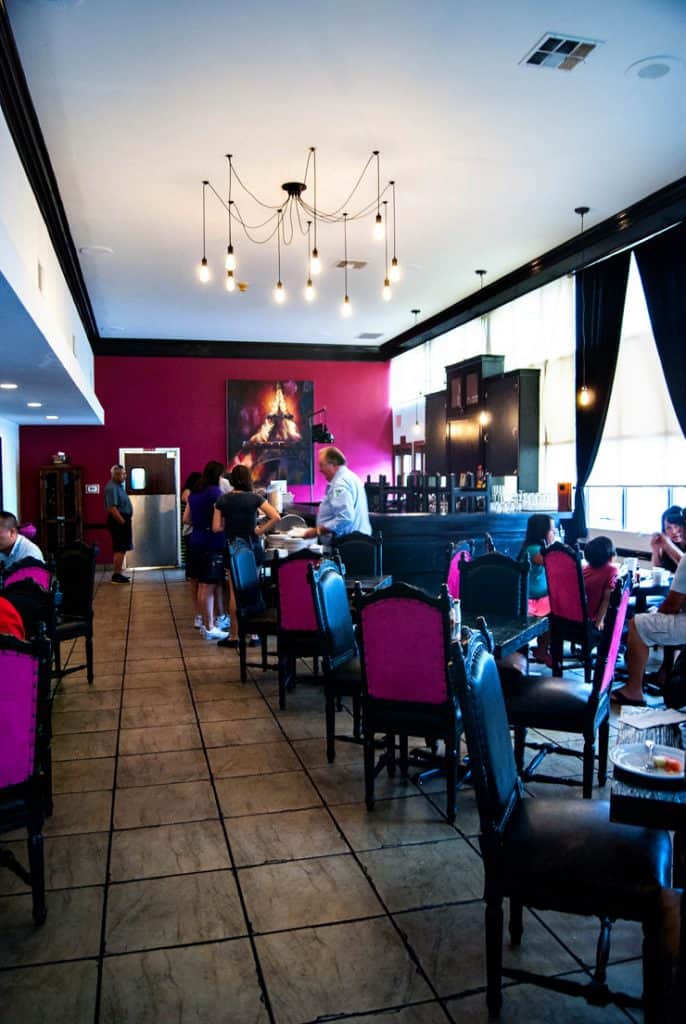 We spent a few evenings enjoying the pool and easing sore muscles in the hot tub. Okay, we usually didn't last very long in the hot tub before we were beckoned to the pool, but we tried. We were actually surprised by how empty the pool was, but I'm assuming most were still enjoying the parks. It's on the small side, but again, served its purpose. Our first night there before we had been to the parks, we could hear the fireworks from the pool and it was fun to get some excitement and anticipation growing in the girls just from hearing them.
The Ayres Inn Is Family Friendly
The Inn was very family friendly and it looked like most were Disney-goers just based on dress alone, but it wasn't the least bit loud or had any "unruly kid" feel to it which can happen at some bigger hotels when there are a lot of families. I appreciated that there was a laundry room with coin-op machines having brought a small baby. I didn't end up having to use them, but was glad that they were there. There was also a small fitness room, but chasing 2 kids around Disney was enough exercise for me so I didn't try it out.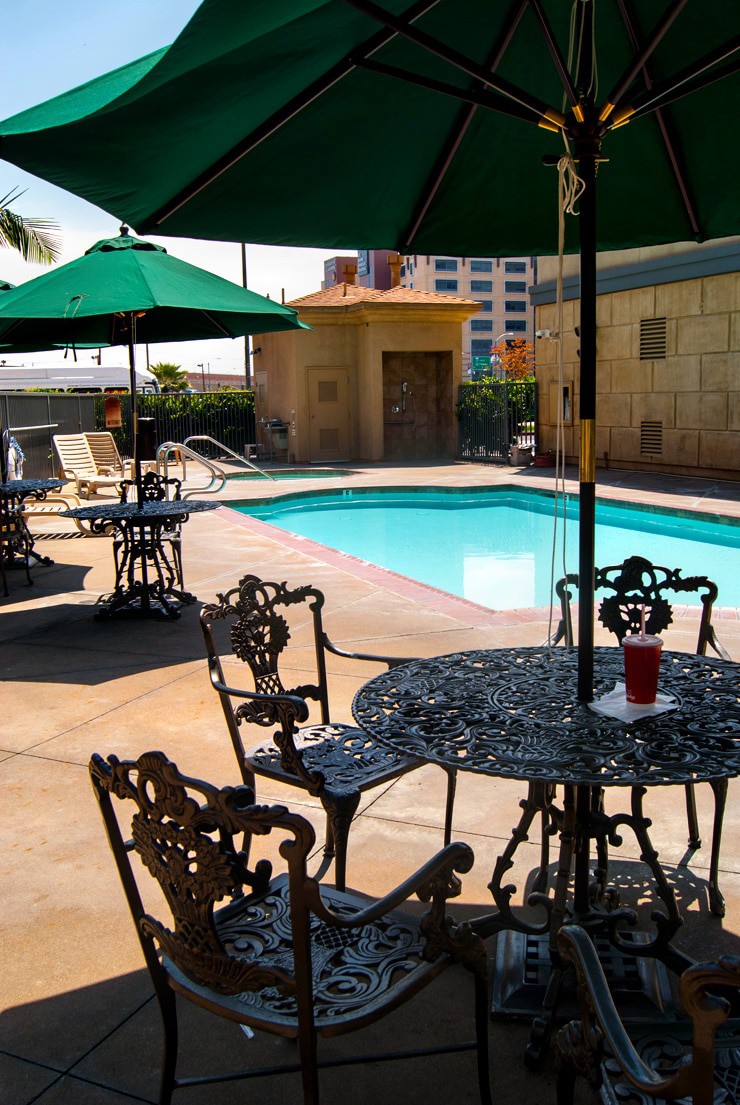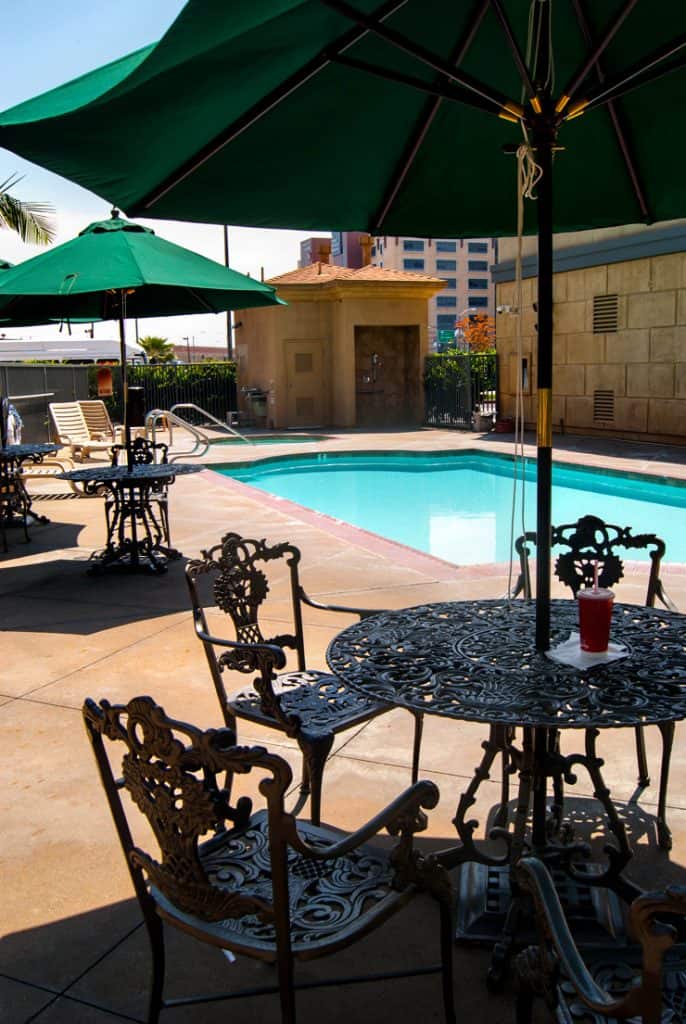 I thought the grounds were really pretty too.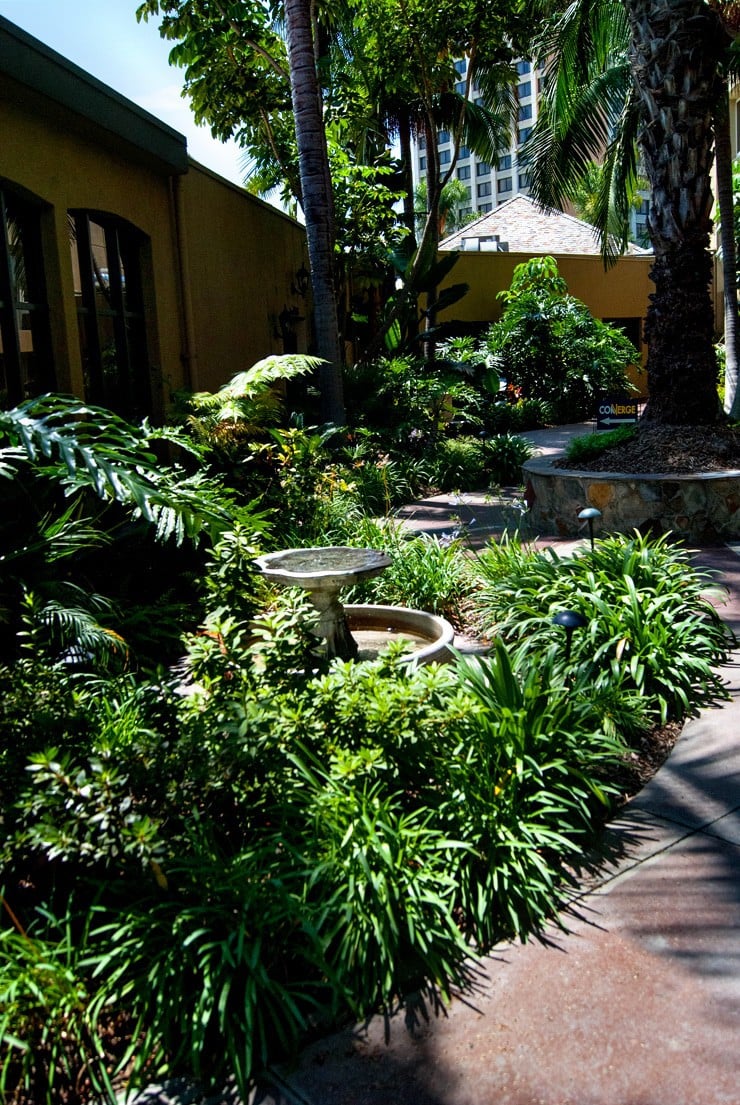 All in all, we had a great stay and we'll definitely be back. For the price, breakfast, comfort, and all-around service I don't think you can beat it!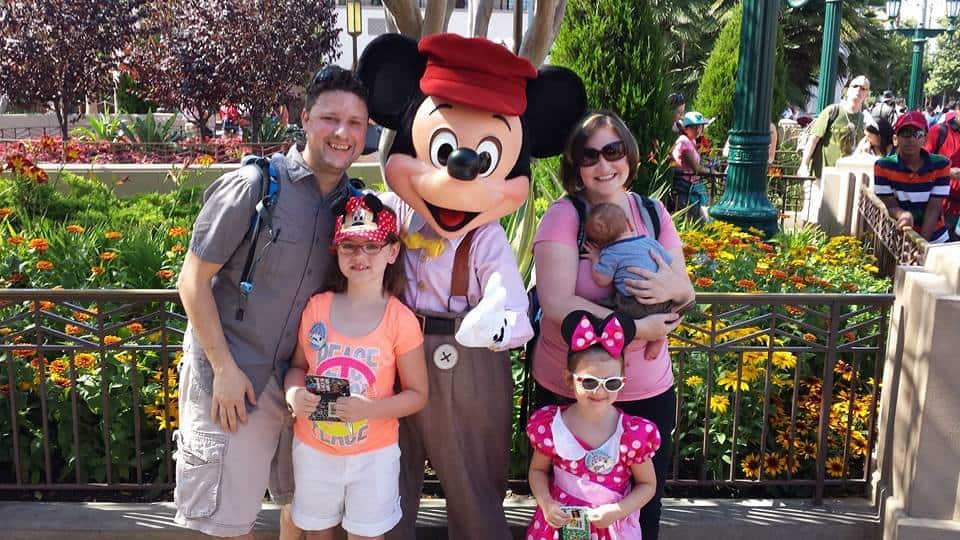 Leg two of our trip in San Diego will be up soon!
**I was not compensated for this post, but was offered a discounted rate during our stay in exchange for an honest review. All thoughts and opinions are my own!**