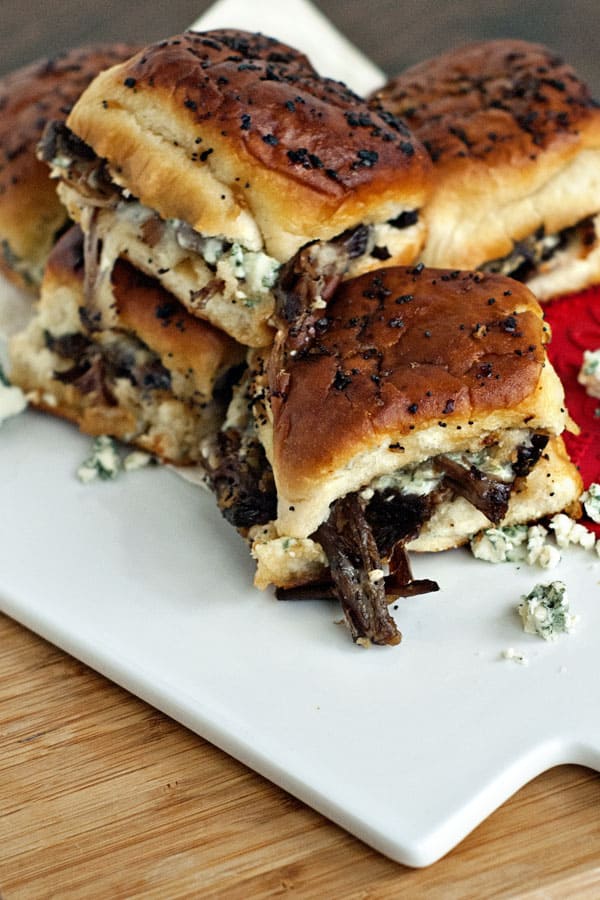 Confession time: Up until recently, I've had a fear of blue cheese.
I don't really know why. Well, okay I do but I'm over it now so I don't really want to talk about it. What if talking about why I didn't like it so much talks me back into not liking it? That wouldn't be cool. 
I LIKE liking it. Just like I like being the girl that orders cobb salads without hesitation or the shopper that happily takes a sample from the eccentric cheese lady at the super hoity-toity gourmet food market that charges $5.50 for a string cheese.
I also like eating these sliders. Why? Because they are the bomb dot com.
Imagine, if you will, a soft roll topped with slow-cooked beef, mozzarella, tangy blue cheese, horseradish mayo, and baked in a savory butter sauce to crispy perfection. Would you want to sacrifice all this because of some silly aversion to cheese? I didn't think so.
You can definitely use left-over pot roast for these sliders, but if you aren't so lucky to have some in the fridge its just about as easy to throw a chuck roast into the slow-cooker with a little bit of thyme, celery seed, granulated garlic, kosher salt, brown sugar, and a bay leaf. Sprinkle a few tablespoons of soy sauce over the top and cook until it's tender and easily shreds. (I did spread the seasonings around before starting to cook, btw. And the same seasonings make for a great pot roast if you throw in some potatoes, carrots, and onion)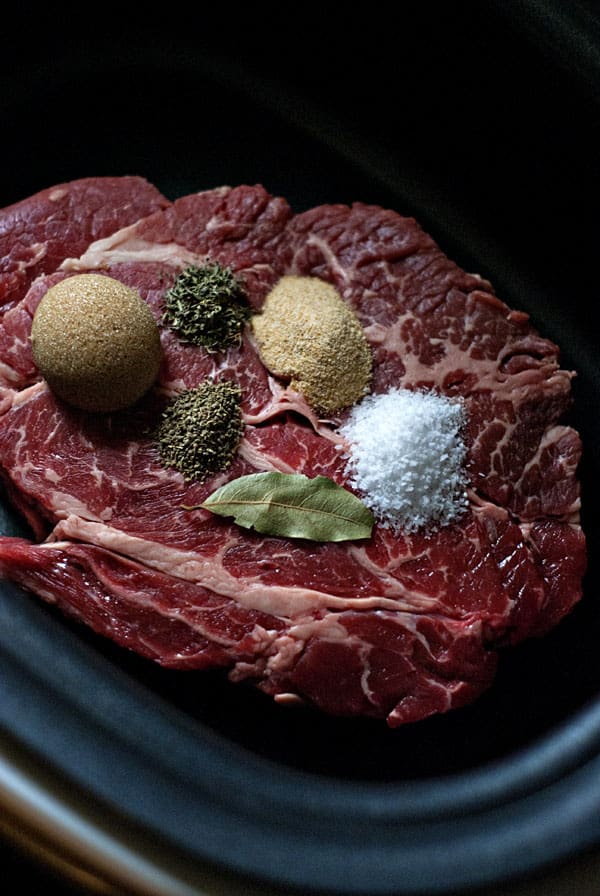 Once your roast is cooked and shredded, cut some plain white dinner rolls in half and top each with a good pile of meat.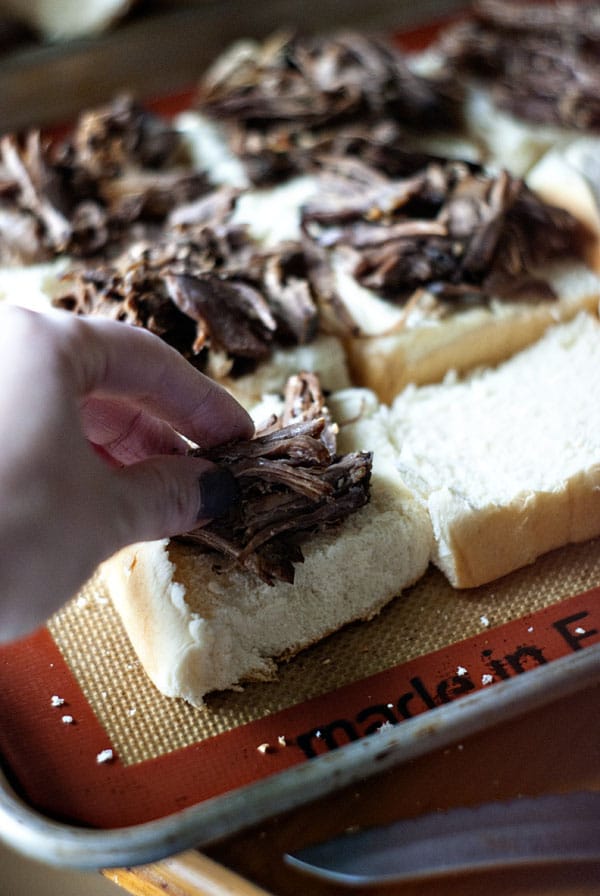 Next, sprinkle a few tablespoons of shredded mozzarella cheese over each roll...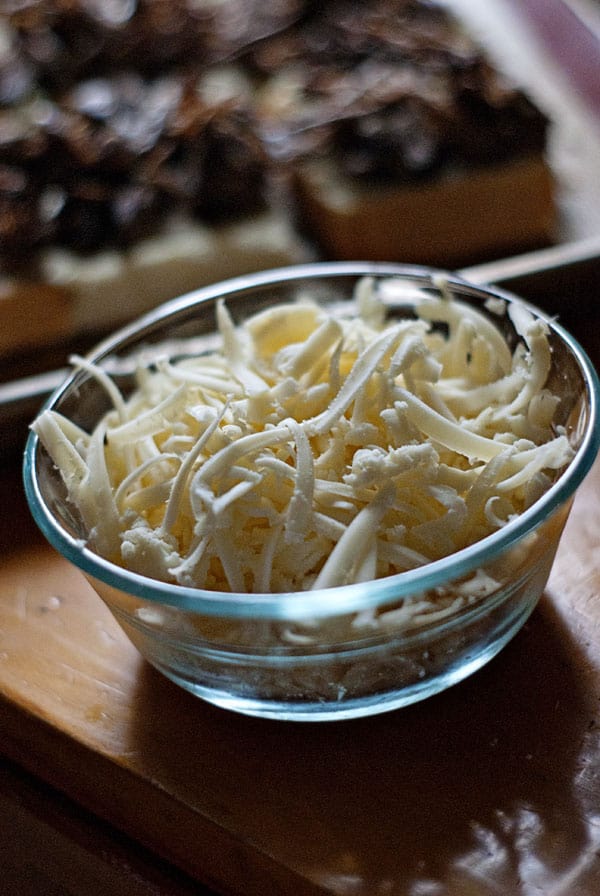 followed by some blue cheese crumbles.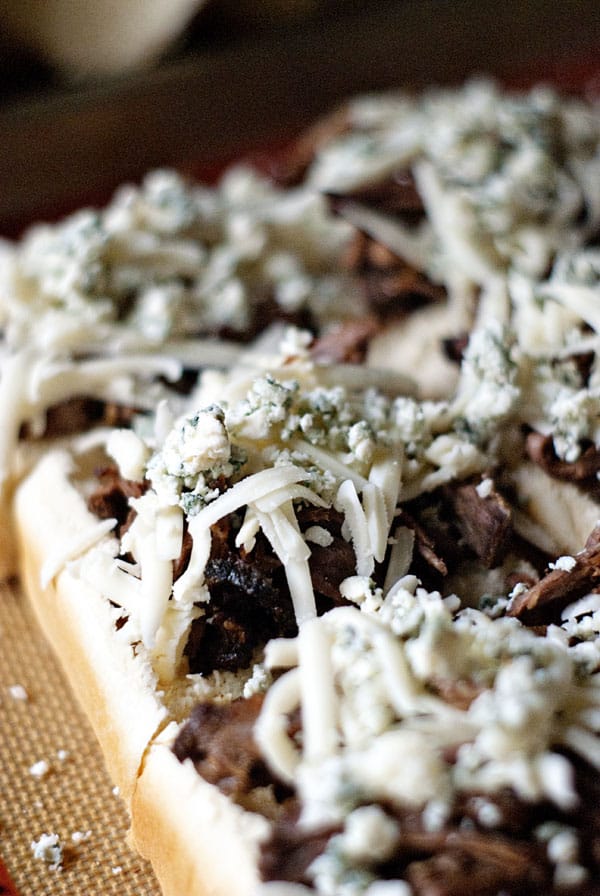 For the sauce you'll combine mayonnaise with a couple teaspoons of prepared horseradish and some black pepper.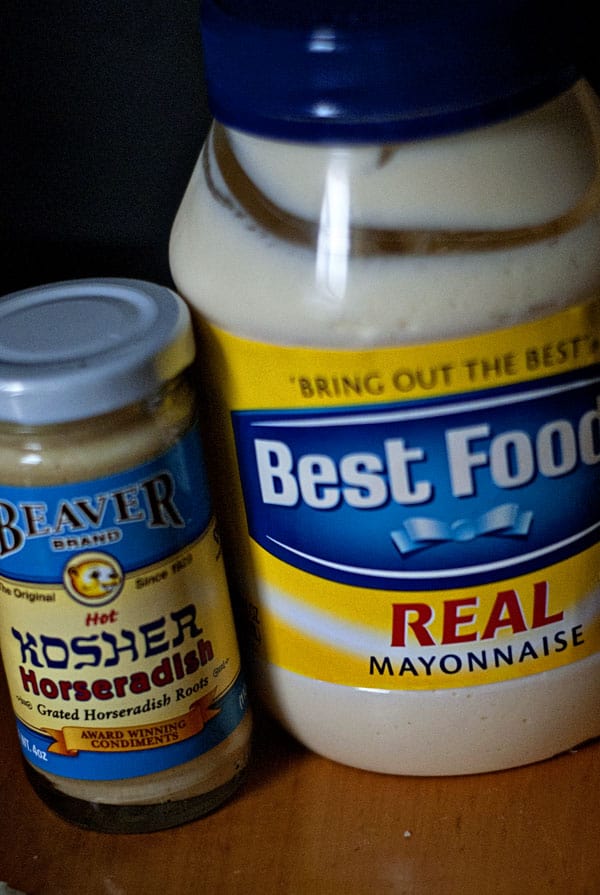 Spread the tops of each roll with a schmear of sauce and place on top of the meat and cheese. You'll then make your butter sauce by combining a stick of melted butter with a bit of Worcestershire sauce, poppy seeds, sugar and dehydrated onion and pour evenly over the rolls.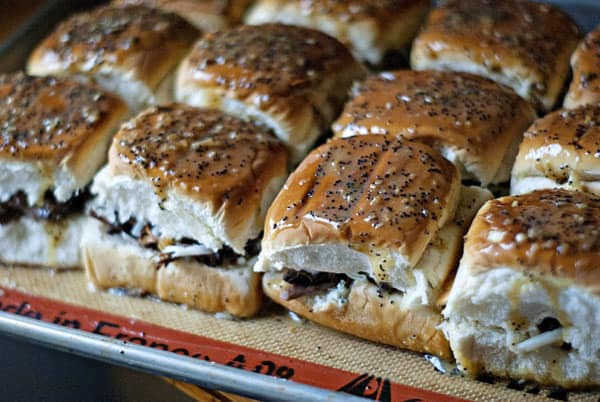 Cover the pan with foil and bake for 10 minutes, uncover and bake for an additional 10 minutes or until the cheese is melted and tops are golden.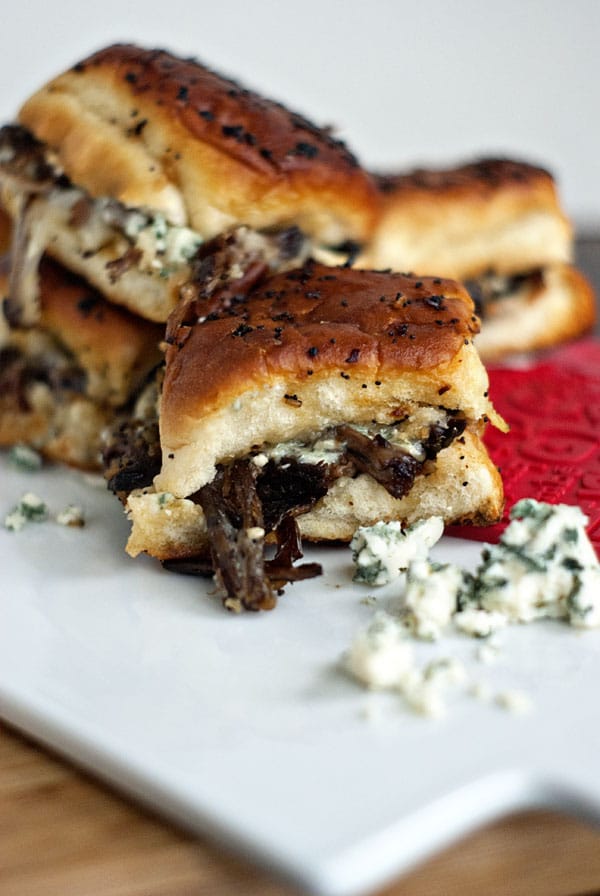 Oh blue cheese, why did I ever doubt you?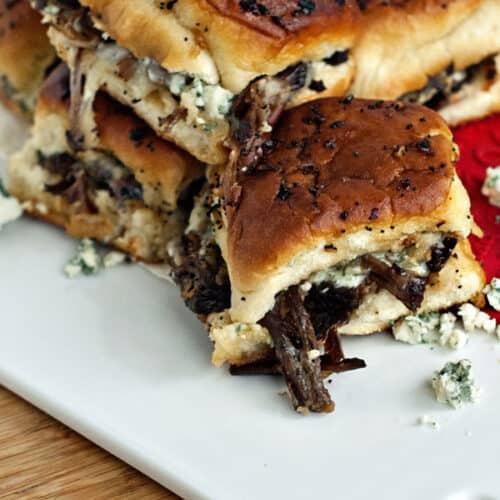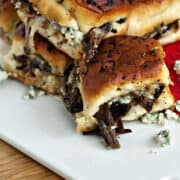 Beef and Blue Sliders
A flavorful slider sandwich filled with tender roast beef and blue cheese
Print
Pin
Rate
Ingredients
2

lb

beef chuck roast

trimmed of excess fat

1

tablespoon

brown sugar

¼

teaspoon

dried thyme

¼

teaspoon

celery seed

1

teaspoon

granulated garlic

1

bay leaf

¼

C

soy sauce

12

white dinner rolls

1

C

mozzarella cheese

shredded

3-5

oz

blue cheese crumbles

¼

C

mayonnaise

2

teaspoon

prepared horseradish

⅛

teaspoon

ground black pepper

½

C

butter

2

teaspoon

Worcestershire sauce

1

teaspoon

poppy seeds

2

teaspoon

dehydrated onion

1

teaspoon

sugar
Instructions
Combine thyme, sugar, celery seed, garlic, and bay leaf and sprinkle over roast in slow-cooker. Pour soy sauce over roast.

Cook for 4-5 hours on high, or 7-8 hours on low setting. Meat is done when tender and shreds easily.

Remove meat from slow-cooker and shred.

Cut dinner rolls in half and lay bottom half of each one on a baking sheet close together. You want the sides of each roll to be touching.

Place a portion of shredded beef on top of each roll followed by the mozzarella and blue cheeses.

Combine the mayonnaise with horseradish and pepper, stir to combine and then spread on the bottom side of the top half of each roll.

Place the roll tops on the cheese and beef to create a sandwich.

Melt the butter and combine Worcestershire sauce, poppy seeds, onion, and sugar. Pour butter mixture evenly over the rolls.

Cover baking sheet with foil and bake in a preheated oven at 375 for 10 minutes. Uncover and continue to cook for an additional 5-10 minutes or until the cheese is melted and tops are browned.
Nutrition Facts
Serving:
1
sandwich
|
Calories:
421
kcal
|
Carbohydrates:
23
g
|
Protein:
23
g
|
Fat:
27
g
|
Saturated Fat:
12
g
|
Trans Fat:
1
g
|
Cholesterol:
87
mg
|
Sodium:
825
mg
|
Potassium:
370
mg
|
Fiber:
2
g
|
Sugar:
3
g
|
Vitamin A:
369
IU
|
Vitamin C:
1
mg
|
Calcium:
186
mg
|
Iron:
3
mg
ARE WE FRIENDS ON INSTAGRAM?
Tag me @heatherlikesfood and use #heatherlikesfood so I can see what you're making and enjoying!