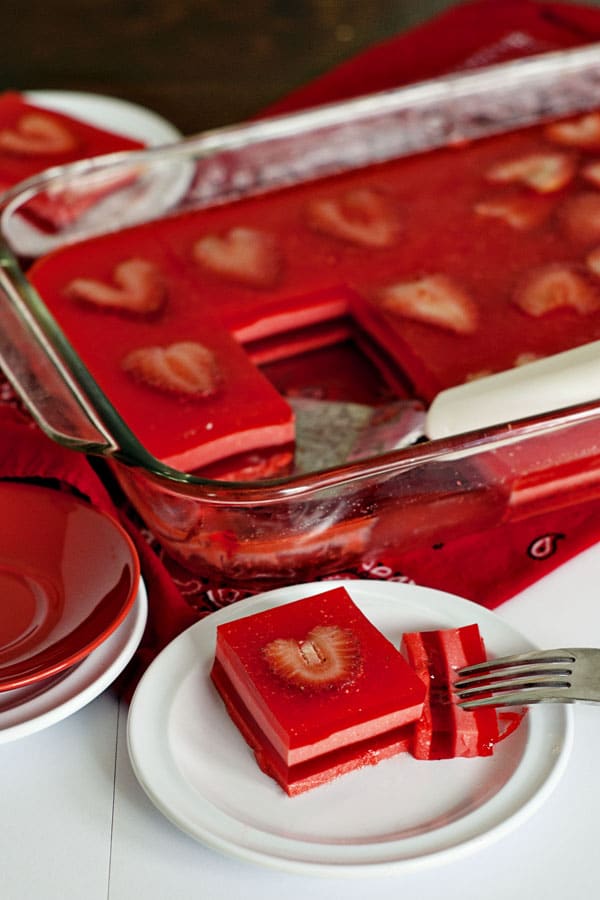 My mom is the queen of Jello.
If it jiggles, is molded, or layered she's probably made it, though she never jumped on the grated carrot or raisin train and for that, I am grateful.  I'm sure I'll hear it for outing her like this, but it had to be said. It was never a holiday in our home without some themed jello creation waiting for our sticky little fingers to steal it from the refrigerator shelf. Her layered Jello Easter eggs were my favorite.
Since my mom's kiddos are now(mostly) grown, her jello production has slowed, but I expect I'll see it pick up as more grandkids enter the picture. Until then, I thought I'd break out my inherited jello skills and put together something Valentine's day themed for my lil' munchkins.
You can make this layered jello with any color/flavor combination you'd like, but I chose raspberry and strawberry for their bright red colors. I also used plain Greek yogurt  as a stir-in for the creamy layers but regular yogurt or even sour cream works great.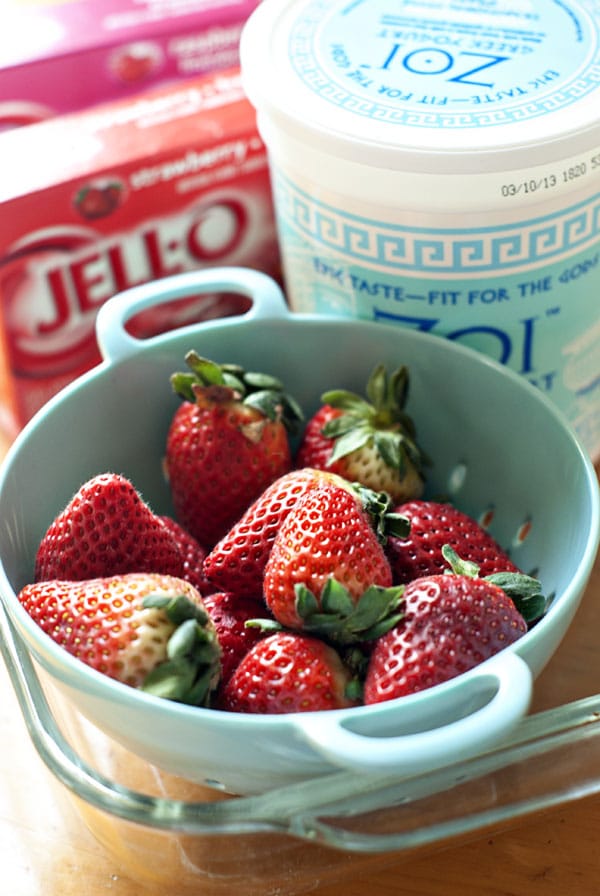 You'll start by combining the darker of the two jello colors with 2 C boiling water and stirring until dissolved. You're going to want to make a creamy layer first so that you'll end up with a clear layer to put the strawberries in.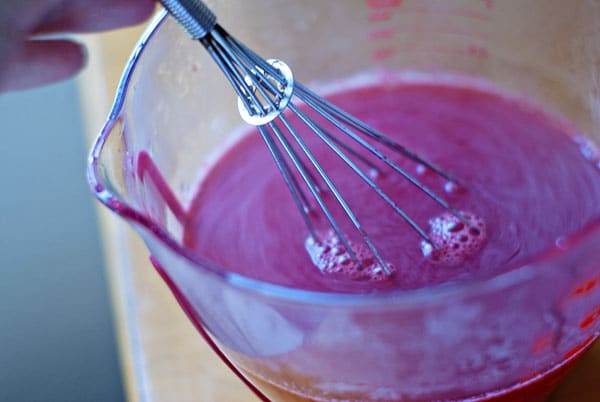 Remove 1 C of the gelatin mixture and set side. Stir ⅔ C room-temperature yogurt into remaining gelatin and whisk until completely combined. It will look curdled and lumpy and first, but it will come together. If the yogurt it super cold you'll likely run into problems, so leave it on the counter until it's room temp or throw it in the microwave for a few seconds to warm it up.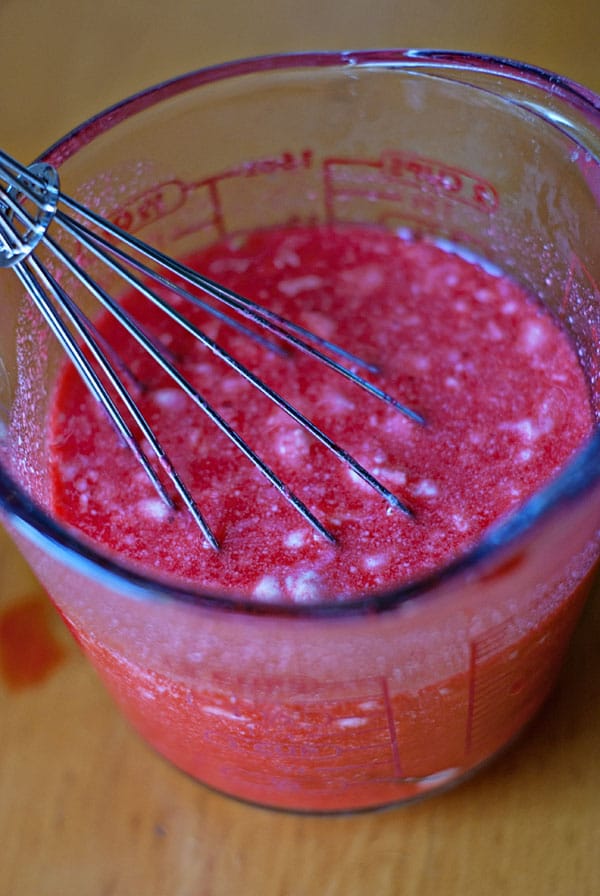 Pour the first layer into a smooth 9x13" pan and let chill in the fridge until just about set, about 30 minutes. You'll then take the gelatin mixture you set aside earlier, warm it up if it's gotten thick, and add a ⅔ cup of water to it. Pour this mixture over the first layer and place in the fridge once again to set-up.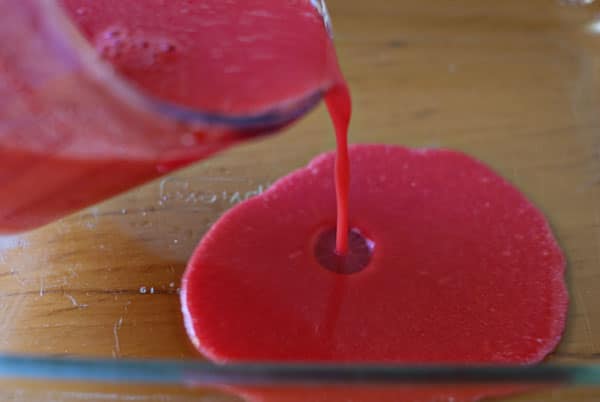 You'll end up repeating the above process with the second box of jello, but first you'll want to make some strawberry hearts to place on the 3rd layer before topping it off with the final layer of jello. They are super simple and easy cut. Most strawberries are already pretty heart-shaped, but cutting a little notch out of the top gives them that extra push.

I was putting the strawberries on this particular pan at about midnight, so I completely forgot to take pictures, but I'll give you a little tip. You'll notice that  in my final picture, half the pan has strawberries in tidy rows and on the other half they are all over the place. Before I poured the final layer over the top they were ALL in tidy rows but as soon as  picked it up to put in the fridge they went hay-wire. I managed to keep half of the pan in place for pictures and just left the rest as-is. To avoid this, paint the backside of each strawberry with the gelatin you'll be pouring over the top and place on the 3rd layer where you'd like them to be. The thin layer of gelatin will set as soon as it touches the cold creamy layer and will act like glue to keep the strawberry in place.
Let the finished pan chill for at least a couple of hours or even overnight before slicing. If not, all your hard work will likely turn into a pink glob on your plate. A tasty blob, but a glob nonetheless.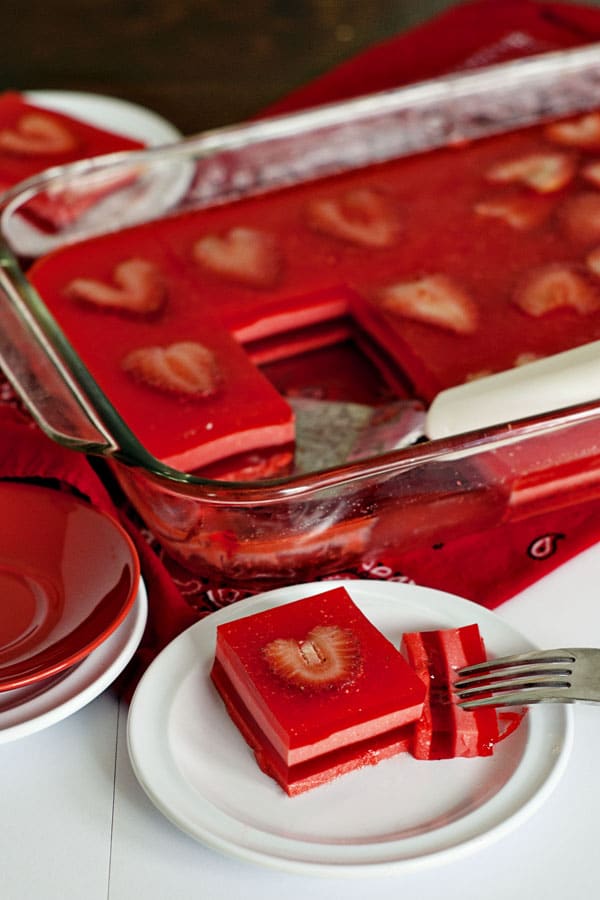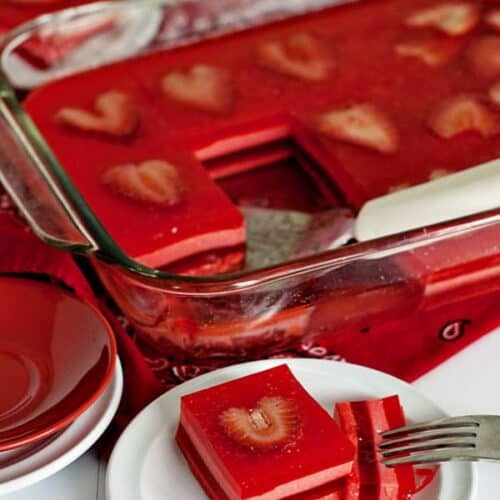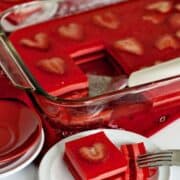 Layered Jello Squares, Valentine's Day Style
Layers of pink and red jello topped with a strawberry heart! A perfect treat for Valentine's Day!
Print
Pin
Rate
Ingredients
1

6 oz package Raspberry Jello

1

6 oz package Strawberry Jello

1 ⅓

C

plain Greek or regular yogurt

room temperature

4

C

boiling water

1

pint

fresh strawberries

cut into heart shapes
Instructions
Start by combining the raspberry jello with 2 C of boiling water, and stir until dissolved. Remove 1 C of the mixture and set aside in a separate bowl.

Combine remaining mixture with ⅔ C room temperature yogurt and whisk until smooth. Pour into a 9x13" pan and place in fridge to chill until set, about 30 minutes.

Take reserved gelatin and warm slightly if it's become thick. Stir in ⅔ C water and pour over first layer. Place in fridge to chill until set, about 30 minutes.

Repeat this process for the remaining box of jello. Before pouring final layer, place heart-shaped strawberry slices on the 3rd layer in desired pattern. To keep strawberries in place, brush the backside of each slice with a bit of the final layer of gelatin before placing.

Pour final layer of gelatin and place in fridge to chill a final time, at least 3 hours.

Slice and serve.
Nutrition Facts
Serving:
1
serving
|
Calories:
26
kcal
|
Carbohydrates:
4
g
|
Protein:
3
g
|
Fat:
1
g
|
Saturated Fat:
1
g
|
Trans Fat:
1
g
|
Cholesterol:
1
mg
|
Sodium:
13
mg
|
Potassium:
92
mg
|
Fiber:
1
g
|
Sugar:
3
g
|
Vitamin A:
6
IU
|
Vitamin C:
23
mg
|
Calcium:
33
mg
|
Iron:
1
mg
ARE WE FRIENDS ON INSTAGRAM?
Tag me @heatherlikesfood and use #heatherlikesfood so I can see what you're making and enjoying!