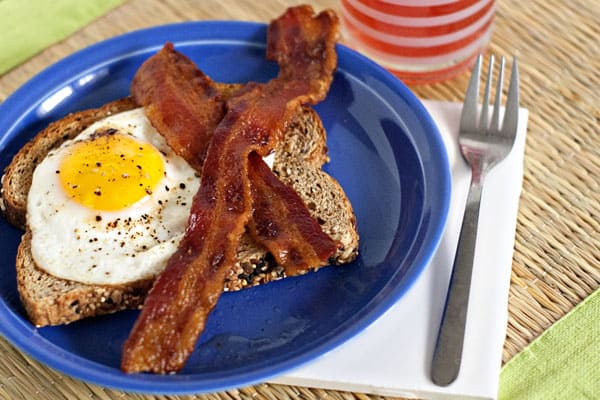 It's amazing to me how bacon has become a figure in pop culture. Who would have thought that a pork product would have such a following let alone a statue erected in it's honor at a university (that's for real, guys)! Not to mention all the bacon flavored/scented swag there is to be had. Bacon gum anyone?
I'll admit that I've indulged in the bacon craze and have tried a bacon chocolate bar, an apple bacon pie, and multiple bacon maple bars (swoon). But my favorite way to eat it is straight up out of the pan or nestled between some toast, tomatoes and avocado. There's lots of debate about how people should eat their bacon;  I'm a crispy-to-the-point-of-almost-burnt kind of gal, the hubs likes his nice and chewy and I've even known some people who like theirs soggy (I will never, ever understand this). With this method of cooking you can have your bacon any way you like it with very minimal mess.
For a long time I just assumed everybody knew how to cook oven bacon. I mean it's so simple, why wouldn't they? But lately it's become apparent through talking with friends that I needed to get this out there. I guess not everybody is as enlightened as I am (I kid, I kid). But really, all I need is one less person standing helplessly over a pan of sizzling and spattering grease to make putting this post up worth it. One person. Is it you?
All we're doing is baking the bacon -laying it out on a baking sheet, putting it in the oven and letting it cook. Seems simple, right? It is if you have a few little tricks up your sleeve.
The first trick:
Double layer your baking sheet. I like to lay a brown paper grocery sack on the baking sheet first and then cover with a piece of parchment paper. The parchment paper will keep the bacon from sticking and the bag on the bottom absorbs any grease that escapes from the top leaving you with a virutally clean baking sheet (usually).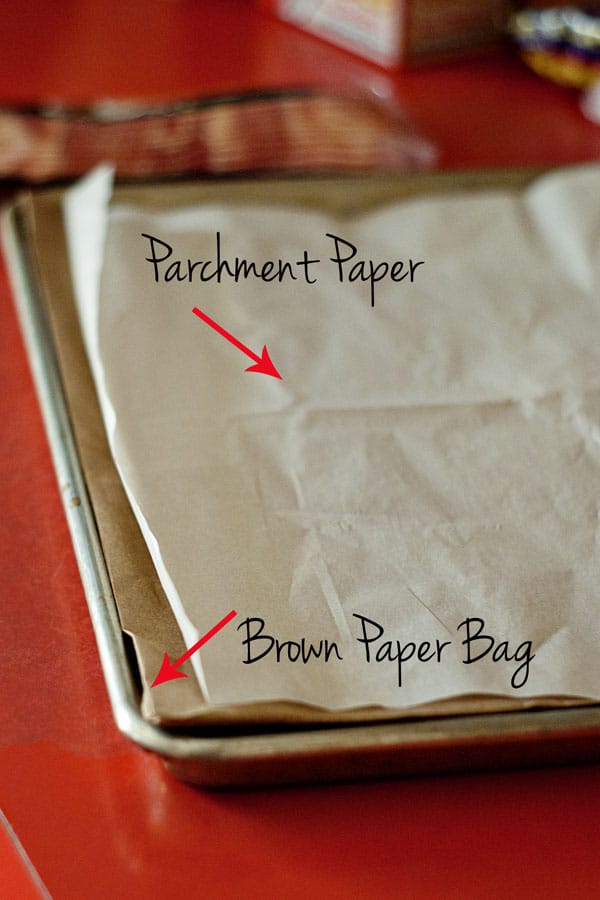 The second trick:
Start it in a cold oven. You want the bacon to heat up gradually so it doesn't curl up and the most fat can be rendered to make it crisp. Just slide the pan into the oven, turn it on at 400 degrees and walk away.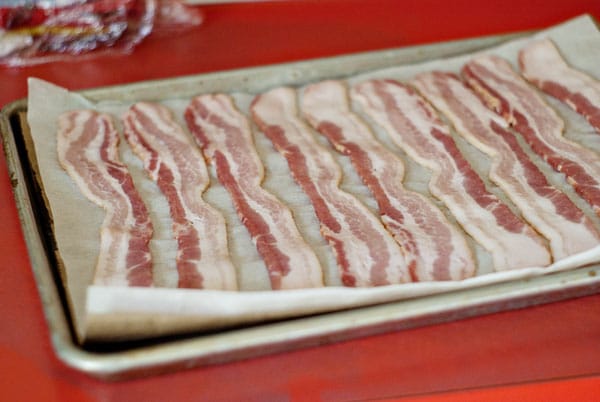 For nicely crisp, generally favored bacon, cook about 16 minutes or adjust to suit your tastes. Remove pan from the oven and place the bacon on paper towels to drain.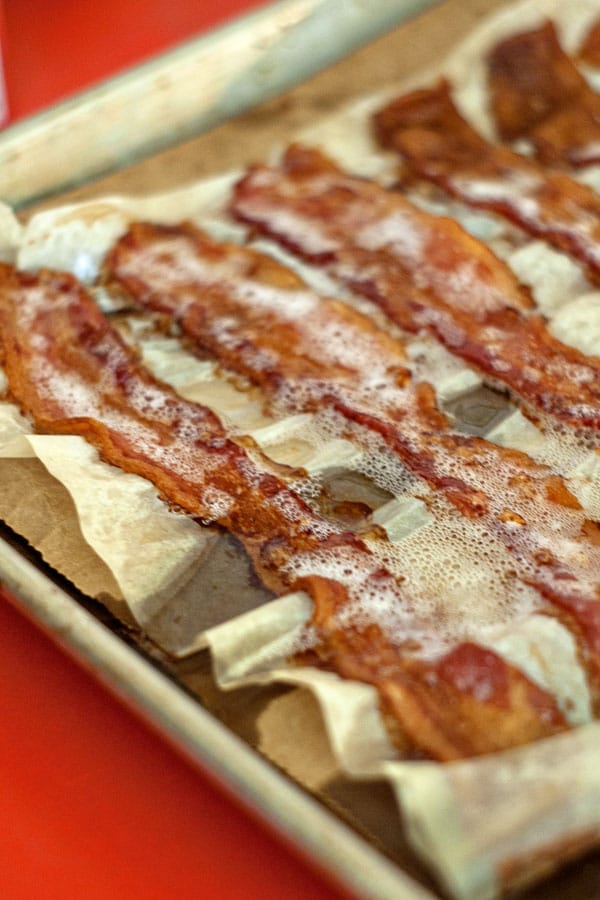 That's it! No grease burns, no running mascara from standing over a hot pan, and no mess! See that paper bag doing its job? It totally knows who's boss around here.
Can I get an hallelujah?!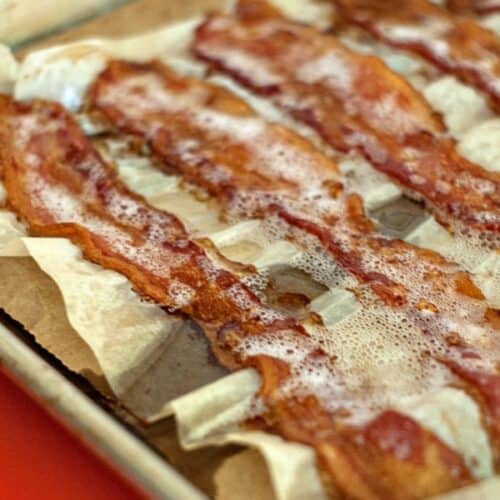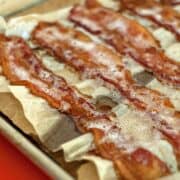 How To Cook Perfect Bacon
If you've never cooked bacon in the oven, once you try it you'll never go back to cooking it on the stovetop again!
Print
Pin
Rate
Ingredients
1

lb

Bacon

1

brown paper bag

1

sheet parchment paper

1

baking sheet
Instructions
Lay the paper bag on the baking sheet and top with parchment paper.

Lay the bacon strips in a single layer across the sheet.

Place pan into a cold oven and turn on to 400 degrees.

Bake for about 16 minutes for nicely crisp bacon, adjusting time to fit your tastes.

Remove pan from oven and transfer bacon to paper towels to drain.
Nutrition Facts
Serving:
1
serving
|
Calories:
473
kcal
|
Carbohydrates:
1
g
|
Protein:
14
g
|
Fat:
45
g
|
Saturated Fat:
15
g
|
Trans Fat:
1
g
|
Cholesterol:
75
mg
|
Sodium:
751
mg
|
Potassium:
225
mg
|
Vitamin A:
42
IU
|
Calcium:
6
mg
|
Iron:
1
mg
ARE WE FRIENDS ON INSTAGRAM?
Tag me @heatherlikesfood and use #heatherlikesfood so I can see what you're making and enjoying!