You guys, this Chocolate Chip Banana Bread is so moist and sweet, I so don't miss the butter or the sugar or white flour. It's actually healthy and it's AMAZING! You've got to try it!
I've made this recipe more times than I'd like to admit over the past few months. And really, I don't know why I wouldn't want to admit it. It's not like I'm eating the whole loaf by myself or anything because my kids definitely wouldn't let that happen. And besides, eating this bread is basically like eating a salad. It's got coconut oil (salad dressing), bananas (vegetables), whole wheat flour (croutons), and a handful of other not-so-bad-for-you ingredients. It's sweetened with a little bit of real maple syrup and those mini chocolate chips? Well, we'll just call those the sunflower seeds on our salad.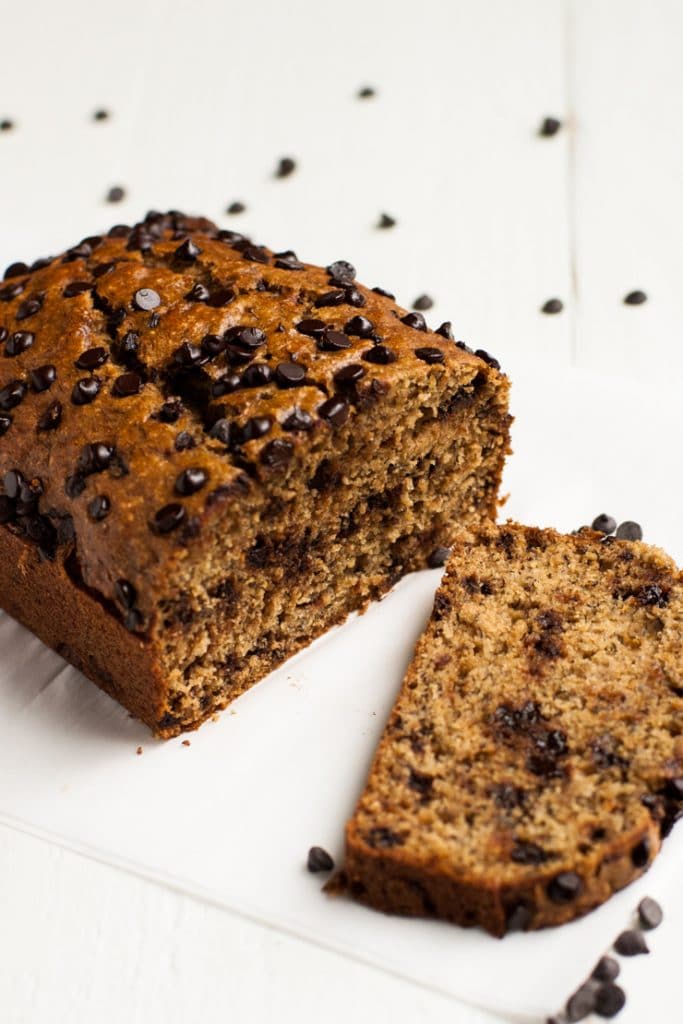 But before you run to your kitchen and make this, which I hope you do, let's talk about flour for a minute. This recipe uses WHITE Whole Wheat flour and using it will make all the difference. It's a milder whole wheat flour and I talk about it in this post for Super Fluffy Whole Wheat Pancakes if you're interested in learning more. For the record, those pancakes are pretty killer too!
If you try this Chocolate Chip Banana Bread, let me know what you think!
Best Healthy Chocolate Chip Banana Bread
You guys, this banana bread is so moist and sweet, I so don't miss the butter or the sugar or white flour. It's actually healthy and it's AMAZING! You've got to try it!
Print
shopping list
Ingredients
1/3 cup coconut oil, melted
1/3 cup real maple syrup
2 eggs (room temperature)
1 cup mashed ripe bananas (about 2 large, 3 small)
1/4 cup milk (room temperature)
1 teaspoon vanilla extract
1 teaspoon baking soda
1/2 teaspoon salt
1 3/4 cups WHITE whole wheat flour
1/2 C mini semi sweet chocolate chips
Directions
Preaheat oven to 325 degrees and greast a 9x5" loaf pan.
Whisk the coconut oil with the maple syrup, eggs, mashed bananas and milk. If the eggs and milk aren't room temperature they'll make the coconut oil harden and you'll have a lumpy batter that won't mix as well. I just run the eggs under some hot water for a minute and toss the milk into the microwave for a few seconds before putting them into the batter.
Sprinkle the baking soda and salt over the top of the wet ingredients and stir the flour in just until no dry spots remain. The more you mix it, the less tender it will be!
Gently fold the chocolate chips into the batter and pour into your greased loaf pan.
Bake 55-60 minutes or until a toothpick inserted into the middle comes out clean. Allow bread to cook in the loaf pan for about 10 minutes and then transfer to a wire rack to cool completely. Alternately, you can cut it while piping hot and enjoy some super messy, chocolatey banana bliss! Your call. ?

Made this recipe?
I'd love to see how you rocked it! Share your photo on Instagram with the hashtag
#heatherlikesfood  --
It will totally make my day to see it!