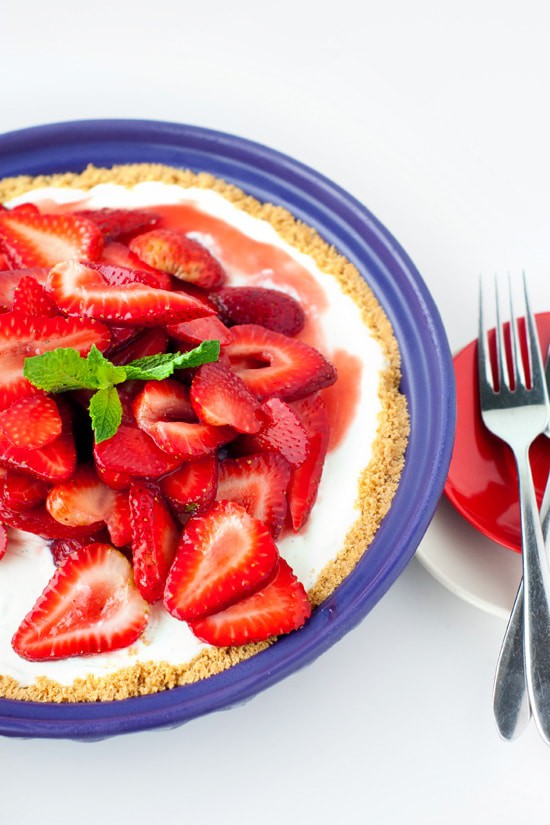 Including my own, I have 9 baby showers to attend over the next few months. NINE! You'd think that we all drank the same punch or something wouldn't you? It's pretty crazy. And so far every single one of these women are having girls except for me.  I'm totally fine with this since I already have 2 girls, but this poor boy is not only going to have 2 sisters, but all of his play-group buddies (my friend's kids) are going to be girls. He's going to be quite the ladies man!
I started my marathon of baby showering and celebrating last week and brought this cheesecake to the party. If you're in the mood for cheesecake but don't want to fiddle with ovens and water baths, this recipe is for you. Sadly when I made this last week I only gave it like 2 hours to chill before slicing into it so it didn't stay pretty for long, but it sure tasted good! If you want it to keep it's shape just make sure to give it a good 4- 24 hours to set up in the fridge before slicing. Let's make it!
I don't have pictures of the crust but it's a simple graham cracker, brown sugar, cinnamon, and melted butter combo. Press it into a pie dish or spring form pan, pop into the fridge for 3o minutes to chill and it's done!
For the filling you'll beat 2, 8 oz packages of softened cream cheese with sugar, lemon juice and some vanilla bean seeds. When you're beating the cream cheese scrape the sides of the bowl down a couple of times to make sure you're getting it all incorporated. If you wait until you add the cream to scrape the bowl you'll end up with chunks of cream cheese in your finished cake. <---- no bueno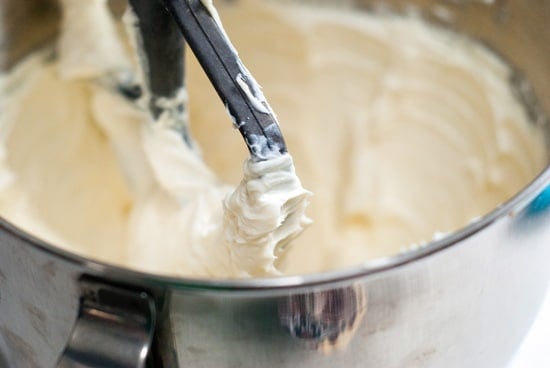 Remember that one time I made my own homemade vanilla extract? I'm using a vanilla bean that has been soaking in vodka for the past 5 months. This looks a little different than just splitting a vanilla bean in half and scraping out the seeds but either way works just as well.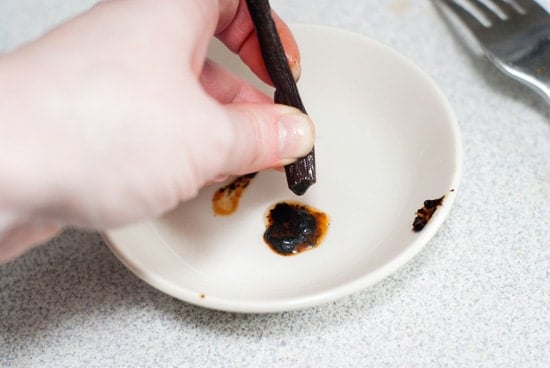 Liquid gold, this stuff is. I luurrrrvve vanilla.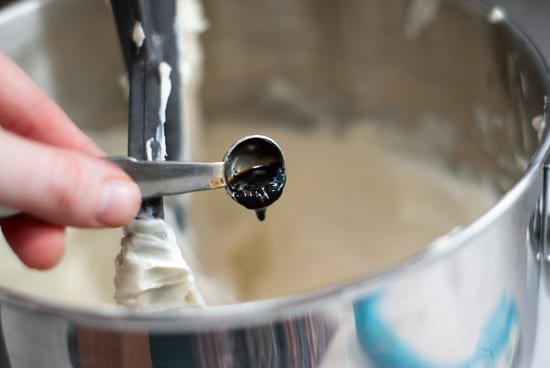 Next up, the cream. First of all, make sure the cream you use says "Heavy Whipping Cream" or "35% fat cream" or something to alert you that you are using the real deal and not glorified half and half. Sometimes cream that just says "whipping cream" doesn't have enough fat in it to keep it stable and let it thicken. Sorry folks, low-fat options just aren't going to work here! 🙂 Second, add the cream in slooooowly. Add some, scrape the bowl. Add some more, scrape the bowl again. Doing this will keep your mixture super smooth and prevent any lumpy-ness.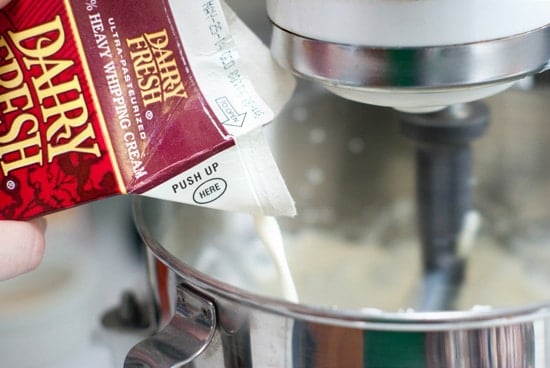 Once all the cream is mixed in you can let the mixer rip and whip until it's thick and still peaks form.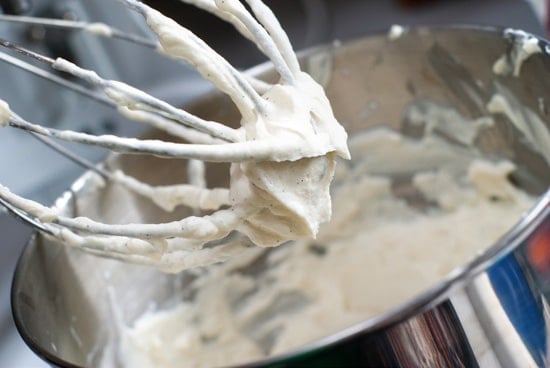 Spoon into the chilled crust, smooth out the top, cover and pop in the fridge for at least 4 hours.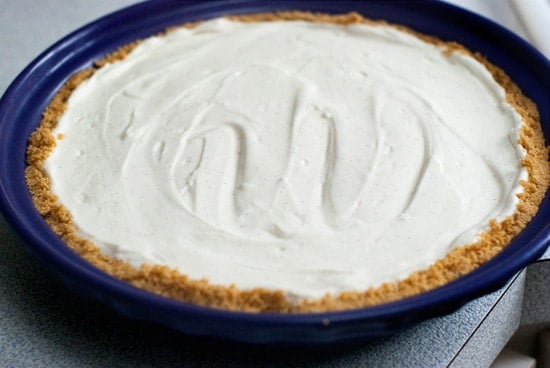 You can really top this cheesecake with whatever you want, but I'm always in the mood for some fresh strawberries. Instead of mixing them with a bit of sugar I like to stir them up with a few tablespoons of strawberry jam to give them a little glaze and sweetness.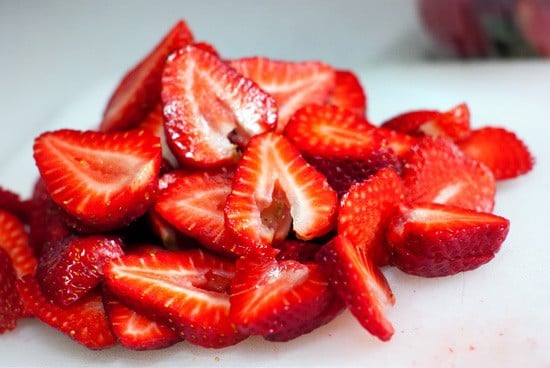 And that's about it. Top, eat, and enjoy!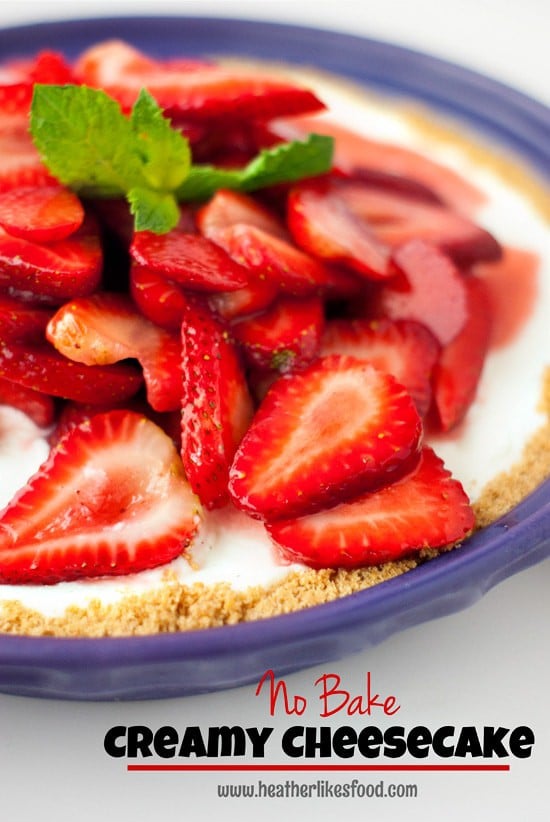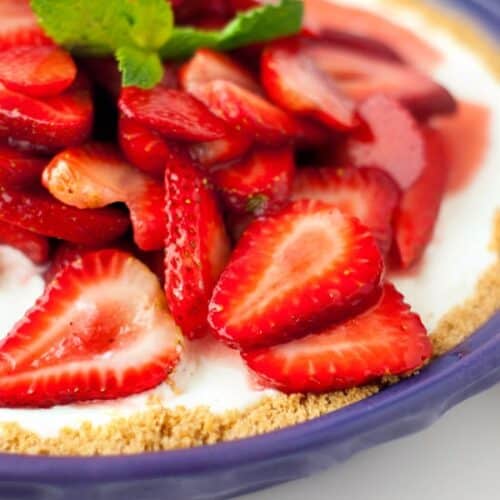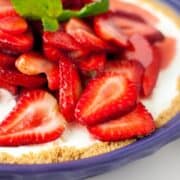 Creamy Vanilla Bean No Bake Cheesecake
You don't have to turn on the oven to make a great cheesecake! Just mix and chill this cheesecake recipe in the fridge until firm!
Print
Pin
Rate
Ingredients
1 ½

cups

graham cracker crumbs

⅓

cup

brown sugar

packed

¼

teaspoon

ground cinnamon

⅓

cup

butter

melted

2

packages

8 oz each cream cheese, softened

⅓

cup

sugar

1

tablespoon

lemon juice

seeds of 1 vanilla bean

2

cups

heavy whipping cream

1-2

lbs

fresh strawberries

sliced

2

tablespoon

strawberry jam
Instructions
In a bowl combine graham cracker crumbs, cinnamon, brown sugar and butter. Press into the bottom of an ungreased 9" pie or spring form pan. Refrigerate for 30 minutes.

With an electric mixer, beat cream cheese, sugar, lemon juice and vanilla until smooth, scraping the sides of the bowl as needed. Slowly add the cream and continue to beat until still peaks form.

Spoon into chilled crust, cover and refrigerate for at least 4 hours, overnight is preferable.

Toss strawberries with strawberry jam and let sit for 30 minutes or until the strawberries start to release some of their juice. Slice cheesecake and serve with strawberries.
Nutrition Facts
Serving:
1
serving
|
Calories:
294
kcal
|
Carbohydrates:
26
g
|
Protein:
2
g
|
Fat:
21
g
|
Saturated Fat:
13
g
|
Trans Fat:
1
g
|
Cholesterol:
68
mg
|
Sodium:
133
mg
|
Potassium:
120
mg
|
Fiber:
1
g
|
Sugar:
17
g
|
Vitamin A:
748
IU
|
Vitamin C:
23
mg
|
Calcium:
48
mg
|
Iron:
1
mg
ARE WE FRIENDS ON INSTAGRAM?
Tag me @heatherlikesfood and use #heatherlikesfood so I can see what you're making and enjoying!