The Grande Colonial, La Jolla California - Last week I gave you a peek at our Disneyland trip we took over the summer and now I'm back with leg two of our trip in La Jolla! When planning it I decided that after spending 4 full days chasing kiddos around the parks in 90 degree weather, we'd need some time to breathe before braving the flight home and going back to real life. So we headed south to La Jolla to spend a couple of days playing on the beach.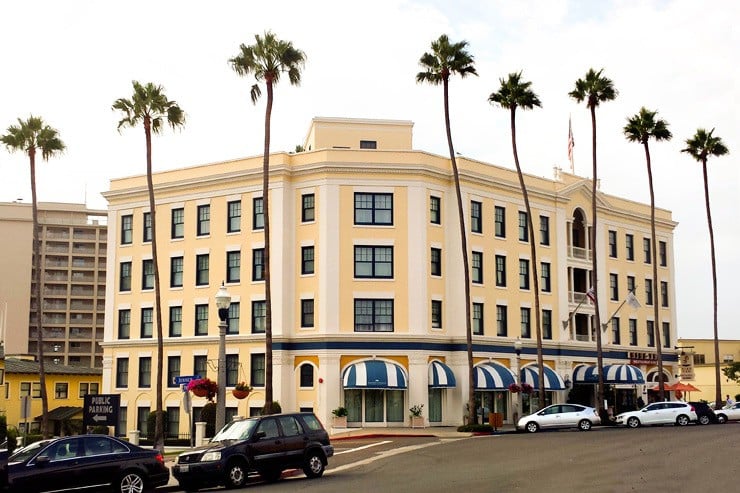 The Gorgeous Grande Colonial
We stayed 2 nights at the gorgeous Grande Colonial and were super happy with our stay. This hotel has been open since 1913 and it was a fun change of pace to stay in a historic building. Of course, it's been updated over the years and has everything it needs to be modern and accommodating but still has all the charm. The hotel even boasts its history as being "haunted" and talks about it in the in-room information book. They say that all encounters have been "friendly" in nature, but I'm glad I don't have anything to report on that end. I'll just say that my 3:00am nursing sessions were spent with my glasses off (I'm mostly blind) and at least the bathroom light on. I'm kind of a whimp and probably should have stopped reading when I saw the word ghost.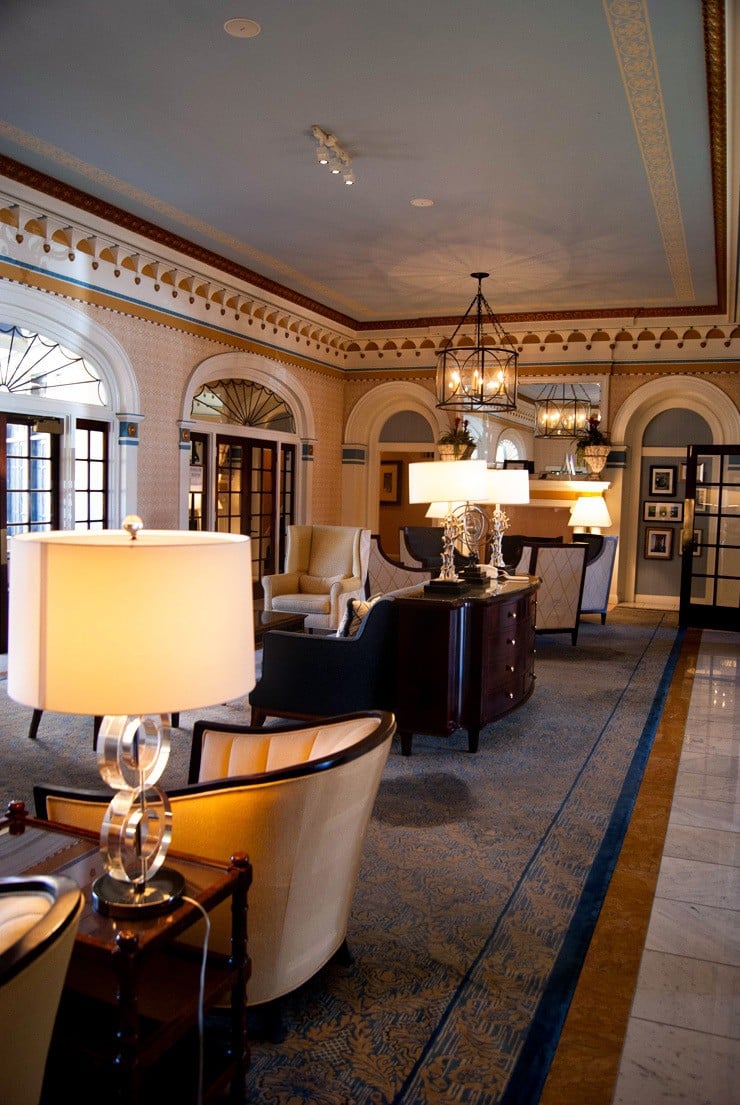 I actually had the foresight to keep the kiddos from immediately going into destruction mode once stepping into our room this time and snapped this pic. It was cute, cozy and had an amazing view. My only complaint, and the hubs will back me up on this, is that there were too many pillows on the beds! Sounds crazy, but as pretty as the bolster pillows (the long skinny ones) and shams are, they take up some major floor space when not on the beds. With all of our luggage, stroller and carseat floor space is a major commodity. Maybe we're silly.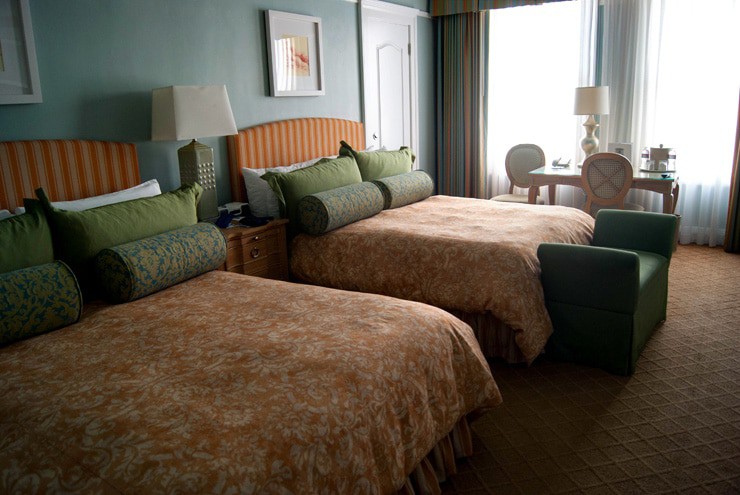 While at Disneyland the girls bought a pirate dress up set and had fun playing pirates at the window pretending to be on a ship. It was pretty darn adorable.
Yeah, that's the ocean.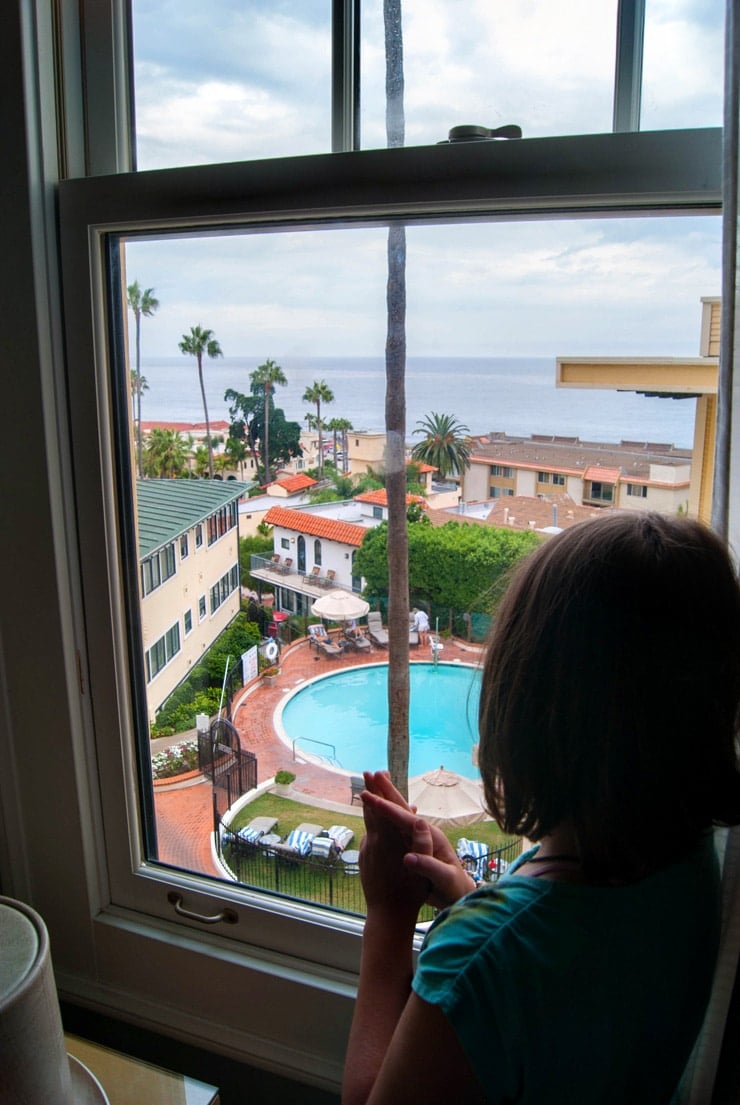 Nerd alert.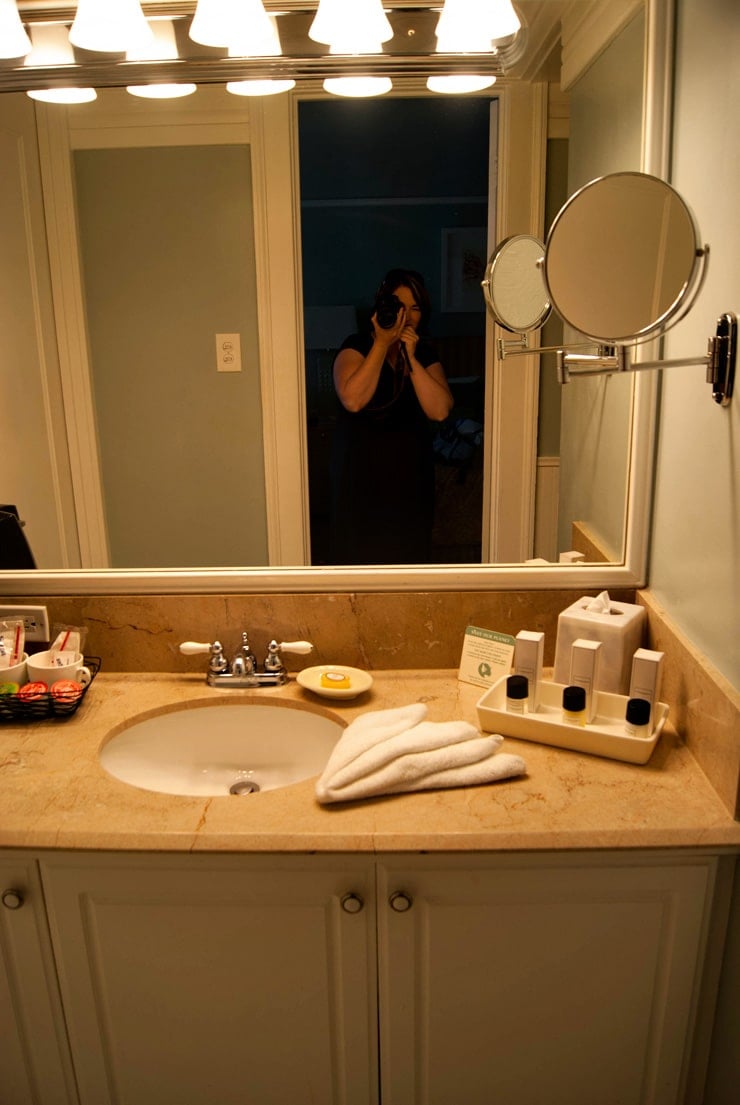 This picture pretty much sums up our life. We've got the crazy one and the little mother while baby is just along for the ride.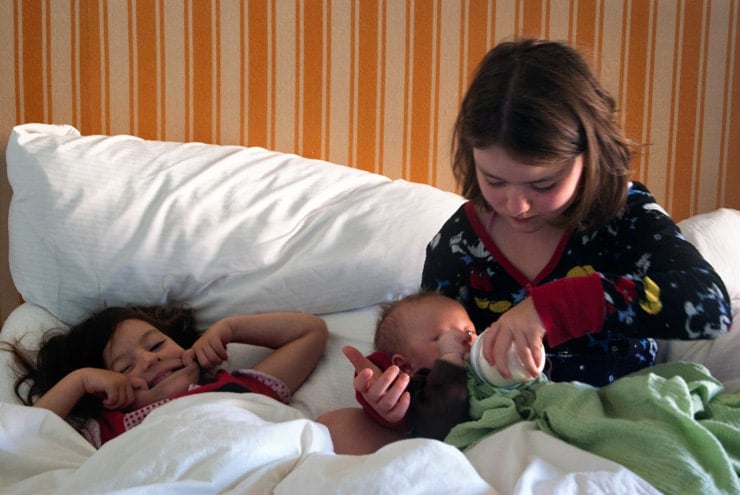 I wish I would have had my big girl camera for this pic because the sunset was absolutely gorgeous that night. My phone camera just doesn't do it justice. But my family is pretty darn cute.
Nine-Ten At The Grande Colonial
The Grande Colonial has a restaurant on-site called Nine-Ten and I only heard great things about it while there. We decided not to give it a go with the kids but if we go back, I'd love to visit. The lobby smelled amazing and the menu makes me hungry.
The grounds were pretty but it's hard to mess things up when you've got such an easy backdrop to work with.  🙂 We loved our stay here and thought everything from the staff to valet to the big over-sized pool towels was great.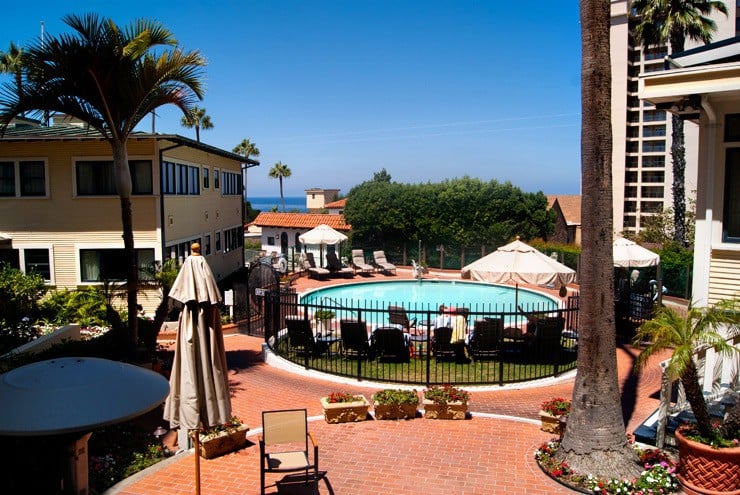 **The Grande Colonial did not pay me for this post, but I was offered a discounted rate in exchange for an honest review. All thoughts and opinions are my own! 🙂