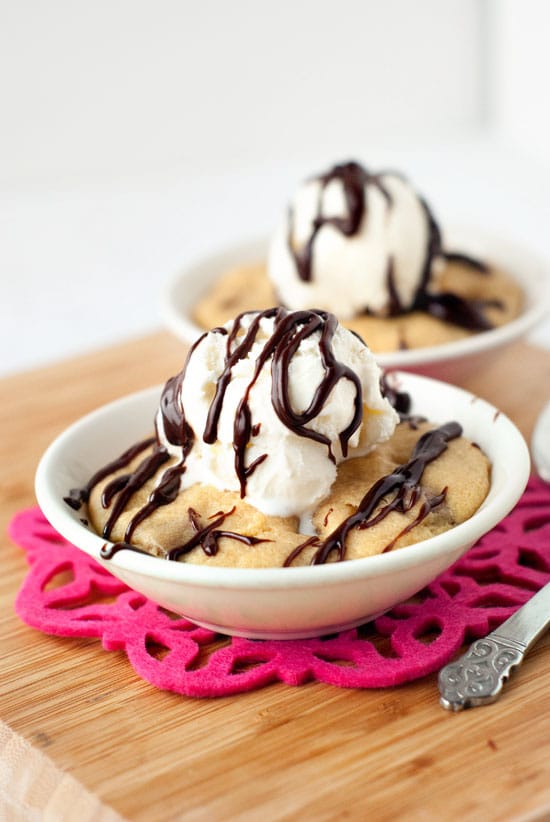 A few weeks back I went to BJ's with some friends and finally had my first pizookie ever. What's a pizookie you ask? It's basically cookie that's baked in a little mini pizza pan and served piping hot with ice cream and usually some sort of topping– it's heavenly! I know pizookies are served at other places too, but if you are headed to BJ's soon the new salted caramel one has been beckoning me back there ever since I tried it. So good!
In order to curb my cravings and since I don't have pizookie pans or will power, I decided to make up a quick batch of chocolate chip cookie dough in a very small quantity and quickly bake it in the microwave, just like my original coffee cake in a mug and pumpkin coffee cake. This way I wouldn't have dozens of cookies staring me down every time I walked into the kitchen and I could get it into my face much faster than I could if I had to wait for the oven to heat up, etc.
The result? Quick, hot, gooey microwave chocolate chip cookie pizookie perfection!
This recipe makes 2 fairly big cookies and is just enough to not make me want another, especially when topped with ice cream and hot fudge. It starts by mixing up the cookie dough in a small bowl just like regular cookies but since it's such a small amount, mixing it by hand is pretty easy.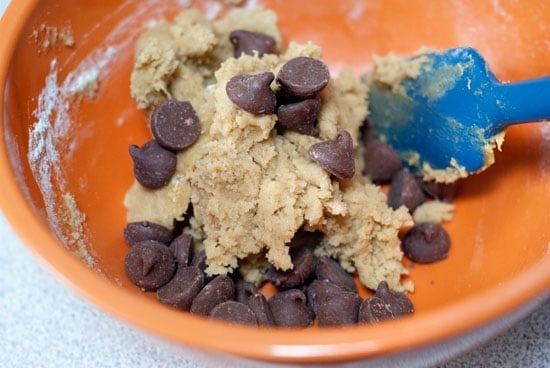 I used some small ceramic saucers I had laying around and they worked perfectly for "baking" the cookies in. Use what you have! Ramekins, small bowls, deep plates or even a mug would work.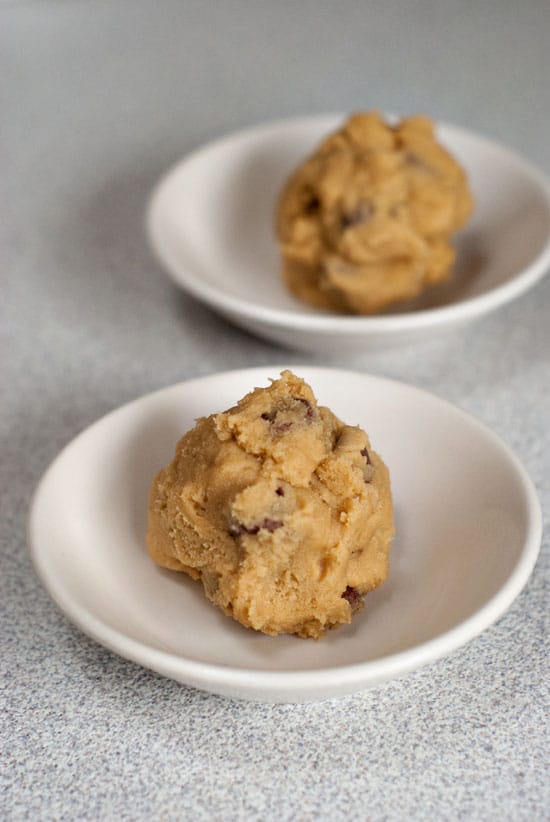 Use your fingers to press the dough out into an even layer in your vessel of choice. At this point I try to touch it as little as possible so that I actually end up with some dough to bake. Is anyone else a chronic food picker when cooking?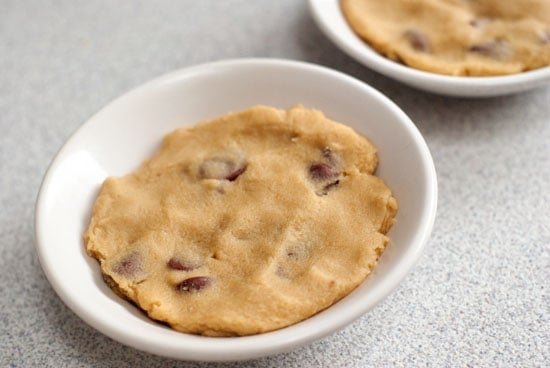 When "baking" in the microwave it's important to keep a close eye on things or they can get bad pretty fast.
REALLY fast. Do you like the texture of erasers? No? Then watch carefully!
The key to a good pizookie is that it's just sightly under-baked. Each microwave will cook differently as will different cooking dishes and depth of the cookie so there will likely be some trial and error. Mine was perfectly cooked at about the 50 second mark.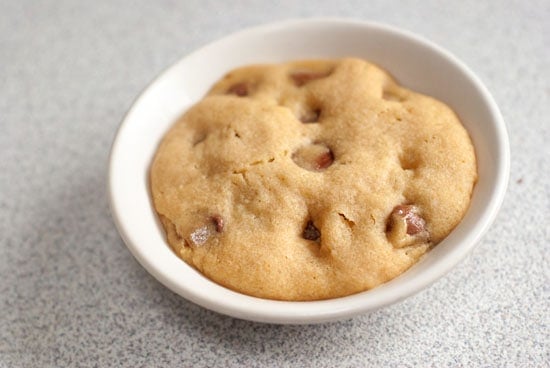 It won't be golden brown like it would be if baked in the oven, but it will cooked– promise! No one will notice anyway when a big scoop of vanilla ice cream starts melting over the top and you're digging in.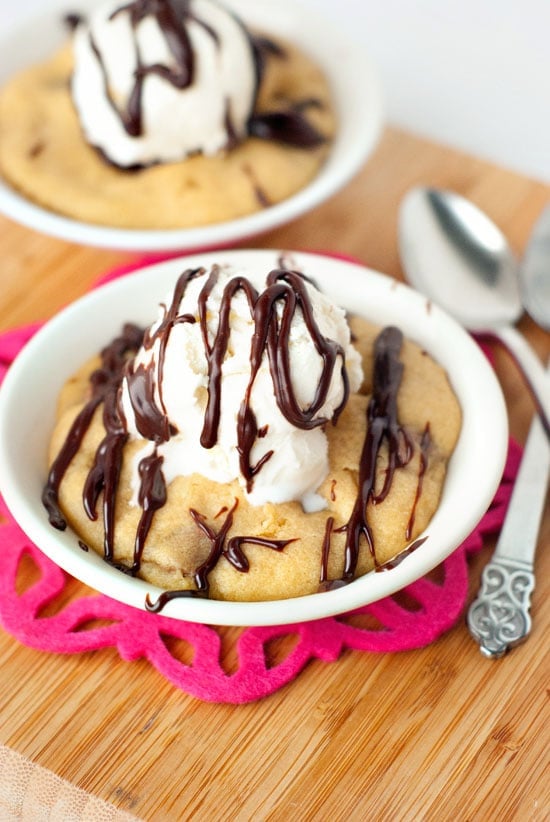 Did YOU miss it?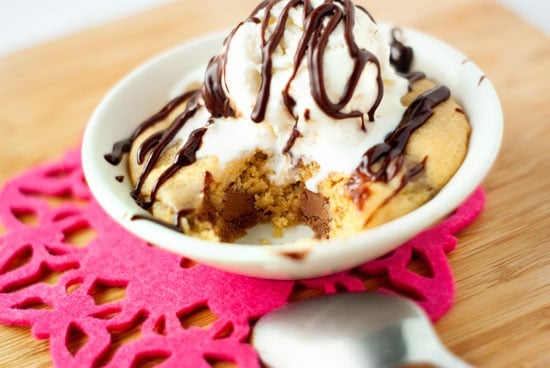 Didn't think so. 🙂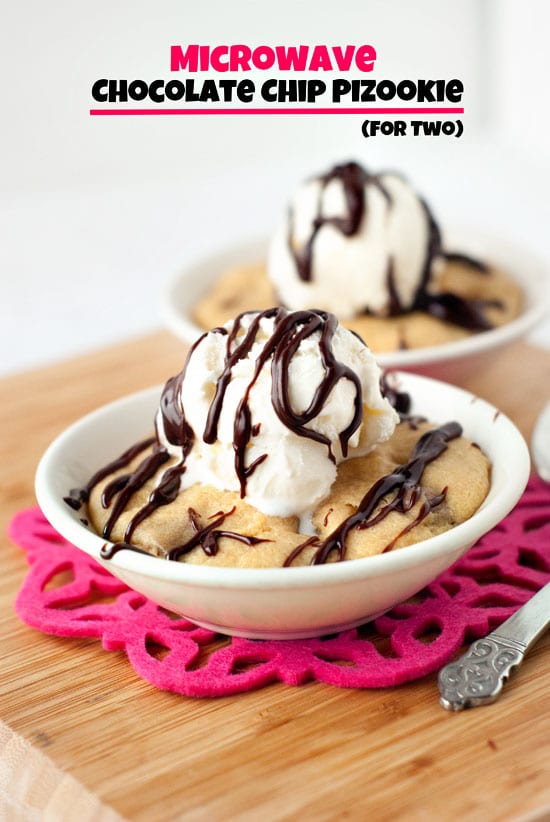 Ingredients
3

tbsp butter, softened

1/4

C brown sugar

1

egg yolk

1/4

tsp vanilla

6

tbsp flour

pinch of salt

1/4

tsp baking powder

1/4

C chocolate chips
Instructions
In a small bowl mix together butter and brown sugar, add egg yolk and vanilla and stir until well combined.
Stir in flour, salt, and baking powder, mixing until no dry spots remain. Fold in chocolate chips.
Divide the dough in half and press into 2 small dishes (saucers, ramekins, mugs, etc.).
Cook one at a time in the microwave for 30-60 seconds. Microwaves vary so check after 30 seconds to see where you're at and cook in 10 second intervals from there. It goes pretty quickly.
Top with vanilla ice cream and hot fudge if desired.

Made this recipe?
I'd love to see how you rocked it! Share your photo on Instagram with the hashtag
#heatherlikesfood  --
It will totally make my day to see it!