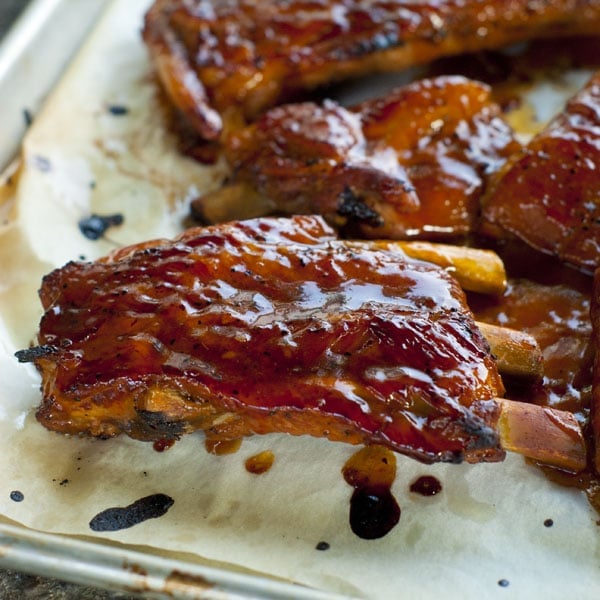 Yesterday was a day where cooking or eating like a normal person just wasn't in the cards. Nothing crazy occurred and our schedule wasn't jam-packed, it just didn't happen. The girls were happy with a piece of cold pizza for dinner and Ammon fended for himself like a real man can. Meanwhile, my pickle and I were quite happy together and my brined companion proved to be and oddly satisfying dinner.
I think days like these need to happen every once in a while. Let the stress of making dinner and eating responsibly flee for a night- your family won't starve and maybe you'll realize that sustenance can be achieved with less than you think! Nevertheless, no matter how much I enjoyed my pickle there's always something that sounds better…
Things I ate yesterday:
An apple, Costco samples, pita chips, peach mango salsa, string cheese, carrot sticks, a cherry Danish, a few Dreyer's Dibs, and a jumbo dill pickle.
What I wish I would have eaten yesterday:
Orange Sticky Finger Ribs.
Sweet, tangy, and just spicy enough, these ribs are fall-off-the-bone fabulous. They can be made entirely in the oven, or taken outside to grill after the initial cooking in the oven.
You'll need 1 rack of pork spare ribs, trimmed. To figure out where to trim, hold the side without the ribs and try to fold it over the top of the ribs.  Bones don't bend so you know to cut down the line where it stops folding. There's a lot of good meat on the trimmed portion so don't throw it away. I usually cut it into chunks and throw it in with my ribs to cook.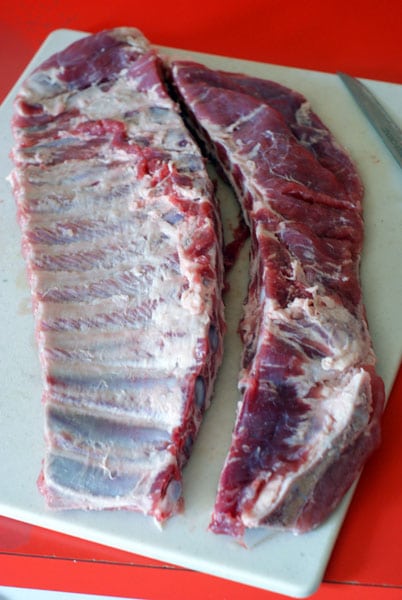 This next part it totally optional, but I always do it- removing the membrane. There's a thick, tough membrane that covers the back of the ribs. Removing it makes eating and cutting the ribs a little easier. Using the tip of the knife, loosen a corner of the membrane. With your fingers (using a paper towel can help you get a better grip on it), pull it off. It usually comes off in one or two big pieces.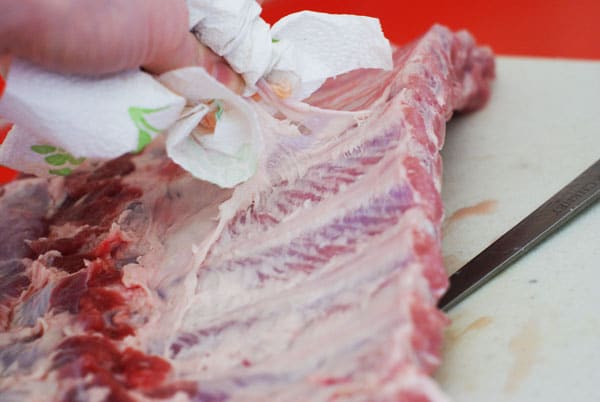 Cut the meat into sections of 3 or 4 ribs,  and season front and back with kosher salt and Montreal Steak seasoning.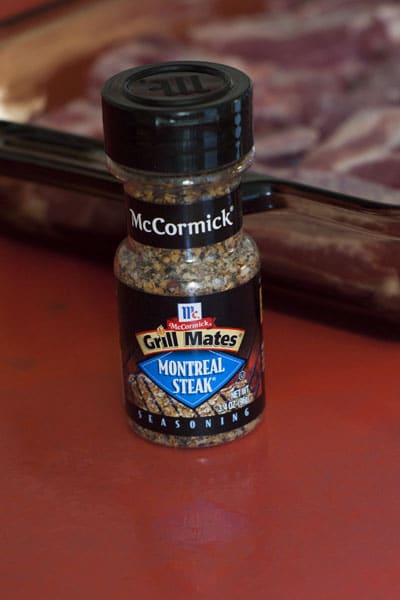 Place in a baking dish big enough to fit all the sections of ribs in one layer.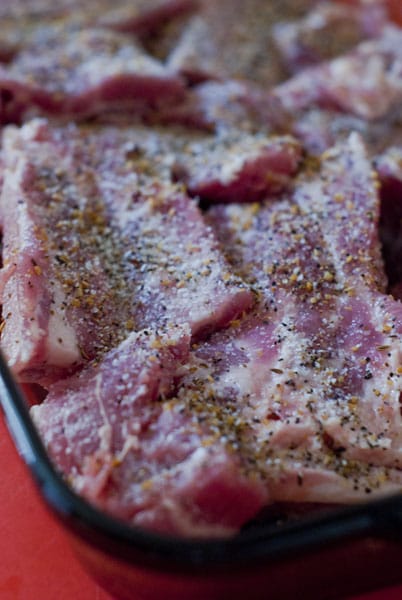 And pour enough orange soda into the dish so that it comes half-way up the sides of the ribs.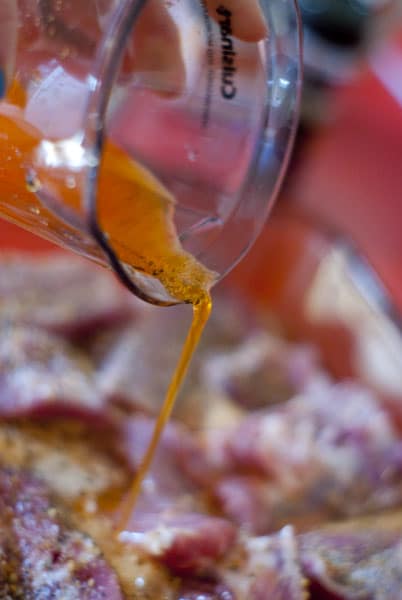 Cover pan tightly with foil and bake until the meat is tender, but not quite falling off the bones. Remove ribs from pan and drippings and place on a lined baking sheet, leaving a bit of space between each section of ribs. Brush meat all over with prepared sauce.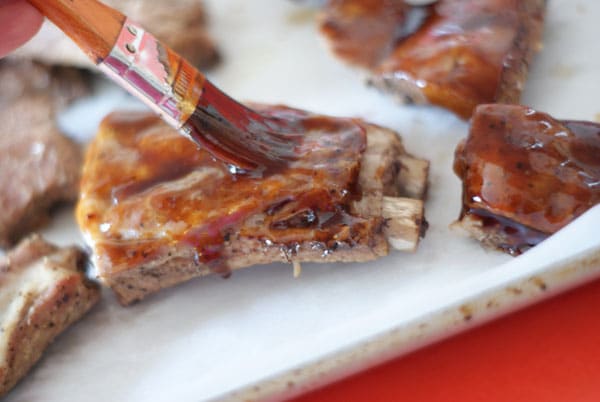 Cook under the broiler for about 4 minutes, brush with more sauce and continue to broil until the sauce is bubbly and slightly charred.
Yummers. This is TOTALLY football worthy food- what do you think?
Ingredients
1 rack pork spare ribs, about 3-4 lbs
1 1/2 tbsp Montreal Steak Seasoning
1 tsp kosher salt
2 C orange soda
3/4 C prepared BBQ sauce
3/4 C brown sugar
1/2 C orange juice concentrate
2 tbsp hot sauce, or to taste
Directions
Preheat oven to 375°
Trim ribs and cut into sections of 3 or 4 bones each. Season front and back with salt and Montreal Steak seasoning and place in a baking dish in a single layer. Pour just enough orange soda over the ribs to cover them half-way.
Cover dish tightly with foil and bake for about 2 hours or until the meat is tender but not quite falling off the bone.
Remove ribs from baking juices and place on a lined baking sheet.
Prepare sauce by combining BBQ sauce, brown sugar, orange juice concentrate (not orange juice), and hot sauce in a small sauce pan and heat on the stove until sugar is dissolved.
Brush sauce over cooked ribs and place under the broiler for about 4 minutes. Remove from oven and brush with more sauce. Return to the oven and continue to cook until the sauce is bubbly and slightly charred.

Made this recipe?
I'd love to see how you rocked it! Share your photo on Instagram with the hashtag
#heatherlikesfood  --
It will totally make my day to see it!