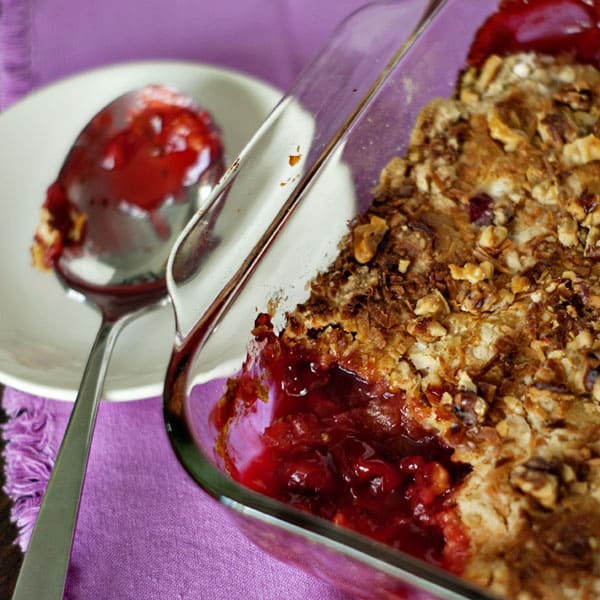 I've had a lot of amazing desserts in my lifetime; I've dined at fancy pants restaurants and been served teeny tiny little hand-dipped chocolate tea cups filled will all sorts of heavenly mousses, baked and sampled all manner of tortes and cream-filled cakes, engorged myself on fresh French pastries until I had to buy new jeans, and have licked my way through time trying to consume every possible ice cream flavor I can. But regardless of the incredible sweets I've savored, I'm always drawn back to one thing--pie. And since pie = fruit + crust and cobbler = fruit + crumb crust, it's only natural that cobbler is up there on my to-die-for list as well.
This cobbler is one of my absolute favorite desserts of all time. Seriously.
I know, you'd think that I would have moved beyond the cake mix and canned pie filling concoctions by now, but guys, this stuff is good. One of the best parts about it is that you can have it in the oven in 5 minutes and be enjoying hot cobbler in under an hour from start to finish. This recipe has been around for a long time and has all sorts of variations, but I find the recipe below to be the very best. Its most common name is "Dump Cake", referencing the fact that all the ingredients just get dumped into the pan, but I prefer to call it by a more sophisticated name:  6 Layer Miracle Cobbler. It makes it sound mysterious.
Let's find out where these 6 layers come from and why it's such a miracle, shall we?
Layer 1: Cherry pie filling. Pour it into a 9x13" pan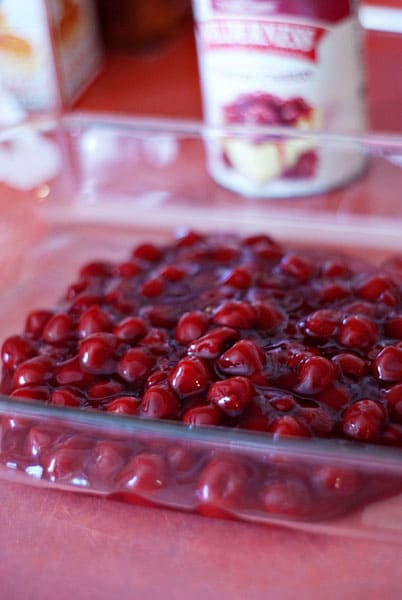 Layer 2: Crushed pineapple, juice and all. Dump it on top of the cherries and smooth it out with a spatula into an even layer.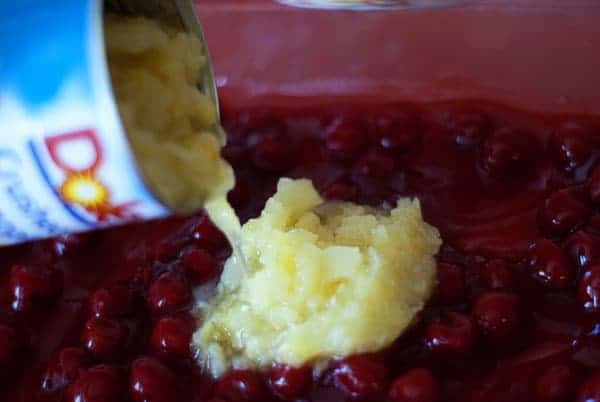 Layer 3: 1 box of DRY yellow cake mix. Yes, DRY cake mix. Sprinkle the entire box over the cherries and pineapple into an even layer.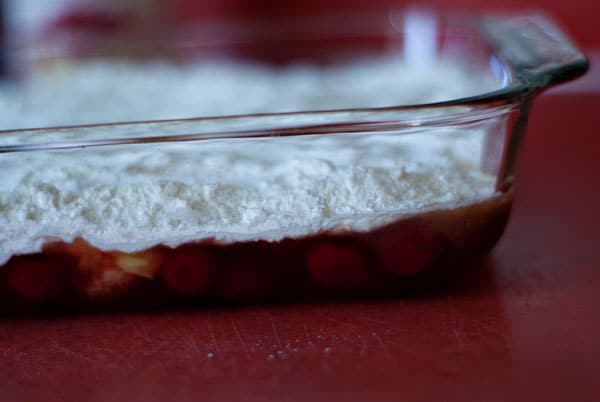 Layer 4: Butter. You knew butter would be an ingredient, didn't you? Cube 1 stick of butter into small pieces and place evenly over the cake mix.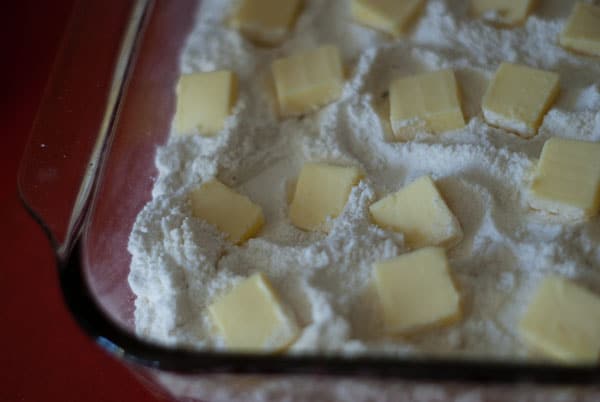 Layers 5 & 6 Walnuts and Coconut. Sprinkle over the top of the butter.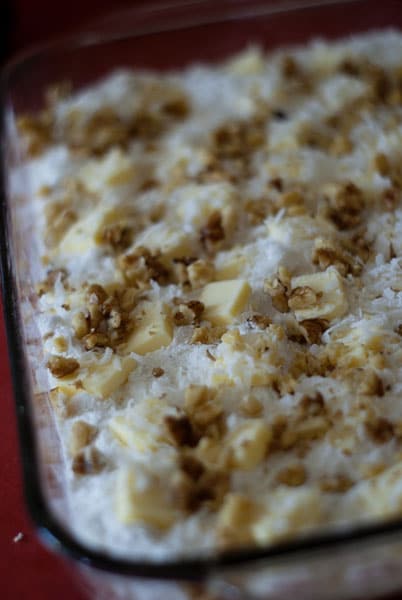 Miracle time: Bake for about 40 minutes at 350° until golden brown and bubbly. The butter will melt, moistening the cake mix from the top, aiding in browning and crisping while the pineapple and cherries will moisten the bottom of the cake mix. When it's all done you'll have a perfectly crisp, sweet, tart, crumbly, gooey, chewy, and slightly salty cobbler. Serve hot with vanilla ice cream for maximum enjoyment!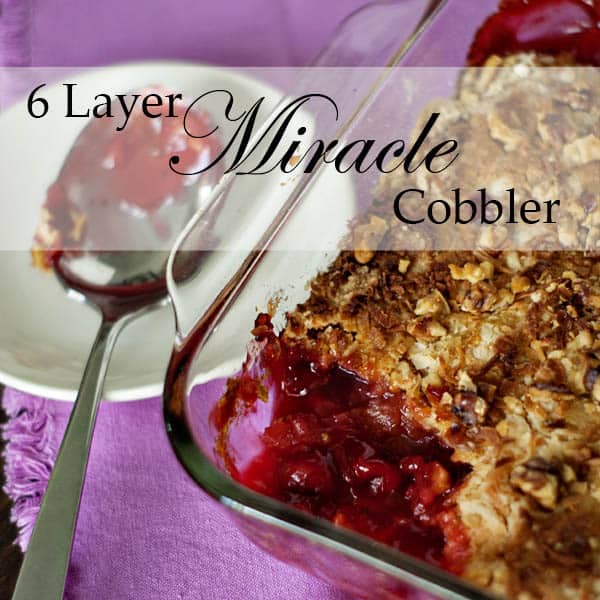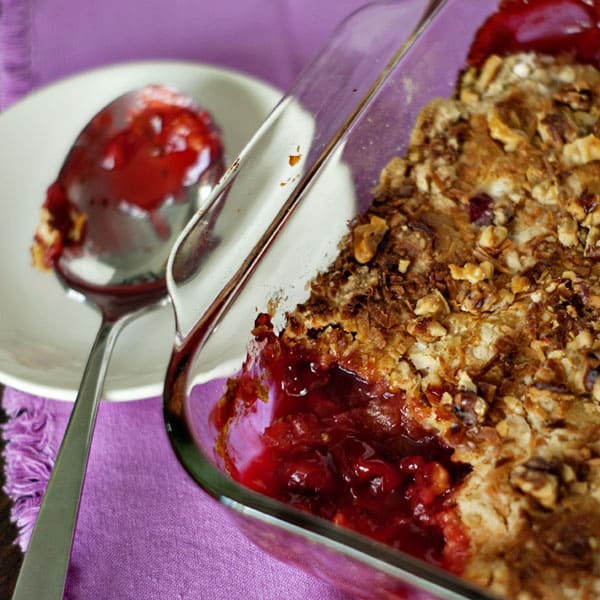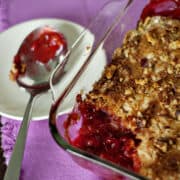 6 Layer Miracle Cobbler
Some know this as dump cake, I just call it a miracle dessert. 🙂
Print
Pin
Rate
Ingredients
1

21 oz can cherry pie filling

1

20 oz can crushed pineapple, UNDRAINED

1

18.25 oz box yellow cake mix

1

4 oz stick butter, cut into small pieces

½

C

shredded coconut

½

C

chopped walnuts
Instructions
Preheat oven to 350°

Pour cherry pie filling into a 9x13" pan. Pour pineapple over cherries, smoothing into an even layer of fruit.

Sprinkle entire box of DRY cake mix over the fruit, spreading into an even layer.

Distribute small pieces of butter all over the top of the cake mix and top with the coconut and walnuts.

Bake @ 350­° for 40-45 minutes or until the top of the cobbler is golden and the fruit is bubbling up from the bottom in spots.
Nutrition Facts
Serving:
1
serving
|
Calories:
314
kcal
|
Carbohydrates:
56
g
|
Protein:
3
g
|
Fat:
8
g
|
Saturated Fat:
3
g
|
Sodium:
486
mg
|
Potassium:
81
mg
|
Fiber:
1
g
|
Sugar:
30
g
|
Calcium:
144
mg
|
Iron:
1.7
mg
ARE WE FRIENDS ON INSTAGRAM?
Tag me @heatherlikesfood and use #heatherlikesfood so I can see what you're making and enjoying!