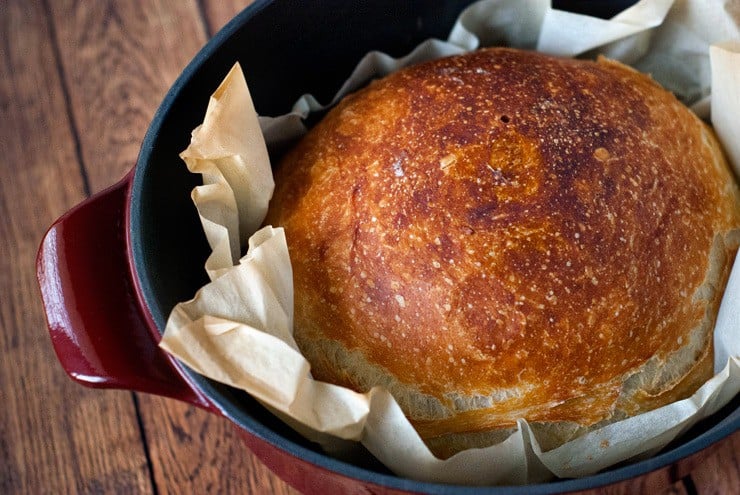 The children were nestled all snug in their beds,
while visions of crusty loaves of bread danced in their heads...
Or at least that's how I feel 99.7% of the time and ever since I heard of this method for making no knead bread a few years ago, I've been itching to try it. I clearly must not have been itching too hard  since it's taken me this long, but alas, I did it and I'm so glad that I did!
Being Christmas Eve, wouldn't it be fun to get this started tonight and have a hot loaf of fresh bread to accompany your big dinner tomorrow?
I think so. Let's start!
You only need 4 ingredients: bread flour, yeast, salt, and water. Mix those together in a large bowl and give it a mix until it has just barely come together. The dough will be a shaggy, messy mess. It won't be pretty. It wont look like bread dough-- not  yet. Just wrap up the bowl and let it sleep over night for 12-20 hours.
This is what you'll find in the morning: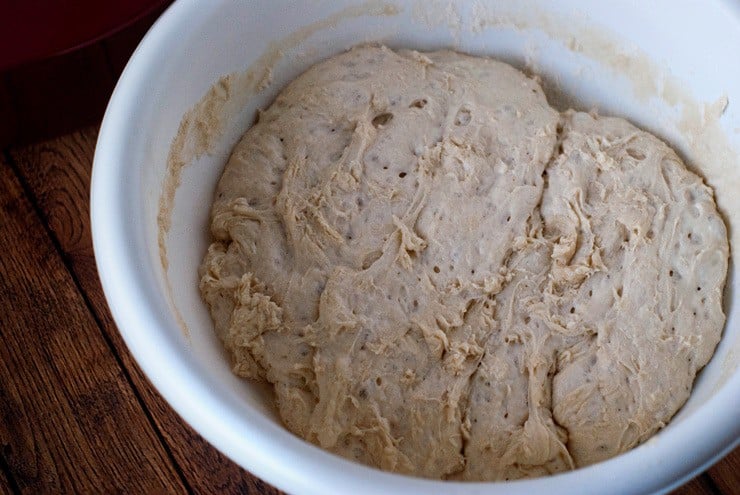 It will be bubbly, poofy, and an even bigger mess than you left it the night before but never fret! All is well!
Turn the mess out onto a floured surface and with wet hands (the water keeps the dough from sticking), fold the dough and gently form into a ball the best you can. If it's not perfect it will be just fine.
Put a piece of parchment paper in the large bowl and gently place the ball of dough into the bowl on the parchment. Cover the bowl and let rest for another 2 hours. After 2 hours, the dough will grow in size but if it doesn't grow as much as you think it should have (like double in size) all will be fine! Most of the growth will come in the oven.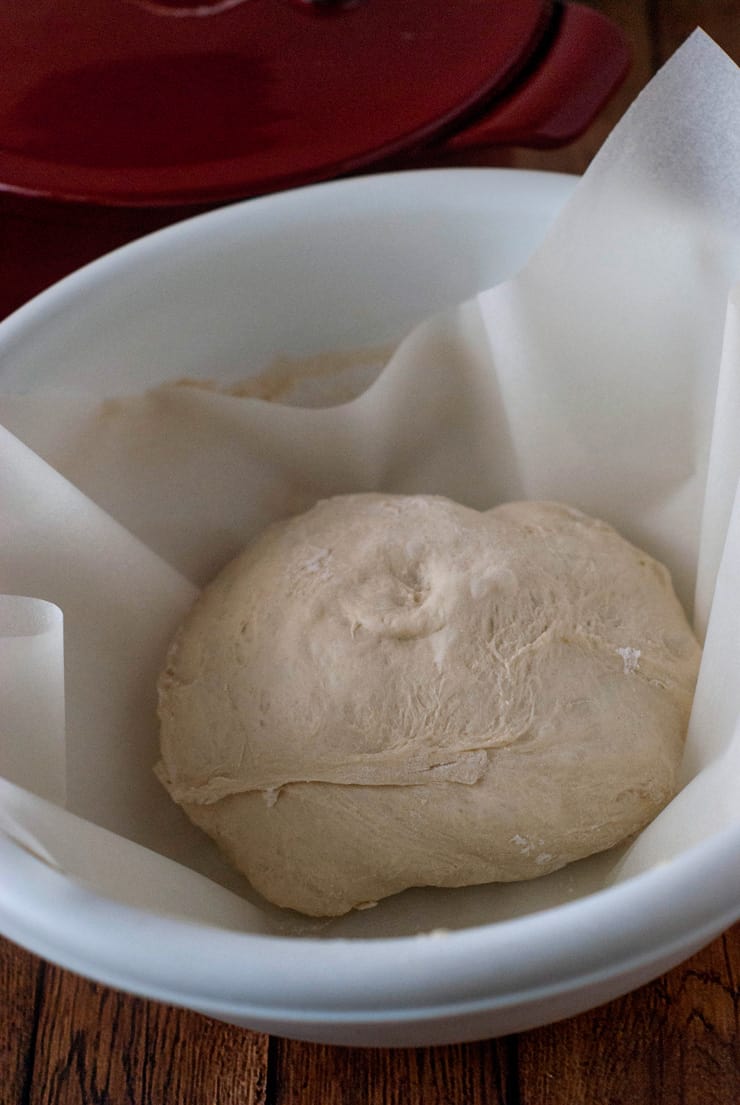 About 30 minutes before the final rest is finished, turn on the oven and place a heavy bottomed pot with a lid in the oven and preheat it to 450 degrees. I'm using my Anolon 4 quart oval covered casserole in paprika red here but you don't have to have a cast iron dutch oven in order to make these. Just think heavy with no plastic handles or pieces. If you can lift it easily with one hand from the top shelf of your pantry, it's probably not going to cut it.
Once the oven (and pot are heated), carefully take the lid off the pot and use the parchment paper to lift the dough out of the bowl and into the hot pot. Cover and bake--you can see the recipe below for times.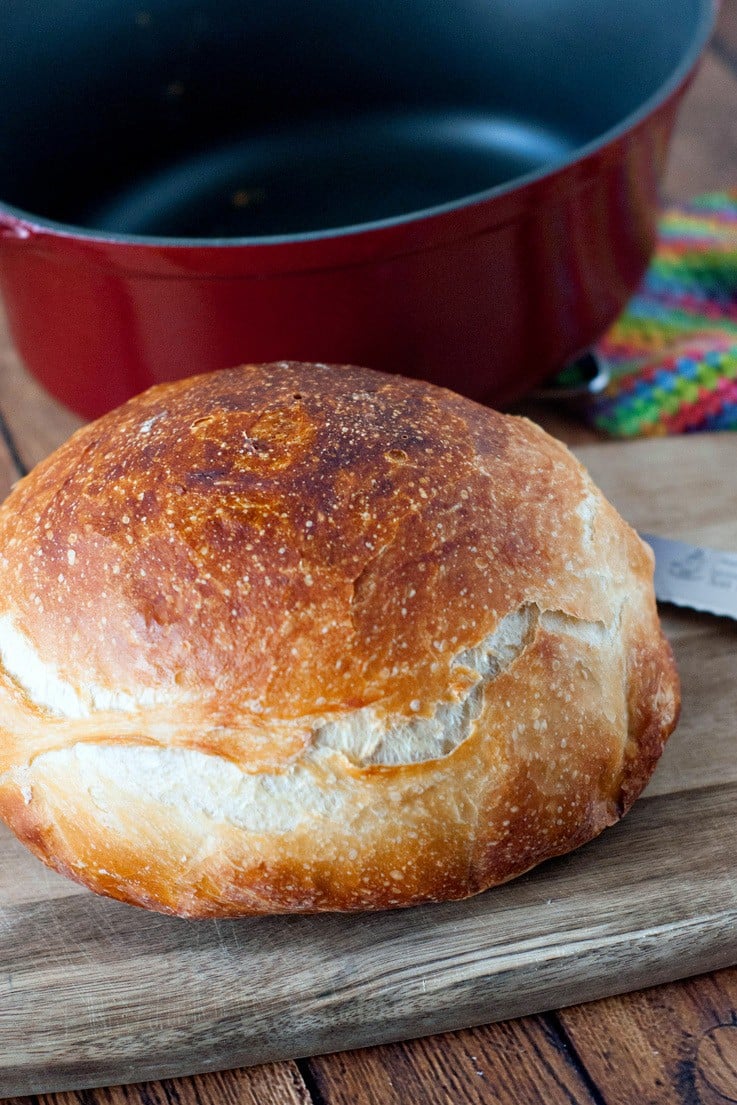 It's pretty dang hard to resist tearing off a piece as soon as it comes out of the oven, but try to refrain. I'm not one to let loaves of bread completely cool before digging in, but let it cool for at least for 15 minutes so you don't end up with a hot ball of squished dough.
If you haven't had the chance to enter the Anolon Holiday Hosting Giveaway yet you can do so here. We are picking SIX winners, so you're chances are pretty darn good.  If you have entered, be sure to jump over to Anolon's site to see the recipe!
Merry Christmas!