Who needs Starbucks when you can make creamy, dreamy White Hot Chocolate at home?!? It's seriously easy to make and will have you cozied up on the couch in no time. 🙂
I absolutely love this White Hot Chocolate. The holidays may be over but hot chocolate season is far from over in our home. It's probably my own dang fault, but my girls are cocoa junkies. I can get them to do just about anything if I follow my request with "….and we'll have hot chocolate afterwards…".
So when it's time to get our mugs out, it's fun to switch things up a bit and I'm a total sucker for white chocolate. I know some of you have strong feelings against it, and I'm okay with that. But, if you're one of the blessed souls that shares a love for it like I do, you're in for a treat. This isn't a new idea, but this was the first time I made it at home and turned out so good that I wanted to make sure I shared it with you.
All that's needed for this white hot chocolate is some half and half, white chocolate chips, milk, and vanilla extract.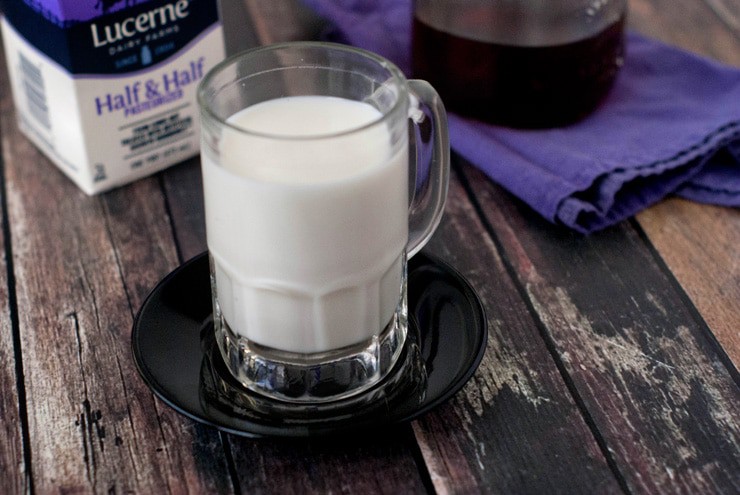 Heat them up, top with whipped cream and sit back and be satisfied that you didn't just pay $4 at Starbucks for it!
Mix-in Ideas for White Hot Chocolate
Stir in a bit of Pumpkin Pie Spice to add a nice warmth.
Peppermint syrup like Torani brand turns it into candy cane hot chocolate
Stir in a square of milk chocolate and Coconut Syrup for an almond joy hot chocolate

Want more Cozy Winter Recipes like White Hot Chocolate?
Ingredients
1 C half and half
3/4 C white chocolate chips
2 C milk
1 tsp vanilla extract
Directions
Heat half and half until just below a simmer and stir in white chocolate chips until thoroughly melted. Slowly stir in milk and vanilla and heat to desired temperature. Serve hot topped with whipped cream.
Recipe Notes

Made this recipe?
I'd love to see how you rocked it! Share your photo on Instagram with the hashtag
#heatherlikesfood  --
It will totally make my day to see it!