Cheese, pepperoni, and pasta? Yup, you can't really go wrong with this recipe!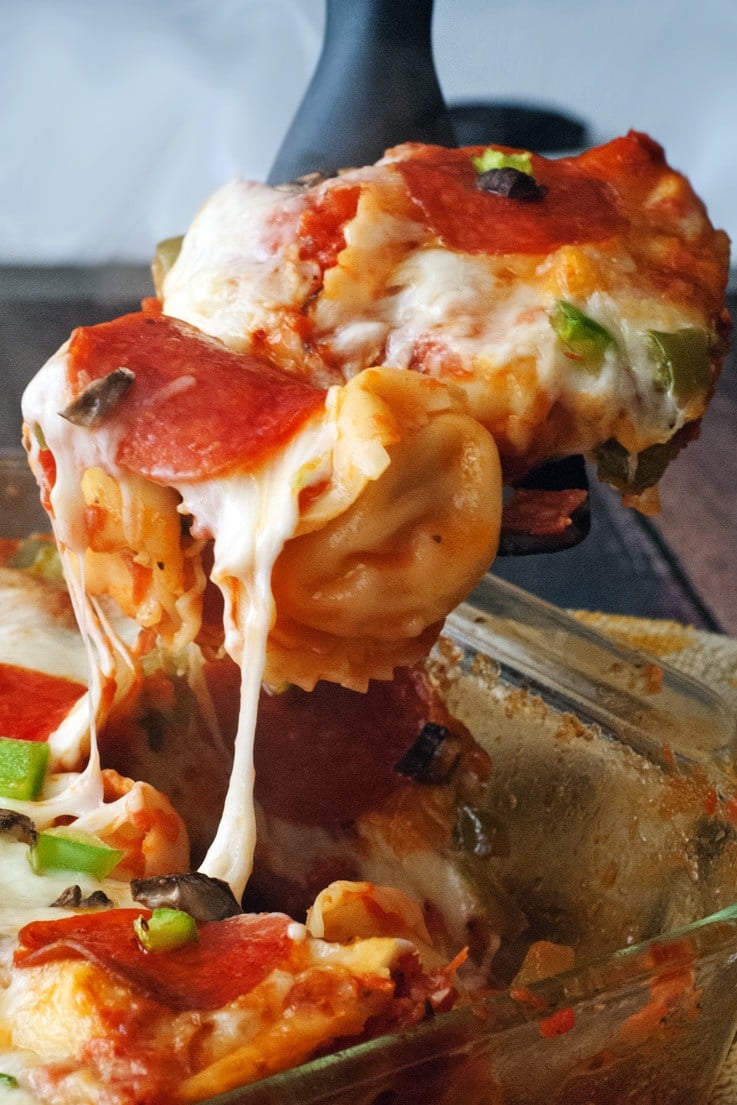 Happy Friday! I'm here today with a super simple recipe that even the pickiest of eaters will like. I mean, really, there's not a whole lot that can go wrong when you put pasta, cheese and your favorite pizza toppings together.
But first, I wanted to point out a little feature here on the blog. If you scroll down to the bottom of the post you'll see a little row of icons for sharing. All of those icons are great for sharing posts from Heather Likes Food with your friends and family, but I want to talk specifically about the orange "Yum" icon.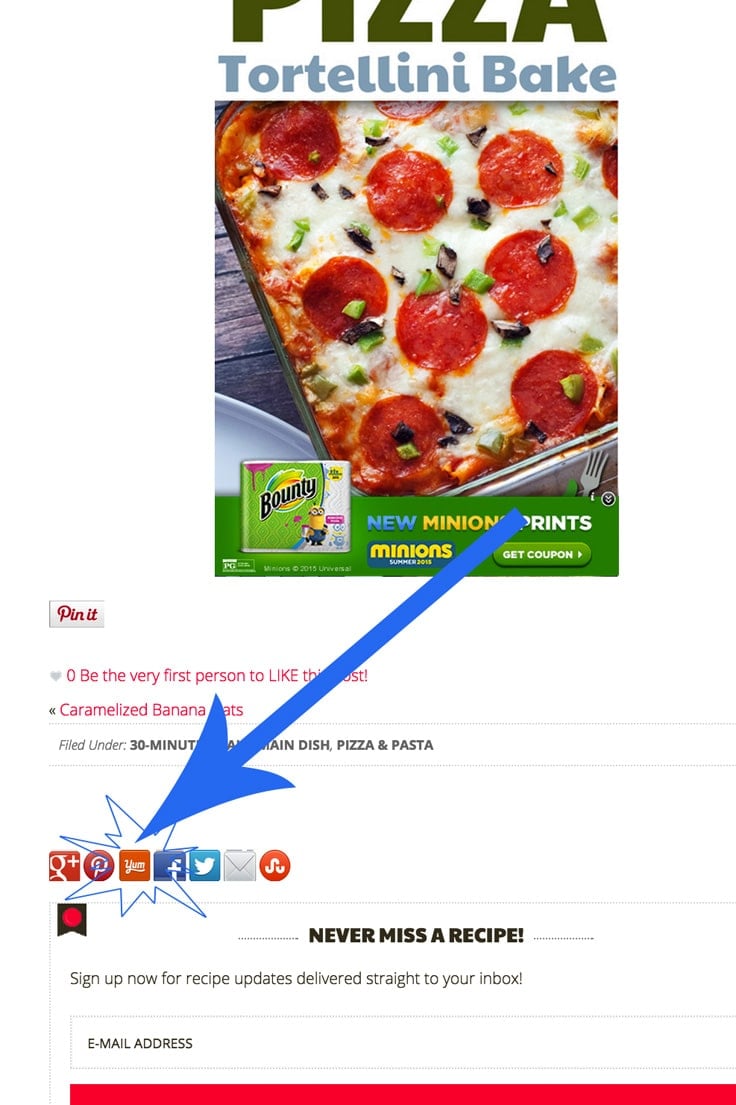 If you click on that yum, you'll be directed to a site called Yummly. This page explains really well what Yummly is all about, but to give you the jist, it's a great place to find and save recipes! When you click on the "Yum" at the bottom of posts here on HLF, that recipe will be saved to your own Yummly account and you'll be able to view it later. Think of it kind of as a Pinterest just for recipes. Also, the more a recipe is "Yum"-ed from HLF, the more likely it is to show up in the searches on Yummly and I know you want the world to know about this site, right? Riiiiight. You can see all the recipes that have already been pinned from HLF here on my page.
Now, onto the pasta! Here are the players…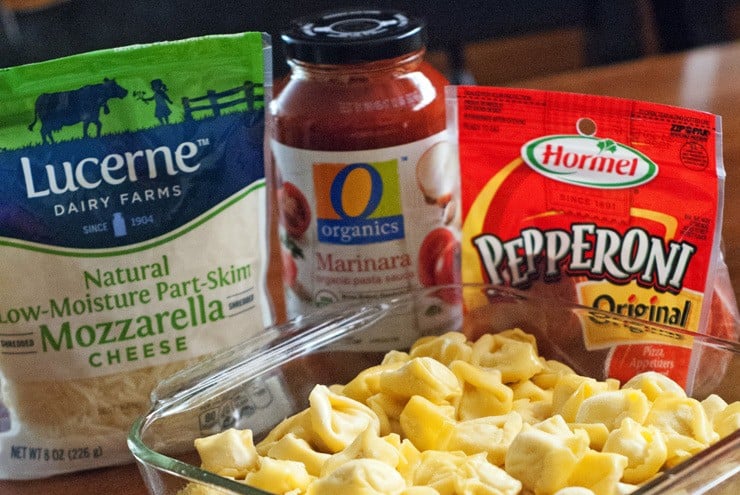 You'll toss a package of frozen cheese tortellini with a couple of cups of your favorite pizza toppings in an 8×8″ pan. I used pepperoni, bell pepper and mushrooms but basically anything will work here with the exception of pineapple. I can't be held responsible if you decide to try it, BTW.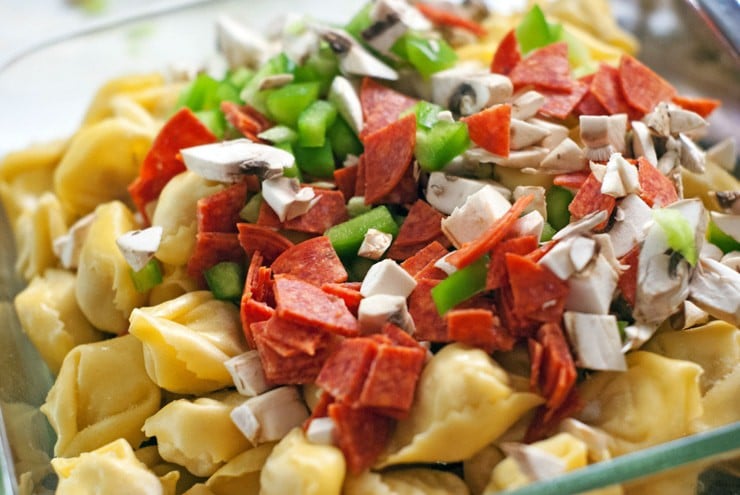 You'll then cover the whole shebang with 2 cups of your favorite tomato based pasta sauce and 1/2 C of water. You don't have to stir it as it will make it's way down as it cooks.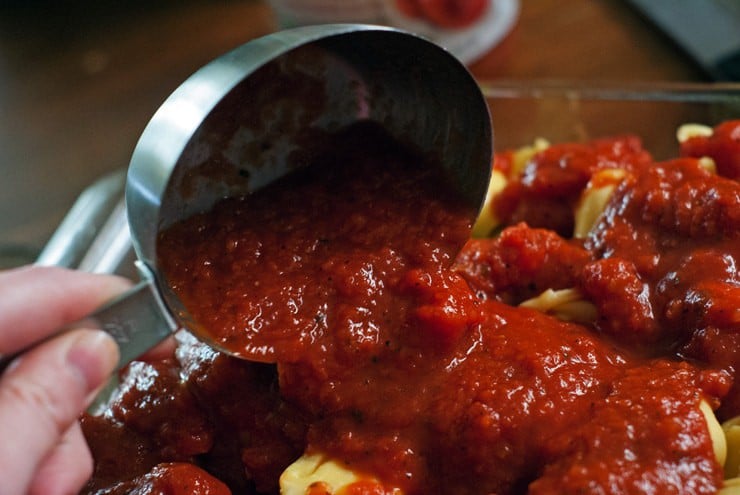 Cover the dish with some shredded mozzarella and this part it totally optional, but I think it's fun to top it like you would a pizza with the same toppings you used inside.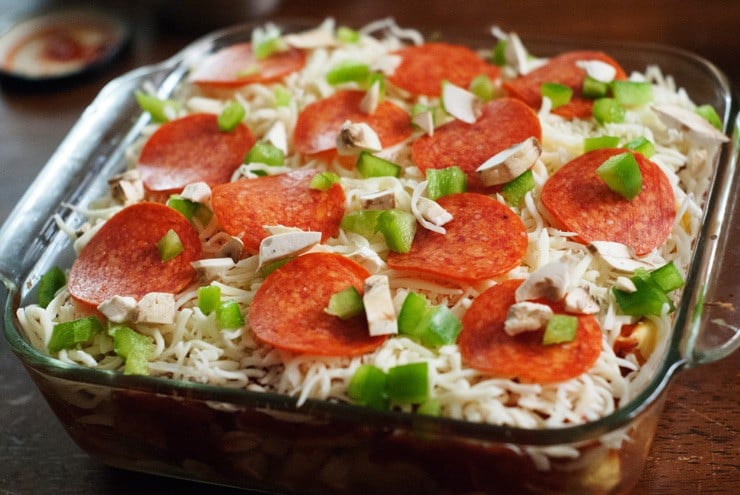 You'll then cover the dish with some foil (if it's really full, make sure to spray the bottom side of the foil with some non-stick cooking spray so the cheese doesn't stick) and put it in the oven.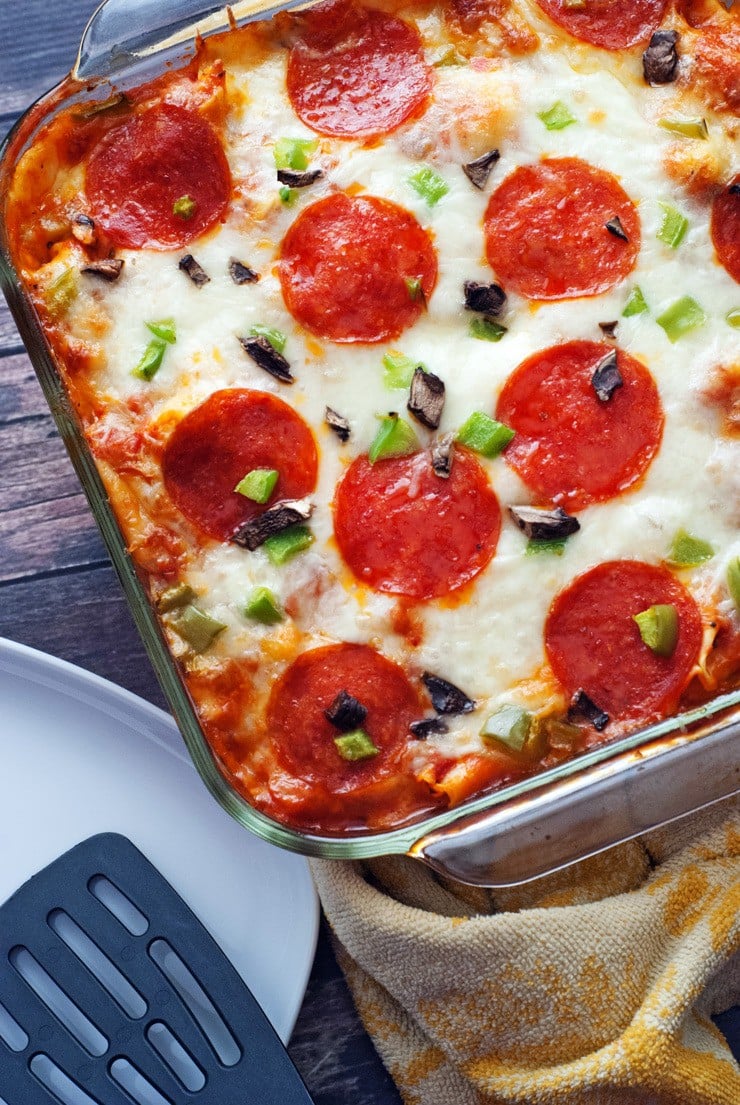 After about 20-25 minutes you see that the sauce inside is bubbling and you'll want to remove the foil. Continue cooking an additional 20 minutes or until the cheese is melted and browned the amount you'd like.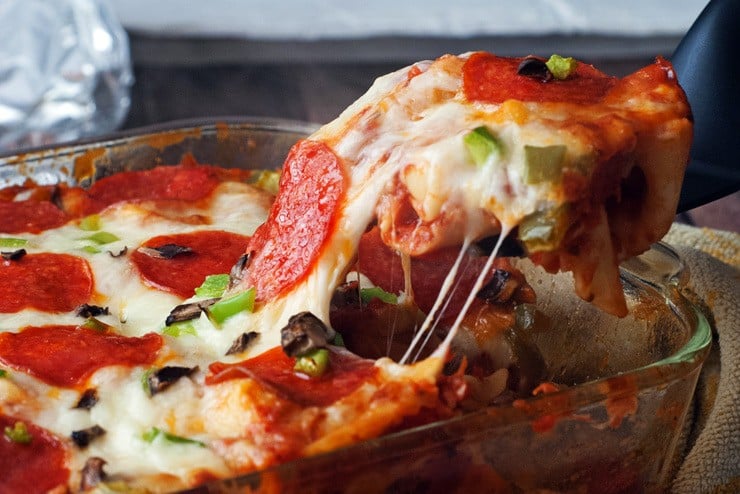 Pizza Tortellini Bake
Cheese pepperoni and pasta... yup, you can't really go wrong with the recipe!
print
shopping list
Ingredients
1 1/2

lbs frozen cheese filled tortellini

2

C favorite pizza toppings, chopped + additional for decorating

2

C favorite tomato pasta sauce

1/2

C water

2

C shredded mozzarella cheese
Instructions
In a greased 8x8" pan, toss frozen tortellini with pizza toppings. Pour pasta sauce and water over the top of the pasta, do not stir.
Sprinkle cheese and additional pizza toppings over the top if desired. Cover pan with foil
Bake at 375 degrees for 25 minutes. Uncover and bake an additional 15-20 minutes or until cheese is melted and browned.

Made this recipe?
I'd love to see how you rocked it! Share your photo on Instagram with the hashtag
#heatherlikesfood  --
It will totally make my day to see it!