Sweet and Tangy, this broccoli salad is filled with bacon and a creamy dressing that makes it a perfect side dish for grilled meats, sandwiches or just about anything.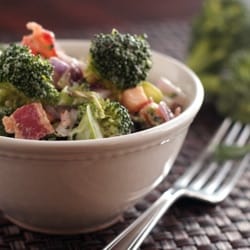 I don't know when my addiction to Sour Patch Kids started. You know,  Sour Patch Kids? They are the perfectly euphoric combination of sweet and sour, chewy and dare it say, gritty? I love the way granulated sugar crunches and then dissolves in my mouth. mmmm. I remember going to the movie theater with my Dad when I was little and staring deeply into the over-priced candy window, just hoping that Dad would see the desperation in my face and by me some. And the urge to stuff my face with them just returned. Fabulous. Not. Going. To. Give. In. Must. Get. Skinny.
Sooo, I have a thing for sweet and sour things and I think that's why I loved this sweet broccoli salad so much. I've seen this salad at every church potluck I've gone to, but the broccoli and raisin combo sounded kind of gross so I never took the risk. I then realized there was bacon in it and it can't be THAT bad with bacon, right?  RIGHT! It was seriously soo good. The Broccoli is nice and crunchy, the cheese adds some creaminess and bite, and the bacon adds the heaven element.
I ended up making it with dried currants instead of raisins to try to cut down on the "I'm-a-giant-dressing-soaked-raisin-and-I-look-a-little-gross" factor and it worked! They were perfect in the salad and you can sound all gourmet when people ask you what they are.  If you're not familiar with dried currants they are found in the grocery store right next to the raisins and taste about the same but are about a quarter of the size of a raisin. The dressing is a simple mayo/vinegar/sugar mix and really marries the flavors of the salad well. Give it a go!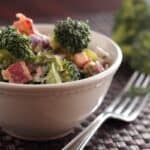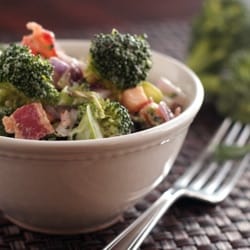 Sweet Broccoli Salad
Ingredients
3

fresh broccoli crowns

6-8

slices

crisp cooked bacon

crumbled

1/2

C

chopped red onion

1/4

C

dried currants

6

oz.

sharp cheddar cheese

cut into small cubes

1

C

mayonaise

2

tbsp

white vinegar

1/4

C

granulated sugar

1/4

tsp

kosher salt

black pepper to taste
Instructions
Wash broccoli well and remove any tough stalk at the ends. Cut the crowns into flowerets and the stem into bite-sized pieces. Place in a large bowl. Add the crumbled bacon, onion, bacon, currants, and cheese. In a small bowl combine the mayonnaise, vinegar, sugar, salt, and pepper, stir well. Add to broccoli mixture and toss gently. Serve immediately. If you want to make-ahead, all the ingredients can be combined except the bacon. Keep it separate and add it just before serving so it stays crisp!