This sweet, salty, crunchy, and chewy coconut oil granola is the perfect breakfast to keep you going strong through the holidays. It's filled with big flakes of unsweetened coconut flakes, oats, whole wheat flour, chia seeds, almonds and studded with sweet dried berries. 
This post is sponsored by Graceland Fruit and their fabulous dried berries, all thoughts and opinions are my own!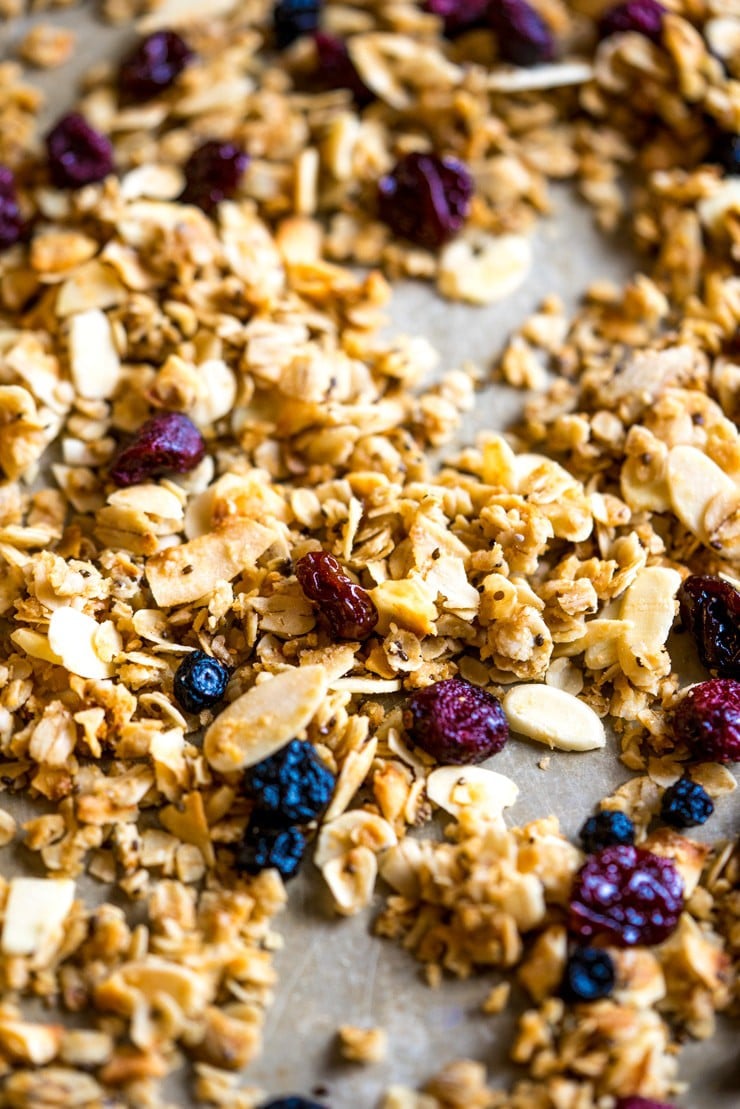 I've recently become obsessed with yogurt and granola breakfasts. I didn't always love granola and I didn't always love yogurt but the planets shifted (or something) and now I can't get enough! But here's the deal– GOOD granola (not the kind with puffed rice and lots of fillers) is expensive. Like, kind of ridiculously expensive. How they can charge 5 dollars for a 12 oz bag of oats and nuts is beyond me. I mean really.
So, I set out to make my own. I knew I wanted to use coconut oil and had my other list of ingredients that I knew I wanted in it– one of those being these gorgeous dried berries from Graceland Fruit.  These dried berries are unlike any I've tried before. They are so soft, flavorful, and dare I say, juicy?  (left to right: Blueberries, Cranberries, Dark Sweet Cherries)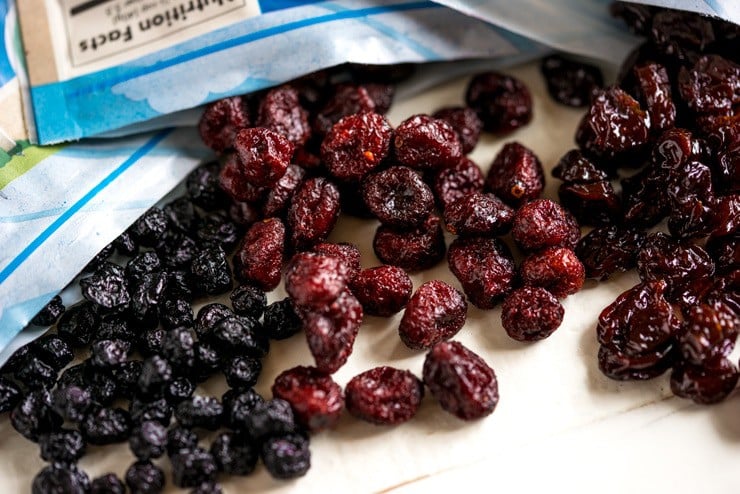 Especially their dried cranberries. THEY ARE WHOLE! Have you ever had a whole dried cranberry? I love tart things and these cranberries are my new crack. Not even kidding. I think I downed a whole bag in under 2 days.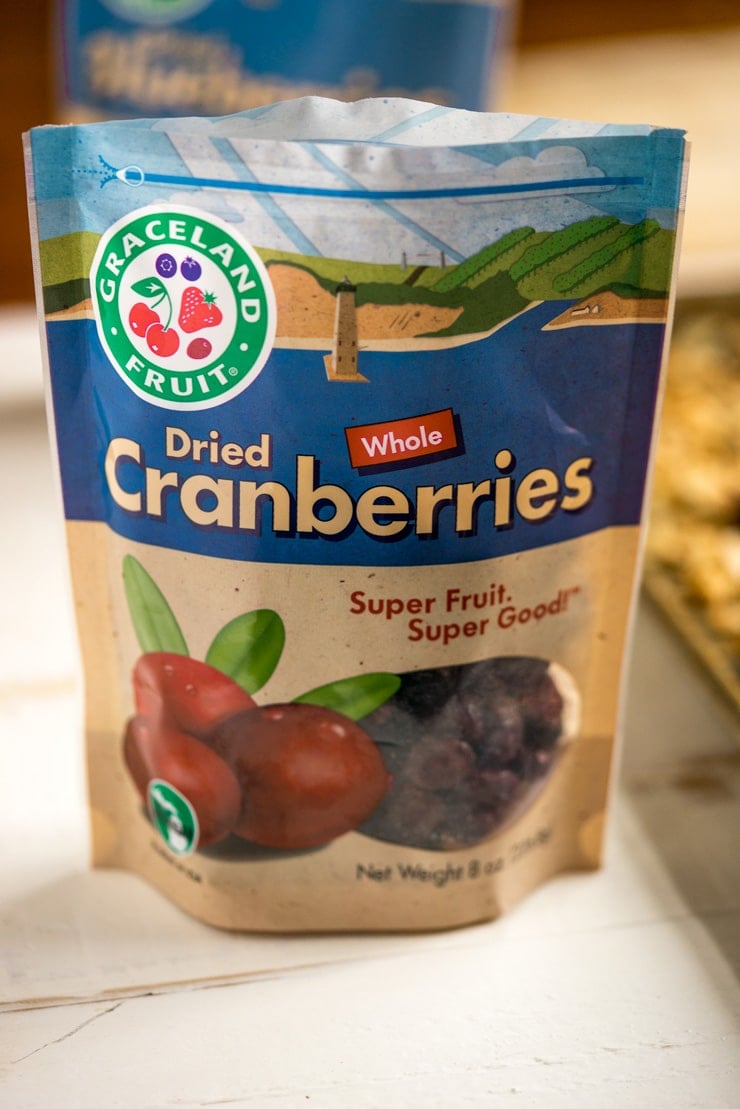 Besides the berries, the thing that really makes this granola recipe special, in my opinion, is the addition of white whole wheat flour. It almost makes a "batter" with the coconut oil, honey, and maple syrup and makes it extra crunchy and flavorful.
It would make a perfect gift spooned into mason jars tied with twine, too! When we're bombarded with fudge and baked goods during the holidays, I think a gift of coconut oil granola just might be a breath of fresh air.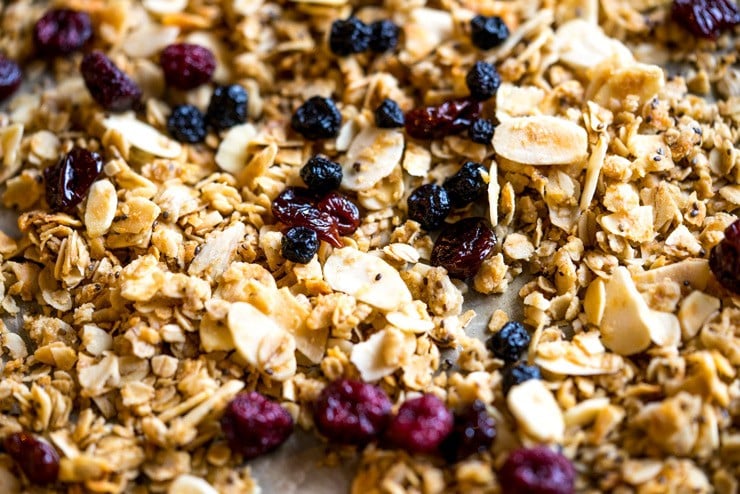 ***Recipe note– I don't like my coconut oil granola super sweet so the recipe written only uses 2 tbsp each of honey and maple syrup. If you like yours sweeter, feel free to up those amounts. The only difference will be the amount granola clusters you get: the more honey or syrup you use = the stickier the mixture = the more baked clusters you'll have! Not a bad thing in my opinion…
Ingredients
3 C rolled oats
1 C sliced almonds
1 C unsweetened, flaked coconut
1/2 C White Whole Wheat Flour
1/4 C chia seeds
1/2 tsp salt
1 tsp cinnamon
3/4 C coconut oil, melted
2 tbsp honey
2 tbsp real maple syrup
1/3 C each, Graceland dried Cranberries, blueberries, and cherries.
Directions
Preheat oven to 250 degrees.
Mix the oats, almonds, coconut, flour, chia seeds, salt and cinnamon together in a large bowl.
Whisk the coconut oil, honey, and maple syrup together and pour over the dry ingredients, mixing until moistened.
Spread the mixture onto a baking sheet in a thin layer (use two pans if needed).
Bake for one hour, stirring every 20 minutes. During the last 20 minutes of baking, stir in the dried berries. Remove from oven and let sit, undisturbed, as it cools to help it form clusters. Store in a covered container for up to a month-- I use an old oatmeal canister.

Made this recipe?
I'd love to see how you rocked it! Share your photo on Instagram with the hashtag
#heatherlikesfood  --
It will totally make my day to see it!