When it comes to amazing burgers it's all about using the right ingredients and knowing the perfect way to cook the meat. Keep these 7 cooking tips for incredible burgers in mind and you'll be set! Let's start from the beginning...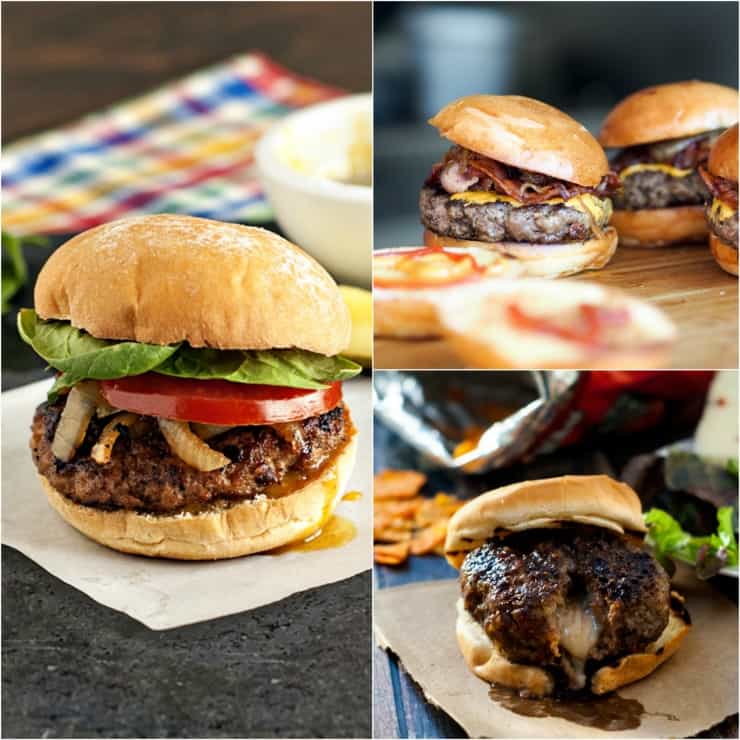 Before I start in on this, let's get one thing straight.
I am NOT Bobby Flay.
Got that? Yes, I feel like I make a pretty killer burger and using these cooking tips for incredible burgers I'm about to lay out for you here will get you amazing results. But, if I had to choose between eating a burger that I made or one made by Bobby himself, I'd choose the latter and I hope you do too!
Don't be a fool.
It's not that I'm not confident these tips will help (in fact, most of these I learned from the grill master himself), it's just that I'm not claiming to be the "be all, end all" source of burger wizardry. Is Bobby? Probably.
Probably, yes.
With that said, here are my go-to cooking tips for incredible burgers.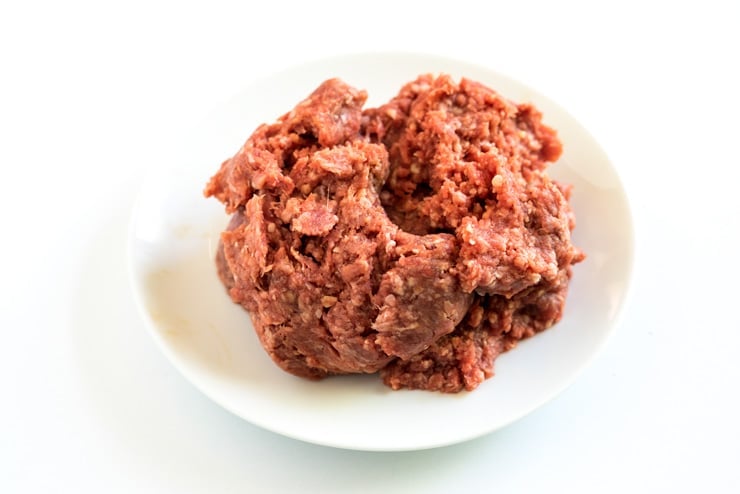 THE MEAT
It's not so much about the cut of beef used but about the fat content in the beef. FAT = FLAVOR and JUICINESS. An 80/20 blend (20% fat) will give great results. If meat with any lower than 20% fat is used the burger will be dry and nobody wants that!
As an aside, I've recently started cooking with meat from Butcher Box and we've fallen in love with their ground beef and steaks. It's 100% Grass Fed beef and makes some of the best burgers we've had at home.
They also have organic chicken, and heritage breed pork and it all gets shipped right to your door. If you're looking for a great place to source your meat, I can't recommend them enough!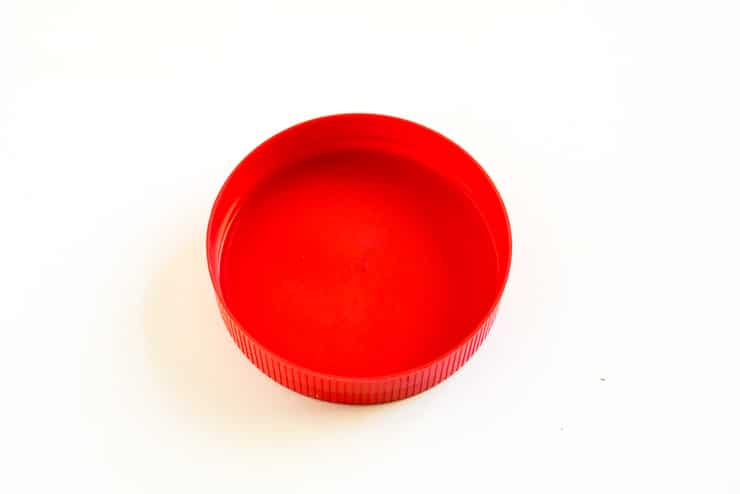 THE SHAPE
I like to use a form to make my burgers so they are all the same weight, shape and size. Doing this means that they will all cook at the same rate and be uniform.
My favorite form is an old peanut butter jar lid that I've been holding onto forever for just this purpose. Each patty turns out to be about 6 oz and are the perfect size. I line the lid with plastic wrap, gently pat the meat into the lid until it's level, turn out onto a plate and pat gently around the edges to smooth.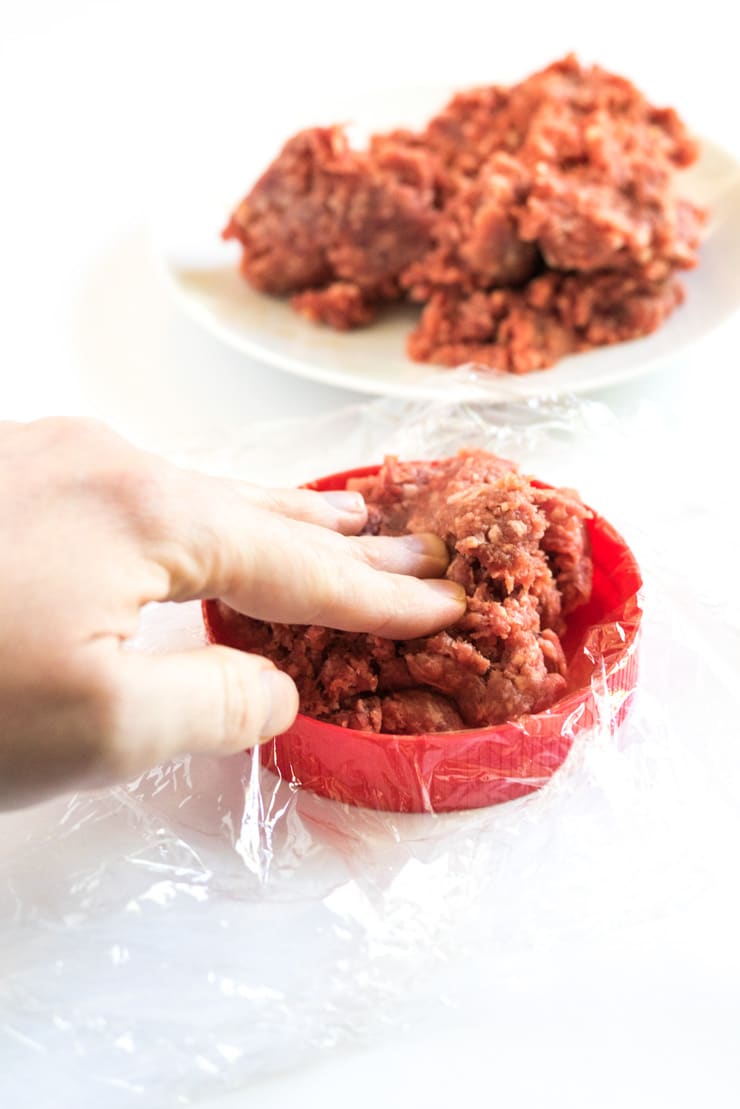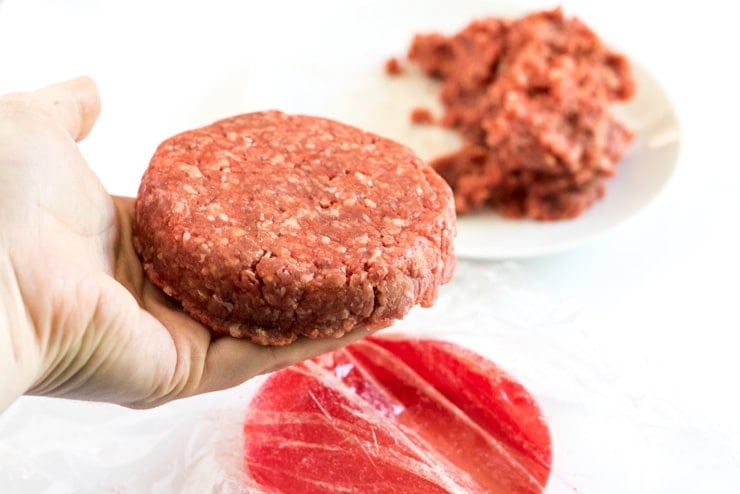 Ever had your burger patty swell up like a foot ball while cooking? Just make an indentation in the middle of each patty with your knuckle and that will prevent it from puffing up while cooking.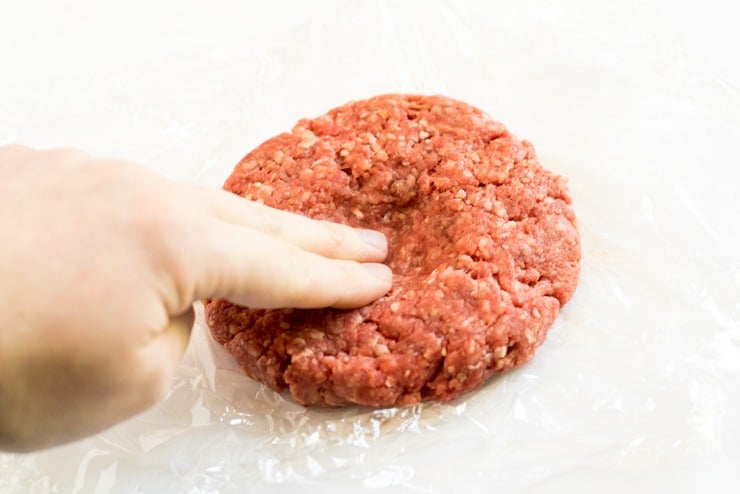 THE SEASONING
When it comes to burgers, I'm a purist.
Salt and Pepper is really all that's needed for a mean burger.
I used to swear by mixing mayonnaise into my meat to make it moister but it's not needed when using meat with a high enough fat content like we talked about above.
But the trick with using just salt and pepper is using enough! Home cooks tend to under season their food and that's why food tastes So. Darn. Good. when going out to eat. It's actually seasoned! Imagine that. 🙂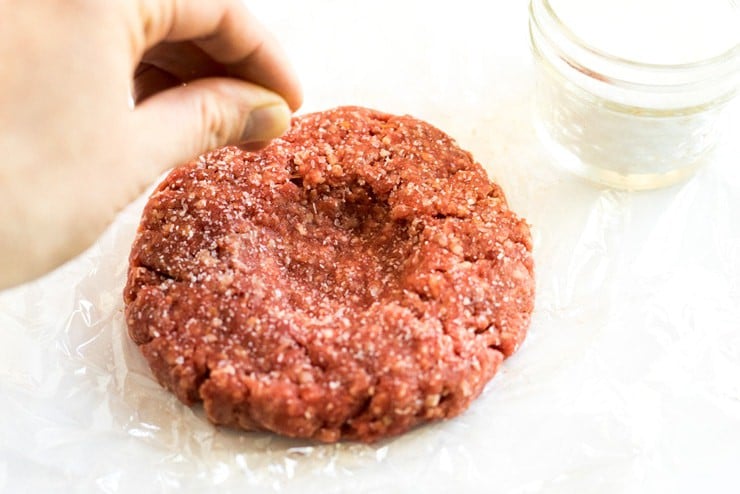 Salt draws moisture out of the meat so I always season the first side with salt and pepper just before putting it in the pan.
Once the seasoned side is face down in the pan I season the top. When seasoning, do so LIBERALLY! I'm talking ¼ of a teaspoon per side (I'm using kosher salt here which has a larger grain. If using regular table salt you can probably get away with a bit less) .
It might seem like a lot and I'm sure the sodium police will be knocking down my internet door soon, but remember that it's seasoning the entire burger inside and out.
THE TEMPERATURE
BEFORE COOKING: I form my patties, place them on a plate and put them right back into the fridge while I'm getting my pan heated up and prepping toppings, etc.
Putting a cold patty in a hot skillet means that the internal temperature will stay colder longer than it would have if it was at room temperature giving more time to let it sear and gain amazing flavor before it's cooked to the preferred doneness.
FOR COOKING: The pan should be screamin' hot to get that great seared crust on the burger. Cast iron or stainless steel pans work the best as the high heat won't damage them.
Once the burger is in the pan the heat can be turned down to medium high heat to finish cooking.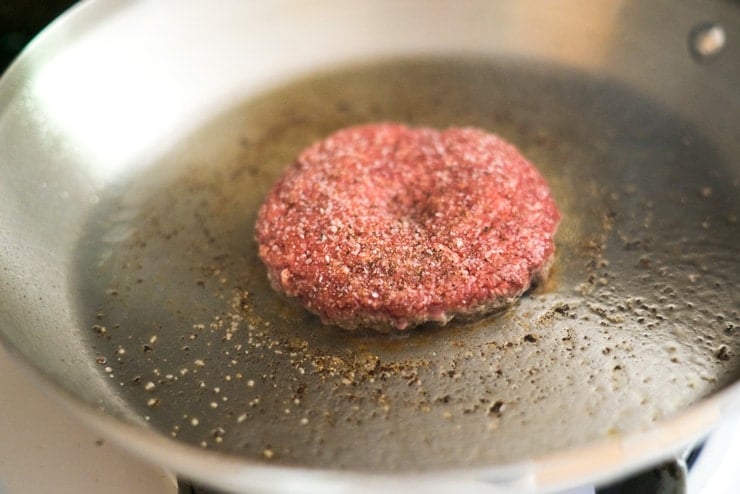 THE COOKING
When I'm ready to cook, I pour a bit of oil-- about 1-2 tablespoons- into the hot pan, swirl it around and place the patty in there. And once it's in there I just let it be until I'm ready to flip.
No pressing the juices out with the back of a spatula, no flipping it over 20 times, just let it be.
When the burger is ready to flip, the juices will start to accumulate in the center of the burger showing that it's ready. It takes about 3-4 minutes per side for medium doneness. Adjust to your liking.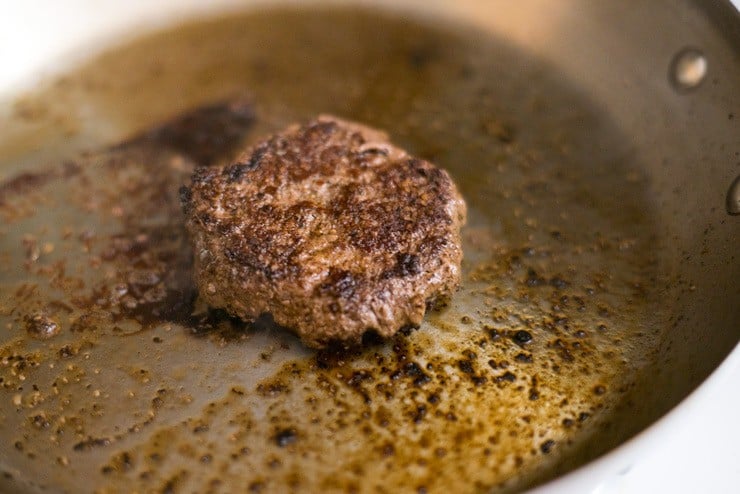 A note on what kind of oil/fat to use: I like to match my cooking fat to what kind of burger I'm making. For instance, If I'm going to put bacon on it, I'll cook up the bacon first and use the leftover fat to cook the burger in.
Doing this will bump up the flavor a few notches and make it that much better. If I just want a straight burger I'll cook it in a neutral oil like canola or peanut that won't transfer any flavor to the burger.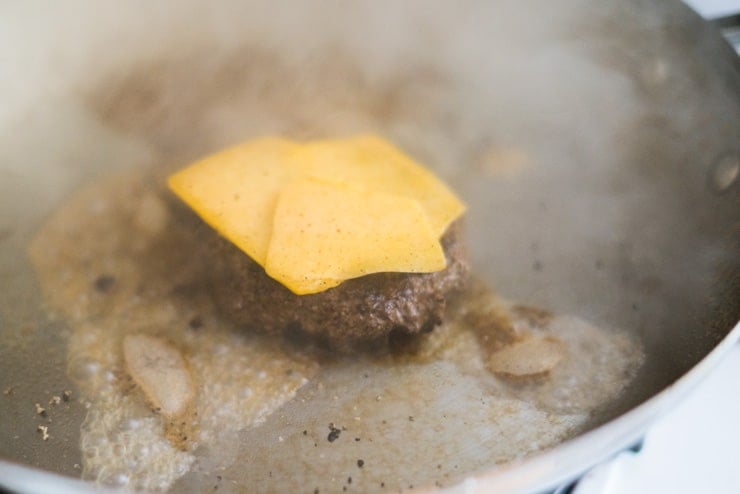 THE CHEESE MELT
I hate biting into a big juicy cheeseburger expecting that super satisfying cheese pull only to find out that the cheese isn't melted at all!
The cure to this is to steam the burger for a few minutes while cooking. Just a minute or two before the burger is finished cooking I'll place my cheese on top, throw a couple of ice cubes into the pan and put a lid on it.
Not only will the steam help melt the cheese evenly, it will help finish cooking the burger with moist heat to keep it nice and juicy for you.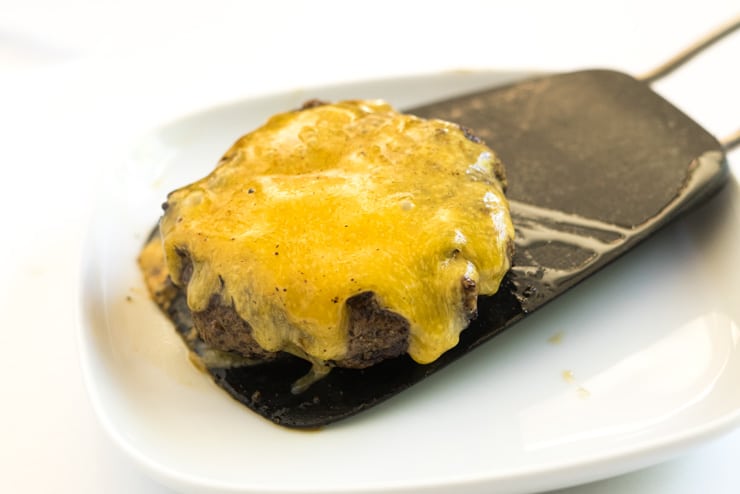 THE BUN, THE TOPPINGS
If the keys to a great burger are in the tips above, the key to an AMAZING burger are to use the above tips and put them to use with an excellent bun and toppings.
Think about the most amazing meal you ever had. Think about the textures and the flavors that were in that meal. It's likely one of your favorite meals because it incorporated all the flavors and textures of cooking-- crunchy, sweet, sour, creamy, salty, spicy, cold, hot, etc.
So, when crafting your perfect burger think about how you can get all the flavors and textures into it.
What does a classic bacon cheeseburger have in it?
Toasted bun-- crunchy
Bacon-- salty and crunchy
Burger-- salty and spicy
Cheese-- creamy
Burger Sauce-- creamy, sweet and sour
Pickles-- sour and crunchy
Onion- spicy
Lettuce and Tomato-- cool and crunchy, maybe sweet
All these flavors, textures and temperatures work together to make an irresistible explosion of flavor in your mouth.
BIG SHOUT OUT
If it wasn't for Butcher Box and their killer ground beef, this post and these cooking tips for incredible burgers wouldn't have come to life.
Like I said before, they have some of the best ground beef I've tried and can't recommend their meats enough.
Take a look at their website here and if you order through this link, --> ORDER HERE <-- you'll receive a free pack of bacon. Who can say no to free bacon?! 🙂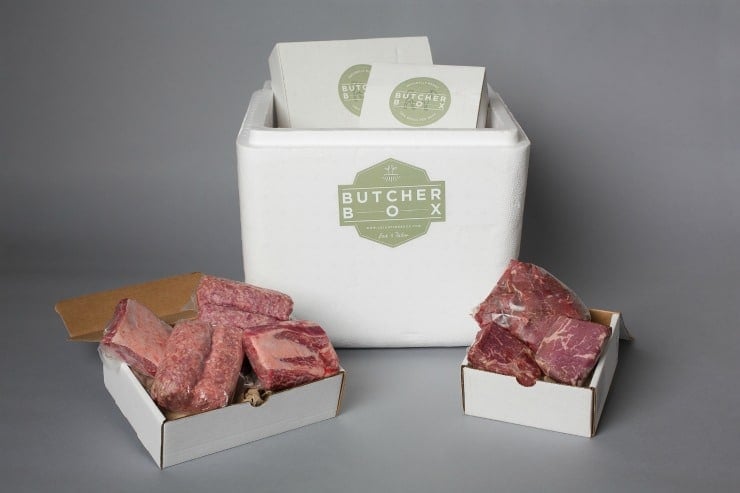 If you dig burgers, and loved these cooking tips for incredible burgers you might like these...
Pepper Jack Stuffed Doritos Burgers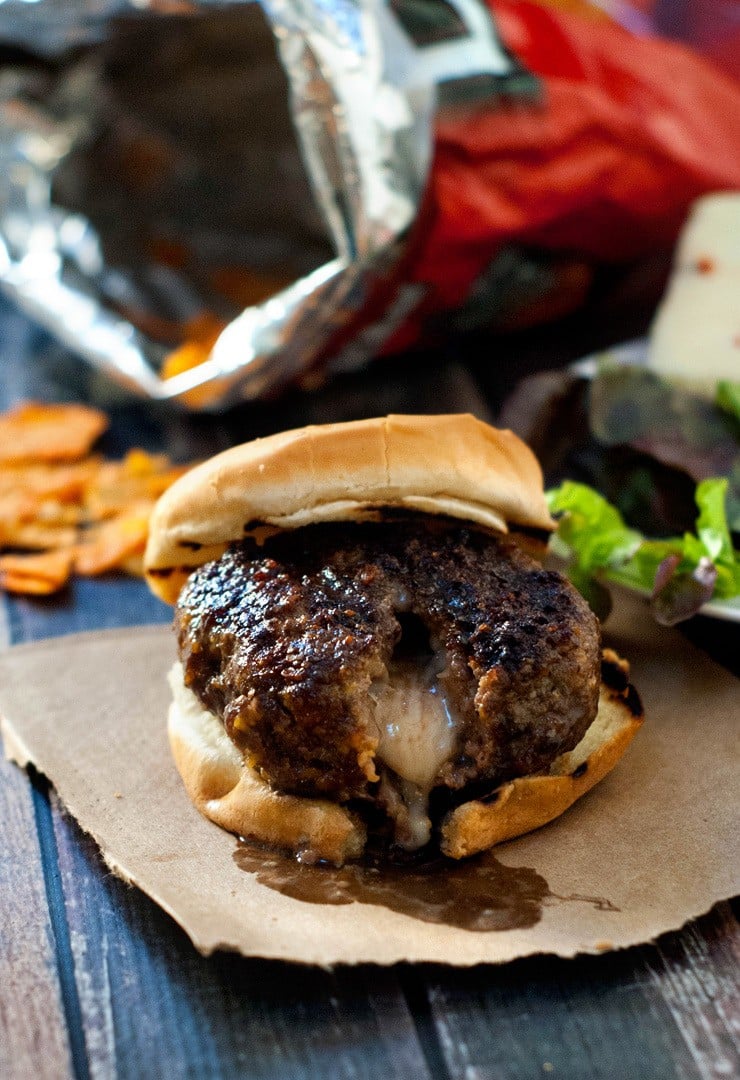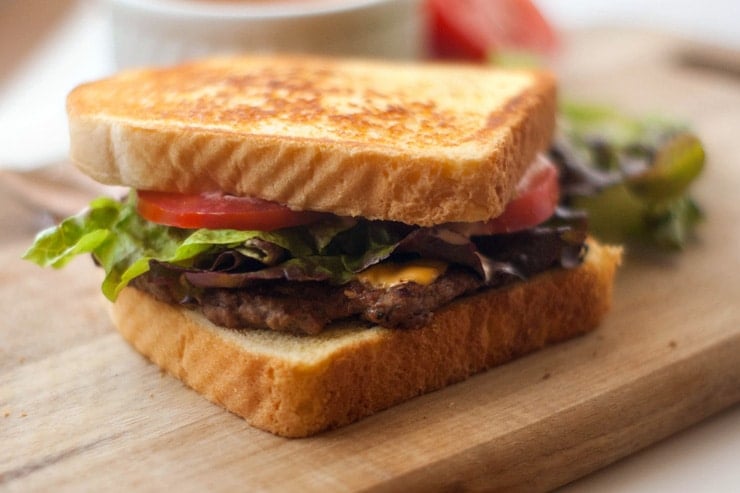 Loaded French Dip Burgers {Giveaway!}