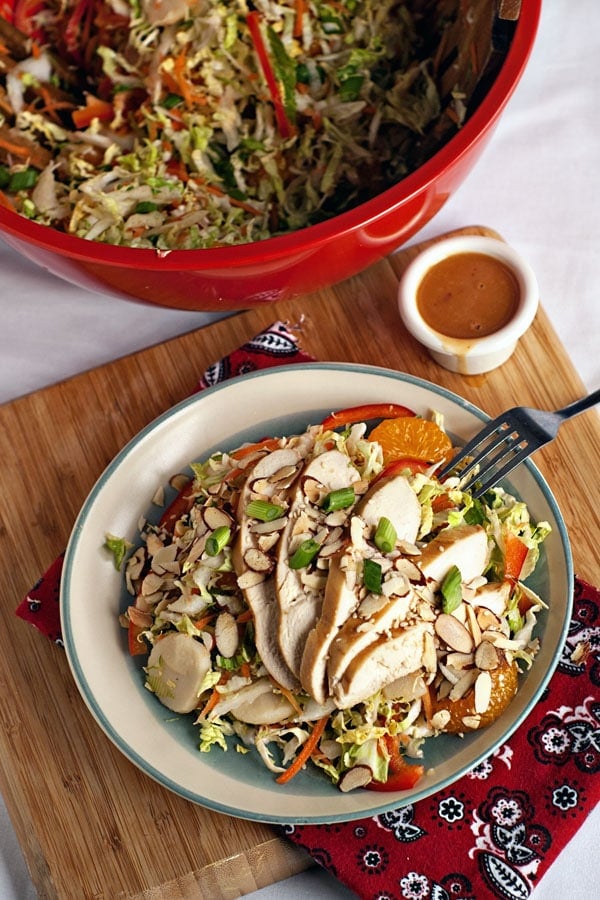 The "mom lunch"–if you're a mom, you know what I'm talking about. You spend time making your kids a nice balanced lunch, serve it to them, clean jelly-smeared faces and schools of goldfish from the floor, and sit down an hour later at nap time with a plate full of cut-off crusts, an orange slice, string cheese and a juice box. You'll watch "The Chew" as you eat which makes you hungry for grown-up food so you'll quietly stagger into the kitchen, find some left-overs from the night before, throw them in the microwave for far less than you should because it hums like a freight train and will likely wake the kids, and try to enjoy the next 45 minutes of silence while choking down your luke-warm spaghetti.
Sound familiar?
I've done it and I get that it's hard (and usually unappealing) to make a meal just for one, especially in the middle of the day. But really, I know that when I have a good lunch I am happier, have more energy and am a heck of a lot nicer to my kids. One thing I've tried is to make my lunches ahead of time so that I don't even have to think about coming up with something or worry about messing up the kitchen. I love having salads for lunch but absolutely despise prepping them. Maybe it's just because I'm an everything-but-the-kitchen-sink sort of salad maker and I love to load them up with all sorts of goodies, but doing it every day takes too much time.  My solution? Make one big salad at the beginning of the week and split it up into separate containers. It's a simple idea but it's totally changed lunch time for me.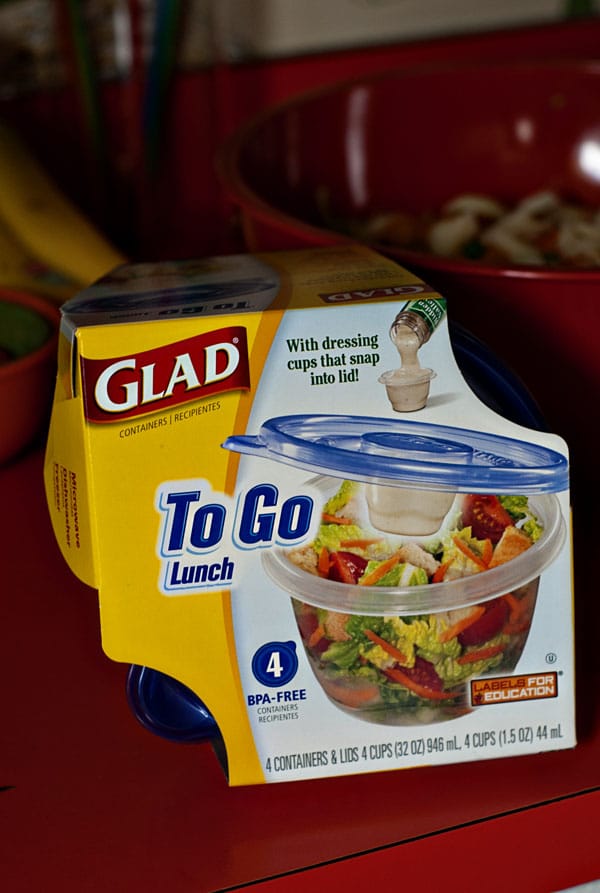 These To Go Lunch containers from Glad have totally saved me in my quest to fight against the "mom lunch".  They are the perfect size for a nice hefty salad that won't leave you hungry and come with a little cup that snaps into the lid for salad dressing! How cool is that? So all you have to do for lunch is pour on your dressing, put the lid on, shake, and eat! I can make a big salad on Sunday or Monday, fill up my containers and be prepared for whatever the week ahead is ready to offer!
I'm  realizing that just because I'm at home during lunch time doesn't mean that I shouldn't prep like I'm going to be away at work. In reality I AM working.  Giving snuggles, running a home, kissing scraped knees, and helping with homework IS work, and I need to have quick access to healthy, satisfying meals primarily so I don't go AWOL on my children, among other reasons.
I want to share one of my favorite salads with you today – Chinese Chicken Salad. It's the perfect salad for making ahead because the ingredients include pretty sturdy vegetables that won't get mushy on you after spending some time in the fridge. You'll start out by baking a few chicken breasts. Brush each one with a combination of soy sauce and sesame oil and bake for about 15-20  minutes or until they are cooked through and their juices run clear.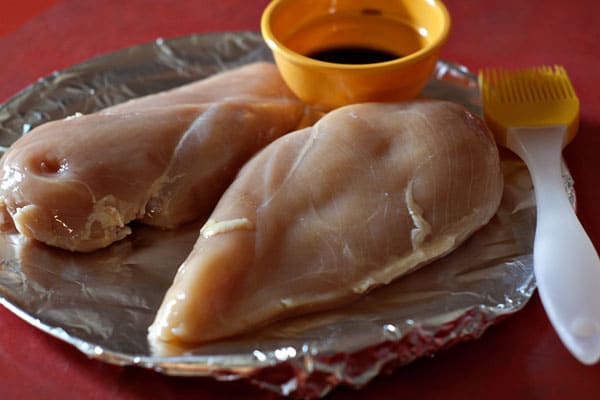 I like to use napa cabbage for this salad because it's sturdy like cabbage but doesn't have the strong flavor regular cabbage does. Plus, it's pretty and I like pretty things – just ask my hubby.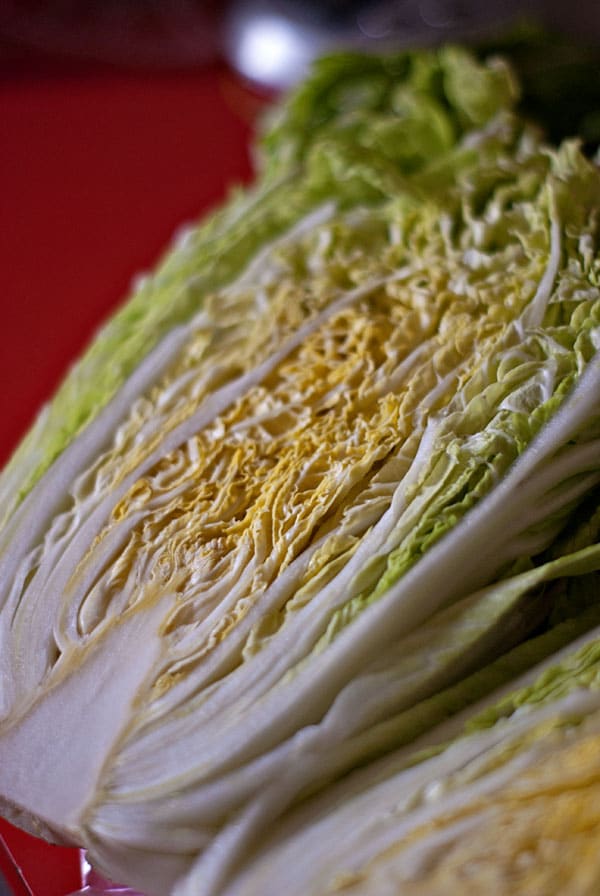 If you have a food processor this is the time to pull it out and shred up the cabbage, red pepper, onions and carrots. If you don't, that's okay too. Just cut the cabbage as finely as you can, grate the carrots, and slice the peppers and onion. It will still taste good, promise! 🙂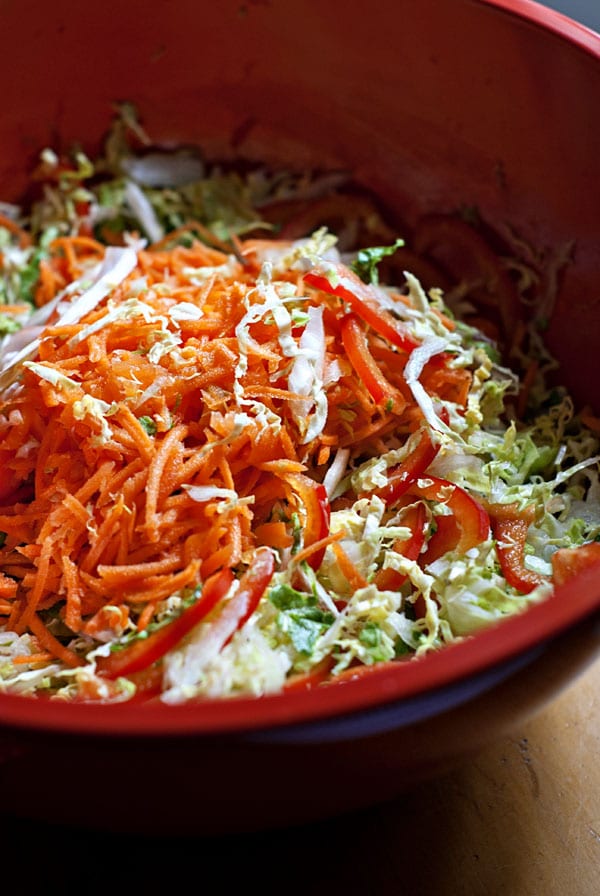 For crunch factor, we're going to use some toasted sliced almonds and sesame seeds. To toast, spread out on a baking shed and pop into a 375 degree oven for about 7 minutes or until they are starting to turn golden. This is a picture of them before being toasted.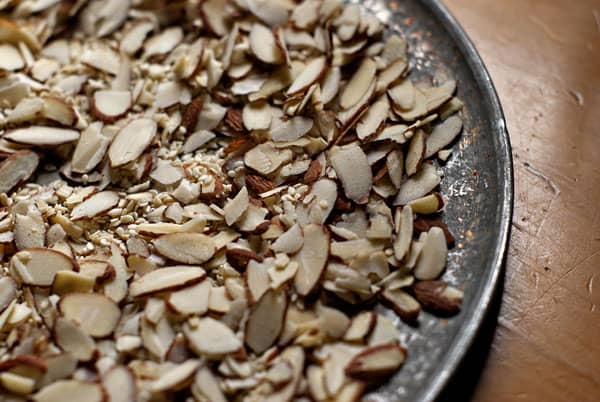 Open the cans of water chestnuts and mandarins oranges and give them a rinse. Depending on my mood I sometimes chop them, and sometimes not. This go-around was a not.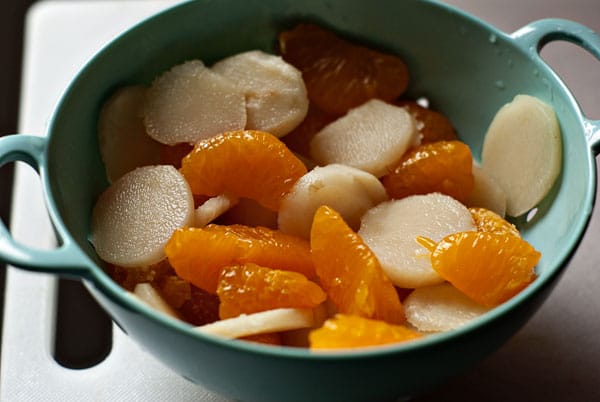 This dressing might be my favorite part of the whole salad. It's sweet, salty, tangy, creamy and does everything I've ever wanted a salad dressing to do, save the dishes and laundry.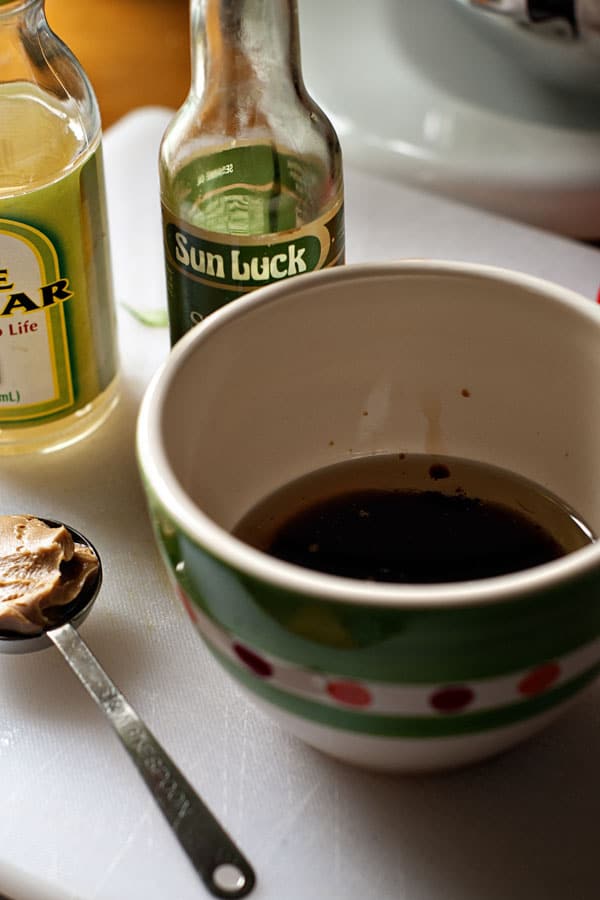 You'll need some canola oil, rice vinegar, soy sauce, sesame oil, peanut butter, sweet chili sauce, and just a smidge of water to get it the right consistency.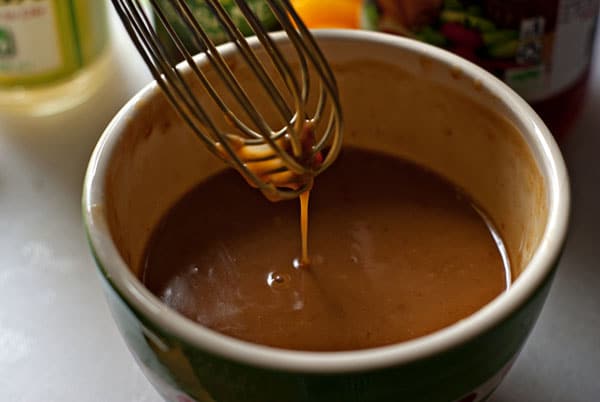 You now have all the ingredients ready and are ready to assemble! Give the veggies a toss, slice up the chicken, sprinkle on the almonds and sesame seeds and dress!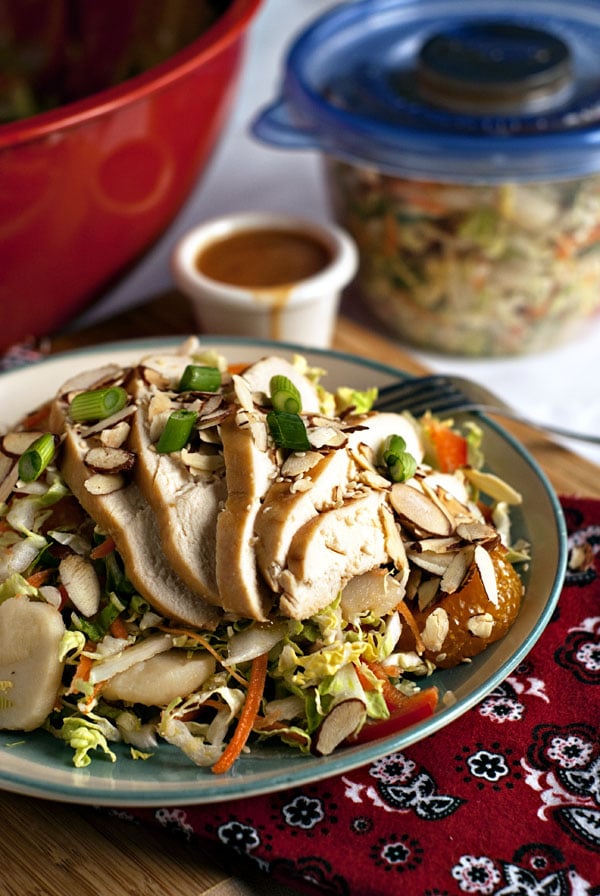 If you're making this up for lunches, this recipe makes the perfect amount for 4 good-sized salads. Place a good helping of the veggie mix into a container, fill up your dressing cup and attach it to the underside of the lid.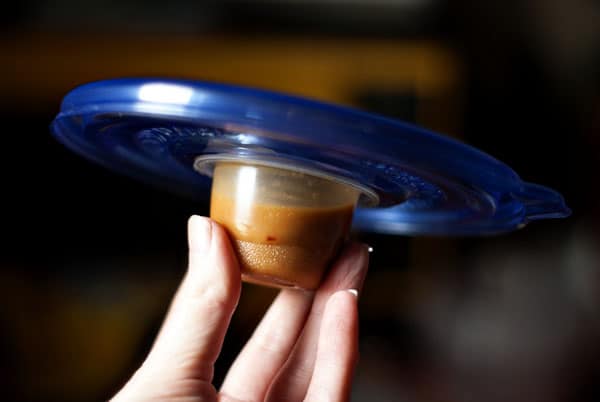 Soggy, chewy nuts aren't really my thing (get your mind out of the gutter, people.) so I like to wrap them up in their own little package and sprinkle them on the salad when I'm ready. A square of Glad Cling Wrap makes quick work of this.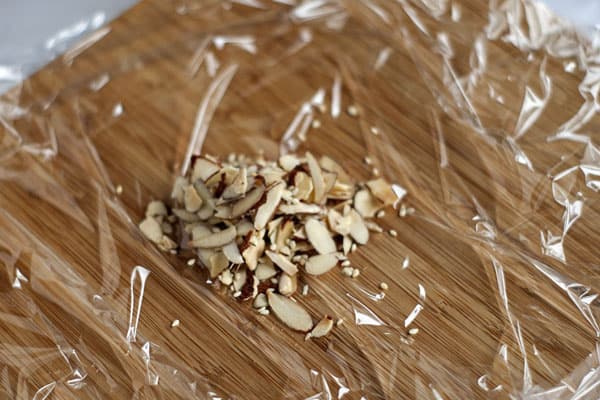 Gather up the sides, twist, and you're done!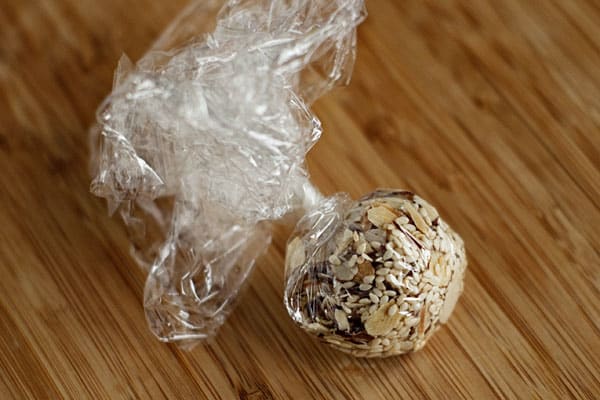 Mmmmmm… hello, lover.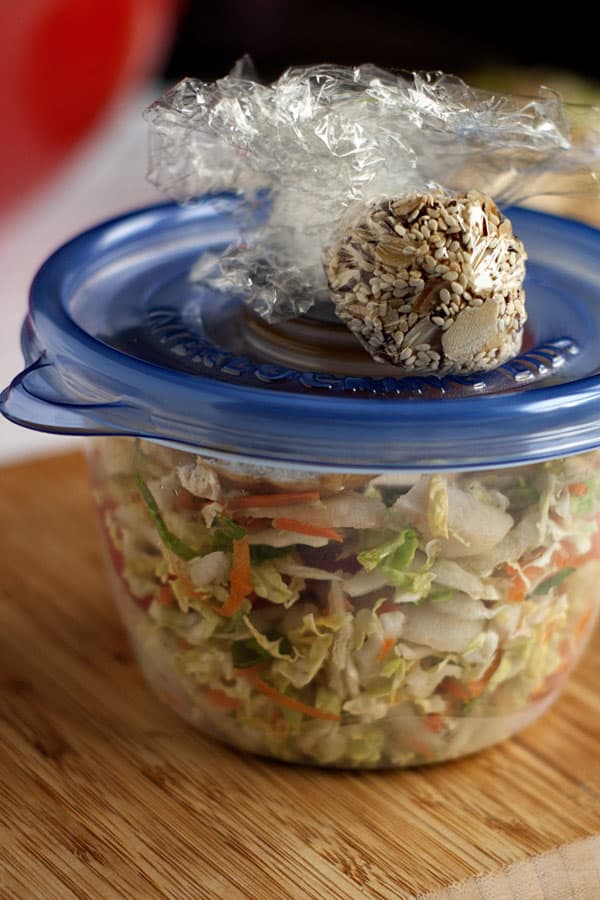 Glad is hosting a Pinterest contest right now and wants you to create your own Pinterest board for a chance to win some excellent weekly prizes! To ENTER follow the steps below:
Step 1: Click the Glad photo in the gallery ( Glad Pinterest Board Contest ) that most inspires you to get started pinning. 

Step 2: Choose "create new board" in the dropdown menu of the Pinterest pop up screen. Title your new board "Inspired Lunches" 

Step 3: Find at least 4 photos anywhere on the web that fits the theme of "Inspired Lunches" and pin them to your new board. Include #gladinspiredlunches in your photo description. 

Step 4: Once you've pinned 5 photos (including one from the Glad Pinterest Gallery) come back to ( Glad Pinterest Board Contest ) to submit your board.

 
Good luck! I can't wait to see what boards you come up with so share your pinboard URL in the comments! Also, Im always looking for inspiration so tell me how you make your inspired lunches?
Visit Glad's page on BlogHer for more ideas!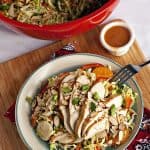 Chinese Chicken Salad
Servings
4
entree-sized salads
Ingredients
Salad:
1

lb

boneless skinless chicken breasts

1

tbsp

soy sauce

1/2

tsp

sesame oil

1/2

head napa cabbage

shredded

2

carrots

shredded

1/2

red bell pepper

thinly sliced

4

green onions

thinly sliced

1

8 oz can water chestnuts, drained and chopped if desired

1

10 oz can mandarin oranges, drained and chopped if desired

1/3

C

sliced almonds

1 1/2

tbsp

sesame seeds
Dressing:
1/4

C

canola oil

2

tbsp

rice vinegar

1

tbsp

+ 1 tsp soy sauce

2

tsp

sesame oil

2

tbsp

creamy peanut butter

1/4

C

sweet chili sauce

1

tbsp

water

optional
Instructions
Preheat oven to 375 degrees.

Combine soy sauce and sesame oil and brush entire contents over chicken breasts. Bake for 15-20 minutes or until cooked through and juices run clear.

In a large bowl combine cabbage, carrots, peppers, and onion. Toss in the water chestnuts and oranges.

Spread almonds and sesame seeds on a baking sheet and toast in the oven for 6-7 minutes or until they are golden.

Combine the dressing ingredients and whisk until smooth.

Slice cooked chicken and assemble salads by first placing the cabbage mixture on the plate followed by the sliced chicken, almonds, sesame seeds and dressing.